You are a lover of Live stream on applications, often share your voice online, and want to change your voice for more fun. But on the internet, there is a lot of soundboard software for changing voice, and you are confused about which one to choose. Then the following article will show you one of the best soundboards for streaming - iMyFone MagicMic.
Best Free Soundboard for Streaming - iMyFone MagicMic
iMyFone MagicMic is a specialized voice changer and voice editor that offers over 24 distinct voices and hundreds of sound effects. It's a basic tool that produces decent results. If all you want to do is prank your friends or spice up your live stream by changing the pitch and speed of your voice, this could be the app for you. With only a few clicks, you can easily make your voice different.
Key features of iMyFone MagicMic - free soundboard for streaming:
Best soundboard for streaming:More than 20 voice-changing options, 190+ sound effects.

Compatible software:It can easily run on various live streaming platforms like Twitch, Xsplit, Streamlabs, Discord, Skype, and more.

Easy to use: A beginner can easily operate the software to use without any advanced knowledge on using the software.

FREE: A free trial of iMyFone MagicMic is available.
Pros:

Light software and easily compatible.

User-friendly interface.

Reasonable price.
PRICE: iMyFone MagicMic has a free trial version, so if you want to experience more features of the apps, go Pro version. The Pro version of iMyFone MagicMic is only $4.95 per month. If you need to use it for a long time, you can choose the manual or lifetime subscription for $19.9 per year and $39.95 for the lifetime version.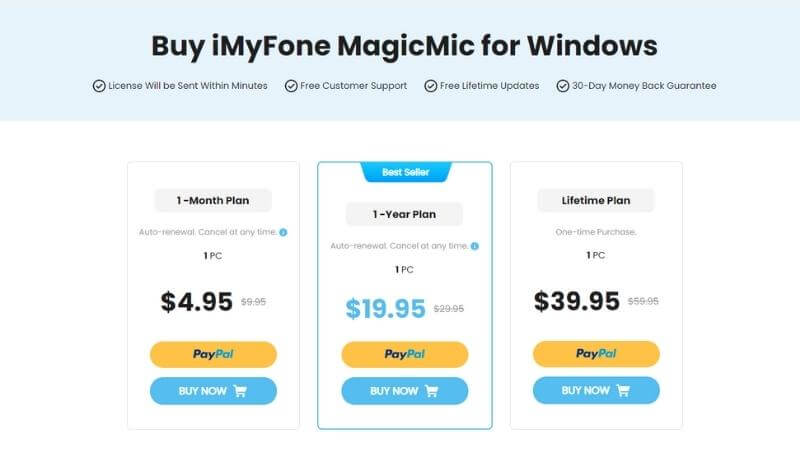 Make your streaming atmosphere more interesting with Sound Effects on iMyFone MagicMic
Sound effects are important factors of the streaming soundboard. If you want to change the atmosphere of your live stream, try changing the sound effect of your live stream, turning your live stream into a zoo with lots of cute animals talking around, or a live stream in the middle of the ocean with amazing Sea wave sound effects,...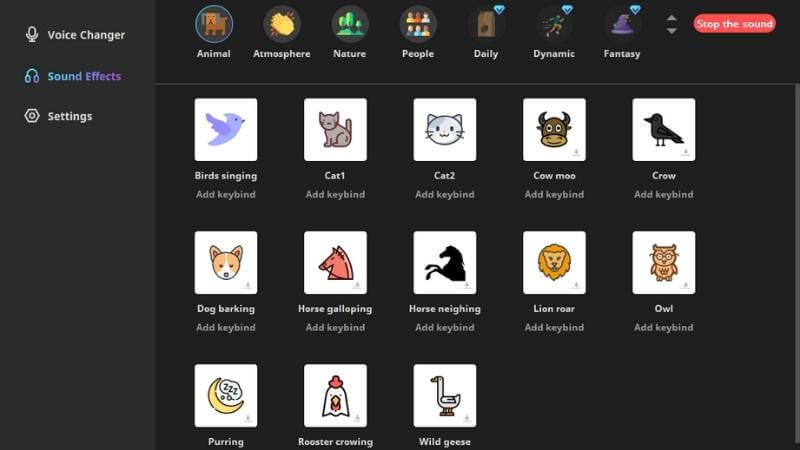 You will have more than 190 options for sound effects on iMyFone MagicMic. The sound effects are divided into many different collections such as Animal, Atmosphere, Nature, People,... If you want to discover more sound effects, you can upgrade to the Pro version to try all the interesting and unique sound effects.
Change your voice with Voice Changer feature on iMyFone MagicMic
The Voice changer feature on iMyFone MagicMic allows you to change voice while live streaming or recording voice. Thanks to this software, it has made it possible for many people to change their voice to be more elegant, and more confident when sharing their voice (singing) when live streaming on Facebook or Youtube. The free version allows you to use 2 voices including Robot and Minions voices. There are more than 20 other voice-changing effects waiting for you to discover on the Pro version.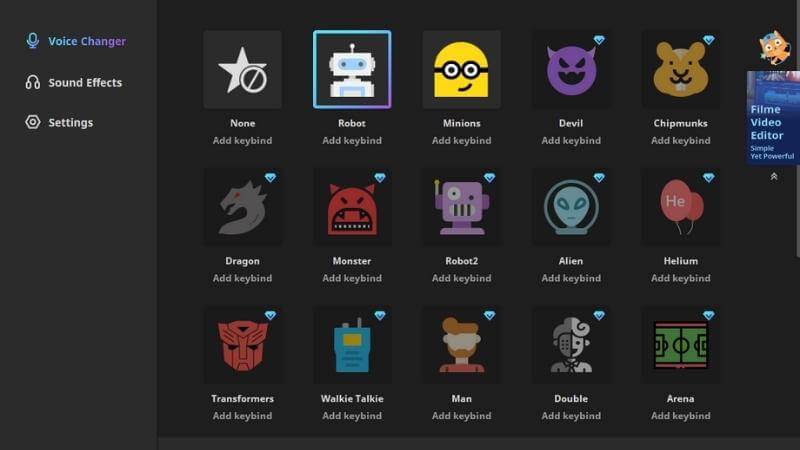 Detail Guide on How to Use Soundboard for Streaming
iMyFone MagicMic is a voice changer that works with a variety of platforms, games, and apps. It allows you to change your voice tone in a few clicks. To use soundboard for streaming on MagicMic, follow the steps outlined below.
How to Use Soundboard for Streaming on Discord
On different platforms will have a bit different steps to use soundboard for streaming. This guide will show you how to use soundboard for streaming on Discord, and how to check the guide to use on other platforms. Let's start!
Step 1: Download and install iMyFone MagicMic to your PC. It is compatible with Windows and provides 100% guaranteed work.
Step 2: Launch and configure MagicMic on your PC.
Step 3: Open Discord > Click on Settings icon at the left bottom of the Discord interface.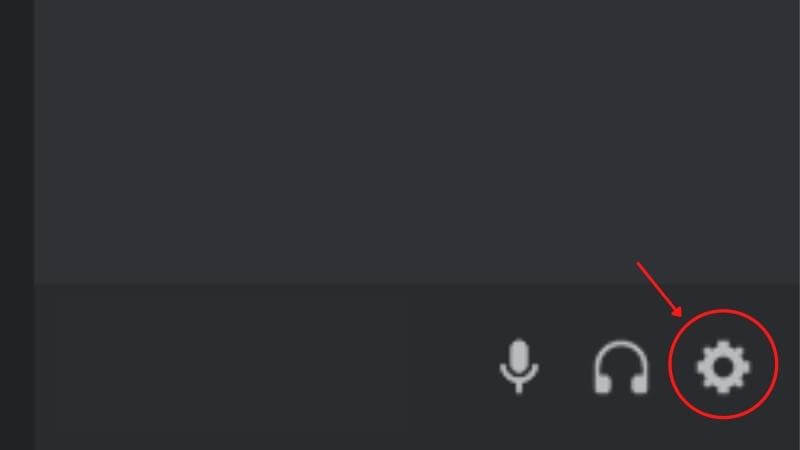 Step 4: Go to Voice & Video settings and make these changes below:
INPUT DEVICE: Choose Microphone (Voice Changer Virtual Audio Device (WDM)).

Uncheck Automatically determine input sensitivity > Adjust the sensitivity settings.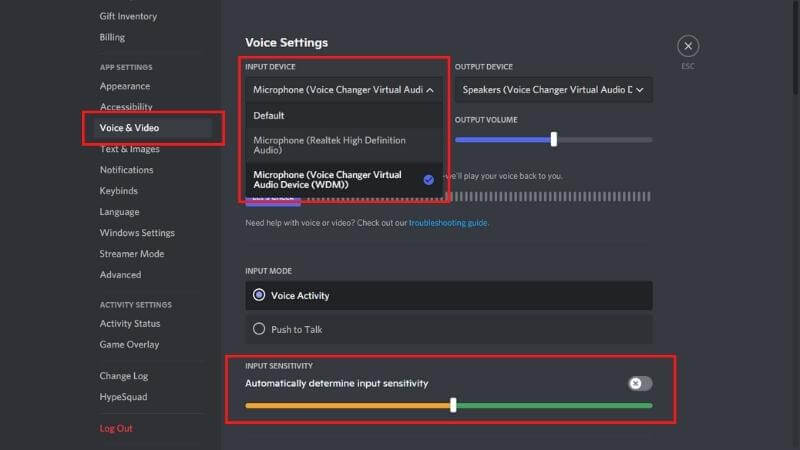 Step 5: Click on ESC to finish setting.
Step 6: Return to MagicMic. Choose the Voice Changer and Sound Effects by just clicking and then, start your live stream.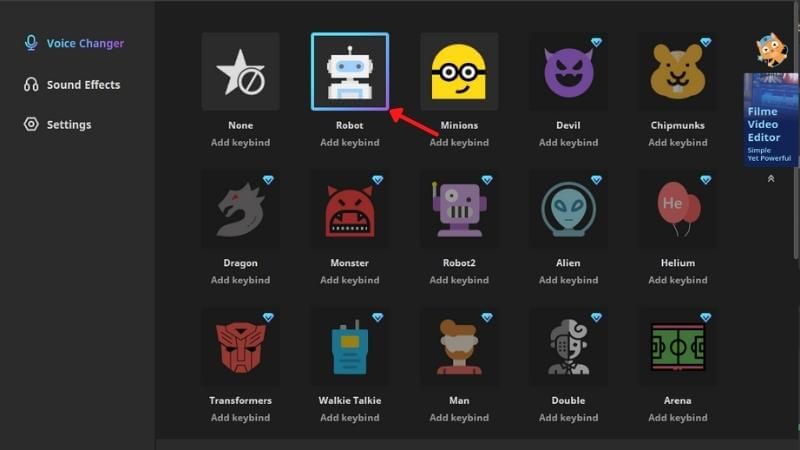 Also Read:
Best Voice Changer for Discord Chromebook >>
How to Find Guide for Using Soundboard for Streaming on So Many Other Platforms
iMyFone MagicMic has full instructions for fixing errors and guiding to use on many other platforms and games. To open guiding documents, please follow this instruction below.
On the main screen of iMyFone MagicMic choose Click to check how to use MagicMic with games and apps > Choose the app or game you want > Then, you will be taken to the guiding documents.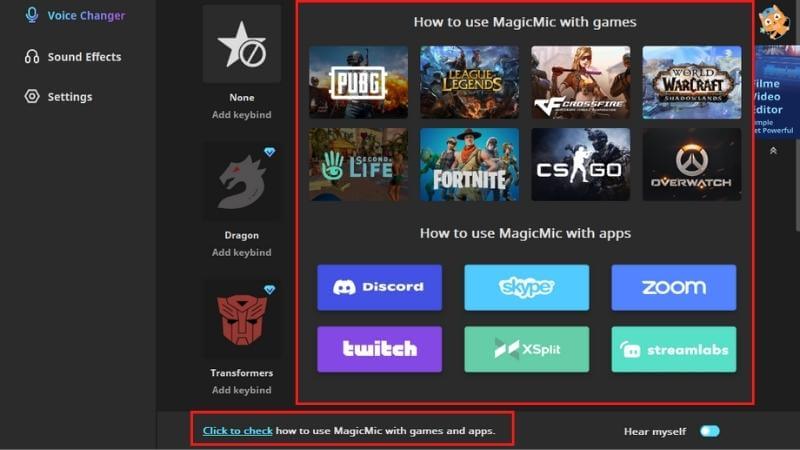 Besides, if you want to learn how to start, click on the 3 sticks icon on the top right of the screen. Then, choose User Guide and check out the guide of Filme.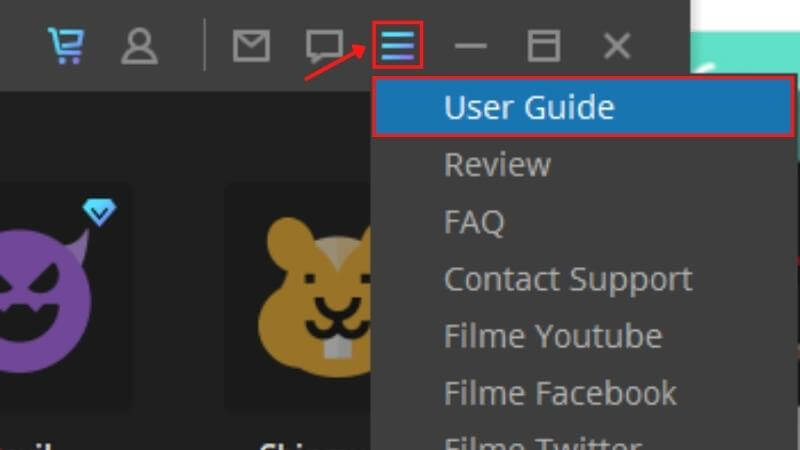 FAQs About Soundboard for Streaming
Here are some frequently asked questions about soundboard for streaming that many people are looking for answers to.
What soundboard do YouTubers use?
Soundboard for streaming is very familiar to YouTubers. There are many options for soundboard out there. But we highly recommend iMyFone MagicMic for its ease and convenience.
What is the most realistic soundboard?
Make sure that the soundboard you use is compatible with the platform you're running on. There are several soundboards available online, but the realistic soundboard has a user-friendly design and simple tools. As a result, always choose a soundboard that can operate effectively on Windows. You may make use of iMyFone MagicMic since it offers an excellent user interface.
Does MagicMic support macOS?
Filme is working on it. Now MagicMic only supports properly on Windows 11, 10, 8.1, 8, and 7.
Through this article, hope that you have understood more about soundboard for streaming. The software will make the voice better edited, it will bring the best sound to the listener. It also helps the voice be adjusted effectively, can change different voices. For a better experience of using streaming soundboard, you can try iMyFone MagicMic.