Biteable is an online video-making website where you can make a video for any purpose. If you are using the free version, there will be a watermark over your video. Watermarks give an unpleasant feel to the one watching the video. So, you need to get rid of the Biteable watermarks to make your video more engaging. In this article, we will share afew ways to remove watermarks from Biteable videos.
Biteable watermark is very hard to remove with other software, we would recommend MarkGo to remove it. Download MarkGo free below to remove now.
Part 1. Can You Remove Biteable Watermarks?
Yes, you can remove the Biteable watermark; it is possible. Although watermarks seem irritating because they display over your video, they are also effortless to remove.
Biteable leaves watermarks at twoplaces: one on the top left and the other at the bottom right. You need to remove both of these.
The best way to remove the Biteable watermark is to subscribe to the premium version of it. The premium version does not have a watermark, and it offers a wide range of features to make your video impressive.
The subscription plan consists of 2 types: yearly and monthly. You can subscribe to any one of them which you canfind the best. There are three plans for each that you can subscribe to. Thepricing of plans is moderate to afford. Can you download Biteable videos without watermark? NO, you can not.
You can also use watermark removing tools such as MarkGo and others. You can find many editing tools with different pricing. Find the best to give your video a professional look. Thetop 5 tools to remove watermarks are discussed below.
Part 2. 5 Tools to Remove Biteable Watermark
Watermark gives an unpleasant look to your video, and you will find it disturbing. It covers your video contentand makes it irritating. The top 5 tools to get rid of Biteable watermarks in the simplest way are mentioned below with their distinctive features.
1. MarkGo[Most Recommended]
MarkGo is the best and the moststraightforward watermark removing tool. It is specially made for watermarks,which is why it is better than others. You can remove any watermark from a video as well as from images. It takes only a few simple steps to get rid ofany kind of watermark. There is also a feature to add a customized watermark to your video. Download and install it to enjoy the features.
Pros:

Youcan use MarkGo whether you are experienced or beginner.

Youcan run it on a low-end pc also.

Ithas different options for watermark removal, such as Gaussian blur, smoothfilling, color filling, and matte filling.

Thepricing of MarkGo is very low as compared to other tools.

It can remove all kinds of watermark such as TikTok watermark.
Cons:

Youhave to buy the premium version of MarkGo to enjoy all its features.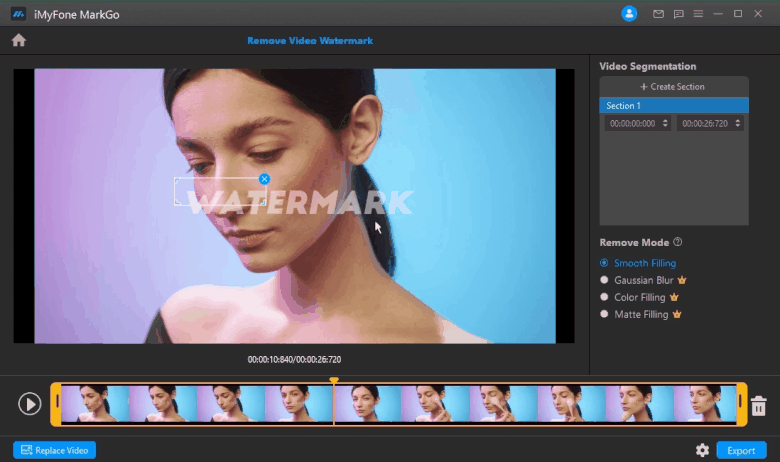 2. ThunderSoft Video Watermark Remover
ThunderSoft Video Watermark Removeris another tool with exciting features. This tool takes a few minutes to get rid of Biteable watermark from the video. The application helps you to remove watermarks within a few steps. It has a straightforward interface having fewoptions.
You have to subscribe to it to usethe features. As it has a costly plan, you can use it on a trial basis to testits capability of removing the watermarks. When you get satisfied with thetrial version, then you can purchase it.
Pros:
ThunderSoft is compatible with Windows as well as Mac.
Some video editors lower the original quality, but it will keep the original quality of your video.
The best advantage is that besides removing watermarks, it has other features to make your video more pleasing.
It can be used on a low-end computer as well.
It also allows you to add your customized text watermark.
Cons:
The membership plans of ThunderSoft are costly.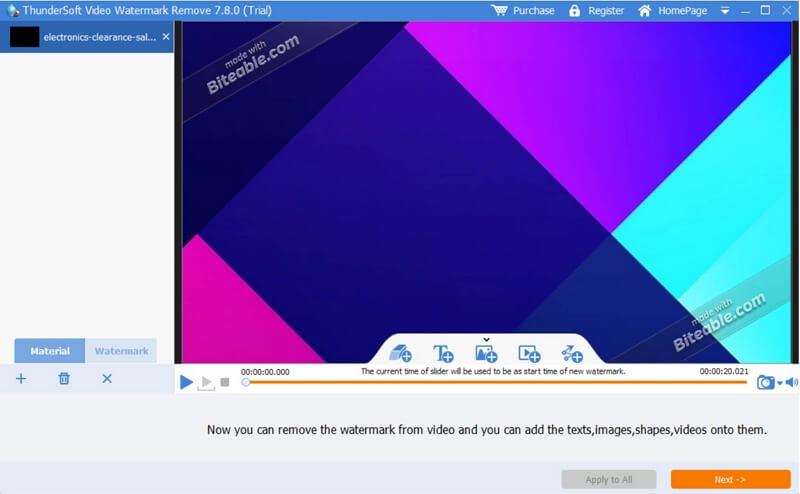 3. Video Watermark
It is also software to erase Biteable watermarks within a few steps.
Video Watermark software is very reliable and theeasiest software to use. It provides high-quality work and guarantees that thequality of work will remain the same.
You can download it by clicking onthe link to enjoy the exciting features.
Pros:
You can add customized text or graphic watermarks.
Video Watermark offers users a wide range of watermark templates.
You can avail of other features of Video Watermark; it contains geometry graphics, video effects, video formats conversion.
It is also compatible with a low-end pc.
You can run it even on old Windows versions, such as Windows XP.
Cons:
The subscription price is relatively high compared to other tools.
The subscription for image watermarks and video watermarks is separate. You will have to buy a combo pack.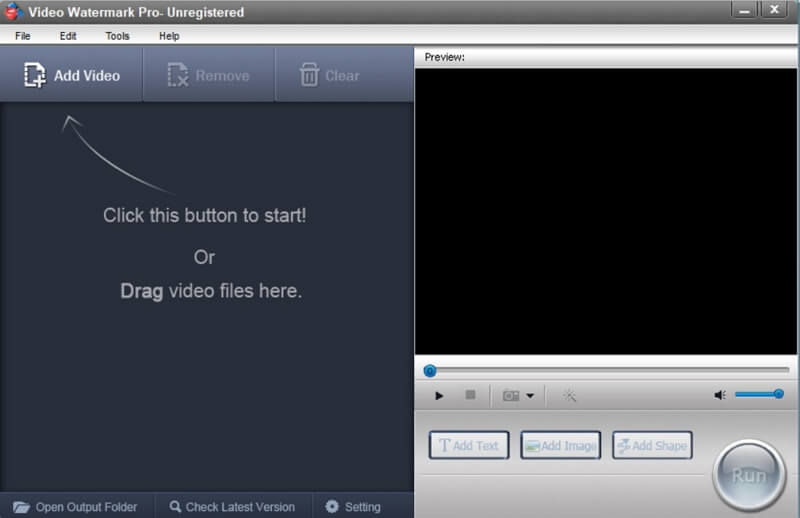 4)apowersoft.com [Online Watermark Remover]
It is an online tool to take off Biteable watermarks. It is a free online tool that a beginner can also use. Itcan be used to remove multiple watermarks at a time. The most significantadvantage of the online tool is that you can directly edit and download theresult within a click.
Sometimes people get exhausted fromdownloading the application, and by downloading, they get encountered by manyviruses. In this case, they prefer an online tool. Apowersoft is perfect forwatermark removal. If you want to unlock the premium features, then you canpurchase them.
Pros:
It is a user-friendly online tool that anyone can use.
It can save you time.
It has a very cool and simple interface having few options.
The best advantage is that it is free of cost.
If you want to enjoy more features of Apowersoft then you can download the application, but it is only compatible with Mac.
Cons:
It is only compatible with Mac.
The disadvantage of removing the watermark in Apowersoft is that it will alter the quality of the video..
You will get a low resolution as compared to your original video.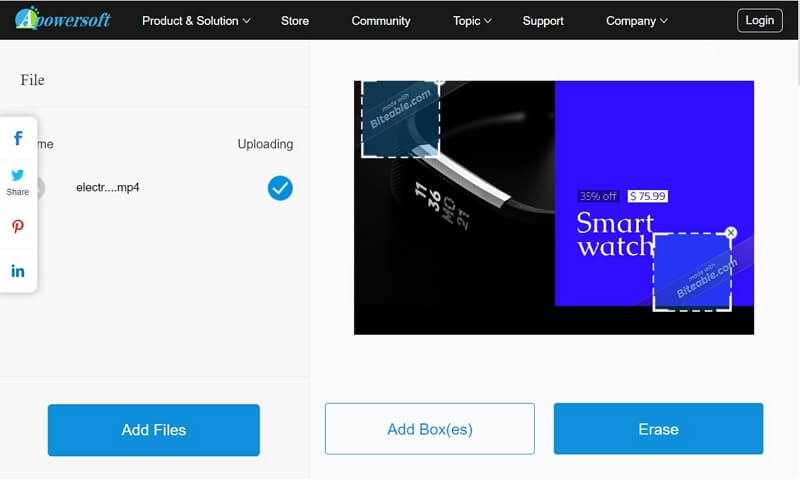 5. Hitpaw
Hitpaw is another online watermark remover that will give you the fastest and outstanding results. Almost all thesoftware tools have watermarks, but you can remove them using Hitpaw. Freeonline tools are considered the best at removing watermarks instantly.
You can easily remove the Biteable watermark within a few clicks. Hitpaw is entirely free, and it is also freefrom ads. It has no limits to remove watermarks; You have to put theadjustments on the watermark and click save.
Pros:
Hitpaw can remove video watermarks free of cost.
You can remove multiple watermarks within a few clicks.
The website does not contain ads.
It also contains other features like creating your watermark, cutting, and crop, adding music, and adding texts.
You can also set the speed of your video, and it also has a reverse feature that you can apply to your video to make your video more attractive.
Cons:
The disadvantage is that it will change the video quality of your video because it does not provide an option to increase or decrease the resolution.
The watermark removing speed is slow as compared to other tools.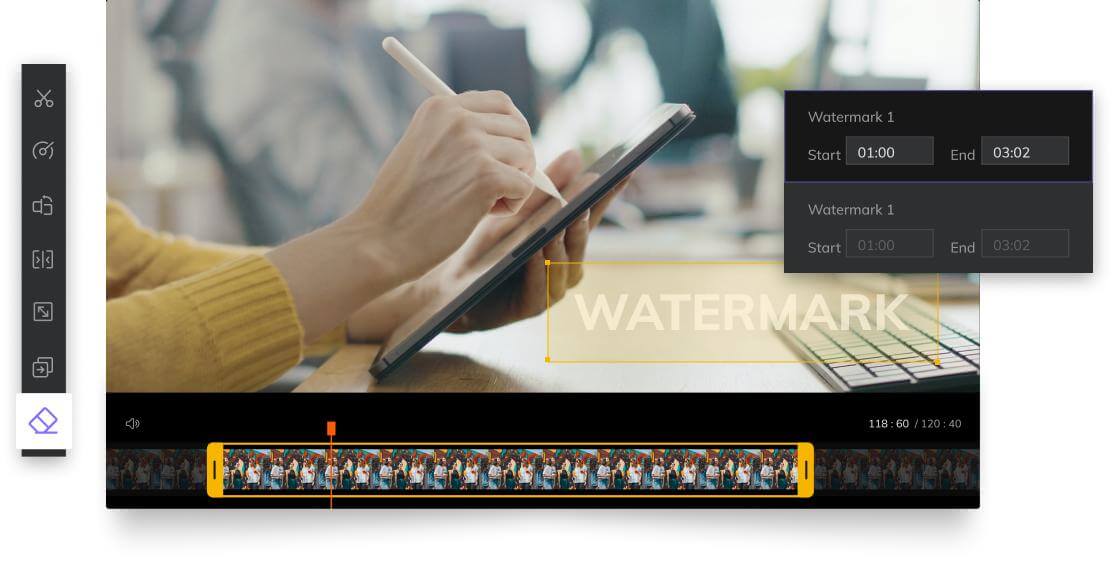 Conclusion
If you find watermarks irritating,then this article will resolve it by giving you the best fixes. You can remove Biteable watermarks within a few clicks. MarkGo is the best software to remove watermarks among all. We would recommend you use it because of its low pricing and high-quality results. You can not download Biteable video without watermark, but you can use MarkGo to remove it!