Dreamstime allows people to download and use images free of cost, yet having its terribly annoying watermark on pics that you always want to get rid of.
It's expensive for the credit package and you need to buy for more credits if there're regular needs, which can be a tricky problem for many fabulous photo hunters like you.
Don't you worry now! Best Dreamtime watermark removers are here for you to remove dreamstime watermark! Let's dive into some dreamstime freedownloader without watermark!
Remove Watermark Online
If you want to remove watermark online using AI without download, try TopMediai FREE.
Part 1: Remove Dreamstime Watermark - by Credit Package of Dreamstime
There is one more way of having pictures without watermarks, and that is the paid version. If anyone is deeply obsessed with Dreamstime photos and wants to use them on a regular basis, these paid packages are worth trying. The free version has some limitations, so it cannot be used regularly or for professional purposes. On the other hand, the paid packages allow you to download high-quality and professionally clicked pictures without any watermark.
Dreamstime Credit Packages:
Credits are basically Dreamstime's currency. Users pay credits before downloading a single image, video, or audio. These credits can only be purchased from Dreamstime's official website. The number of credits per image or video varies from the quality of selected media. Once you buy them, the credits remain valid for a year. Within a year, you can use them at any time to take any pictures, video, or audio from this stock photography agency.
You can buy 11 credits for $14.99

15 credits for $17.99

30 credits for $34.99 and so on.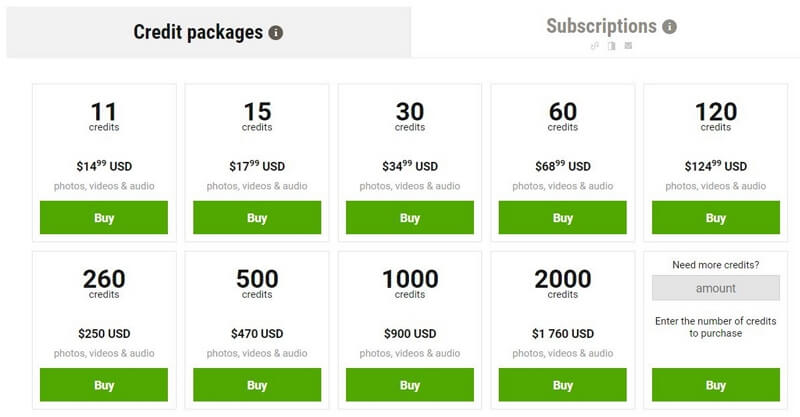 There is also an option to buy as many credits as you want. Besides credit packages, Dreamstime also has monthly and yearly subscription plans.
How to download dreamstime images without watermark?
Step by step tutorial
Step 1: Go to the Dreamstime official site. To buy credits or subscribe or any plan, you need to log in to the site through your account. Create an account, or you can also log in to the site through an existing account.
Step 2: Once you log in through your account, you will see the option of Prices and Download plans at the top right corner of the screen. Click on that.
Step 3: Here, you will see two options on the upper side of the screen. One will be Credit Packages, and the other will be Subscriptions.
Step 4: Click on Credit Packages, select your plan, and click on Buy. The website will ask for some important information regarding your debit/credit card through which your amount will be deducted.
Step 5: Fill out the blank spaces with correct information and click on Complete Checkout. Your amount will be deducted, and credits will be added to your account on Dreamstime. Now you can use these credits to buy and download media from the site.
Part 2: Best Dreamstime Watermark Remover - iMyFone MarkGo
Though you can use methods above to remove Dreamstime watermark, it's still expensive for the credit package and you need to buy for more credits if there're regular needs. If you don't want to pay for any credits, you may turn to iMyFone MarkGo, the best online dreamstime watermark remover, which offers a surprisingly easy solution to remove dreamstime watermark.
Some exciting features of this watermark-removing tool make it a worthy choice to get rid of watermarks from video, signatures, and text from photos and video clips. Now, let's have a look at some fantastic features of iMyFone MarkGo.