Who does not know Picsart? Graphics designers love this app. It is a photo editing app that has a wonderful collection of effects, filters, elements, and features. There are also premium features that you can use after purchasing the premium version. Unfortunately, some of its effects and filters add watermarks over images which destroys the image's beauty.
In this article, we are going to teach you the best methods through which you can easily remove Picsart watermarks from images.
Easiest Way to Remove Picsart Filter Watermark- iMyFone MarkGo
iMyFone MarkGo is a tool specially created to remove and add watermarks to videos and pictures. For Windows users, this is the best option to get rid of watermarks in no time. Besides this, you can also remove different unwanted objects from your videos and pictures within a few clicks. Moreover, you can also use the batch processing feature for removing and adding objects or watermarks simultaneously.
Now, we are going to show the simple steps through which you can easily remove the Picsart watermark without paying anything. Download MarkGo to remove Picsart watermark now.
Watch video to learn how to remove watermark from photo/video by iMyFone MarkGo
Steps on how to remove Picsart watermark with iMyFone MarkGo:
Step 1: First of all, create an image through Picsart. Take an edited picture with Picsart's watermark over it.
Step 2: Now, download and install iMyFone MarkGo on your device. Open the software. On the starting window, you will see four different options.
1: Remove Image Watermark
2: Remove Video Watermark
3: Add Watermark to Image
4: Add Watermark to Video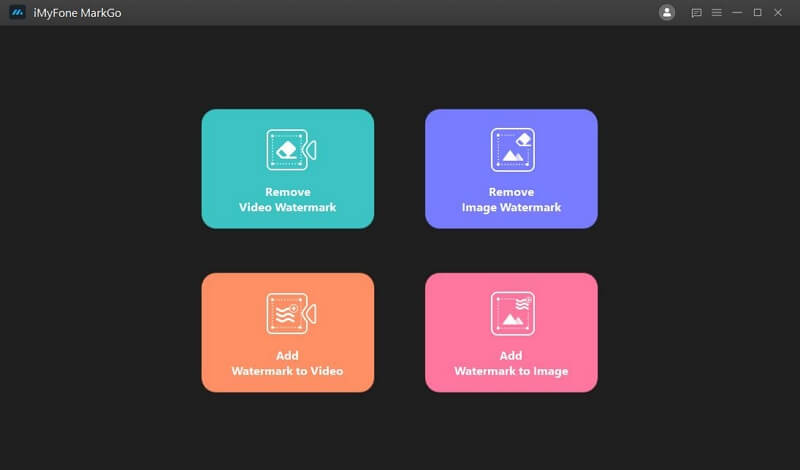 Step 3: Click on the Remove Image Watermark option . A new window will appear on the screen. On this screen, you can click on the Add Image button to import the image with watermark., or you can directly drag the image to the interface.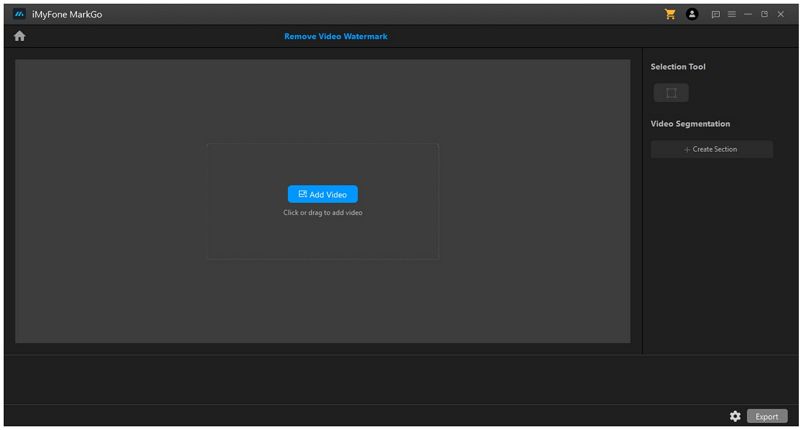 Step 4: After the image has been imported, you can click on the selection tool and a box for removing watermark will pop up. Move the box to where the watermark that you would like to remove. You can also adjust the size of the box.
Click on the Remove Now button to remove the watermark and preview.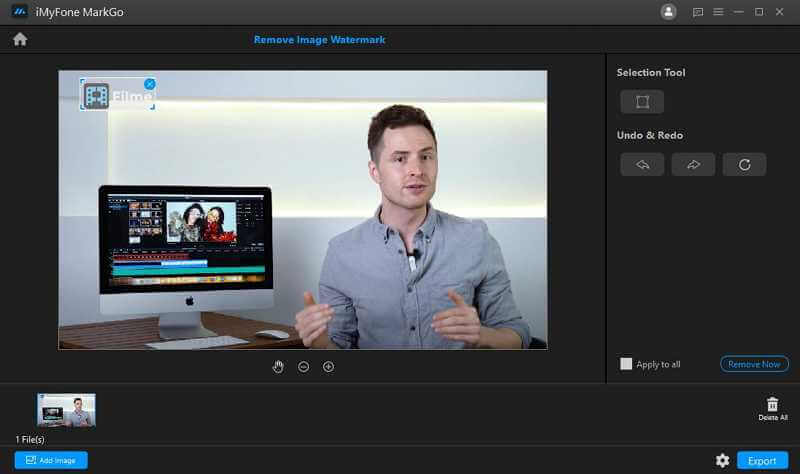 Step 5: If you are satisfied with the result, you can click on the Export button to export the image without watermark.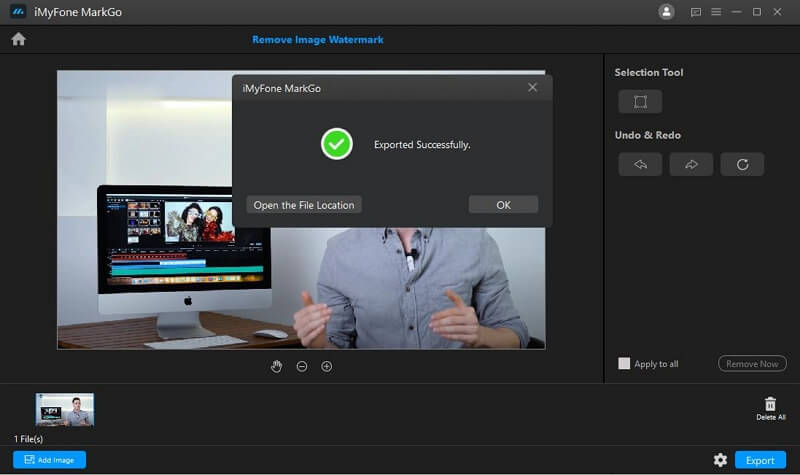 You might be interested in:
Remove Watermark from Camtasia Video >>
Remove Object from Photos Easily >>
Free Hack to Remove Picsart Filter Watermark
If you do not want to add images to third-party software and tools, then you can follow this hack to remove the Picsart filter watermark from images. There is no rocket science in this hack. This hack is simple and easy to understand. Now let's jump into the process.
Steps on how to remove Picsart filter watermark:
Step 1: Download and install the latest version of Picsart on your mobile and open it. After opening it, you will have to select the desired photo. Select the image and then tap on it. Your selected image will be opened with Picsart editing tools and features.
Step 2: At the bottom of the screen, you will see many options. Tap on Effects and choose any of them. Now the premium effects can also be applied to your picture, but they will also add watermarks over the image, which does not look good.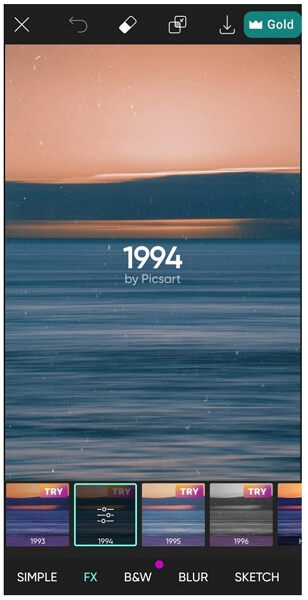 Step 3: After selecting any effect with a watermark, take a screenshot with a watermark. In the next step, again add the same new clear image to Picsart and apply the same filter on the image.
Step 4: This time, hold and move the picture a little bit above. In this way, the watermark will also be moved downward. Take a screenshot of this image also. Outside Picsart, extract the part of this image at which Picsart added its watermark in the first image.
Step 5: Now again, open the 1st image in Picsart and tap on the option of Add Photo. Add the extracted part of the 2nd image and place it over the watermark. For more convenience, you can reduce the opacity or transparency of the 2nd extracted part so that it will exactly be placed and matched with the background image.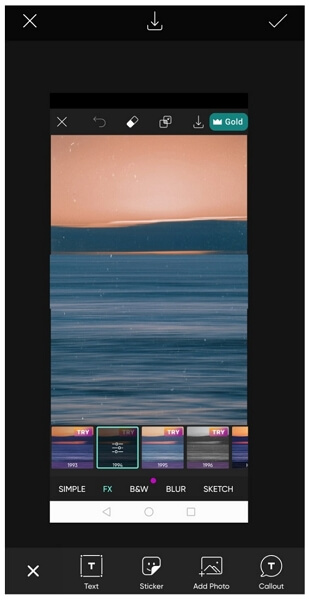 Step 6: Now, tap on the Tick mark and download the image on your device.
Use Picsart Premium and Remove Watermark
The third way is the paid method. You can pay to subscribe or activate the premium version of Picsart, through which you can enjoy additional features and effects without any watermark over the images. The premium version is very beneficial and easy to activate. Now, let's have a look at the steps to remove the Picsart watermark through premium features.
Steps on how to remove Picsart filter watermark using Picsart app:
Step 1: Open Picsart and add a photo to this app. Tap on Effects and select a premium effect. Now, apply any premium effect that leaves its watermark.
Step 2: After applying a premium effect, you will see a new option at the top right corner of the screen. This will be Gold with green color. Tap on this option, and you will be directed to another page.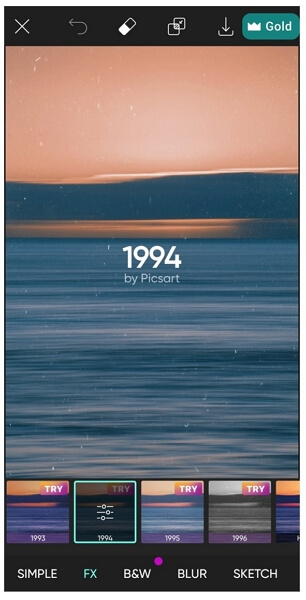 Step 3: Here, you will see the premium package with its price. Picsart offers a 12-month plan for the subscription. If you want to purchase it, tap on the Continue button in the green color at the bottom of the screen.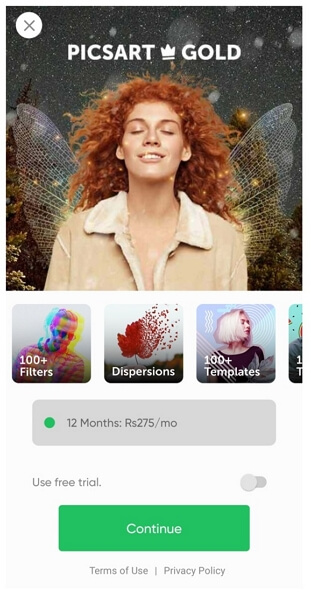 Step 4: Picsart will ask you to choose your billing sources, such as through Debit or Credit Card. Choose your option and provide all the necessary information to complete the billing process. Once the process is completed, you can enjoy all filters and effects without any watermark.
Comparison between 3 Methods
We have described three ways to remove the Picsart watermark from images. Now, let's have a look at their brief comparison.
1) Price
The 1st method uses iMyFone MarkGo as it offers a free version. The free version is enough to remove a watermark from the image easily, but this version is for limited use. For unlimited use, you need the paid versions that demand $19, $29, and $39 for monthly, yearly, and lifetime. The 2nd method is a hack, which means it is totally free of cost. The last one is buying Picsart's premium version, which is not very expensive. It charges $3 to $4 per month.
2) Ease of use
iMyFone MarkGo is very easy to use. It is perfect for beginners.
The hack in part 2 is also very simple and easy to understand.
The premium version will do all the things on its own; you just need to buy the plan.
3) Mobile or desktop tool
iMyFone MarkGo is desktop software that is compatible with Windows. The other two methods are for mobile users.
4) Results
All the methods and software show good results, but iMyFone MarkGo makes the image a little bit blurry at the place of watermark removal. The other two methods are perfect and do not destroy the quality of images. Make sure to match the image and background completely while using the hack.
Final Words:
Picsart is a famous app for editing pictures. It is famous for its brilliant features and tools. It has a collection of beautiful effects, but some of them are premium and leave their watermark. However, we have listed the best methods through which you can easily use premium filters without watermarks over your images. Use any of the methods and enjoy high-quality images. If you want the easiest way to remove watermark, we highly recommend iMyFone MarkGo, which enables you to 1 click to remove all kinds of watermarks.