Discover the best Beyonce AI Voice Changer and unlock her incredible vocal abilities today! As one of the most successful performers of her generation, Beyonce has earned her nickname "Queen Bey" and become a pop icon of the 21st century.
Now you can access her one-of-a-kind voice with the top Beyonce AI voice changer - experience the true power of her vocals with a few clicks. Enjoy pranks and other fun moments with your friends while gaming, streaming, or on the phone – try the best Beyonce AI voice changer today!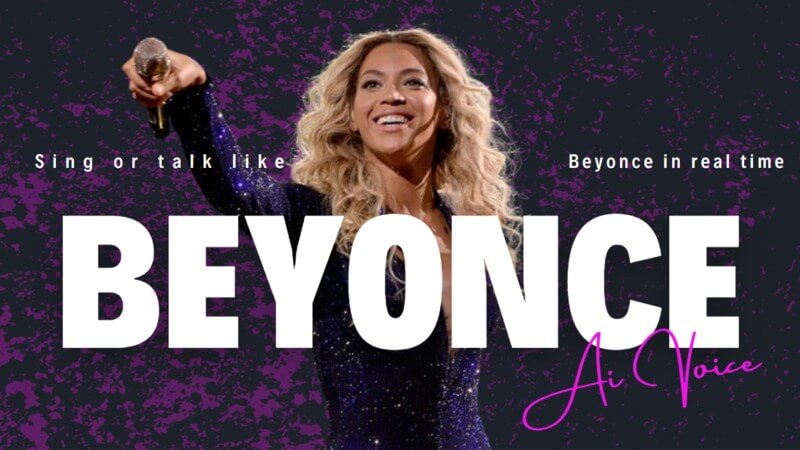 Part 1: Who is Beyonce?
Hailing from Houston, Texas, September 4, 1981 – Beyonce started her rise to fame in the 1990s as a member of the renowned R&B group Destiny's Child. After achieving great success in the group, Beyoncé launched an uncontested solo career that earned her numerous awards and accolades as a best-selling recording artist. Fast-forward to 2008, when Beyoncé and rapper JAY-Z tied the knot – creating one of the most successful couples in the entertainment industry!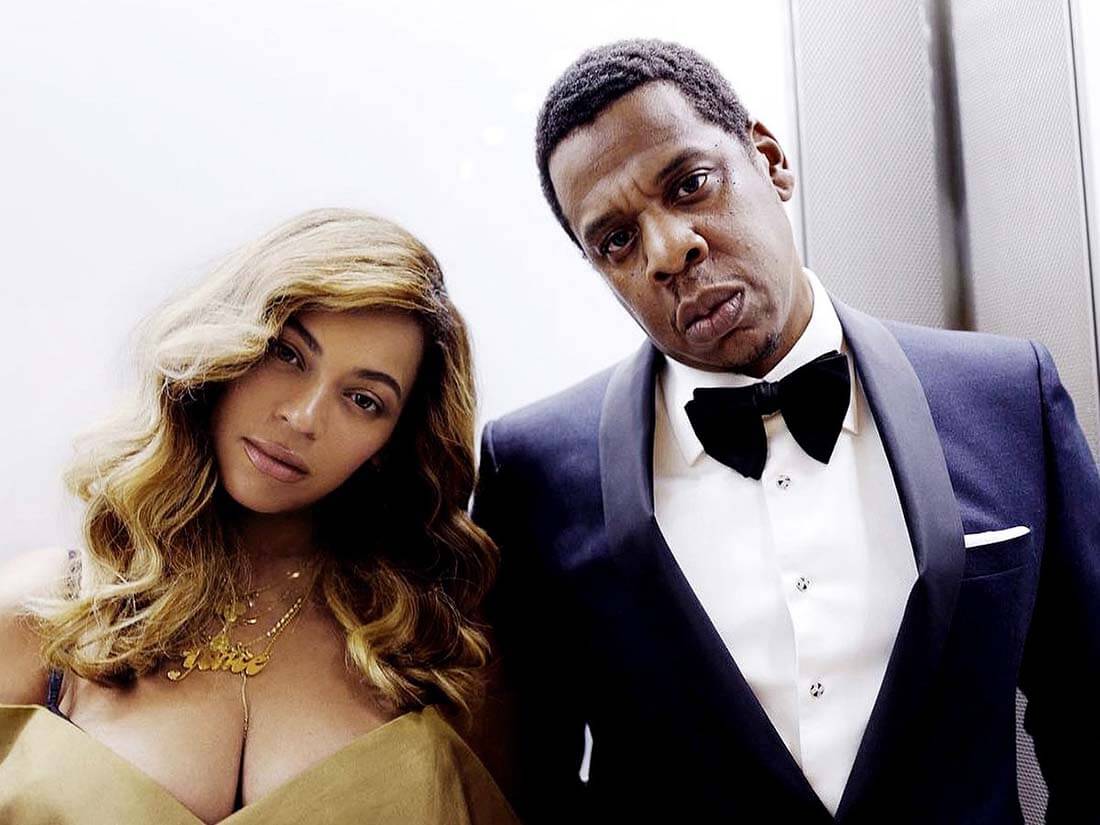 The success story of music's greatest icon, Beyonce , began in 2003 with her album, "Dangerously in Love" and continued with countless record-shattering albums, including "I Am...Sasha Fierce" (2008), the visual albums "Beyoncé" (2013) and "Lemonade" (2016). Her immense talent was rewarded with a whopping six Grammys at the 2010 ceremony, making her the most awarded female artist in a single night. Unlock the full power of Beyonce vocal range with the best Beyonce AI Voice Changer – make your digital content come to life today!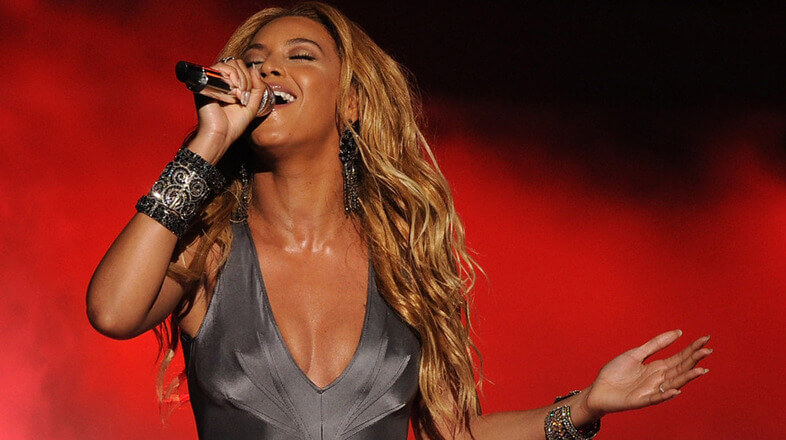 Part 2: The Top 3 Beyonce AI voice changers
Easily Access Beyonce AI Voice - Click the Button for MagicMic's AI Voice Changer and Transform Your Voice into Beyonce's in Real-Time!
Unlock the Astounding Power of Beyonce Voice with MagicMic's AI Voice Changer! Enjoy its Unparalleled Realism, Thanks to its Advanced AI Technology and its Range of Effects and Customization Options. Perfectly Control Your Voice's Pitch, Tone and Cadence to Achieve a Natural and Life-like Beyonce Voice!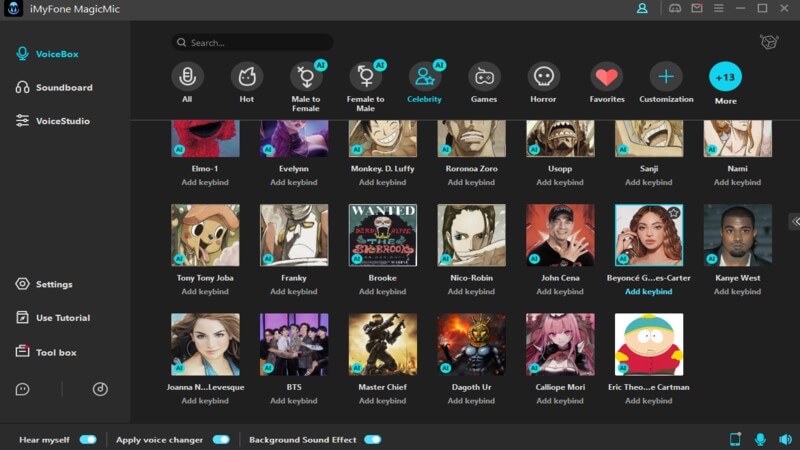 Experience a Unique, Custom Beyonce Voice with MagicMic and its 10 Key Features:
Realistic Beyonce voice: Create an Authentic Beyonce Voice with MagicMic's Advanced AI Technology;

Customizable voice settings: EExperience Total Voice Control with MagicMic's Adjustable Pitch, Tone & Cadence Settings;

Real-time voice changing: Harness the Power of Real-Time Voice Transformation with MagicMic;

Sound effects: Unlock Endless Possibilities with MagicMic's 600+ Voice Effects for Enhanced Personalization;

AI voice cloning: Take Advantage of Powerful AI with MagicMic's Voice Cloning Function to Create Unique Vocal Sounds;

Keybinds control: Unlock Enhanced Voice Control with MagicMic's Hotkey Option & Assign Hotkeys or Keybinds for Quick and Easy Voice Switching

Background sound adjustment: Tap into the Realism of Beyonce Voice with MagicMic's Background Sound Adjustments to Fine Tune the Environment and Effectively Amplify the Realism of Your Voice.

Get Creative with MagicMic and Popular Chat Apps Such as Zoom & Discord; Modify Your Voice and Imitate Celebs LikeRobert Downey Jr,Joe Biden or Donald Trump with Its Advanced AI Technology!

Here, you can either record your audio or upload a file to MagicMic and start adding effects;

MagicMic is Available on Both Windows and Mac.
Video Guide About MagicMic Beyonce AI Voice Changer
Unlock the Incredible Possibilities of Voice.ai with its Key Features: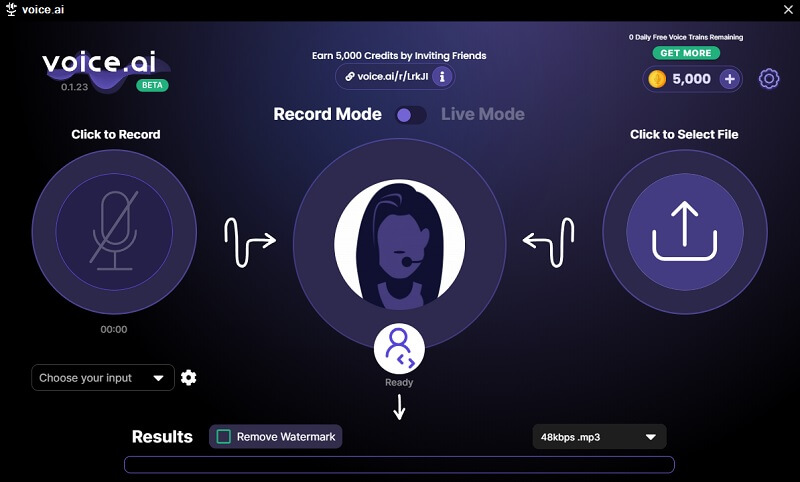 Key features of Voice.ai
Create Engaging and Natural-Sounding Voiceovers for Content Creators, Marketers, and Businesses;

Leverage Voice Cloning Technology to Modify Your Voice to Sound Like Any Character or to Create Entirely New Voices;

Enjoy Real-Time Voice Changing Features and Apply Voice Effects While Recording or Streaming Live on Multiple Streams.
Discover the Power of Voicemode and Unleash Your Character! Enjoy Real-Time Voice Transformation with Its Range of Voice Options - Regardles of Your Gender - and Play to Your Heart's Content with Its Powerful and Intuitive Tool Designed Especially For Gamers.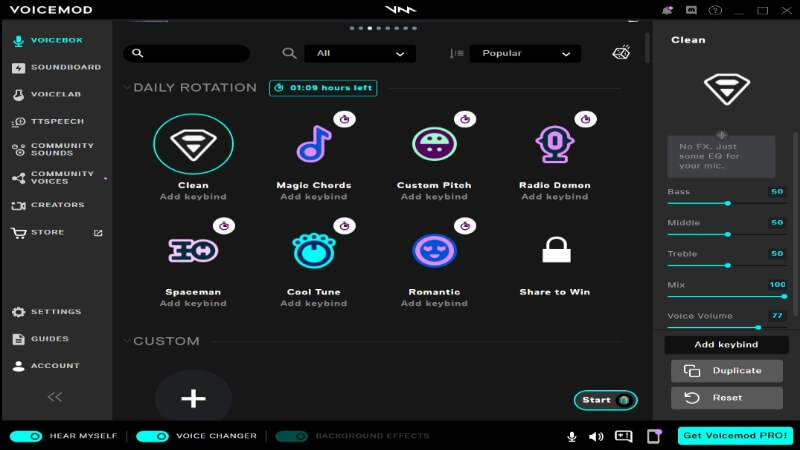 Key features of Voicemod
Transform Your Voice with Its 60 Voice Filters;

Access All Functions with Pro Version;

Intuitive & User-Friendly Interface for Complete Voice Control;

Plus Popular Voice Editing Features Such as Satanic Agents, Chipmunk, Xbox Gamer Girl Voice Changer, and Alien Voices.
Part 3: Beyonce Text-to-Speech: How to Get Beyonce AI Voice Generator?
Unlock the Incredible Possibilities of AI Voice Modification with iMyFone Voxbox! Make Voiceover Sound Like Mori Calliope and Enjoy Its Range of Functions - Such as Text-to-Speech, Speech-to-Text, Video Conversion, and Speech-to-Speech - All Absolutely Free!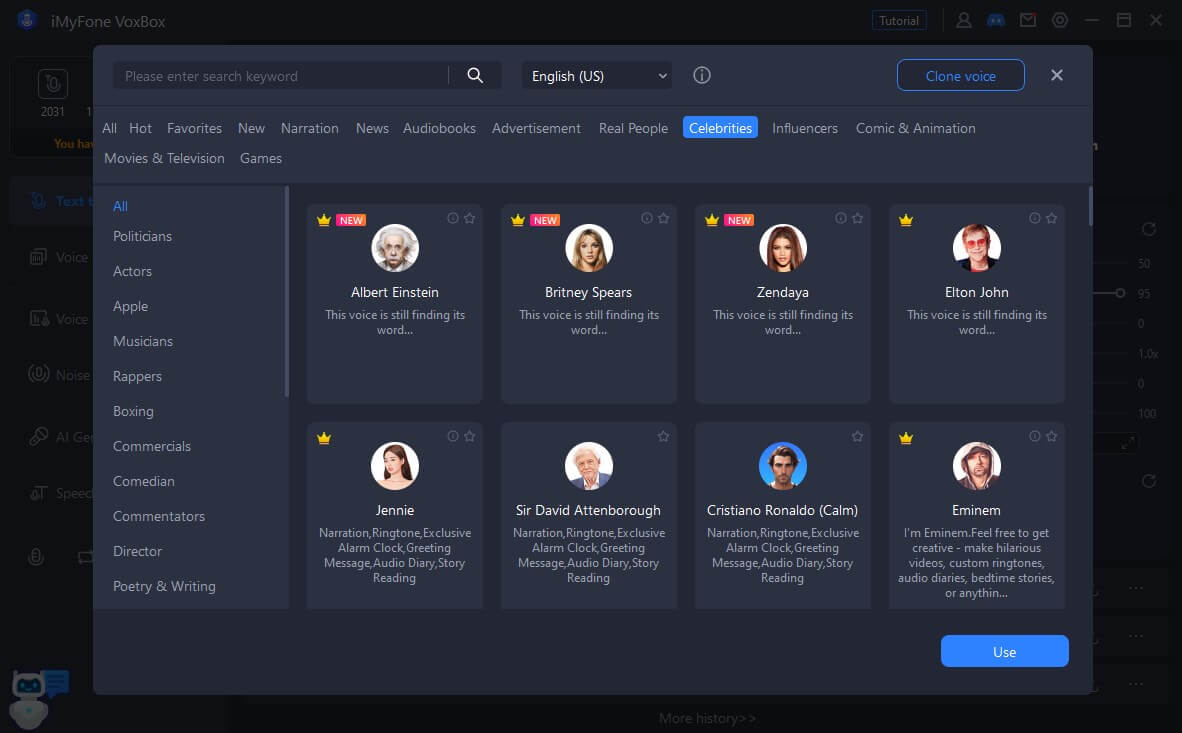 Features:
3200+ Voices, 46+ Languages, and 100+ Accents;

Customizability Like Speed & Volume;

Scene-Specific Features for Business, Entertainment and More;.

User-Friendly Interface for Maximum Security and Ease-of-Use;

Clean, Safe Interface for Peace of Mind.
Part 4: FAQs about Beyonce AI Voice
1. What is Beyonce AI Voice Changer and how does it work?
Experience the power of Leonardo DiCaprio's voice with MagicMic's AI Voice Changer! This specialized software uses artificial intelligence to modify the tone, pitch, and speed of a person's voice. Advanced neural network models analyze and break down the input audio into phonemes and manipulate the pitch and speed with incredible accuracy. Explore the full power of MagicMic AI without limits – click the button below and unlock the Leonardo DiCaprio experience for free!
2. Can Beyonce AI Voice be used for commercial purposes?
Absolutely – use Leonardo DiCaprio's AI Voice Changer for commercial purposes like creating voiceovers for videos or audiobooks! Just make sure that you have all the required licenses and permissions to use this powerful software. Unlock the full potential of voice-changing technology with Leonardo DiCaprio's AI Voice Changer – the possibilities are endless.
3. How to use a Beyonce AI Voice Changer MagicMic for Your Next TikTok or Youtube Viral Hit
Incorporate Beyonce AI Voice in Your Content for Live Streaming or Recording Projects Using Compatible Software Applications such as OBS or Streamlabs. Leverage Beyonce AI Voice Changer MagicMic's Advanced AI Technologies to Create Flawless Videos & Reach Virality!
Final words
To Sum Up, In Pursuit of The Iconic Beyonce Voice, Avail Yourselves to AI Voice Tools like iMyFone MagicMic and Beyonce Voice Changers - Options are Plentiful! With the Power of Beyonce AI Voice Technology, Fans Can Accurately Recreate Her Signature Sound & Vocal Range with Ease.
What Are You Waiting For? Unlock the Magic of AI Voice Generators & See What You Can Create! Tap Into Your Inner Beyonce & Let Your Voice Be Heard! Try it Now and Experience the Possibilities!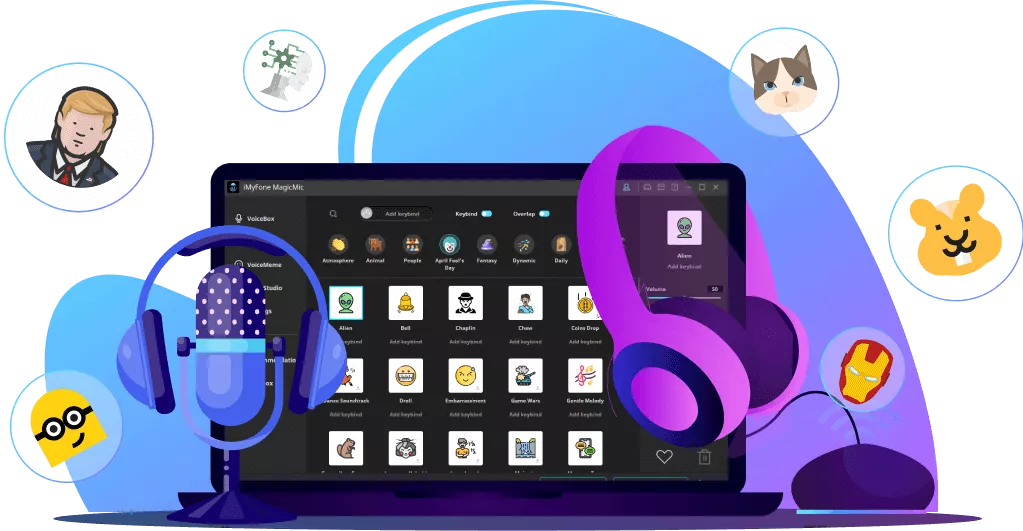 225+ Voice effects for one-click voice changing in real-time.
Huge library with 600+ Voice Effects and 200+ Voice Memes.
Sound emulator in games, live, chatting, online classes, and more.
Voice recording and audio voice changing is supported.
Voice studio lets you create any voice you like.