I believe many people are very familiar with Ariana Grande's voice, and may also be her fans. So, why do you like her songs? I believe it is her unique voice and moving singing that attract you.
Now, do you want to sound like her when chatting online or playing games? Would you like to use her voice to dub your videos?
In this article, we will introduce how to use Ariana Grande voice changer to make your voice sound like hers, and how to use Ariana Grande AI voice generator to generate video dubbing. Come and experience Ariana Grande AI voice!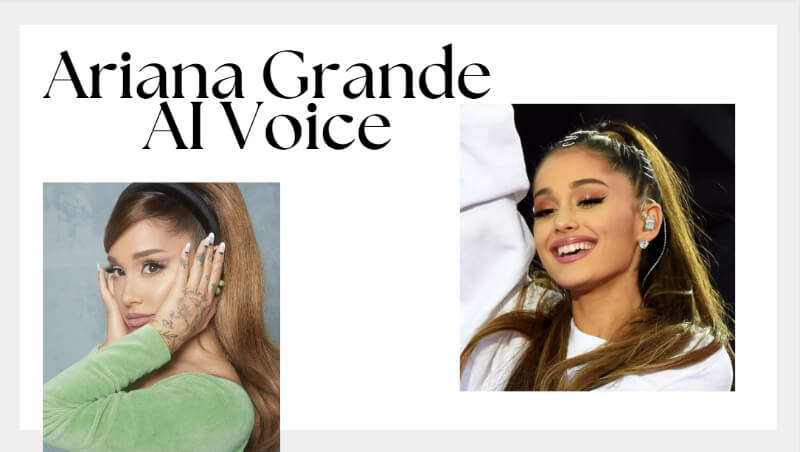 Change Voice
Part 1: Who is Ariana Grande and Why Her Voice is So Special?
Ariana Grande is a Grammy-winning American singer, songwriter, her debut album is "Yours Truly," then she became famous. Her vocal range and distinctive tone is very impressive, which has made her one of the most recognizable voices in contemporary pop music.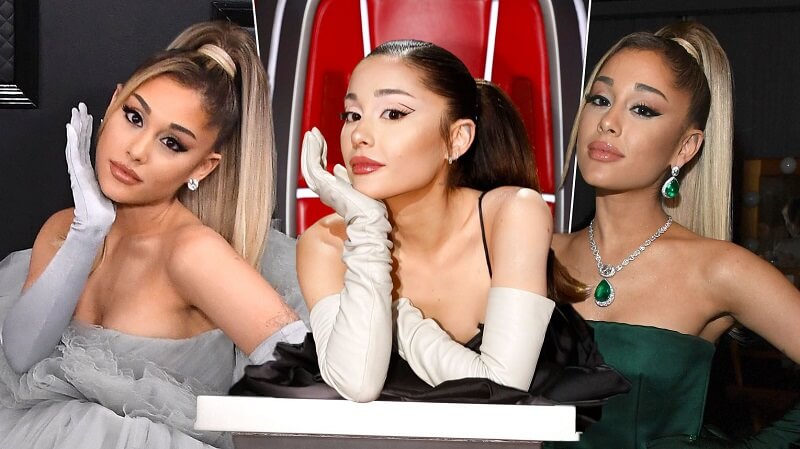 Grande's voice is often described as powerful, soulful, and versatile. She has been praised for her ability to hit high notes effortlessly, and her vocal acrobatics have earned her comparisons to legendary divas like Mariah Carey and Whitney Houston. Her voice has been described as a "four-octave soprano," and she is known for her signature use of whistle tones and belting.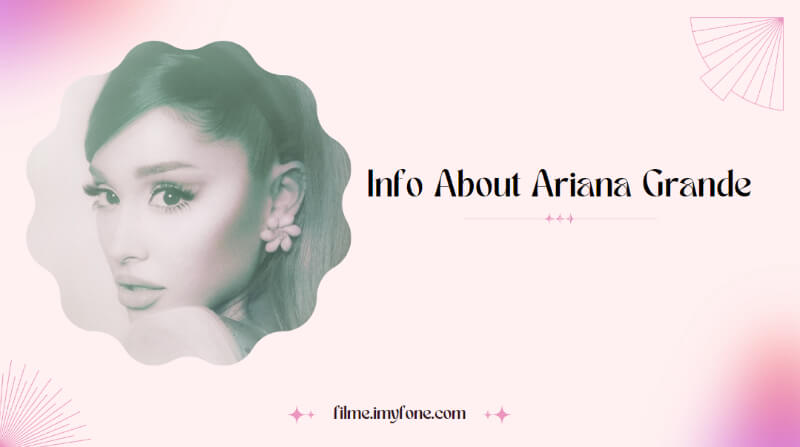 Part 2: The Best Ariana Grande AI Voice Changer & Generator That You Can Try
Have you ever wondered what it would be like to sound like Ariana Grande? With the right voice changer and voice generator, you can transform your voice into the sound of this talented artist.In this part and next part, we will introduce you to the 4 AI Ariana Grande voice tools that can change your voice in real-time, convert text to speech, and provide online voice changing.
1. MagicMic - Ariana Grande AI Voice Changer
MagicMic is a real-time AI voice changer and soundboard software that includes an Ariana Grande AI voice. With MagicMic, users can transform their voice in real-time during voice chats, video calls, and online gaming sessions. The Ariana Grande AI voice generator allows users to change the voices in their voiceovers, making their videos more attractive.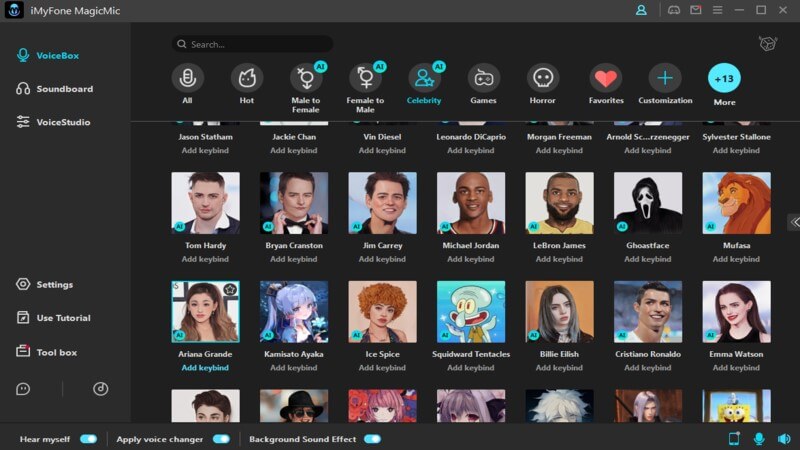 Key features of MagicMic
Ariana Grande AI Voice Generator
It provides 300+ voice effects, you can change your voice into anyone.

600+ soundboards and 200+ voice memes to add more fun in your online chatting.

You can even design your own custom AI voice using the voice studio feature.

You can change your voice in gaming, live streaming, chatting, or attending online classes.

It offers a variety of voice effects such as male, female, cartoon, and robot, as well as celebrity voices like Donald Trump,Morgan Freeman, and more.

Record your voice and apply voice-changing effects to your audio recordings with ease.
Pros:

Offers a wide range of voice and sound effects

Compatible with popular gaming platforms

Easy to use and customizable

The interface is intuitive

Users can adjust the level of effects and add other effects.

Allows for real-time voice modulation during voice chats and streaming.
Cons:

It's a new product in market, not very famous.
How to Sound Like Ariana Grande AI Voice?
Step 1: Download and Launch
Get MagicMic software, install it, open the app, and sign in using your email details.
Step 2: Configure Input and Program Settings
Choose your main microphone as input, activate "Apply Voice Changer" and "Hear Myself" options for live voice modification.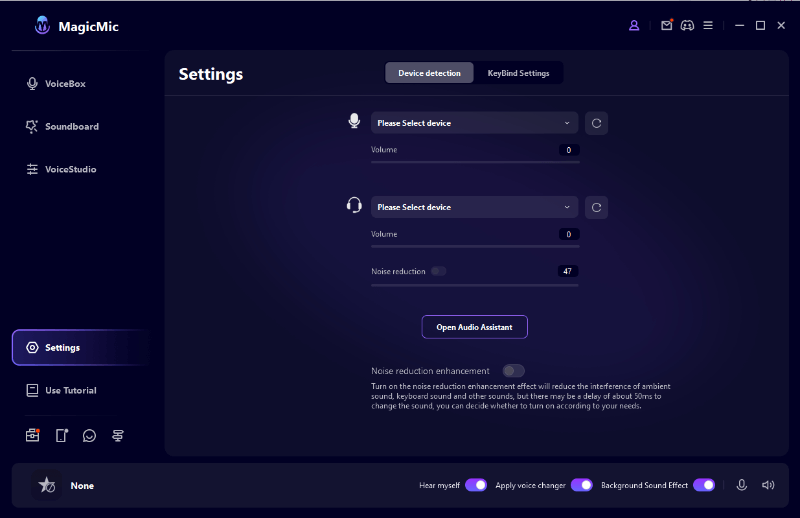 Step 3: Select the MagicMic Virtual Audio Device
Choose Voice Changer Virtual Audio Device as input in your desired app.
Step 4: Choose Voice and Sound Effects
Explore an extensive range of voice effects in MagicMic. Such as Ariana Grande AI voice Try different effects and assign them to keybinds for convenient toggling.
Watch the Video Below To Know More About Ariana Grande AI Voice Changer
Part 3:Other Ariana Grande AI Voice Generators for PC/Mobile
1)iMyFone VoxBox - Ariana Grande AI Voice Generator
VoxBox is an AI voice generator that not only supported AI Ariana Grande Voice but also has 46+ languages, 100+ accents, and more than 3200+ human voices.With this AI tool, you can generate speech directly from text, dub your videos, and replicate anyone's voice. It also offers voice cloning features to cater to your various needs.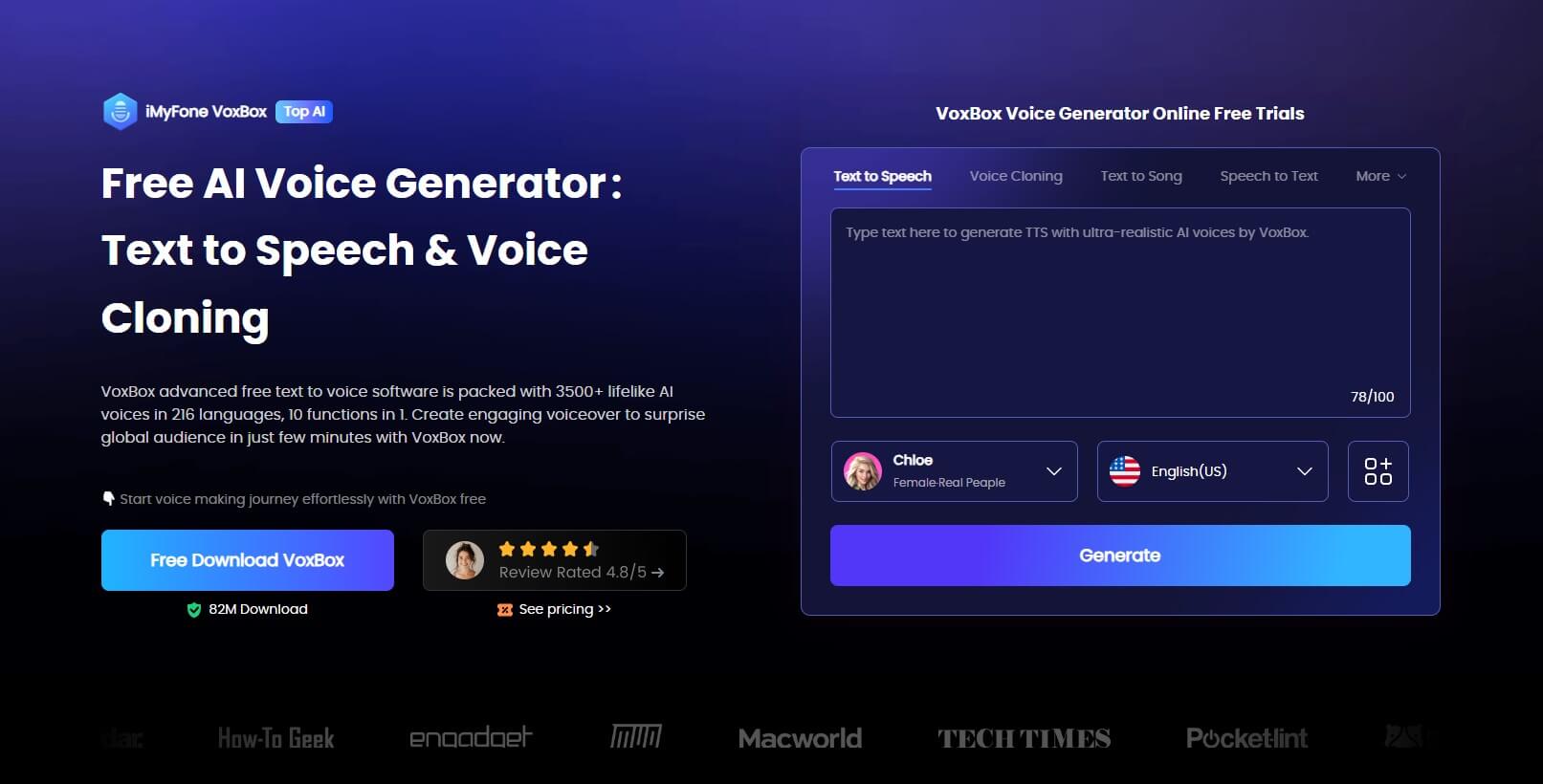 Pros:

Support 3200+ voices & 46+ languages for overdub.

Support custom like Pause, Pitch, Volume, Speed & Emphasis.

Not only an AI Voice Generator.

Easy to use, High-quality audio.

Supported PC & Mobile.
Cons:

Some celebrity voices may not closely resemble the originals.
MorphVOX Junior is a free voice changer software for Windows that can create AI Ariana Grande voice. It enables real-time voice modulation during microphone usage. With a user-friendly interface, even beginners can effortlessly alter their voices. Explore various transformations, including the sought-after Ariana Grande AI voice, with ease.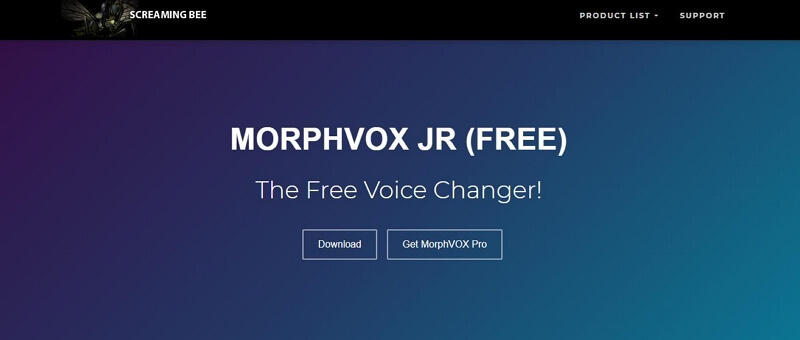 Pros:

It has a wide range of voice effects to choose from.

It won't slow down your computer while you're using it.

The software is compatible with a variety of online games, chat programs, and VoIP applications.
Cons:

The free version only offers a limited number of voice effects.

Some users have reported issues with the software crashing or causing audio problems on their computer.
MagicCall is an innovative voice changer app that empowers users to alter their voices during phone calls in real-time. Prior to making a call, users can effortlessly choose from a range of voice effects, including the coveted Ariana Grande AI voice, enhancing their calling experience.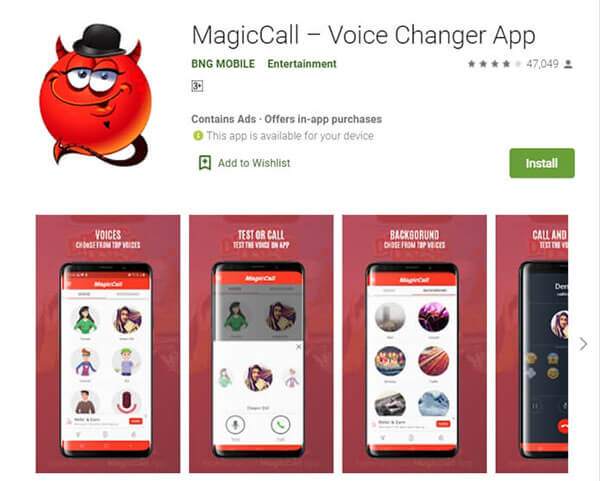 Pros:

One of the main advantages of MagicCall is its ease of use.

MagicCall isaffordability
Cons:

The app requires a stable internet connection for the voice effects to work properly

Some users have reported issues with the app's compatibility with certain phone models

The app may not be suitable for professional use due to its cartoonish and unrealistic voice effects.
4) Lalals - Online Ariana Grande AI Voice
Lalals is an online AI voice changer that can replicate Ariana Grande's voice and transform the user's voice into the legendary artist's vocals.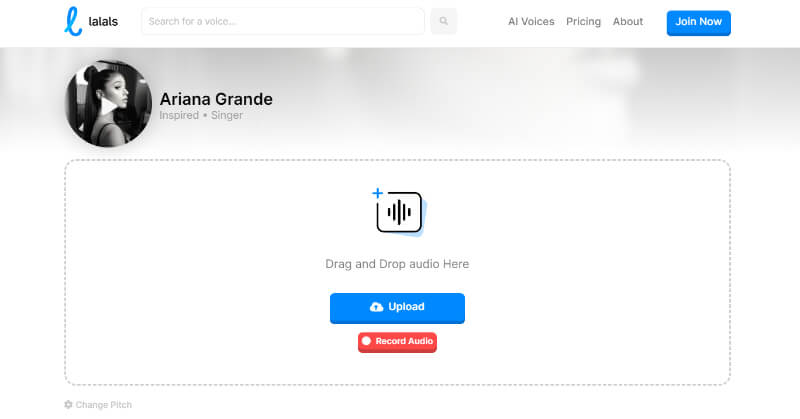 Pros:

It offers a wide range of celebrity, singer, and cartoon character voices for online voice modulation.

You can achieve voice modulation using both uploads and recordings.

The voice modulation effects sound very natural.

The voice modulation process is speedy.
Cons:

Voice options are limited.

Downloading audio for voice modulation comes at a cost, which can be expensive, requiring $20 per month.
Part 4: Bonus Tips to Generate Ariana Grande AI Cover
1)MusicAI - Ariana Grande AI Song Cover
Do you dream of crafting one-of-a-kind Ariana Grande AI cover songs that leave a lasting impression? MusicAI is your go-to solution. It's a robust AI singing generator that makes crafting music covers easily and fun.
Whether you're a pop enthusiast or a rock aficionado, this tool lets you infuse your favorite tracks with a fresh and unique twist.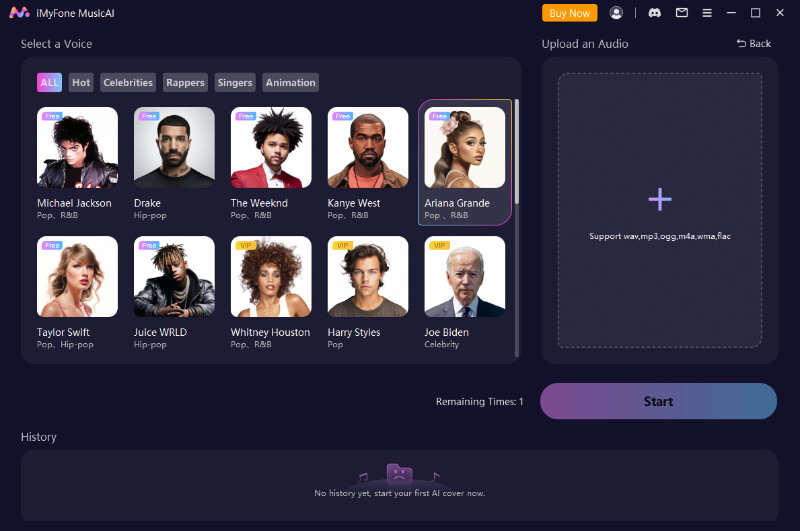 Pros:

Provides popular singers AI voice models for song generation.

Isolate vocals from instrument tracks and videos.

Supports various input and output formats.

Advanced AI for expressive covers.
Cons:

Its sound selection is somewhat limited.
Part 5: FAQs about Ariana Grande AI Voice
1.What is Ariana Grande AI Voice or Ariana Grande voice changer?
Ariana Grande AI Voice or Ariana Grande voice changer is a software or application that allows users to modify their voice to sound like Ariana Grande, the popular American singer and songwriter.
2. Are there any free Ariana Grande voice changers available?
There are some free Ariana Grande voice changers available online, but they may have limited features and lower-quality sound effects. It is recommended to invest in a paid Ariana Grande voice changer for a more authentic and high-quality experience.
3. Why did ariana grande leave the voice?
After taking part in The Voice for 2021, Ariana Grande is occupied with filming the movie adaptation of the highly-acclaimed Broadway musical, Wicked, where she will portray Glinda and Cynthia Erivo as the Tony-winning Elphaba.
Final words
In conclusion, if you want to add some magic to your content creation or just have some fun with friends, there are many AI voice tools available that can help you achieve the Ariana Grande voice. One of our top recommendations is the MagicMic - the best Ariana Grande voice changer, as it allows you to instantly transform your voice into the Ariana Grande AI voice during games and voice chats.
So why not give it a try and see what kind of magic you can create with these Ariana Grande AI voice generator tools? Prepare to get Ariana Grande voice and make your voice stand out!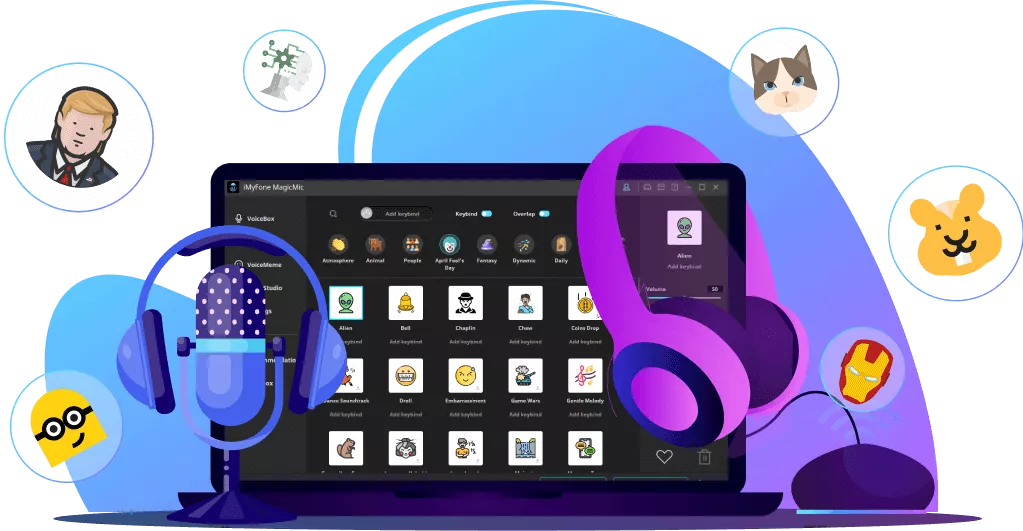 300+ Voice effects for one-click voice changing in real-time.
Huge library with 600+ Voice Effects and 200+ Voice Memes.
Sound emulator in games, live, chatting, online classes, and more.
Voice recording and audio voice changing is supported.
Voice studio lets you create any voice you like.