Are you a devoted fan of South Park and the attractive character - Eric Cartman, and are you eager to get iconic Eric Cartman AI voice to infuse a dose of his animated charm into your digital content, gaming or streaming experience? If the answer is yes, you are in the right place!
In this article, we will walk you through how to generate Cartman AI voice, recommending the best Eric Cartman voice changer and Cartman AI voice generator to fulfill all your needs using this charming character's voice. Keep reading!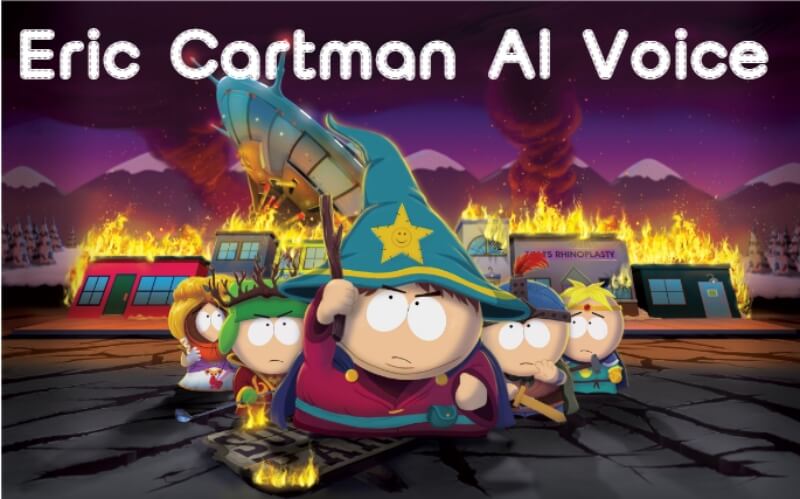 Tips
Listen to the Eric Cartman AI Voice in MagicMic!

Part 1: Who is Cartman and Who Voices Cartman?
Cartman is a fictional character from the animated TV show "South Park". He is a brash, selfish, and often offensive boy with a distinct voice. Cartman is known for his outrageous behavior and iconic catchphrases.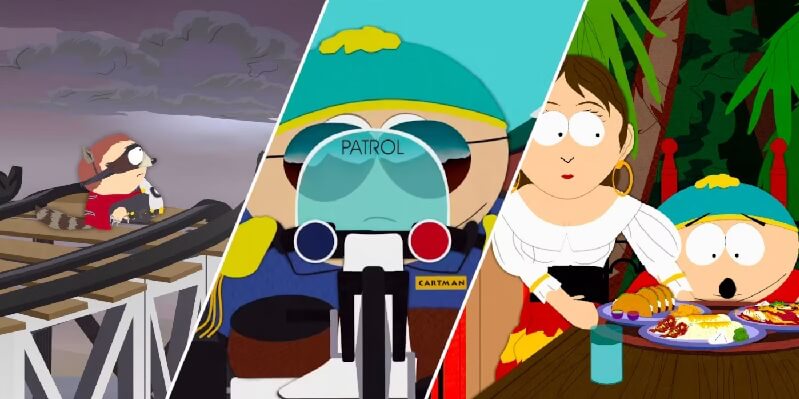 The Cartman voice actor is Trey Parker. He is one of the co-creators of "South Park" and provides the voice for numerous characters on the show, including the unforgettable and iconic voice of Cartman.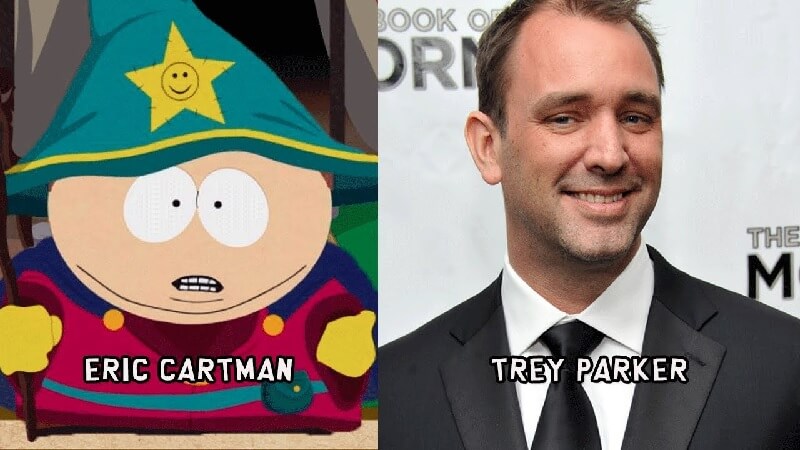 Part 2: How to Get Eric Cartman AI Voice and Cartman Soundbaord?
Generating an Eric Cartman AI voice is effortlessly achieved through the MagicMic AI Cartman voice changer. This software enables real-time voice modification, perfectly emulating the unmistakable tone of Eric Cartman.
With a straightforward process, you only need to select the desired sounds, opt for the Eric Cartman voice, and witness the voice changer's enchanting effects in action.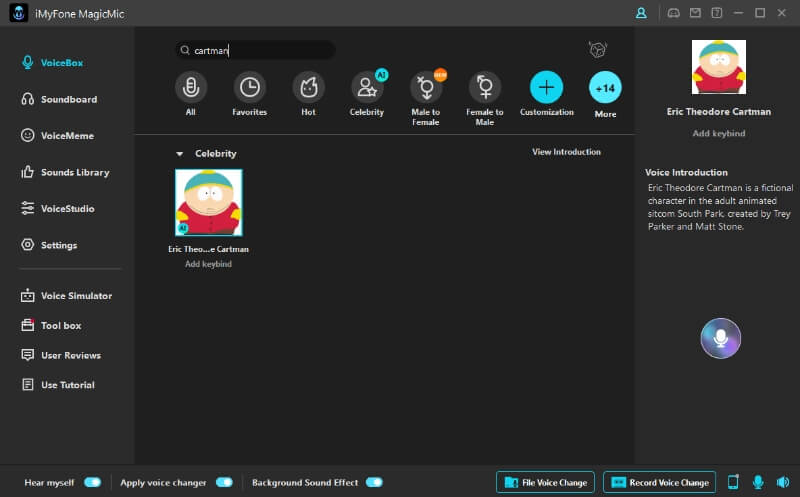 How to get Eric Cartman AI voice?
Step 1: Download and Launch
Install MagicMic software, log in to your account.
Step 2: Configure Input and Program Settings
Choose your main microphone as input, enable "Apply Voice Changer," activate "Hear Myself."

Step 3: Select the MagicMic Virtual Audio Device
Select Virtual Audio Device as input in your preferred app for seamless voice modification.
Step 4: Choose Voice or Create AI Voice
Explore Eric Cartman AI voice, Stan Marsh, Kyle Broflovski, Kenny McCormick and others, or you can import your own personalized Cartman voice to use.

Special Offer: Get Official MagicMic with A Discount
35% off Coupon Code: MAGICMICYT
Key features of MagicMic
Eric Cartman AI Voice

Changer
It provides 225+ voice filters,600+ sound effects and 200+ voice memes, like Bill Cipher, Stewie Griffin, Bender Rodriguez, Bart Simpson, Roger Smith, Rick and Morty, and more.

Make yourself sound like any characters courtesy of its immediate, real-time AI voice manipulation.

Access a built-in soundboard to engage with amusing audio clips interactively.

Personalize hotkeys for convenient selection of preferred voice effects.

Enjoy improved audio clarity via noise reduction technology.

Seamlessly integrate with popular platforms like Discord, Twitch, Skype, and more.

Utilize the virtual audio driver function to capture and modify audio from diverse applications and devices.
Pros:

250+ voice effects, 600+ soundboard and 200+ voice memes.

Real-time voice transformation for immersive gaming and application experiences.

Compatible with many programs and platforms.

User-friendly interface

Effortless voice recording and customization of audio files
Cons:

It's a new product in market, not very famous.
Watch the Video Below to Know More About
Eric Cartman AI Voice & Soundboard
Part 3: Other Eric Cartman Voice Generators for PC/Mobile
If you are opting for using Cartman AI voice for dubbing, VoxBox - the best Eric Cartman voice generator can help you with that, courtesy of its powerful text to speech technology and high-quality AI voices provided. You can convert any text into Cartman AI voiceovers in seconds across 46+ languages.
Therefore, if you want to use Eric Cartman voice to make video or other audio materials for you, VoxBox should be the priority.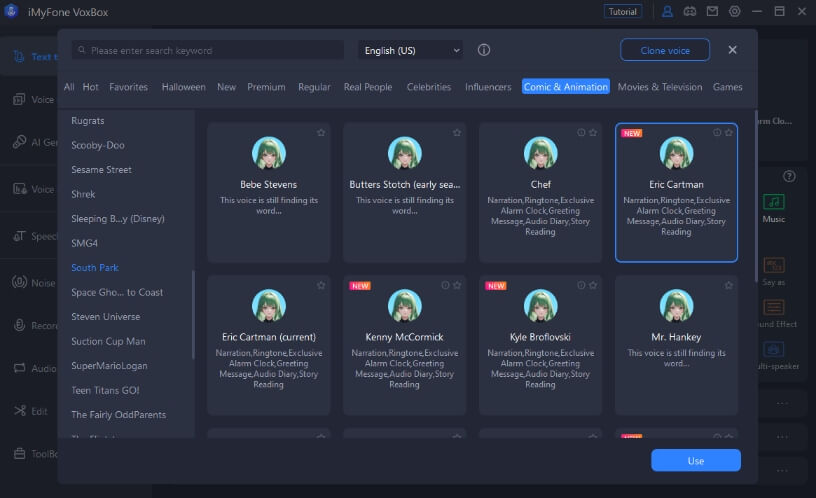 Key features of VoxBox Cartman AI Voice Generator
It comes with 77 languages and 3200+ voices for text-to-speech dubbing with ease, including comics like South Park, games, rappers, celebrities, and more.

Allows to generate genuine and expressive AI speech using your favorite characters AI voices.

Being an all-in-one solution for TTS, STT, voice cloning, conversion, recording, and editing.

Having various input and output formats like MP3, WAV, and more.
How to use VoxBox Generate Cartman AI voice
Step 1: Download, install, and open VoxBox.
Step 2: Click "Change Speaker" - "Comic & Animation" - "Sounth Park" - "Eric Cartman".
Step 3: Enter text and click "Convert" to get export your customized Cartman voiceover.
2) MorphVOX - AI Voice Changer
MorphVOX is another voice changer with AI Eric Cartman voice that allows users to modify their voices in real-time during voice calls or while gaming.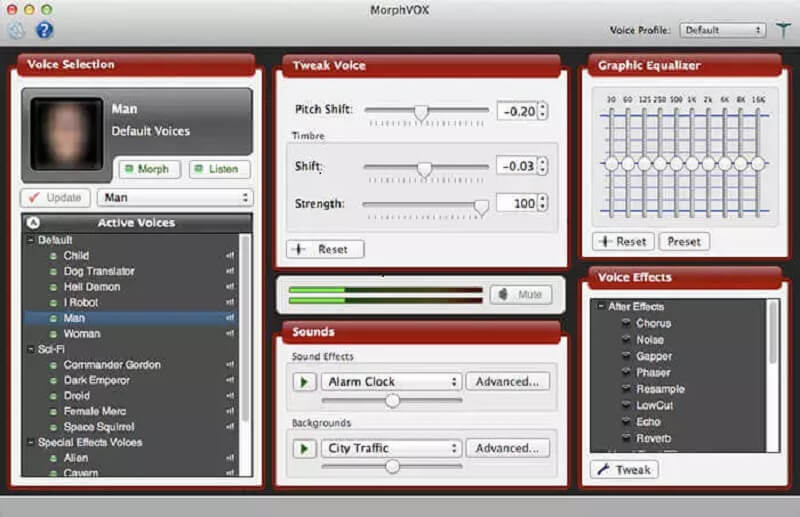 Pros:

Real-time voice changing capabilities for voice calls and gaming.

A wide range of voice effects and customizable options.

Compatibility with popular communication and gaming platforms.
Cons:

Some advanced features may require a paid version.

Learning curve for navigating and setting up custom voice changes.
3) Voicemod - AI Voice Generator
Voicemod is a popular Eirc Cartman voice generator that offers a wide variety of real-time voice effects and filters. It allows users to modify their voices into Cartman's voice during voice calls, gaming, and streaming for added entertainment and creativity.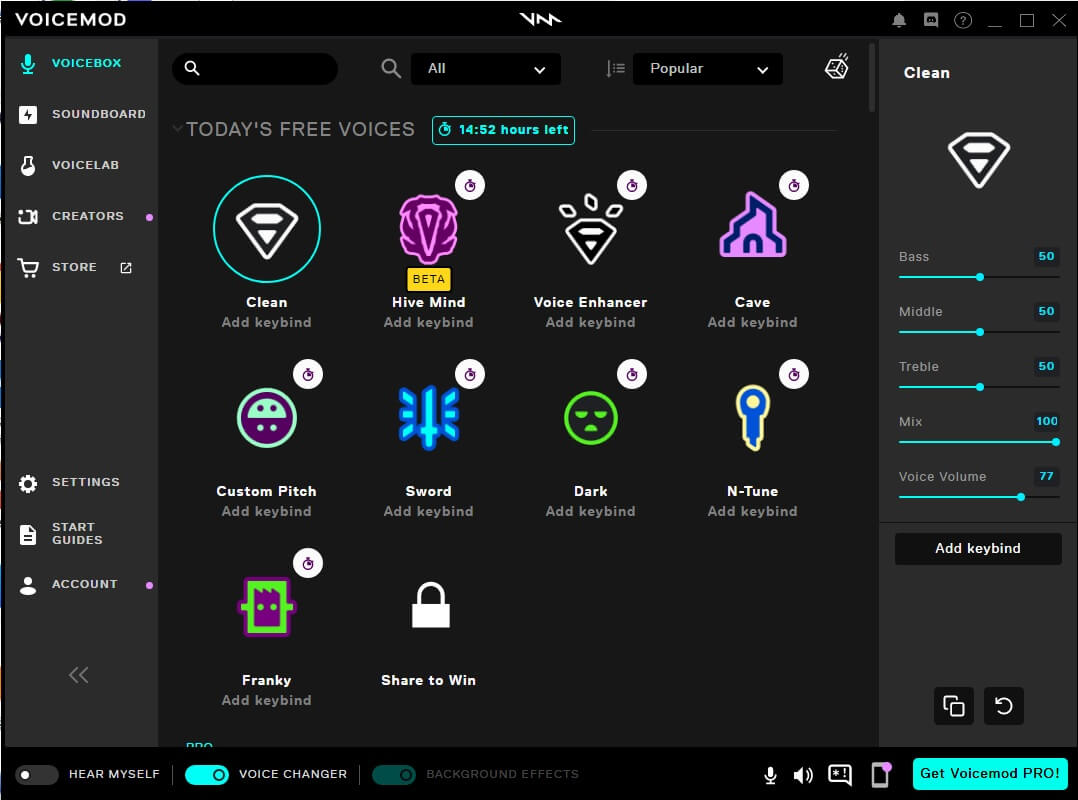 Pros:

Extensive collection of voice effects, including character voices and memes.

Easy integration with communication and gaming platforms.

Real-time voice modulation for live streaming and voice chats.
Cons:

Limited free version with restricted voice effect options.

Occasional performance issues or compatibility problems with specific applications.
4) Voicer - Voice Changer App
Voicer is a mobile app that enables users to change their voices in real-time on their smartphones. With various voice effects and filters like Eric Cartman voice AI, Voicer offers a fun and convenient way to transform your voice during calls, recordings, or social media interactions, adding a unique touch to your conversations and content creation.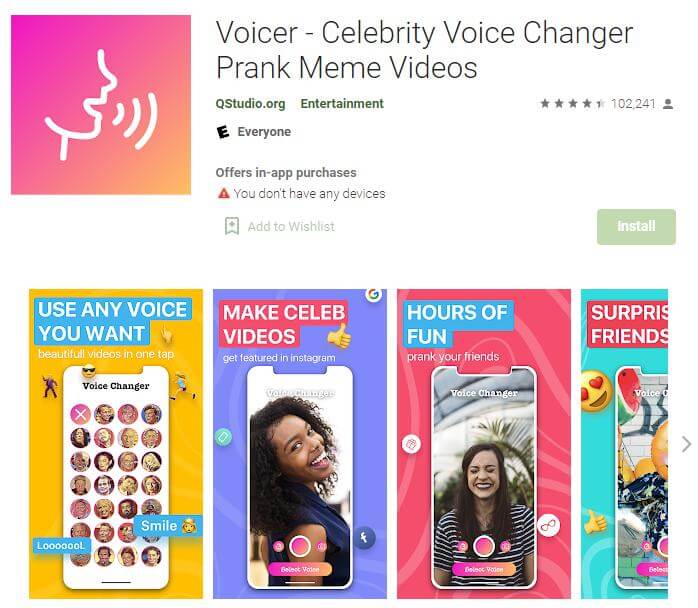 Pros:

Available as a mobile app for on-the-go voice changing.

Multiple voice effects and filters for customization.

User-friendly interface for quick and easy voice modifications.
Cons:

Limited functionality compared to desktop voice changer software.

Possible limitations on voice quality and real-time processing capabilities.
Part 4: Hot Topics About Eric Cartman AI Voice
1. How can I get a Eric Cartman AI voice for myself?
To get a Cartman voice, you can use a voice changer device or software that offers a Cartman voice preset or customization options like MagicMic, with which you can sound like Eric Cartman in real time. But if you want to generate Cartman AI voiceovers, VoxBox should be the priority.
2. Is there a Cartman voice changer available for download?
Yes, there are various voice changer software and mobile apps available for download that provide a Cartman voice option, and MagicMic is one of them.
3. Can I use a voice changer to sound like Cartman AI in real-time?
Yes, many voice changers offer real-time voice modulation, allowing you to instantly sound like Cartman during voice calls or live streaming.
4. When did Cartman become evil?
Season 5. Cartman was initially portrayed as an antihero throughout the series until Season 5, marking his shift towards the role of the central antagonistic figure. Nevertheless, subsequent seasons have depicted his character oscillating between villainous and anti-heroic tendencies.
5. Why do they call him Cartman and not Eric?
The moniker "Cartman" is commonly used to address Eric Cartman, primarily owing to his association with fellow high school classmate Matt Karpman, who played a partial role in inspiring the conception of his character.
Final words
In conclusion, the Eric Cartman AI voice and Cartman soundboard have greatly changed the way fans can experience the iconic Eric Cartman voice from South Park. This innovative technology brings the distinct and beloved voice of Cartman to life, providing fans with a new and exciting way to interact with their favorite character.
Whether it's recreating iconic lines or creating original comedic scenarios, the Eric Cartman Voice Changer like iMyFone MagicMic and Cartman voice generator offer endless possibilities for fans to indulge in the humor and charm of Eric Cartman's unforgettable voice.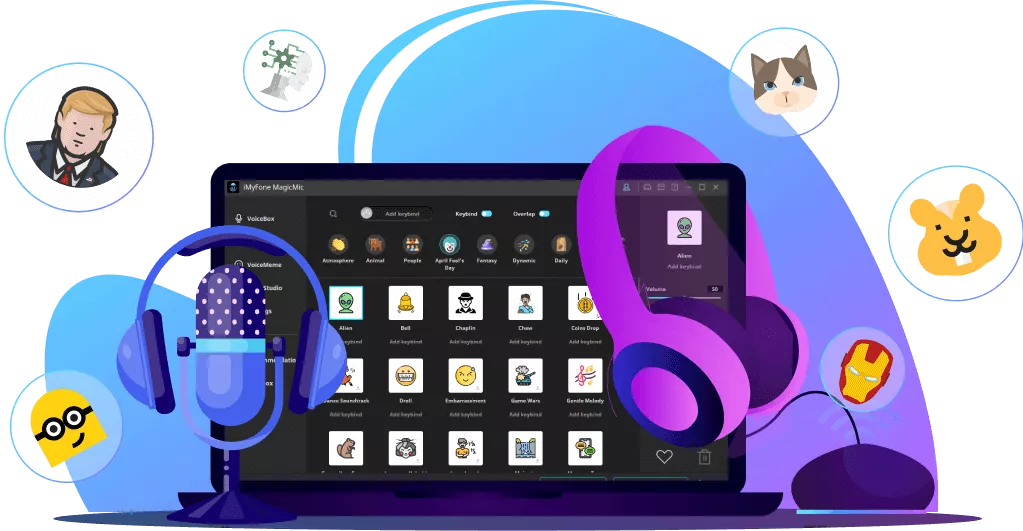 250+ Voice effects for one-click voice changing in real-time.
Huge library with 600+ Voice Effects and 200+ Voice Memes.
Sound emulator in games, live, chatting, online classes, and more.
Voice recording and audio voice changing is supported.
Voice studio lets you create any voice you like.
Biden
Get more voices click the "Download" button
LimitedOfferFor
LifeTime Plan
Copy the coupon code and use it at checkout
Click
here
to learn how to use coupon!