Looking to spice up your Five Nights at Freddy's gaming experience? A FNaF voice changer might be just what you need. With FNaF AI voice generator, you can explore FNaf AI voice and change your own voice in fun and amazing ways. Whether you're looking to create hilarious trolling videos like those seen in Black Ops 2 or simply add a unique twist to your FNaF gameplay, a voice changer is a great tool to have in your arsenal.
Check out our article to learn more about FNaF voice changer and FNAF soundboard, and how to use them to take your gaming to the next level.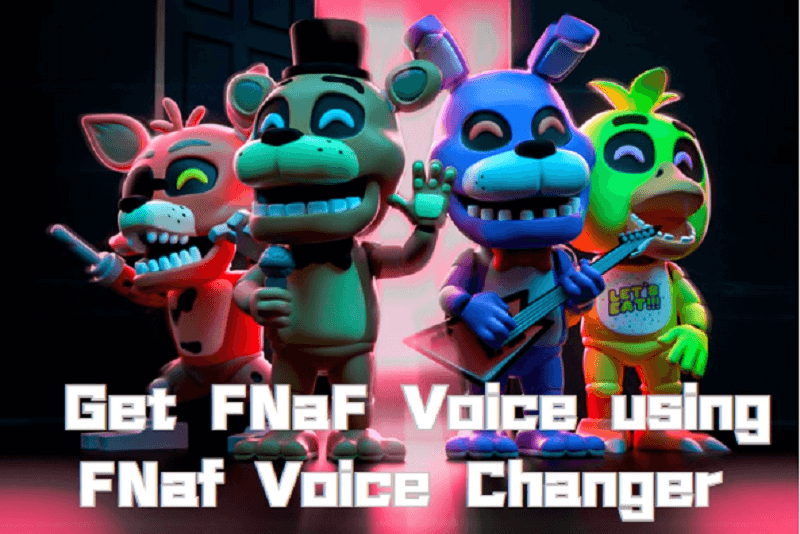 Part 1: What is FNaF and Who are the FNaF Voice Actors?
What is FNaF?
Five Nights at Freddy's, also known as FNaF, is a popular media franchise created by Scott Cawthon. The franchise includes multiple video games and spin-offs, novels, and an anthology series.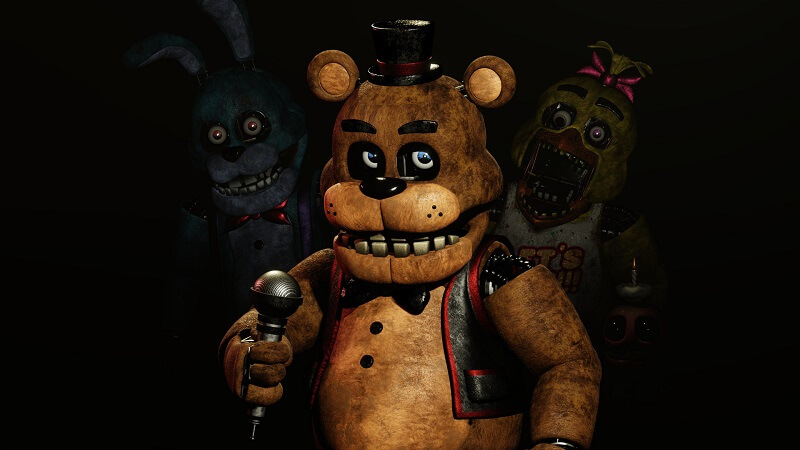 The franchise has gained worldwide popularity and an active fanbase that produces fan art, fangames and merchandise. The initial game was released in 2014, and subsequent games have been released in the years since, with the latest release being "Youtooz Presents: Five Nights at Freddy's" in April 2022.
FNaF Security Breach Voice Actors
The Five Nights at Freddy's (FNaF) franchise is known for its eerie atmosphere and creepy animatronic characters. However, the franchise wouldn't be complete without the talented FNaF voice actors who bring these characters to life. Here's what you need to know about FNaF voice acting and voice actors based on the given search results:
Marta Svetek: Gregory,
Roxanne Wolf, Vanny
Heather Masters: Vanessa/Glamrock Chica
Cameron Miller: Montgomery Gator
Andy Field: Dread Unit
Kellen Goff: Glamrock Freddy/Sun/Moon
Michella Moss: Additional VO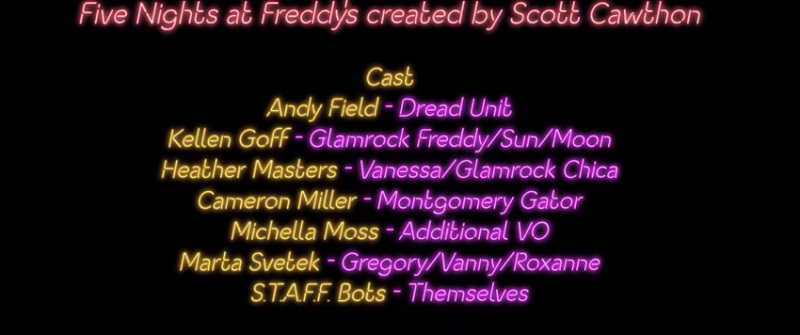 Part 2: The Best FNaF Voice Changer & Generator That You Must Try
FNaF voice changers have become increasingly popular among fans who are looking to emulate the voices of their favorite animatronic characters. One of the best voice changers available is the Imyfone MagicMic app. With a user-friendly interface and a wide range of voice effects, MagicMic allows you to sound like Phone Guy, Freddy Fazbear, Chica, Bonnie, Foxy, and other FNaF characters in real-time.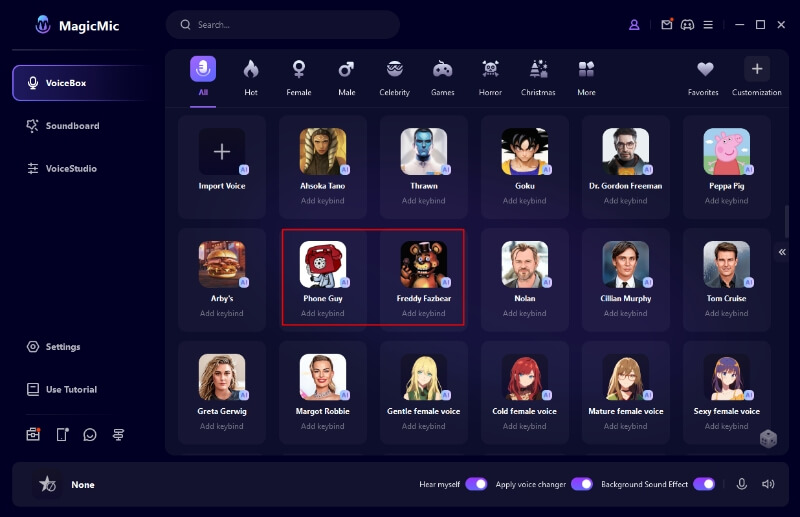 Key Features of MagicMic FNaF AI Voice Generator:
Offers 250+ various voice changing effects, 600+ sound effects, and 200+ voice memes.

Compatible with popular gaming platforms such as Twitch, Discord, and Steam.

User-friendly interface and customizable hotkeys make it easy to create and personalize voice effects.

Enables real-time voice modulation for live streaming, gaming, calls, and more.

It's customizable soundboard feature allows you to create and save your favorite sound effects and play them with just a click.

It supports multiple languages, making it accessible to a global audience.

Offers a wide range of voices, including FNaf AI voice like Phone Guy, Scott Cawthon, Freddy Fazbear, Roxanne Wolf robot, Glamrock Freddy and more. It also provides demon, anime voice and celebrity voice, such as Joe BIden, Ariana Grande.
Pros:

Offers a wide range of voice and sound effects,including FNaF voices, Bendy and the Ink Machine,Until Dawn, Joshua Graham voice.

Compatible with popular gaming platforms.

Easy to use and customizable .

250+voice filters, 600+sound effects, 200+ voice memes.

Compatible with a lot of platforms like Discord, Zoom, Skype, PUBG, Second Life and more
Cons:

It's a new product in market, not very famous.
How to Get FNaF Voice using MagicMic AI Voice Generator?
MagicMic is a popular real-time voice changer software that lets you modify your voice during voice chats and video calls.
Here are some general steps to use MagicMic FNaF voice changer:
Step 1: Download and install MagicMic. Follow the installation instructions
Step 2: Configure audio settings by selecting MagicMic Virtual Audio Device as input and output; Set up your microphone and headphone.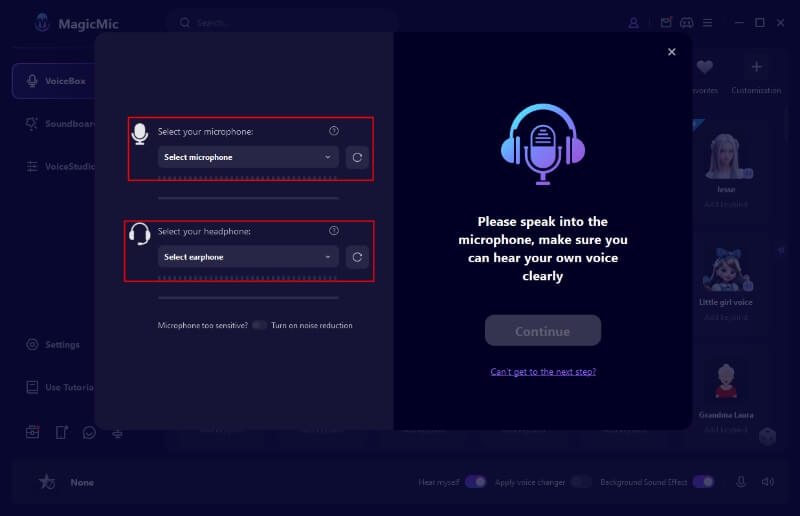 Step 3: Choose FNAF AI voice from a variety of options in MagicMic.
Step 4: Start using MagicMic to modify your voice in real-time. Customize voice effect settings as desired, such as Phone Guy AI voice or Scott Cawthon AI voice.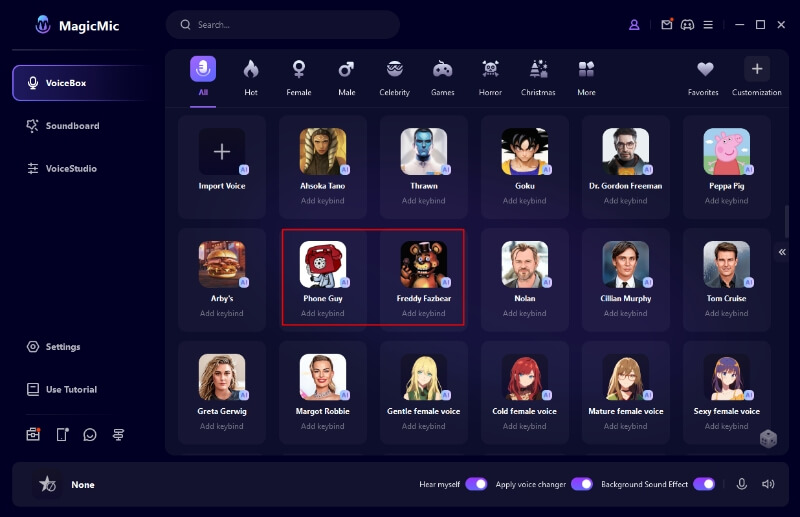 Special Offer: Get Official MagicMic with A Discount
35% off Coupon Code: MAGICMICYT
Watch Video Guide About MagicMic FNAF AI Voice Generator
2) VoxBox FNaF AI Voice Generator
When it comes to use FNaF AI voice generator for crafting compelling content, producing voiceovers, or achieving various other objectives, VoxBox stands out as the ultimate tool for FNaf AI Voice Generation and Voice Cloning. This robust software boasts a wide range of exceptional features, allowing you to produce lifelike and expressive AI voices that embody your beloved YouTubers, Twitch streamers, renowned figures, characters from movies and TV shows, fictional personas, as well as characters from video games and anime. The potential is boundless!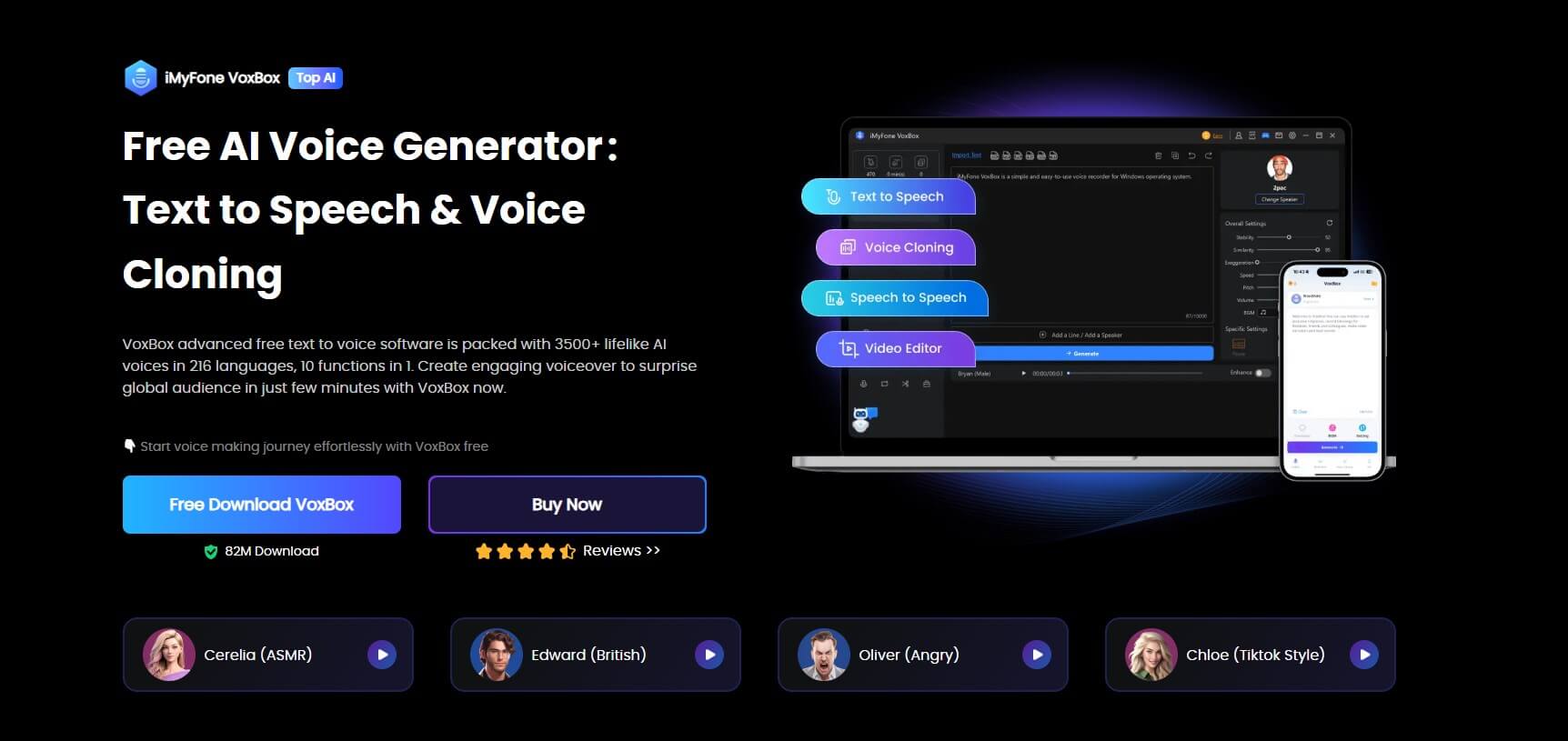 How to generate FNaF AI voice with voice generator:
Step 1:Download & Installation
Step 2: Utilize the "Voice Cloning" function and upload an audio file of any FNaF character you prefer.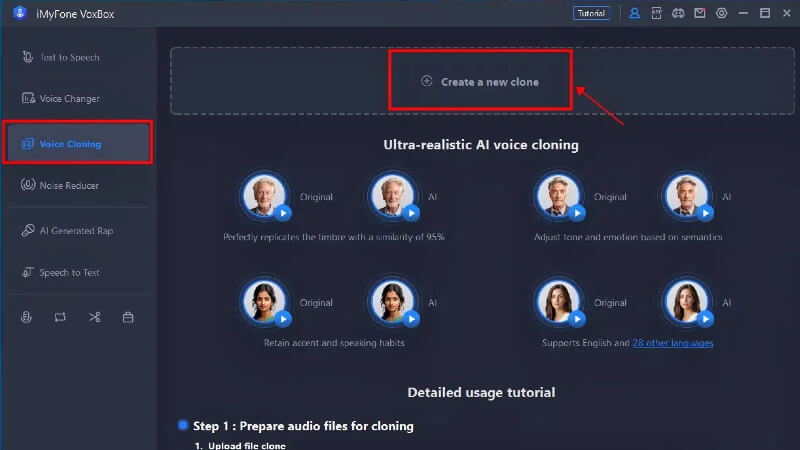 Step 3: Commence the replication procedure to acquire an authentic FNaF AI voice.
Step 4: Following this, you can proceed directly to the "Text to Speech" section to engage in content creation or voiceover tasks using the recently cloned AI voice.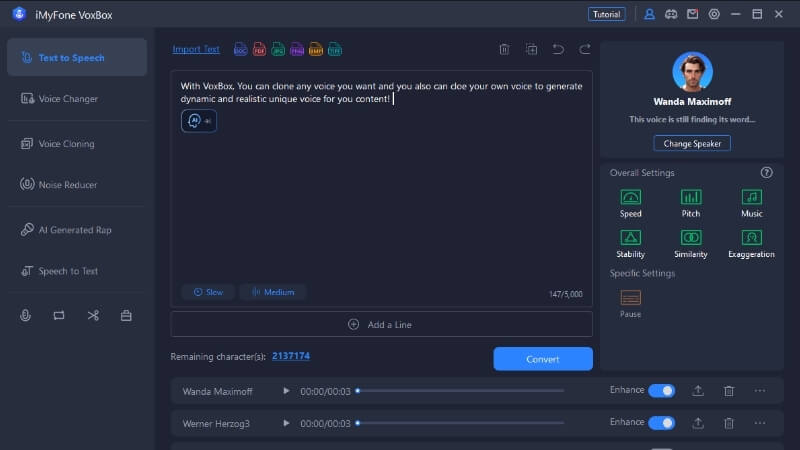 Key Features:
VoxBox offers more than just voice generation, including speech-to-text, text-to-speech, recording, and editing.

VoxBox breaks language barriers with 77+ languages and 3200+ voice choices.

A natural-sounding voice clone meets all your requirements.

Customize your AI voice with adjustable Speed, Pitch, Pause, and emotional settings.

VoxBox's user-friendly interface caters to both beginners and experts.
Part 3: FNAF Soundboard: the Terrifying Animatronic Soundscapes
MagicMic is an essential tool for any fan of the FNAF Soundboard. With its vast library of terrifying animatronic soundscapes, MagicMic takes the immersive experience to a whole new level.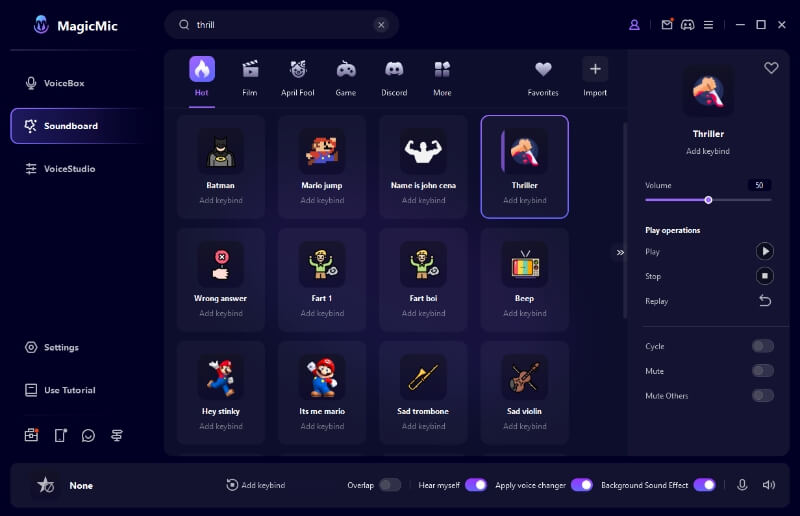 This powerful device allows users to unleash a myriad of spine-chilling audio clips, ranging from eerie footsteps to bloodcurdling screams. Whether you're hosting a FNAF-themed party or simply seeking to enhance your gaming sessions, MagicMic provides an unparalleled opportunity to truly immerse yourself in the haunting ambiance of the Five Nights at Freddy's universe.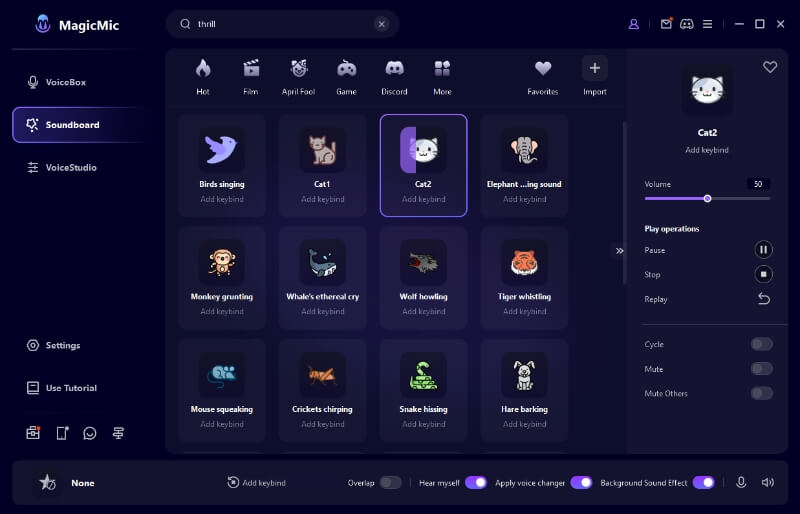 Part 4: FAQs about FNAF AI Voice & Soundboard
1. When and Where can you watch Five Nights at Freddy's?
Five Nights at Freddy's filming started on February 1, 2023, and concluded on April 3. The movie will be released on October 27, 2023, in theaters across the US and on the Peacock streaming platform. Peacock plans begin at $4.99 per month for US residents.
2. What is FNAF AI Voice & Soundboard?
FNAF AI Voice & Soundboard is a specialized tool that allows users to access and utilize various voice lines and sound effects from the popular game series "Five Nights at Freddy's" (FNAF).
3. What features are included in the FNAF AI Voice & Soundboard?
The FNAF AI Voice & Soundboard provides a wide range of features, including access to voice lines and sound effects of various FNAF characters, customizable voice modulation options, and the ability to mix and match different audio elements to create unique combinations.
4. Can I use the FNAF AI Voice & Soundboard for other purposes besides gaming?
Absolutely! While the FNAF AI Voice & Soundboard is primarily designed for gaming enthusiasts, its versatile functionality allows users to explore creative applications beyond gaming. It can be utilized for content creation, voice acting, role-playing, fan animations, and more.
5. Can I use a FNAF Voice Changer in real-time during a video call or live stream?
Yes, most FNAF Voice Changers are designed to be used in real-time and work with various applications such as Discord, Skype, and OBS.
Final Words
In conclusion, FNAF voice changer is a software that allows users to modify their voices to sound like characters from the popular horror game franchise Five Nights at Freddy's. While there are different voice changer options available, iMyFone MagicMic AI voice generator is one of the popular ones that can be used to achieve the desired voice effects.
Whether for entertainment or cosplay purposes, MagicMic provides an accessible and user-friendly way for fans to experiment with FNAF AI voice and FNAF soundboard.