Renowned for his significant impact on contemporary popular music, Drake has played a pivotal role in bringing singing and R&B influences to the forefront of hip hop.
Are you curious about the possibility of transforming your voice into that distinctive Drake voice? Join us on an exhilarating adventure as we delve into the realm of Drake AI voice technology and explore the extraordinary potential offered by the Drake voice changer. Prepare to embark on a journey of incredible experiences like never before.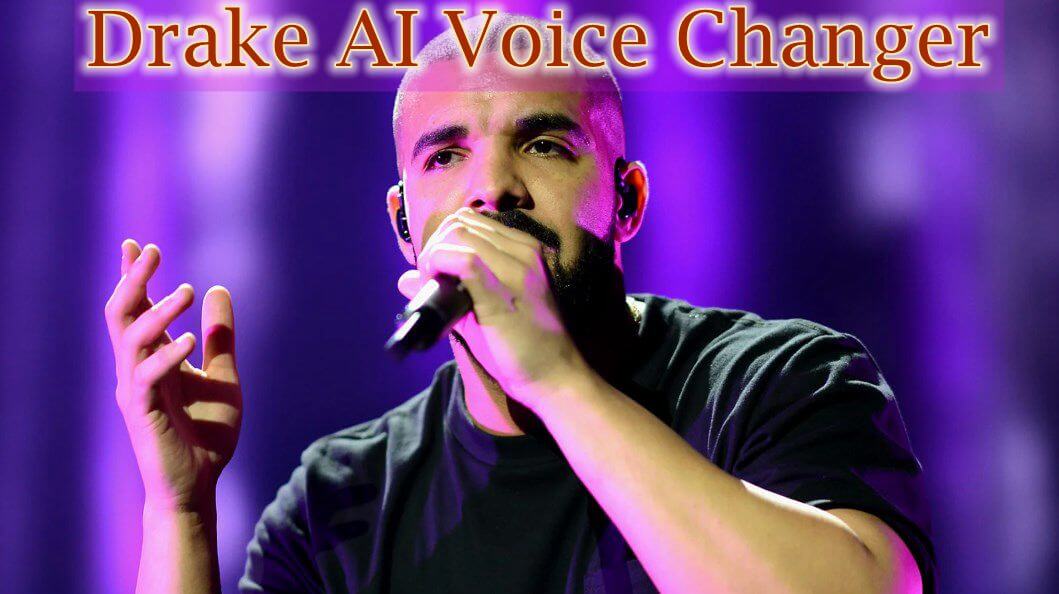 Part 1: Who is Drake?
Born on October 24, 1986, Drake is a multi-talented Canadian artist, recognized as a rapper, singer, and songwriter. His contributions to contemporary popular music have been profound, as he is widely acknowledged for introducing singing and R&B elements into the hip hop genre. Drake's influential presence has left an indelible mark on the music industry.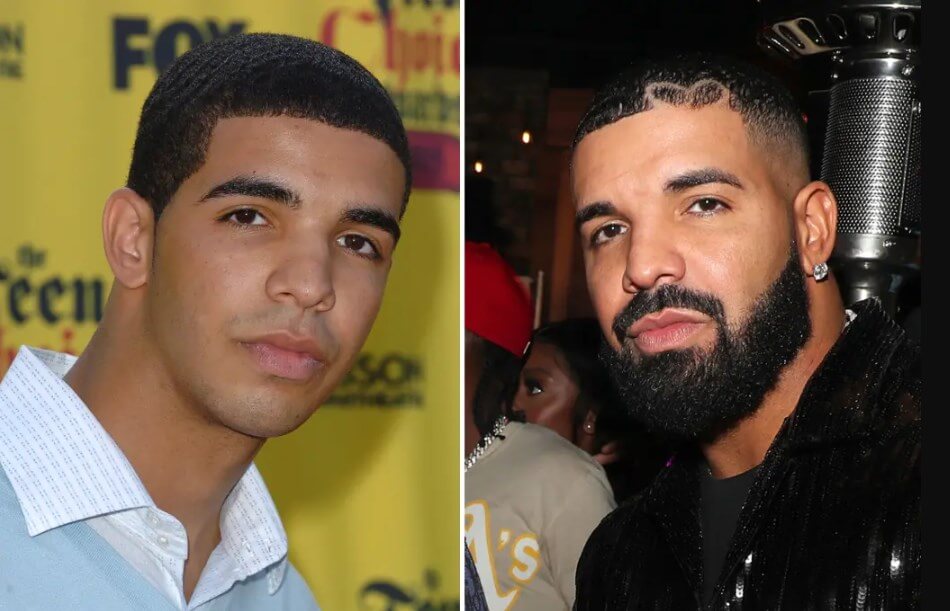 Drake is an unparalleled music artist, selling over 170 million records worldwide. With a staggering list of achievements, he holds numerous records including the highest number of certified digital singles in the US, 11 Billboard Hot 100 number-one hits, and the most top 10 singles. His accolades include Grammy Awards, American Music Awards, Billboard Music Awards, Brit Awards, and Juno Awards.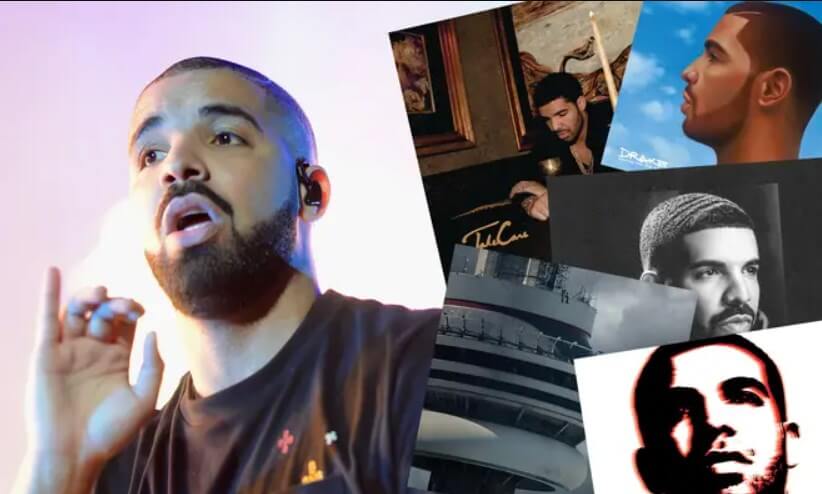 Part 2: The Best Drake AI Voice Changer That You Can Try
Are you ready to fulfill your dream of sounding like Drake? Discover the transformative power of the Drake AI voice changer. This cutting-edge software enables you to modify and create music with the distinctive style of Drake's iconic voice. Get ready to unleash your creativity and immerse yourself in the world of Drake's sound.
Unlock the full potential of MagicMic, an innovative drake AI voice changer software specifically engineered to reproduce Drake's iconic vocal style. Utilizing cutting-edge machine learning algorithms, MagicMic effortlessly molds and transfigures your voice into the unmistakable sound reminiscent of Drake himself. Boasting an intuitive interface and unparalleled precision in voice replication, MagicMic has swiftly emerged as the go-to choice for aspiring creators yearning to craft compelling music in the enchanting essence of Drake. Embark on an exhilarating musical expedition, harnessing the transformative power of MagicMic to reimagine and reinvent your artistry in the realm of AI cover songs.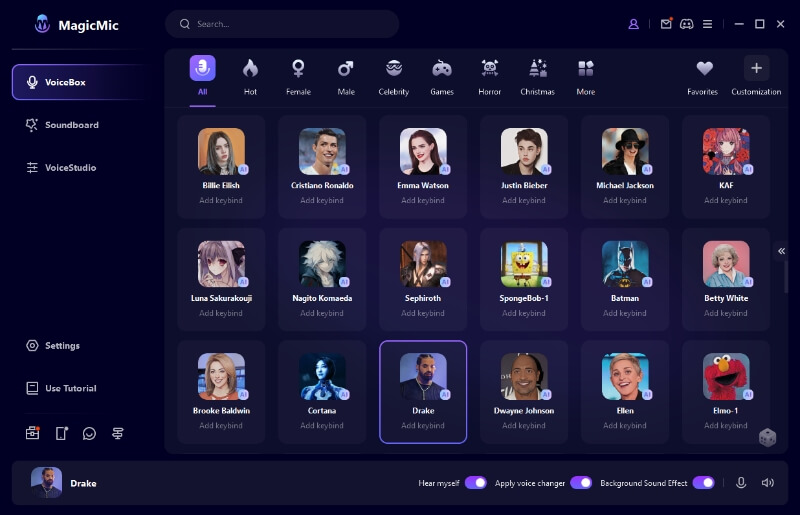 Key features of MagicMic
Drake AI Voice Changer:
User-Friendly Interface: Enjoy the simplicity of MagicMic's interface, designed for effortless voice modification and transformation, perfect for beginners.

Real-time effects: MagicMic offers real-time voice modification and effects to enhance the user's performance, including Drake,Taylor Swift, Lady Gaga, Ariana Grande, Ice Spice

Customization options: Personalize your voice with a wide range of effects and adjustable parameters, allowing you to achieve your desired sound.

Compatibility: Experience smooth integration with various music software programs and platforms, ensuring versatility and convenience.

Multiple language support: Reach a global audience with MagicMic's support for multiple languages, fostering inclusivity and accessibility.

Quality output: Enjoy exceptional output quality with precise replication of Drake's voice, delivering clear and accurate results.

Affordable pricing: Access the remarkable capabilities of MagicMic at affordable price points, catering to a diverse range of users.

Regular updates: Stay up-to-date with regular updates, as MagicMic continuously introduces new features and enhancements to enhance your overall experience.
Pros:

MagicMic provides an intuitive interface suitable for both beginners and professionals, ensuring ease of use.

Enjoy seamless integration with a wide range of music software programs and platforms, expanding your creative possibilities.

Experience high-quality results with MagicMic's precise replication of Drake's voice, delivering clear and accurate vocal transformations.

Unlock a plethora of voice-changing effects, enabling you to explore and experiment with various artistic styles.
Cons:

It's a new product in market, not very famous.
Watch the Video Below To Know More About Drake AI Voice Changer
Part 3:Other Drake Voice Generators for PC/Mobile
Voicemod is a cutting-edge voice changer software designed for PC, providing real-time voice modification and captivating effects. With its versatile compatibility across applications and games, users can effortlessly incorporate Drake's voice into their streams or recordings, enhancing the overall experience and unleashing creative possibilities.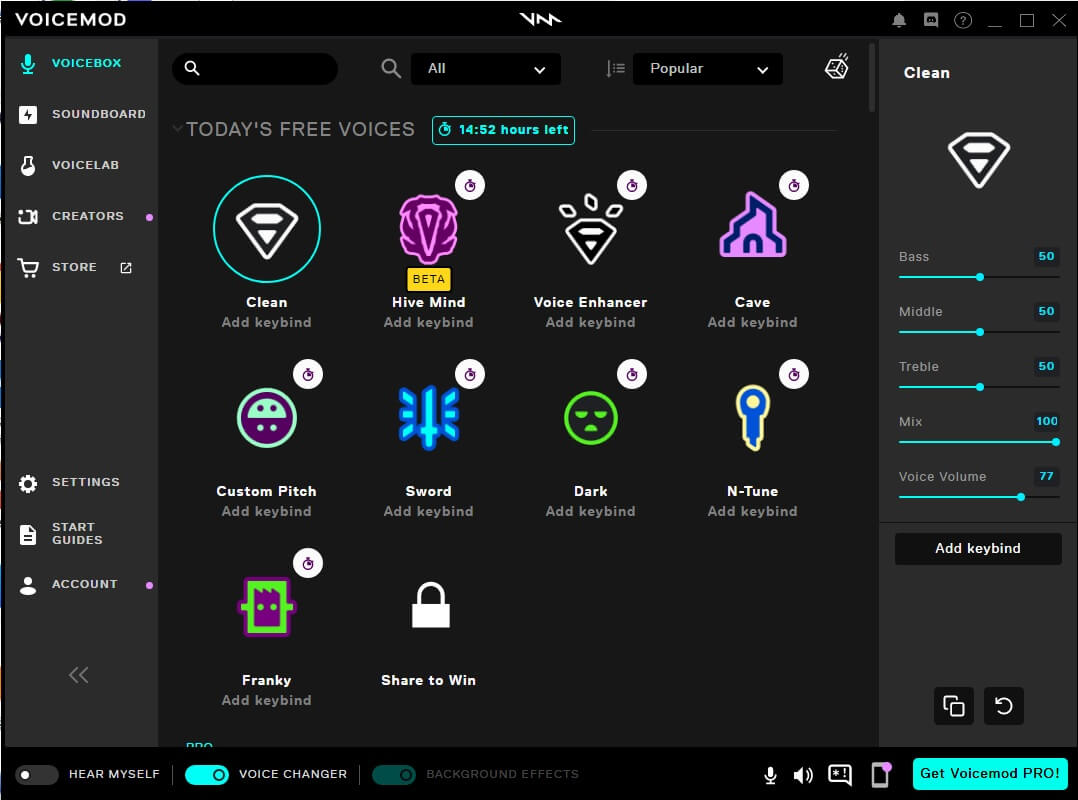 Pros:

Enjoy a diverse selection of voice effects, including the distinctive vocal style of Drake, enabling unique and captivating transformations.

Benefit from seamless compatibility with a wide range of applications and games, amplifying your performance and creative endeavors.

Experience high-quality results with clear and accurate replication of Drake's voice, ensuring an immersive and authentic experience.

Stay at the forefront of innovation with regular updates that introduce new features and enhancements, enhancing your overall user experience.
Cons:

Pricing may be considered high for some users.
MagicCall is an innovative voice changer app that empowers users to transform their voices in real-time. With a wide array of effects at your disposal, including the iconic vocal style of Drake, you can engage in entertaining prank calls or record your modified voice for future use. Experience the excitement of voice transformation with MagicCall and unlock endless possibilities for fun and creativity.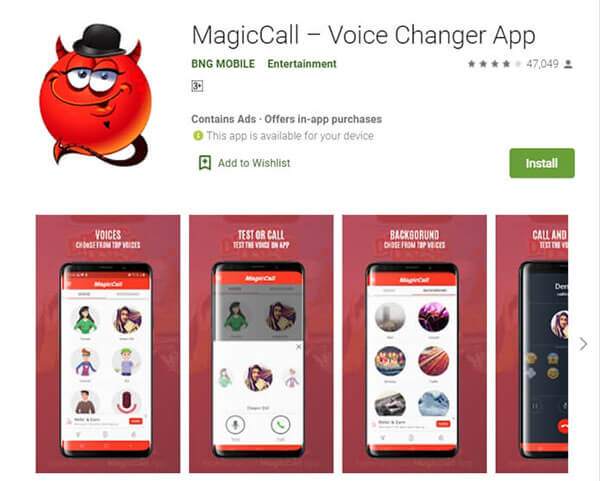 Cons:

Enjoy a user-friendly interface that simplifies voice modification, making it accessible for all users.

Explore a diverse range of voice effects, including the distinctive vocal style of Billie Eilish, adding uniqueness to your audio creations.

Instantly apply voice effects during calls or recordings, ensuring seamless integration and real-time creativity.

Benefit from cost-effective pricing options, accommodating a wide range of users with varying budgets.
Cons:

Limited compatibility with only mobile devices.

Some users may experience technical issues or glitches with the app.
Part 4: FAQs about Drake AI Voice
What is Drake AI voice?
Drake AI Voice is an innovative voice changer software that employs artificial intelligence to replicate and modify Drake's voice. Users can leverage this technology to create music infused with Drake's distinctive vocal style, enabling a truly personalized and expressive musical journey.
Is the Drake AI voice changer accurate?
The accuracy of the Drake AI voice changer will depend on the specific software being used. Some software may be more accurate than others, and the results may also vary depending on the quality of the input voice.
Can I use Drake AI Voice in real-time during live performances or online streaming?
Yes,Drake AI Voice can be used in real-time during live performances or online streaming.MagicMic is a popular real-time voice changer software that offers a wide range of voice effects, including Drake's voice.
Can AI Faithfully Recreate Drake's Voice in a Cover Song?
Although AI has the capability to produce impressive simulations of Drake voice, there could be slight variances when compared to his original and genuine vocal quality.
Final words
In summary, the emergence of AI voice changers has opened up the opportunity for individuals to emulate Drake's distinctive vocal style. Among the various options available, iMyFone MagicMic distinguishes itself as the premier AI voice changer for capturing the essence of Drake's voice.
With its exceptional precision, intuitive interface, real-time effects, and customizable features, it stands as the preferred choice for both novices and experts. Whether you seek to engage in playful pranks or enhance your musical endeavors, the MagicMic Drake voice changer offers an accessible and budget-friendly solution to bring the AI replication of Drake's voice within reach.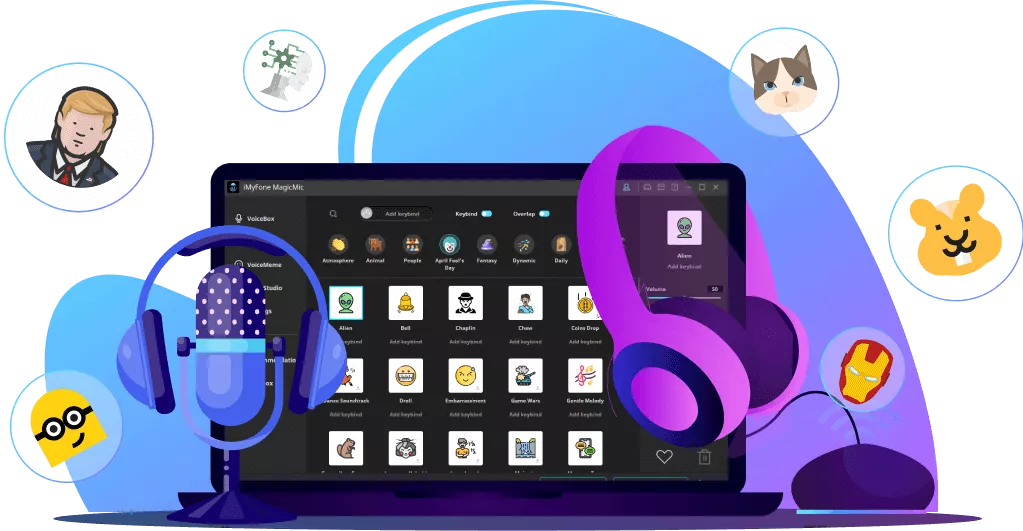 125+ Voice effects for one-click voice changing in real-time.
Huge library with 400+ Voice Effects and 150+ Voice Memes.
Sound emulator in games, live, chatting, online classes, and more.
Voice recording and audio voice changing is supported.
Voice studio lets you create any voice you like.