Are you fascinated by Austin Butler's distinctive voice and interested in infusing a hint of showbiz charm into your personal audio projects or live broadcasts?
In this article, we delve into the captivating realm of Austin Butler AI voice technology, presenting you with the means to morph your voice into the unmistakable tones of Austin Butler himself. Whether you're an ardent admirer of his work, a content creator aiming to stand out, or someone who simply craves an auditory transformation, the following exploration of Austin Butler voice changer promises to enhance your sonic journey and captivate your listeners.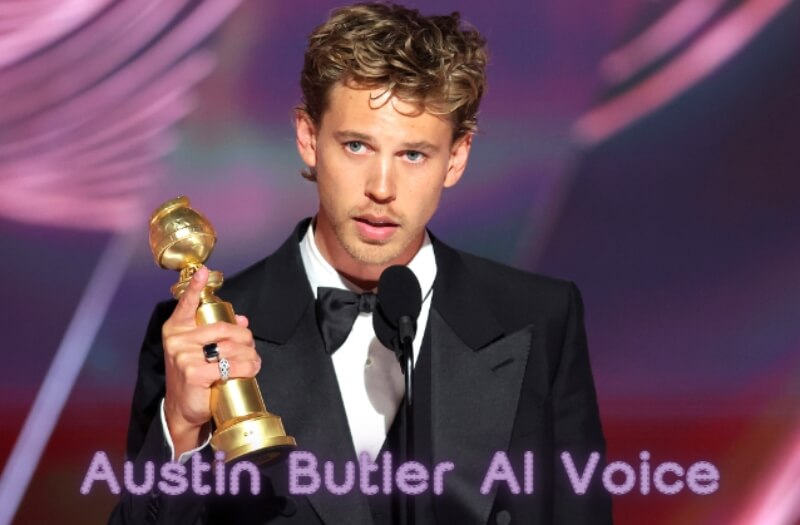 Part 1: Info about Austin Butler
Who is Austin Butler?
Austin Butler is a versatile American actor and singer known for his work in film, television, and theater. He was born on August 17, 1991, in Anaheim, California.
His early career included guest appearances in popular television shows like "Hannah Montana," "Zoey 101," and "iCarly." However, he rose to prominence through his roles in both television and film.
Apart from his acting career, Austin Butler is also a talented singer and musician. His career continues to flourish as he takes on diverse roles across various genres, demonstrating his versatility and dedication to his craft.
Does Austin Butler Voice Change Before and After Elvis?
Yes, Austin Butler's voice has undergone a noticeable change before and after taking on the role of Elvis Presley. Prior to his portrayal of Elvis in the upcoming biographical film, his voice had a higher pitch, as seen in interviews recorded before the movie.
However, in more recent times, particularly after assuming the role of Elvis, Butler's voice has undergone a transformation. His voice is now noticeably lower in pitch, and certain vowels are more drawn-out, reminiscent of the way Elvis Presley spoke. His immersion into the role of Elvis Presley likely prompted him to adopt certain vocal traits and characteristics associated with the iconic singer.This shift in vocal characteristics can be attributed to what is known as a "role spill."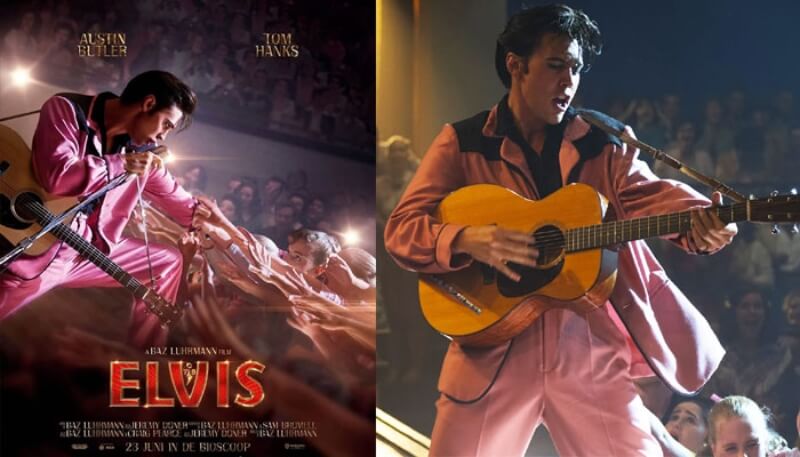 Part 2: How to Get Austin Butler AI Voice with Voice AI?
1) MagicMic - AI Voice Changer
MagicMic is a perfect Austin Butler AI voice changer. With over 250 filters, 600 sound enhancements, and 200 memes, this cutting-edge voice modifier seamlessly integrates with diverse software, catering to both entertainment and professional needs. Whether you're recording, audio editing, or seeking personalized sound, MagicMic ensures a customized auditory journey for every situation.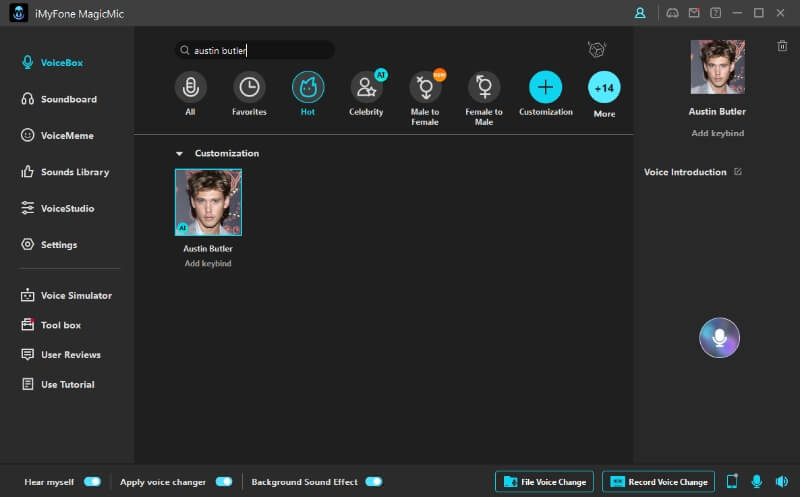 How to generate Austin Butler AI voice with MagicMic:
Step 1: Download and Launch
Install MagicMic software, log in to your account.
Step 2: Configure Input and Program Settings
Choose your main microphone as input, enable "Apply Voice Changer," activate "Hear Myself."
Step 3: Select the MagicMic Virtual Audio Device
Select Virtual Audio Device as input in your preferred app for seamless voice modification.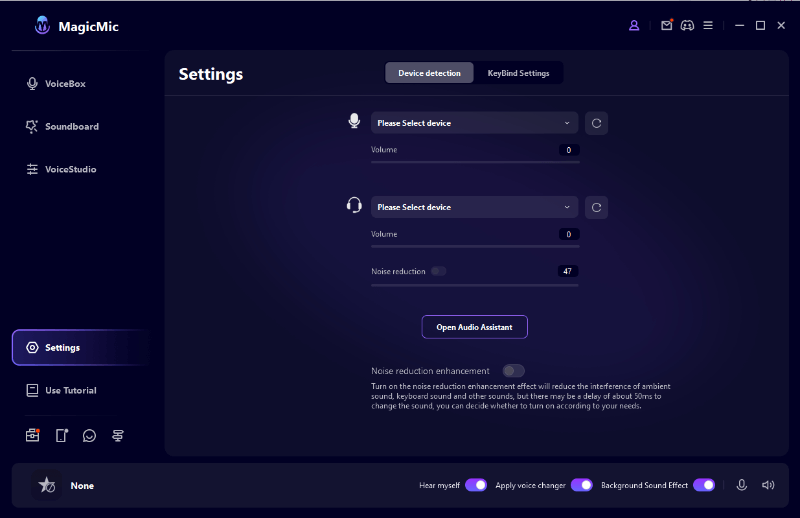 Step 4: Choose Voice or Create AI Voice
Explore effects , assign keybinds, create personalized AI voices, such as Austin Butler voice.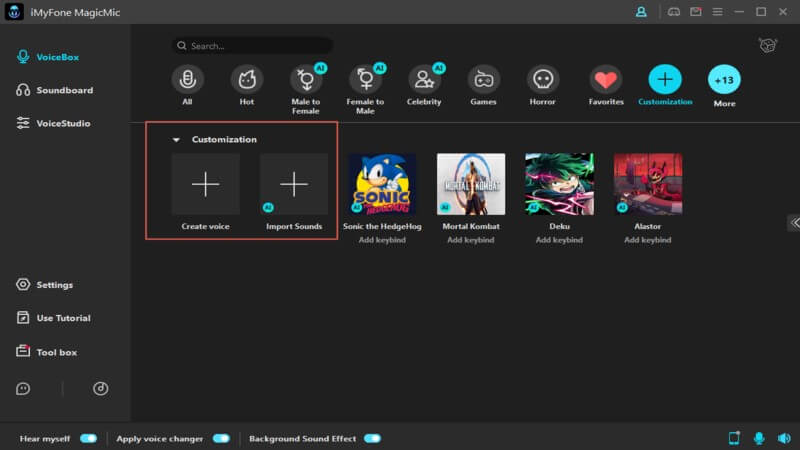 Key features of MagicMic
Austin Butler Voice Changer
Over 225 voice effects, 600+ soundboard options, and 200+ voice memes available.

Real-time AI effects for immediate voice enhancement.

Interactive soundboard featuring engaging audio clips.

Personalized hotkeys for swift access to preferred voice effects.

Improved audio quality through noise reduction features.

Effortless integration with popular chatting, streaming, and gaming platforms like Discord and Twitch.

Virtual audio driver function enables capturing and modifying sound from any source.
2) VoxBox - AI Voice Generator
VoxBox, an Austin Butler AI voice generator tailored for virtual game characters. Featuring 3200+ AI voices across 77 languages and 100+ accents, VoxBox delivers text-to-speech capabilities, voice replication, and text transcription. Empower your gaming and creative ventures with personalized pitch, speed, and volume adjustments, unlocking unparalleled versatility for your voiceovers and projects.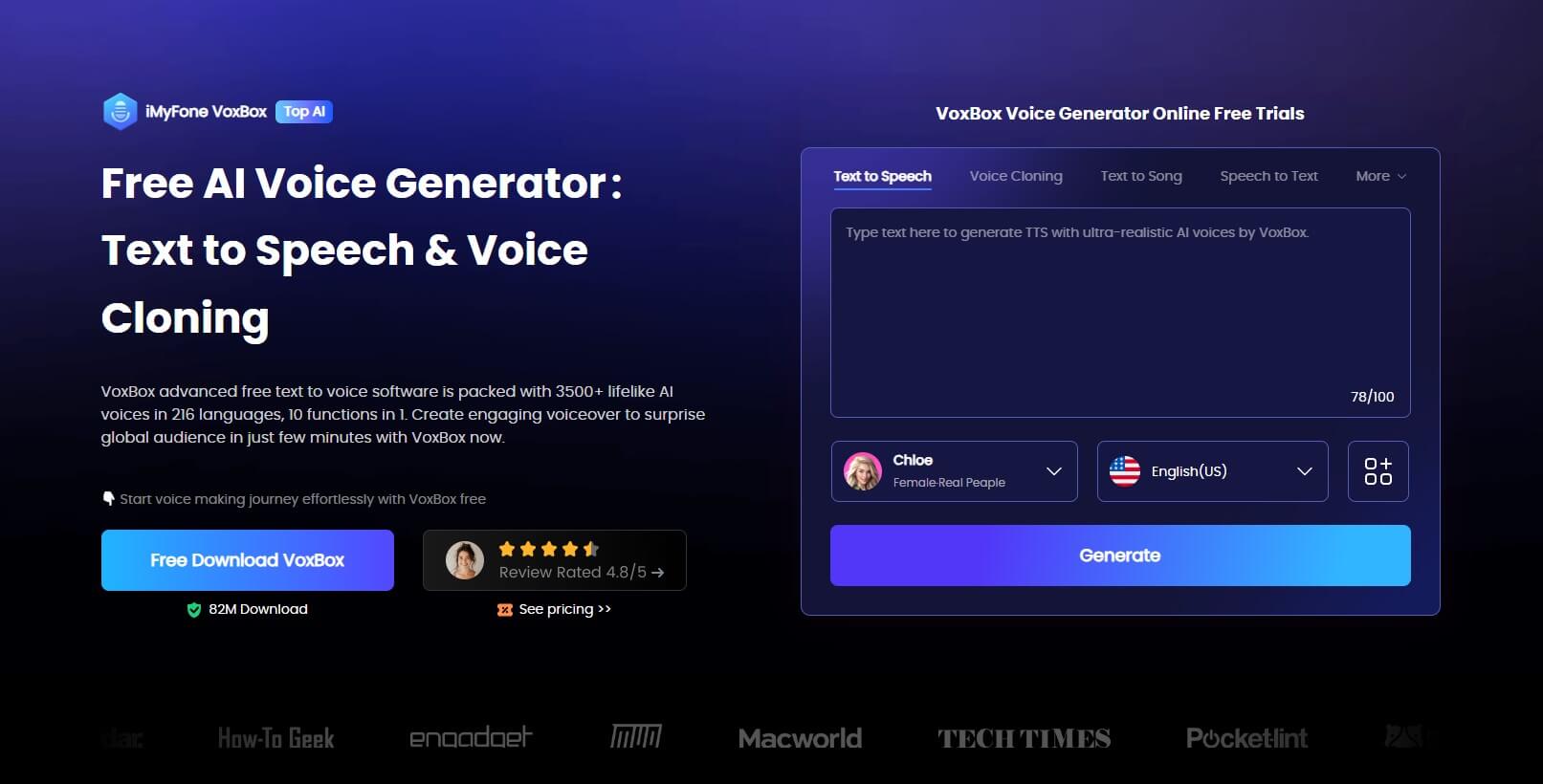 Key features of VoxBox Austin Butler AI Voice Generator
Explore 3200+ AI voices spanning YouTubers, rappers, Animes, and celebrities for diverse experiences.

Available in 46+ languages, including Japanese and German, ensuring worldwide compatibility.

Choose from 100+ accents such as British, Indian, and Hindi, broadening voice generation choices.

Benefit from an integrated platform offering TTS, STT, voice recording, video conversion, and audio editing functionalities.
How to use VoxBox Austin Butler Voice Text to Speech ?
Step 1: Download and install VoxBox. Proceed to "Voice Clone" and upload Austin Butler's audio.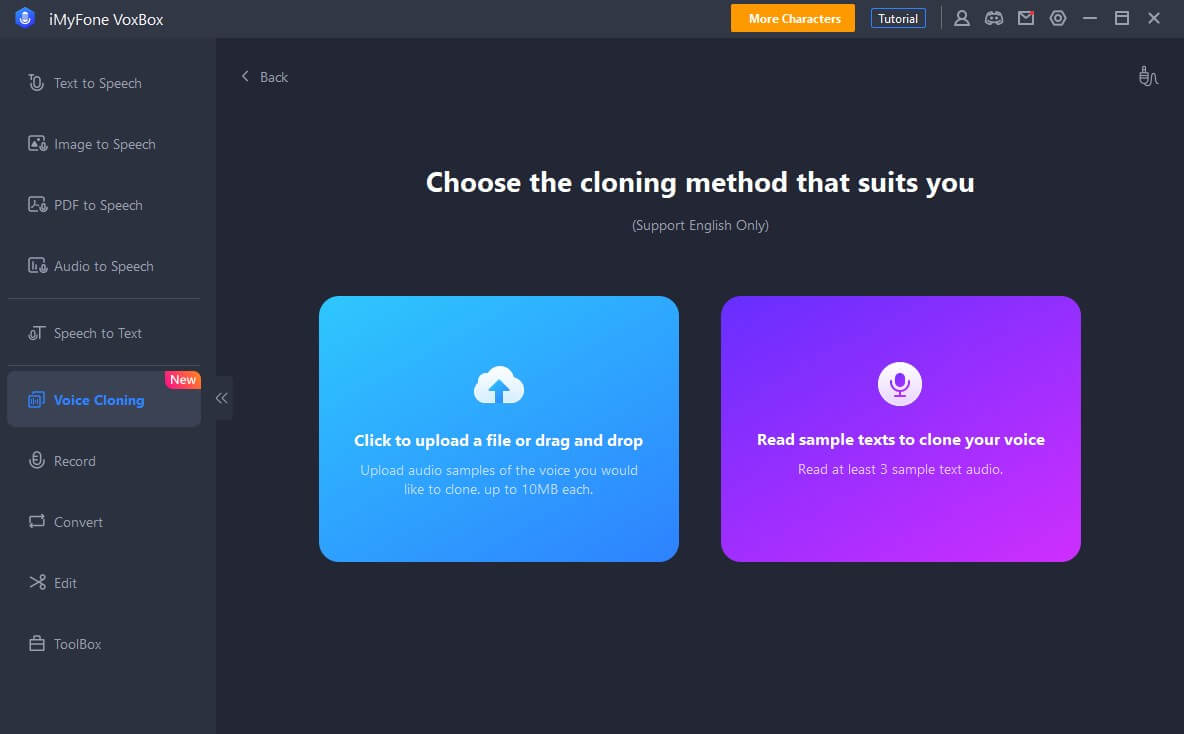 Step 2: Next, select "Text to Speech," input text, and convert it to Austin Butler's voice accessible in "My Cloned Voice."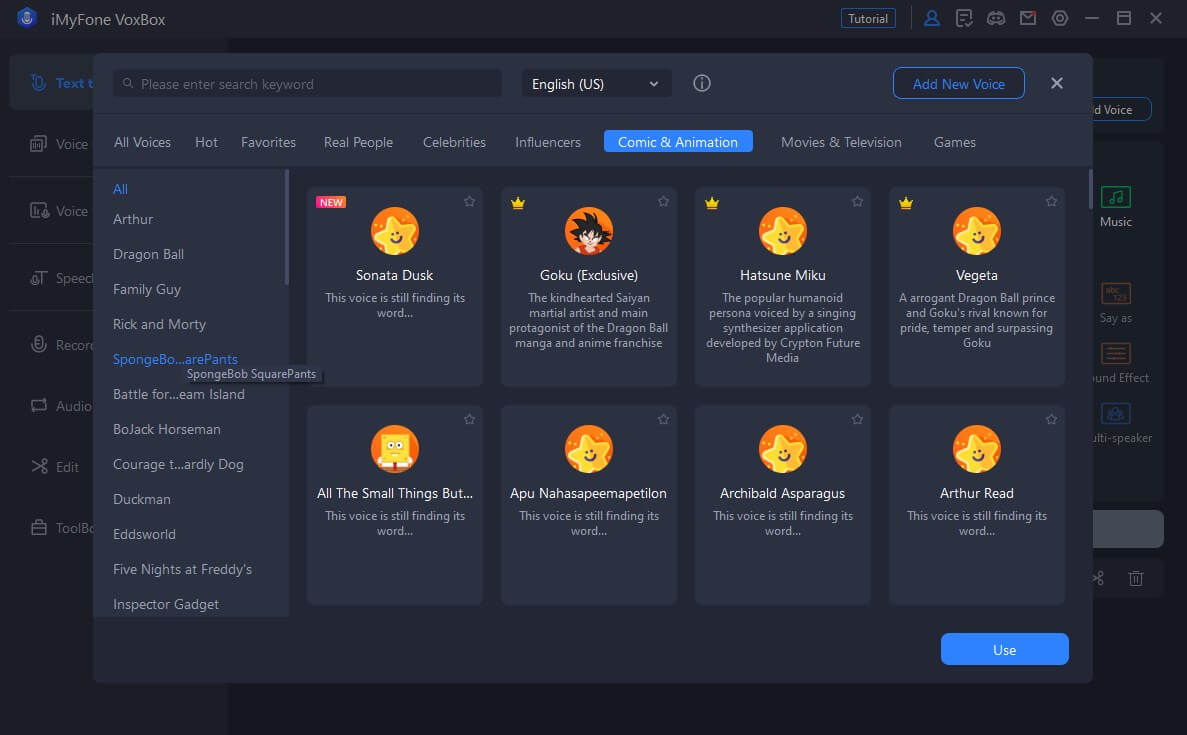 Step 3: Listen to the dubbed audio and export it in various formats for your convenience.
Part 3: FAQs about Austin Butler AI Voice
1.What has Austin Butler said about playing Elvis?
Austin Butler revealed in a Hollywood Reporter interview, "I aimed to make my voice identical, igniting fear that fueled me. A year of voice coaching preceded shooting." He immersed himself in studying Elvis' films and concerts to honor the icon's legacy. Director Baz Luhrmann saw a spiritual connection between Austin and Elvis due to their inner depth. Austin humbly acknowledged shedding the iconic image to portray the real man.
2.Does Austin Butler have a girlfriend?
Yes, Austin Butler is currently dating model Kaia Gerber, Cindy Crawford's daughter. Despite a 10-year age difference, they're reportedly enjoying their time together and are described as a cute couple. Austin had previous relationships with Lily-Rose Depp and Vanessa Hudgens, with whom he had a nine-year partnership.
3.Who does Austin play in Dune 2?
In "Dune: Part 2," Austin Butler takes on the role of the cunning Feyd-Rautha. This marks a significant departure from his previous portrayal of Elvis and showcases a transformation that even co-star Dave Bautista found unrecognizable and terrifying, given Austin's altered appearance and demeanor.
Final words
In conclusion, the realm of voice modulation and AI-generated sounds has taken a fascinating turn with innovations like MagicMic. With Austin Butler AI voice as inspiration, MagicMic exemplifies the future of voice technology. As an Austin Butler AI voice changer and generator, it embodies the merging of creativity and cutting-edge AI, offering users the ability to craft unique auditory experiences. Dive into the world of Austin Butler's voice transformation and explore the possibilities that MagicMic presents.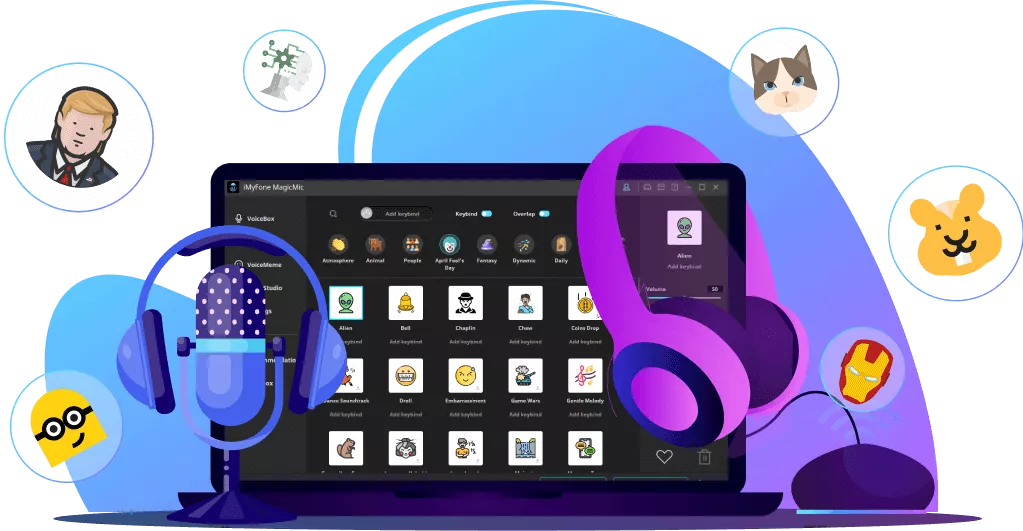 250+ Voice effects for one-click voice changing in real-time.
Huge library with 600+ Voice Effects and 200+ Voice Memes.
Sound emulator in games, live, chatting, online classes, and more.
Voice recording and audio voice changing is supported.
Voice studio lets you create any voice you like.