Are you looking for a VrChat voice changer?
VRChat is nothing but a multiplayer online virtual reality game that offers a lot of positivity for the world community. Using this platform, you can interact with others, make long-lasting friends, and play exciting games with oculus quest 2 or other VR devices.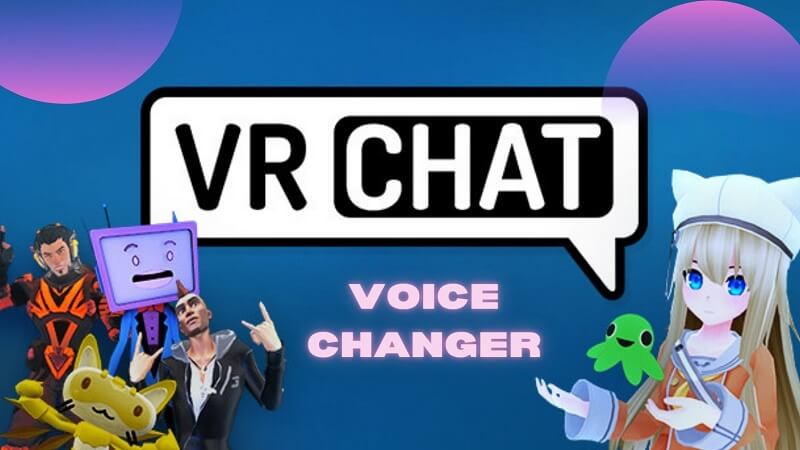 People also use VRChat to prank their friends and family members. To prank others, the majority of the users rely on voice changers. Let's talk about some of the best VRChat voice changers you'll ever see.
Let's begin.
Part 1: Best VRChat voice changer - iMyFone MagicMic
Now that you know about the best VRChat voice changers apps.
Yet, if you need a comprehensive voice changer, we recommend iMyFone MagicMic. It can be used on various games like PUBG, CrossFire, World of Warcraft, Second Life, Fortnite, CS:GO and chatting or livestreaming platforms.
Here are more details about the key features of this tool:
Main Feature of MagicMic:
The voice changer can change your voice in only one click. Select the voice, and your voice will be transformed in no time.
You can import any mp3/mav audio files as your sound effects to play on VRchat or other platforms.
MagicMic supports keybinds setting for voice and sound effects.
You can also add 250+ voice filters and 600+ sound effects in MagicMic for adding timely reactions.
Partly Voice Effects come with background sounds.
MagicMic voice changer is available for Windows and Mac.
Voice Studio on MagicMic allows you to customize your own voice.
Steps to Change Voice Using MagicMic VRChat Voice Changer:
Step 1: Launch the Latest Version
First, you need to make sure to download the latest version to have all the functions available. You can download and install the iMyFone MagicMic from the official website or directly click the download button below.
Step 2: Set the Input and Output Device
Then select your real microphone as the input device. Select your headphones as the output device.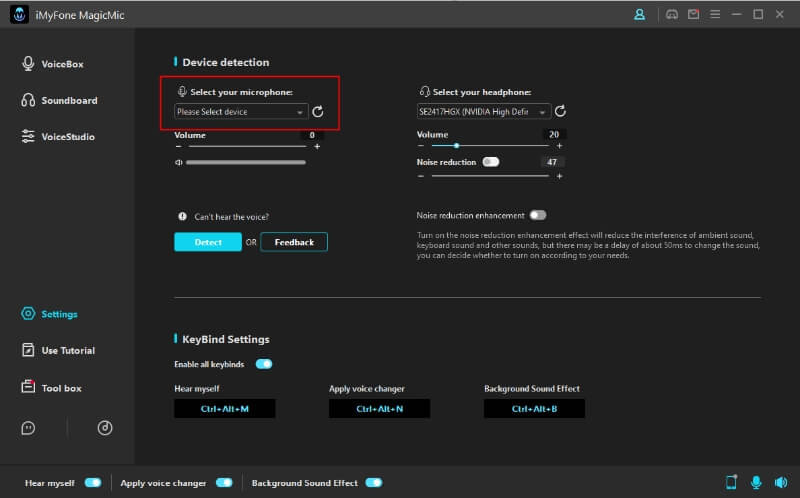 Then select your real microphone as the input device. Select your headphones as the output device.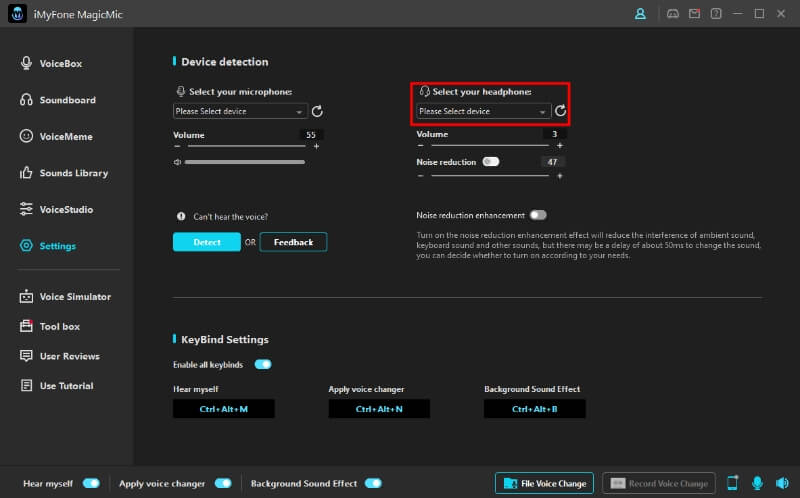 Step 3: Choose Voice Effect
Now you can click any voice effect in MagicMic and speak into your microphone to check if it really change your voice, such as male to female, kids voice.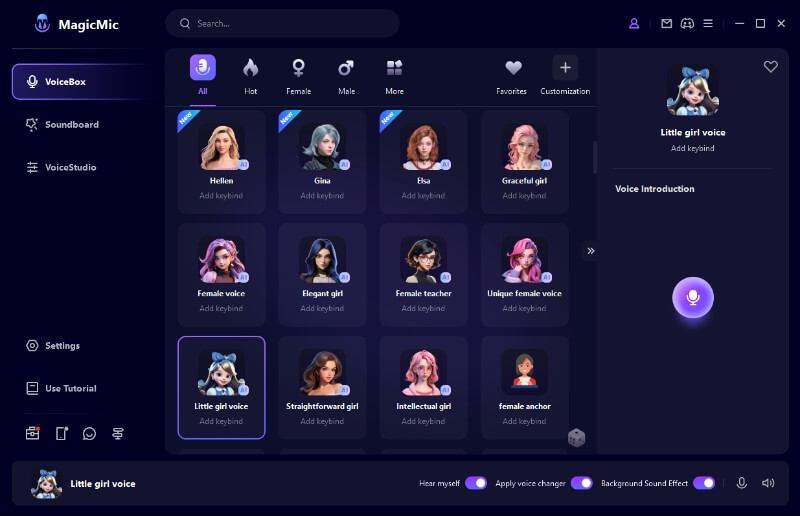 Part 2: 5 Good Voice Changers for VRChat 2023
Here is the list of the five best voice changers for VRChat
Morph Vox is a prolific VRChat voice changer that comes with some cool features. You can use it for nothing because it offers a MorphVox junior for the free version.
On the other hand, it also provides a MorphVox Pro with a premium version. You can change your voice in real-time with great effect.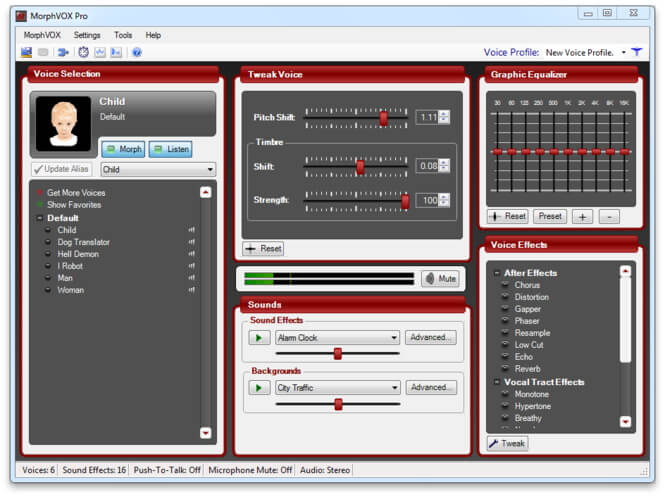 Features
It possesses two operating modes. Its Studio Mode allows you to adjust the pitch and timbre. While its Skinned Method helps you choose the impact and voice options to add to your original voice.

Using this tool, you can add background noises to your video.
Pros:

Easy to use

It possesses the ability to change the voice of recorded audio.
Cons:

Its pro version is expensive
Also Read:
MorphVox Voice Changer Full Review >>
It's also a vrchat voice changer that offers unbelievable services for its users. VRChat users have been using it for changing their voice.
You'll have many outrageous effect features and strong voice choices in this tool. It allows you to change a female voice to a male and vice versa.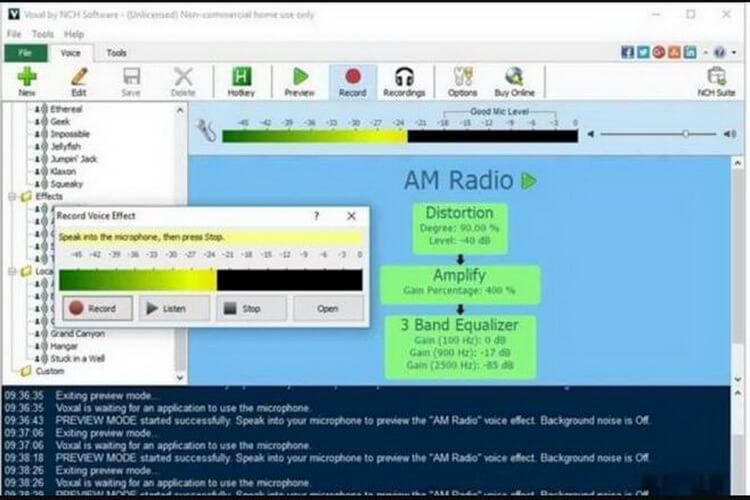 Features
With Voxal Voice Changer, you can change your voice in real-time as well as recorded audio.

Its UI is pretty easy to understand, making this tool user-friendly.
Pros:

It offers fascinating options to choose from.

You don't need to master the guidelines; even a newbie can run it properly.
Cons:

If you want to use Voxal Voice Changer for business purposes, you'll have to acquire its premium version for a better experience.
If you're looking for a dynamic voice changer for VRChat, Clownfish Voice Changer can live up to your expectations. Using this fascinating voice changer, you can change the voice of audio from any application you want.
Its supported applications are Discord, Skype, VarChat, and Viber. You can use it to change your voice in a stream. You'll find its installation process hectic because it offers user-friendly services to all its customers.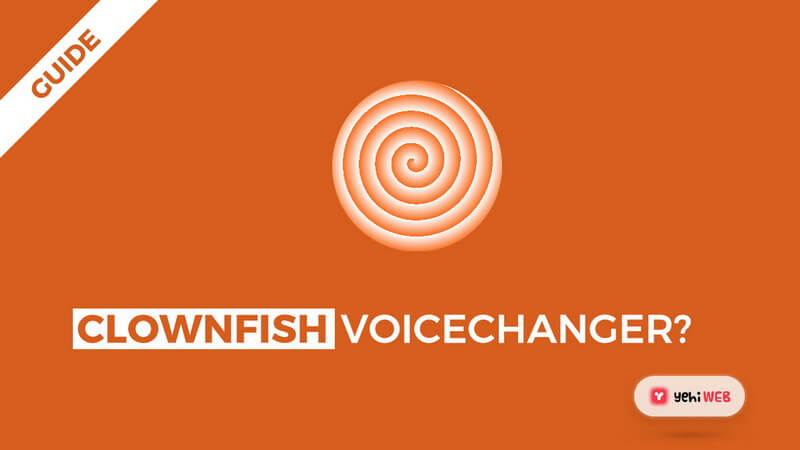 Also Read:
Clownfish Voice Changer not Working >>
Key Features
Using Clownfish Voice Changer, you can choose a voice on Windows.
Pros:

You'll have 14 different voices to choose from.

You can prank your friends by changing your voice.
Cons:

Limited voice effects to choose from.
It's another impressive VRChat voice changer that can serve you better than you expect. All-in-One Voice changer was initially designed only for online chatting, but later, many other features were introduced.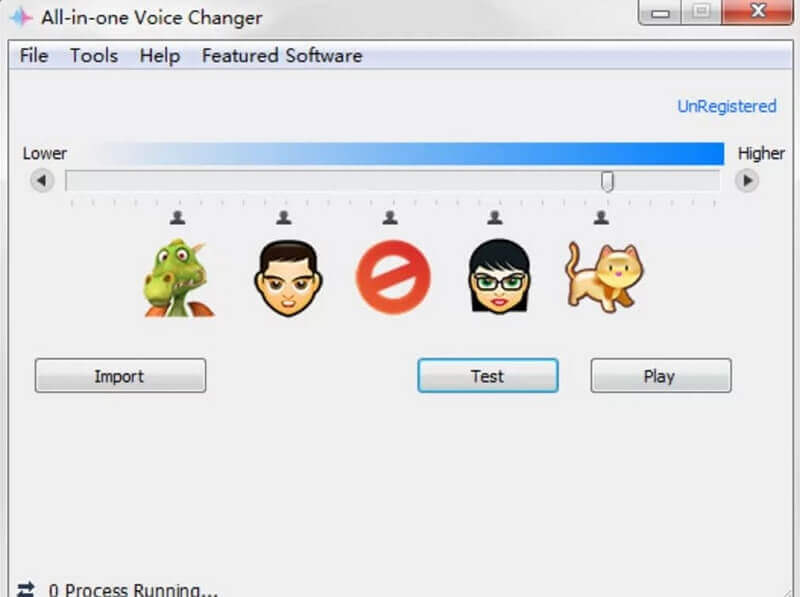 Features
You can prank your family members and friends without giving a clue to them who's calling them.

It allows you to change your voice in the mid of a call to make things crazier.
Pros:

With this tool, you can preview every change you make in your audio before exporting it.

It's perfect for VRChat users, meaning you can have great fun by changing your voice.
Cons:

It will crash sometimes.
It's a modern voice changer that offers pretty creative services for its users. Using this magnificent tool, you change your voice into any character you want.
This voice changer is ideal for VRChat users because it provides the option of changing voice during mid-conversation.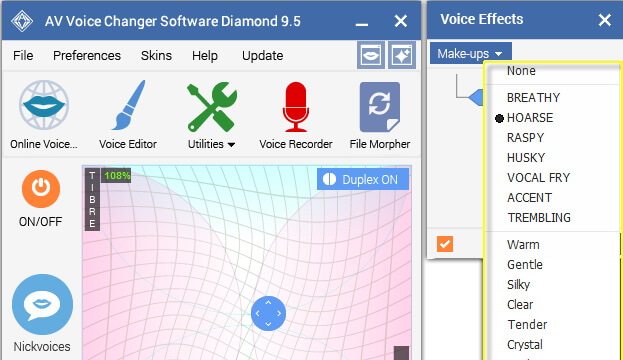 Features
You can add any effect, filter to your voice whenever you want.

You can make your voice higher, more masculine, more profound, younger, and older.

The creativity of this voice doesn't end here; you can even mix many parody voices to make your parody voice with great effect.
Pros:

It offers a voice comparator feature, meaning you can compare your voice with someone else's voice to find similarities.

Easy to use
Cons:

Quite expensive to enjoy full version.
Part 3: Best Video Editor with Voice Changer Effect: iMyFone Filme
iMyFone Filme, with its great ethics and excellent knowledge, has now become an editor to remember.
Although it's pretty new to the market, it has come a long way, making people more than satisfied. The presence of outrageous features makes people think to acquire its services for video editing.
Features
10+ Voice Changer Effects
To prank your friends, you'll need some fascinating audio voices that can trap your friends. Although prank is supposed to be the only fun purpose, it still takes something special to pull it off successfully.
iMyFone Filme helps you in this regard by offering 10+ Voice Changer Effects to choose from. In this way, you can change your voice to many characters pretty quickly.
Easy to use interface
You'll probably find many video editors with quality services and outstanding feedback. But guess what?
You'd not find the easy user interface with them, which you will get with iMyFone Filme. Despite having all the features in the world, you'll discover Filme's interface is intuitive and straightforward.
Compatibility
Another thing that fascinates many users is its compatibility with all format videos. Since it supports all formats, you can edit videos, including MOV, MKV, WMA, M4A, AAC, and many more.
This feature of Filme indicates you can edit even the 30 years old weddings movie on iMyFone Filme.
Crop and Trim
With iMyFone Filme, a user gets the luxury to crop or trim particular audio or a video any time he wants.
If you're going to create a birthday video and cut its audio part to make it a bit real to your likings, you can easily click. In addition, it also allows you to trim a particular piece of your content to make it a bit more relevant and picturesque.
Watch this video to learn how to use Filme to change voice:
Steps of changing voice using iMyFone Filme
Step 1: Install iMyFone Filme
After installing, launch iMyFone Filme on your desktop.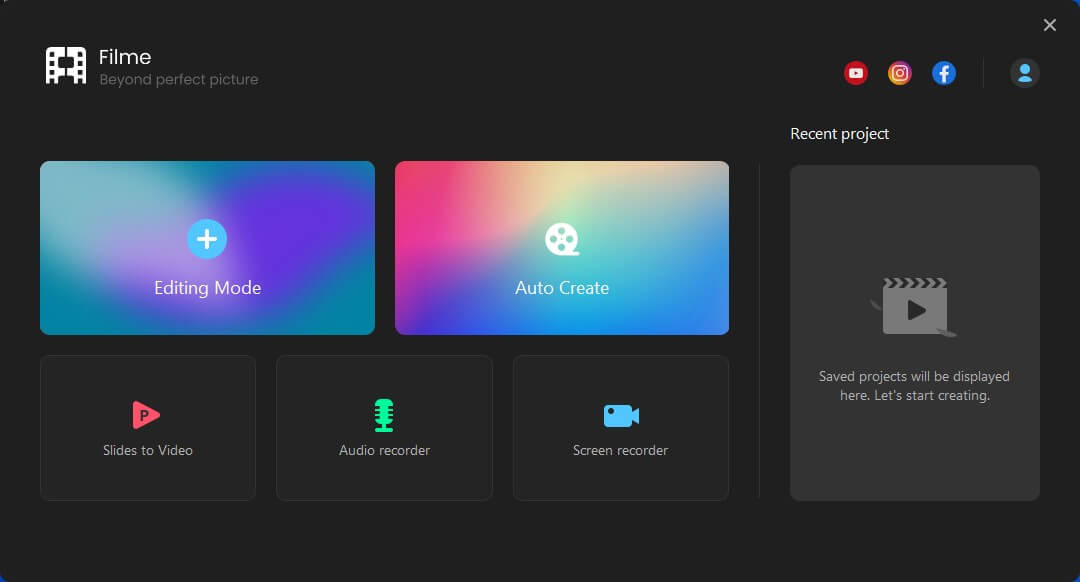 Step 2: Import a video
Upload a video from your desktop gallery and add it to the timeline for editing purposes. You need to detach the audio track before changing its voice. You can serve your purpose by press '' Detach Audio''.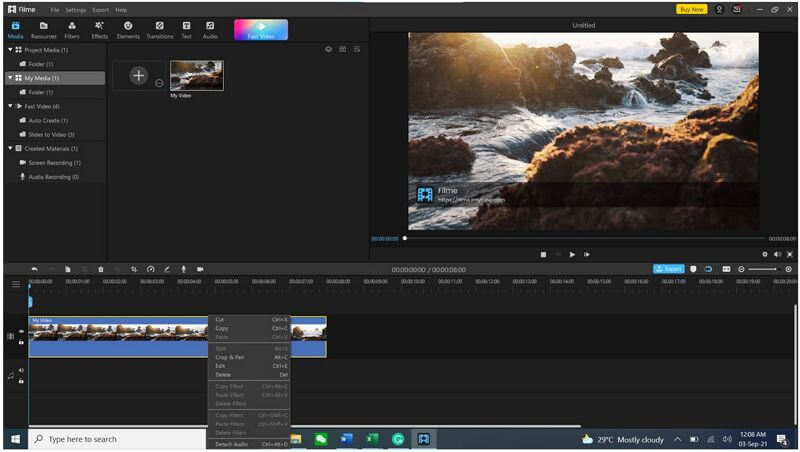 Step 3: Add effects
Now, you've got the privilege to apply any voice-changing effect you want. There're various options to choose from. Have a go at those effects that look to be impressive.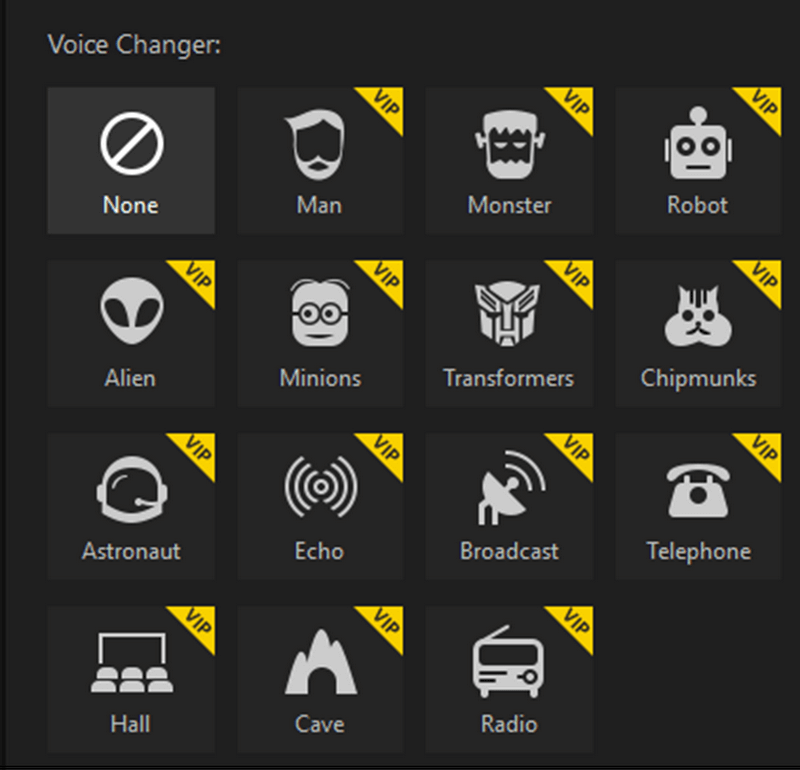 Step 4: Change your voice
After applying voice effects, your voice will be changed. You can change the voice of audio in real and also of existing audio.
Part 4. FAQs about Voice Changers
1. Does MorphVOX work with VRChat?
You can use Morphvox for voice changing in VR chat
Here are its steps
Step 1: Run Morphvox
Step 2: Now, you'll need to press the game settings panel after opening VRChat. It would help if you navigated the microphone section after opening the settings window. Now, all you need to do is hit the arrow button to get into the '' Screaming Bee Audio''.
You may need to adjust your microphone; you need to return to the Screaming Audio Mic option after changing it.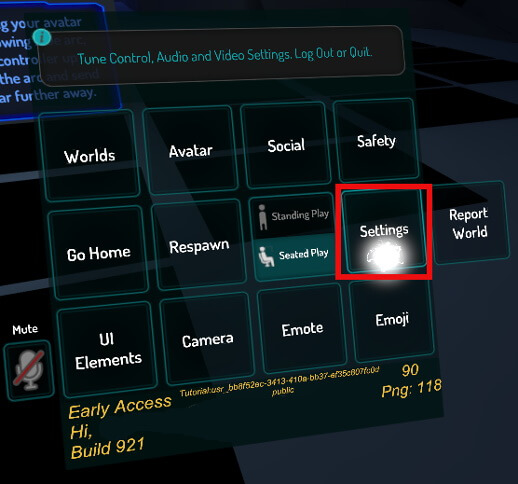 Step 3: In the last, you need to close the VrChat settings dialog. Now, VRchat would be using Morphvox.
2. Are voice changers for VRChat legit?
You can see a lot of debate regarding whether voice changers are legit or not. Look, voice changers are legal, and many reputed video editing companies have been launching voice changers for quite a long now.
But, it would help if you remember you can't defame or irritate someone with voice changers. As long as you're using voice changer for fun, it's okay. But when you target someone or try to disturb the integrity of someone, voice changers won't be legit for you.
3. What is a VRChat voice changer?
A VRChat voice changer is a tool or software that allows users to modify their voices in real-time while participating in the VRChat virtual reality social platform. It can change the pitch, tone, speed, and other aspects of a user's voice to create different effects.
4. How does a VRChat voice changer work?
A VRChat voice changer typically works by intercepting the user's microphone input and applying various audio effects to alter the sound of their voice before it's transmitted to others in the virtual environment. These effects can include changing the pitch, adding distortion, altering the speed, and more.
Conclusion
At times, voice changers can help you have some fun with your friends. But when the talk of VRChat comes, the significance of a voice changer for VRChat increases more. You can use Voice changer to enjoy yourself in VRChat.
Considering that we've reviewed five fascinating VRChat voice changers for you that can make your time a lot more exciting.
As for our recommendation, we urge the readers to install iMyFone MagicMic. which is hands down the best voice changing software available in 2023.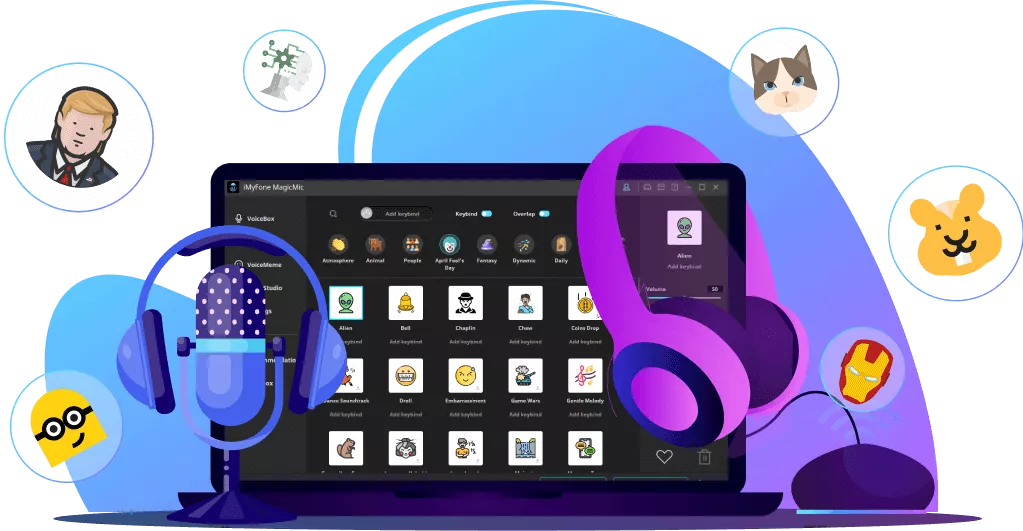 250+ Voice effects for one-click voice changing in real-time.
Huge library with 600+ Voice Effects and 200+ Voice Memes.
Sound emulator in games, live, chatting, online classes, and more.
Voice recording and audio voice changing is supported.
Voice studio lets you create any voice you like.