Among Us is a breathtaking game, and everyone wants to play this game. Surprisingly, you can do much more rather than only play this game. It sounds pretty surprising, but it is true. You can play different sounds while playing Among US using the soundboards.
Luckily, you don't have to roam about for long to find the appropriate soundboard options. Instead, you can grab the fascinating Among US soundboard options online.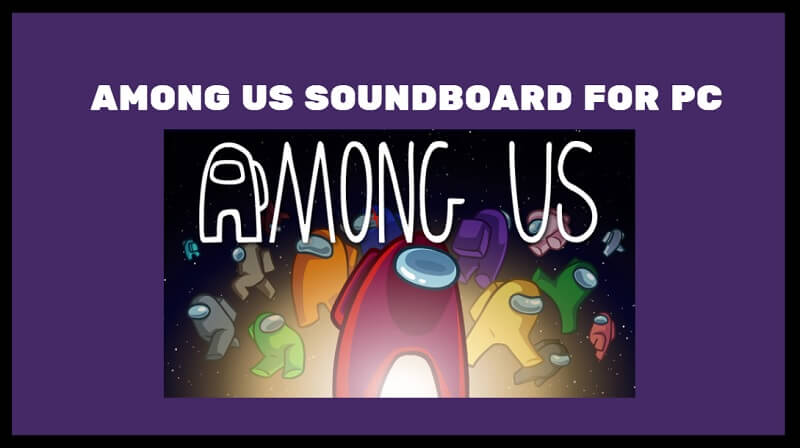 Follow this article, and you'll be able to put things in order.
Part 1: What Is Among Us?-Hot Video Game
Among Us is a pretty trendy murder-mystery game for both Mobile and PC. Players who participate in this game are known as Imposters or Crewmates.
The job of the imposter is to kill the Crewmate without telling anyone. Moreover, the role of Crewmates is to find out the imposter hiding in different places.
Why Among US mystery game is popular now?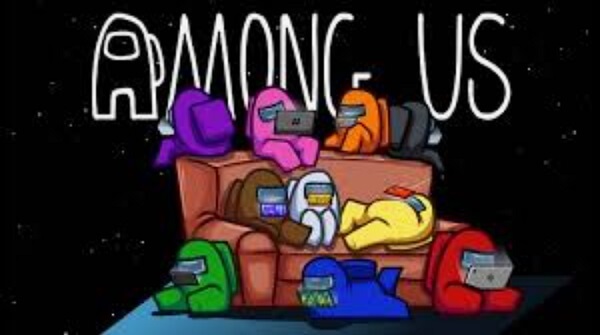 You'll see Among Us game is trending for more than one reason.The reasons are:
1. Considering the game's suspense, different YouTube content creators tend to play this game, screen record the whole game, and then upload it on YouTube channels. Doing so helps them bring much more traffic than usual.
2. Another reason that urges people to play this game is that you don't need to spend much for playing this game. Instead, you can play this game for only paying about 5 dollars.
3. Many celebrities opt to play Among Us game to stay intact with their followers. In this way, they entertain their fans and don't let their followers get carried away with the boring stuff some celebrities post on their social media platforms.
If you want to play Among Us with voice changer,we highly recommend MagicMic Soundboard for you.
How to Use Among Us Soundboard for Apps?-MagicMic
Whether you want to add soundboard while playing Among Us or prank your friends, iMyFone MagicMic can help you in every aspect.
Apart from being a prolific voice changer, MagicMic comes with splendid soundboards to enhance your gaming experience by adding unbelievable sounds to your game.It allows you to change your voice in real-time on different platforms using its flawless voice-changing filters and sounds.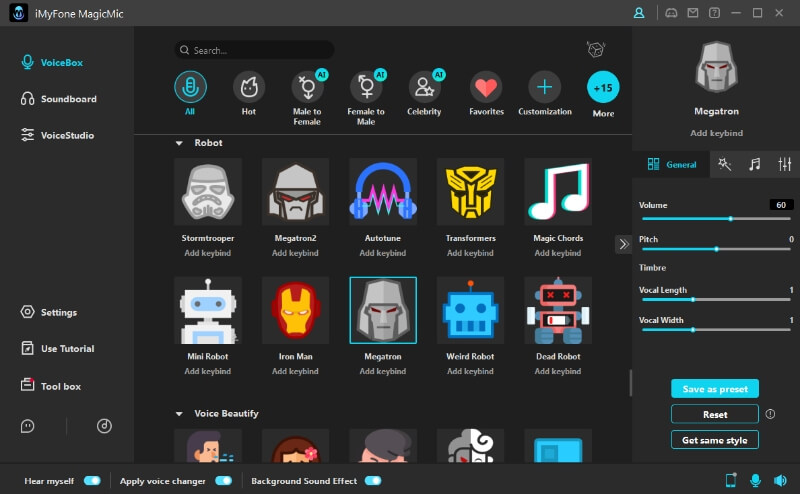 Some of its famous voice-changing options are Minions, Female to male, Alien, and Monster. In addition, MagicMic doesn't come up with a slick user interface. Instead, it allows you to add soundboards to Among Us game with minimal effort.
Features:
MagicMic allows you to alter your voice in real when using a chatting or gaming platform.

It supports the platforms like Among Us, Zoom, Skype, Xsplit, Streamlabs, PUBG, Twitch, etc.

Using MagicMic, you can enjoy the presence of 100+ voice filters, including Devil, Minions, Chipmunks, Alien, etc.

Apart from scintillating voice-changing filters, it also allows you to add 500+ sound effects.

You can create your unique voice with the voice studio feature.
Watch Video Guide About MagicMic Soundboard for Among Us
Steps of Adding Soundboard-iMyFone MagicMic
MagicMic helps you to add Among Us soundboard with ease. The process doesn't consist of any tricky parts. Instead, you can get your job done pretty quickly.
Here's the guide to do it.
Step 1: Launch MagicMic
First of all, you'll need to find MagicMic voice changer from its official website and then download it from there. Later, you'll need to launch the application after installing it.
Step 2: Chose the sound effect option.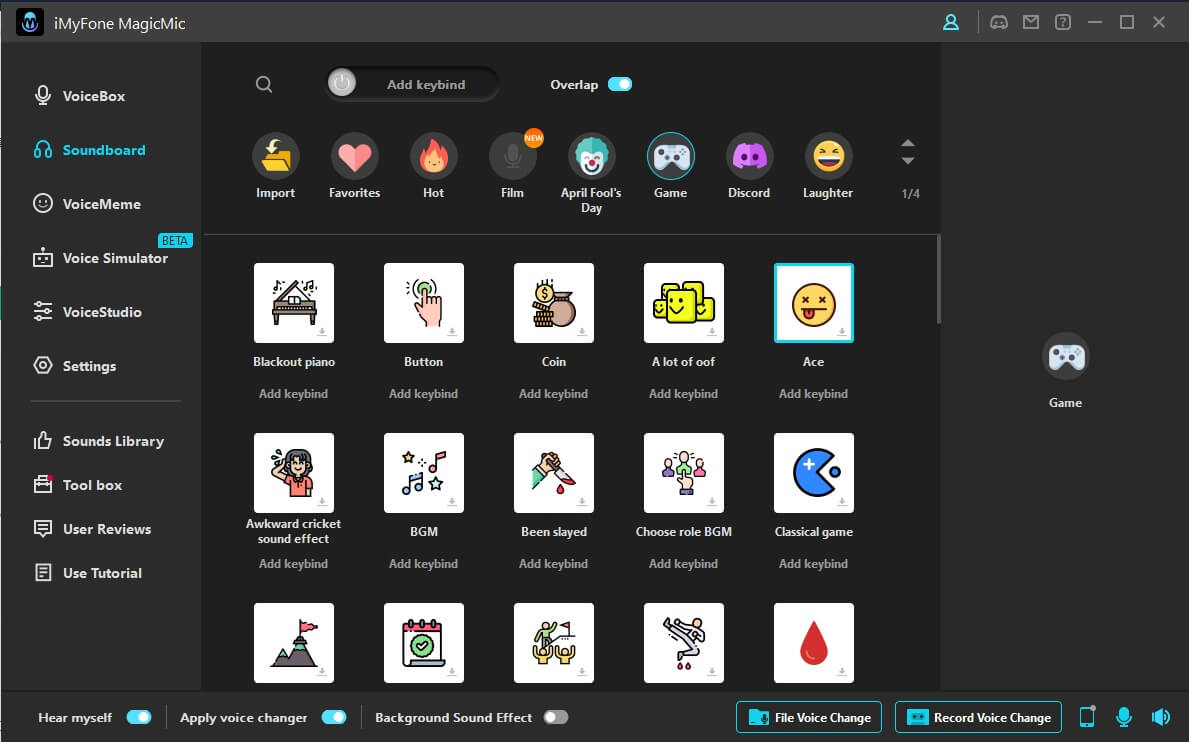 You'll need to register with your email ID and password in this phase. Later, you'll need to enter into soundboard sections after hitting the '' Sound Effect'' option. Now, you'll only need to look for your preferred soundboard.
Step 3: Select Input and output device
After selecting the appropriate sound effect option, you'll need to choose the input and output devices to proceed with the things you're currently working on. Later, you'll need to launch Among Us and start playing it.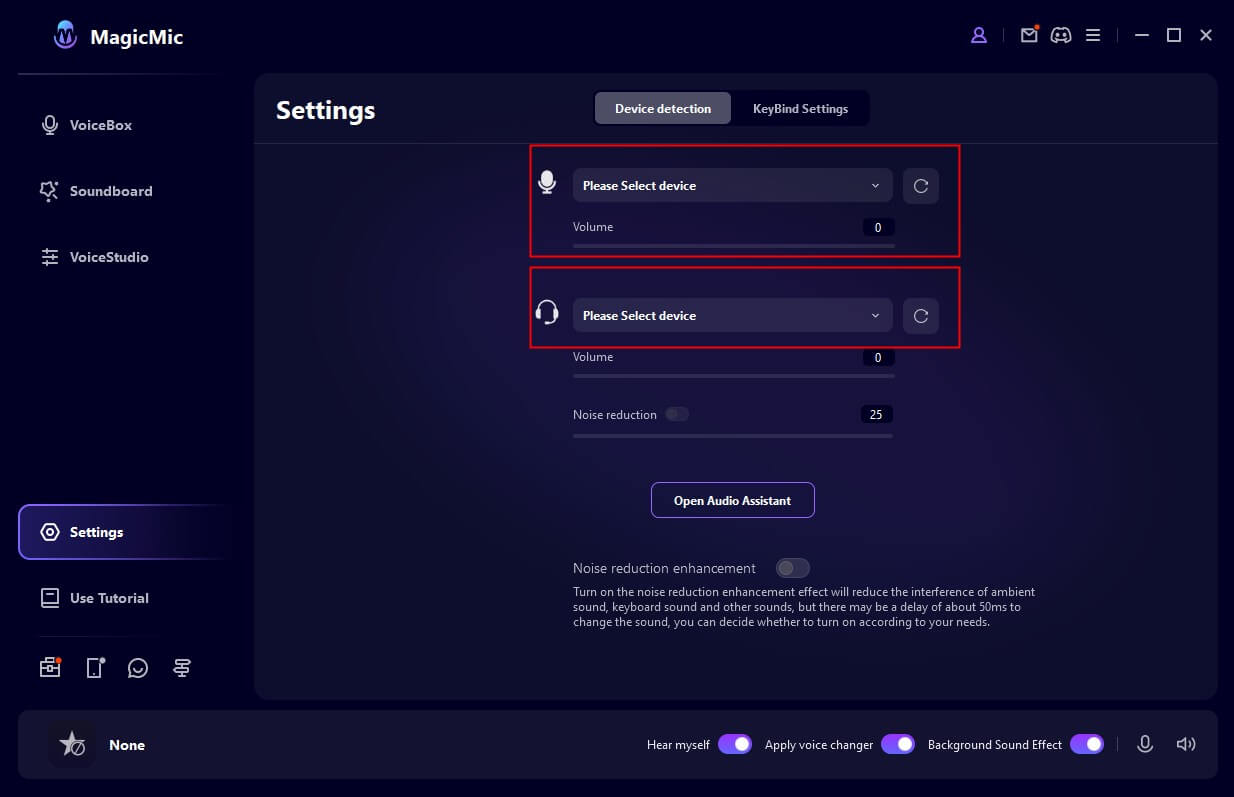 Now, you can use the sound you've chosen in the iMyFone MagicMic whenever you try to speak.
How to Use Real-time Among Us Voice Generator for PC?
What really makes MagicMic stand out is its cutting-edge AI voice technology. With this advanced feature, MagicMic can generate highly realistic human-like voices that can fool even the most discerning listener. Whether you want to prank your friends, create content, or simply explore new vocal styles, MagicMic is the perfect tool for the job.
And with easy-to-use controls and a user-friendly interface, MagicMic makes it easy for anyone to create unique and exciting vocal effects. So if you're ready to take your voice changing game to the next level, try MagicMic Voice Changer today and experience the power of AI voice technology.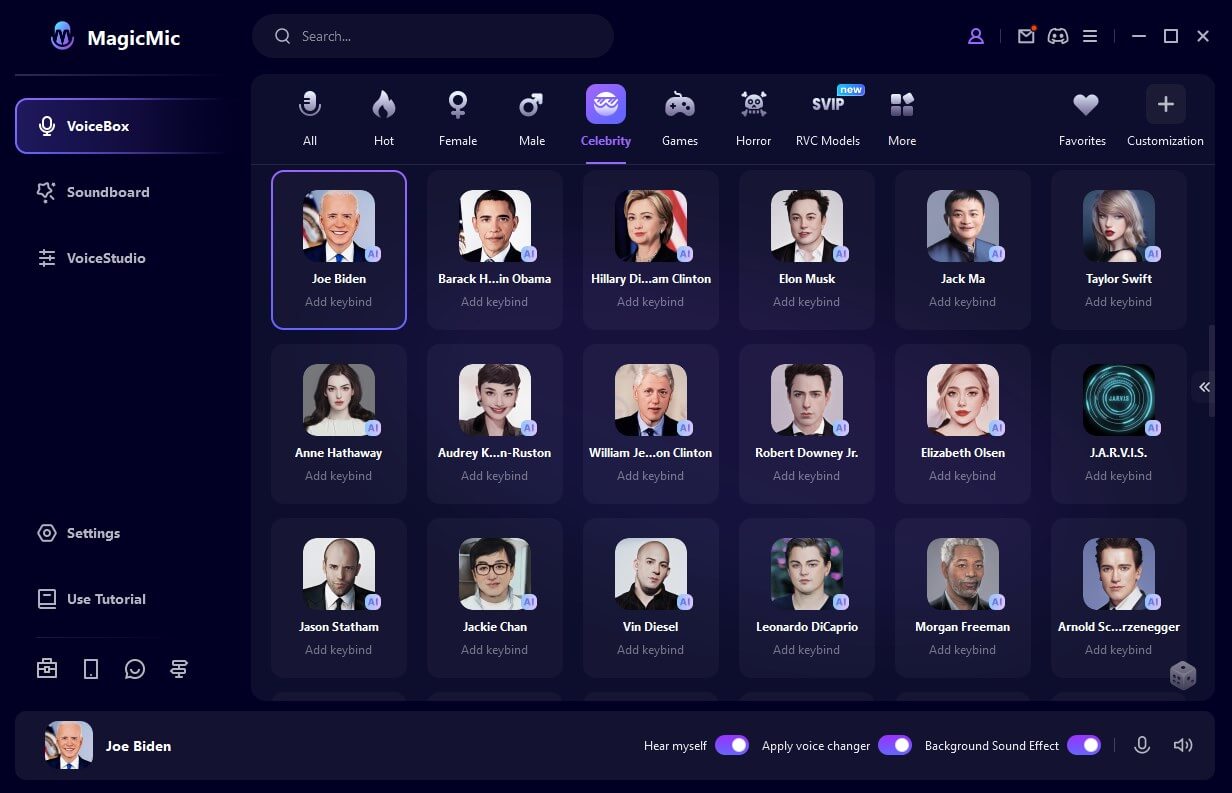 Steps of Use Real-time Among Us Voice Changer-iMyFone MagicMic
Step 1: Install the voice changer application on your device.
Step 2:  Configure your audio tools by opening "Settings" and clicking on "Audio." Set your microphone as the default input device and your headphones as the default output device.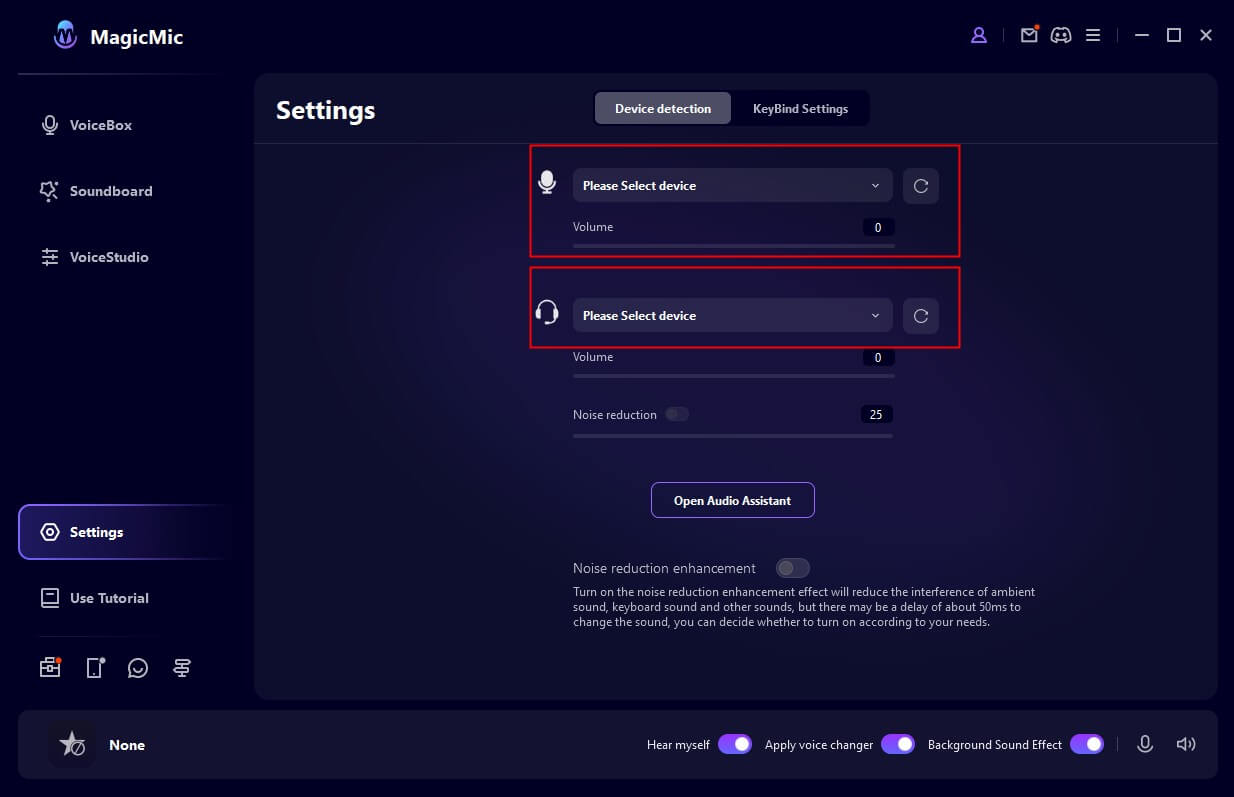 Step 3: Select Input and output deviceOpen your System Audio Settings and set the MagicMic Virtual Audio Device (WDM) as the default microphone.
Step 4: Launch Steam and go to "Settings." Under "Voice," select "Voice Input Device" and choose "Voice Changer Virtual Audio Device" from the options.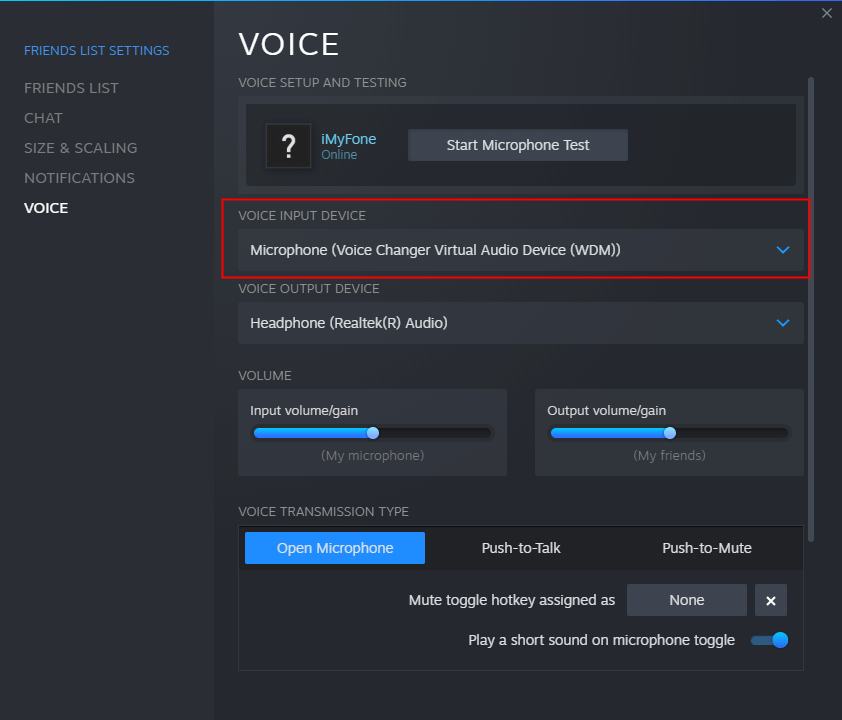 Step 5: Use MagicMic to select your desired voice filters or navigate to VoiceStudio to adjust the pitch, reverb, and other frequency settings to create a custom voice.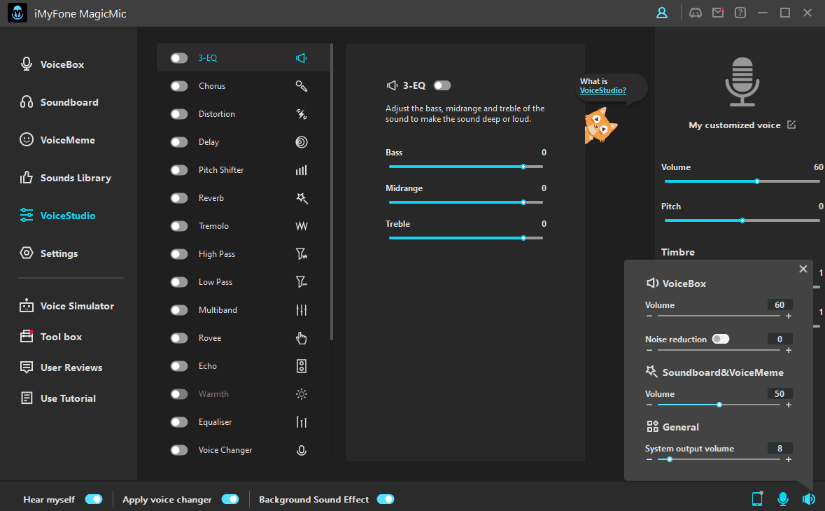 Among Us Soundboard Download for PC
Here's the list of some of the fascinating soundboards for PC.
1.101 Soundboards
If you're looking for Among US soundboards, you need to look at 101 Soundboards. It is an unbelievable soundboard website that allows you to download various outstanding sounds without any fuss.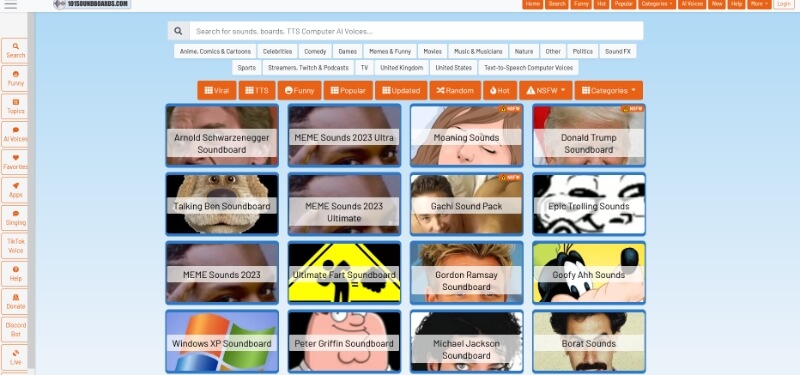 You'll get to see different sound categories with 101 Soundboards, meaning you can search for a sound effect variety you'd like to download sound effects from.
For this, all you need to do is navigate to the 101 Soundboards website and search for any sound effects you've been looking for.
Apart from allowing you to use extraordinary sound effects on different gaming and chatting platforms, it also allows you to use its sounds for podcasting purposes.
Features:
101 Soundboard allows you to pause the sound midway and resume it later.

It allows you to create your sound effect after entering your credentials to the website.

By visiting the website, you'll be able to download and use mesmerizing sound clips.

Surprisingly, you'll not need to pay anything to download any soundboard from there, as all the sound options are available for free.
2.Voicy
Another Among US Soundboards that can make your experience better than expected is Voicy. A thing to admire about this fascinating tool is that you can explore many other things than downloading a mere soundboard effect.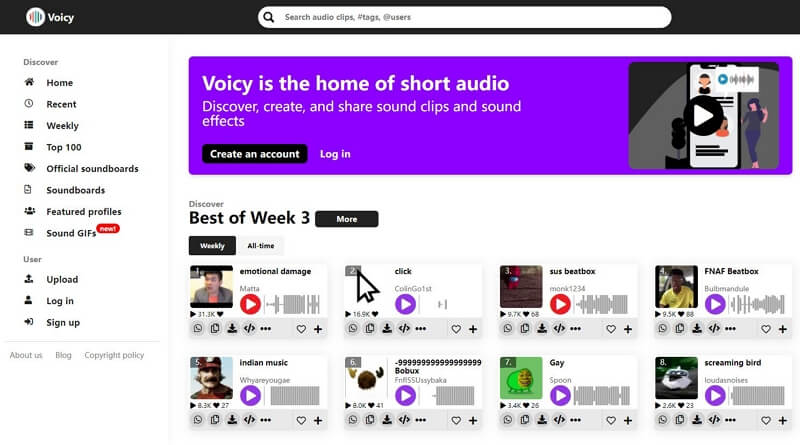 For instance, it allows you to add engaging sound effects to pre-recorded audio and videos with minimal effort. Moreover, Voice comes with a top-class interface, meaning you'll only need to upload a video file to add sound effects to it.
In addition, Voice also blesses its user with countless outstanding soundboards, making your experience exceptional.
Features:
Using Voice, you can explore over 100+ mind-blowing sound effects.

It allows you to use a soundboard while playing an online game like Among Us and a chatting platform like Skype.

You'll get some unbelievable sound GIFs to use in online games to make your experience memorable.

After creating an account, you'll be able to access all the features of Voice.

It presents a courageous user interface with no complex procedure to get things going.
3.Myinstants
Don't you want to create your soundboard?
If yes, you can take the services of a terrific soundboard website named Myinstants that can help you create flawless sounds.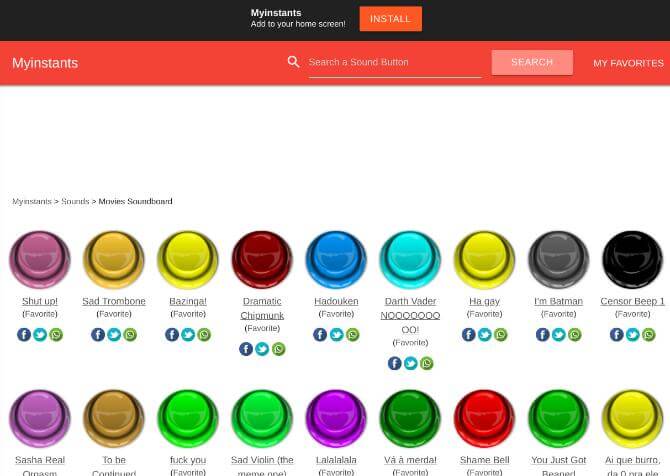 It comes with a pretty negotiable user interface, making your task and experience enjoyable and worth remembering.
Apart from allowing you to create your sound, it lets you download splendid soundboards with minimal effort, as you'll find quite extraordinary sound effects on this website.
To access the soundboards, you'll only need to visit the website, and then you can search for your favorite category from there.
Features:
It allows you to explore many breathtaking soundboard categories, including politics, music memes, television, etc.

You can use the website's search option to find your favorite soundboard categories.

The website comes with colored sound buttons to make your experience better.

By visiting this website, you can upload your recorded soundboard with your choice of color, title, and short description

You can also access the most popular sound effects using its '' Trendy'' section.
4.Blerp
Finding as much of an attractive soundboard won't be accessible as Blerp is. It is a genuinely remarkable sound that offers its users 1M+ soundboards.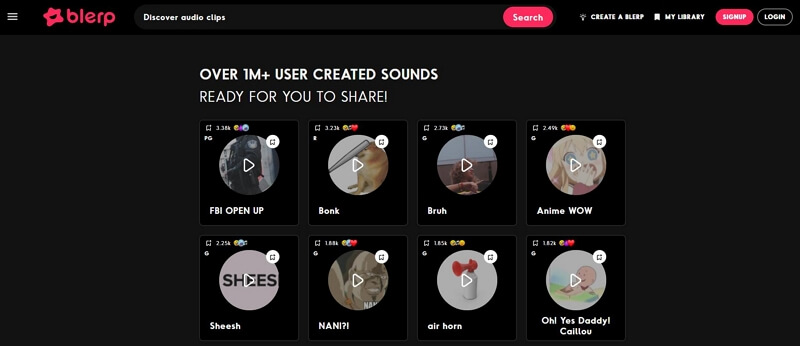 Apart from downloading flawless sound effects, it allows you to create your sound effect. However, you'll need to sign up with Blerp to create your soundboard.
Like other soundboards, Blerp also comes with different sound categories, allowing you to access your favorite sounds with minimal effort.
Apart from allowing you to create your sound, it lets you download splendid soundboards with minimal effort, as you'll find quite extraordinary sound effects on this website.
To access the soundboards, you'll only need to visit the website, and then you can search for your favorite category from there.
Features:
It allows you to download mind-blowing soundboards in multiple audio formats.

After downloading the sounds from Blerp, you can use them on various streaming and gaming platforms.

Besides offering 1M+ sound effects, it also enables you to record your soundboard.

You can access most of its soundboard for free, followed by Premium Soundpack which would charge you some money.
Conclusion
After reading this article, you can get to know about the reliable Among Us sounboard options. Considering the demands of Among Us game lovers, we reviewed quite a few options for you.
Of all the things we've talked about in this article, iMyFone MagicMic is by far the superior option. Its flawless features and tremendous sound effects options make this an excellent tool.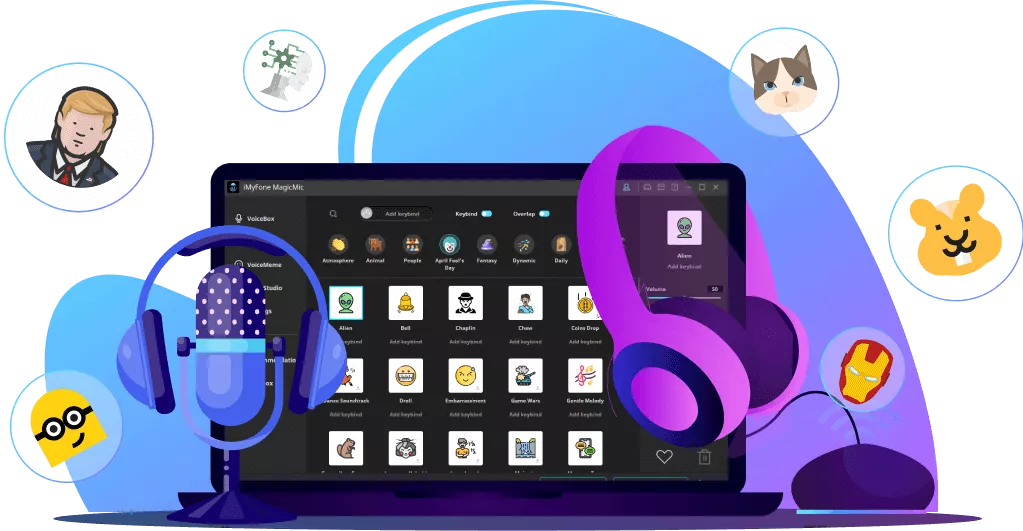 100+ Voice effects for one-click voice changing in real-time.
Huge library with 300+ Voice Effects and 150+ Voice Memes.
Sound emulator in games, live, chatting, online classes, and more.
Voice recording and audio voice changing is supported.
Voice studio lets you create any voice you like.