Nature is the best stressbuster. Nothing beats stress better than a weekend spent in a forest beside a lake in a remote mountain. The sights and sounds of nature will wash off days of exhaustion.
But everyone can't go on a weekend trip to a nature reserve. For them, there are nature slideshows. In this article, we will teach you how to create a nature slideshow. You can create this slideshow for yourself or an audience.
All you need for this slideshow are beautiful photos of nature, soothing music and a slideshow maker. We have covered all of them in this article. Read on, and you will create your nature slideshow in no time.
Part 1: What Content Do You Need for A Nature Slideshow?
You don't need much for a nature slideshow. Some breathtaking nature photos (yours or downloaded), some soothing music and know-how of a slideshow maker and its features.
Photos
Photos are the most important objects in a slideshow. A slideshow is meant to be presented to an audience, and it is not feasible for them to read textual information from the slideshow as it is being played.
If you want your slideshow to be understood by the audience and have an impact on them, use photos in your slideshow with relevant commentary. A picture speaks a thousand words. What you want to say can be relayed better with photos than with texts.
For example, you want to tell the audience the importance of nature reserves. Show the audience two photos: one of a lush green forest and another of a concrete jungle, and add relevant commentary.
You can either use nature photos clicked by you or download them from the internet.
Music
Music is necessary for your slideshow because it expresses the mood of your slideshow content. Sometimes photos and texts are just not enough to engage the audience. Proper background music, along with the contents of your slideshow, will interest the audience and make your slideshows impactful.
It will give a movie-like feel, and the audience will pay more attention to what you have to say and show.
The best music for nature slideshows is slow, soft and soothing music.
Video transitions
Video transitions are important in a nature slideshow. A smooth flow from one photo to another will make a soothing slideshow. There are many types of transitions, but the ones most appropriate for nature slideshows are the fade in and fade out. These transitions are smooth and soothing to the eye.
Effects
Effects in a nature slideshow make it more alive. They make the slideshow feel real as if it is happening right in front of you. This is especially true if most of your slideshow is made up of photos. For example, if you are showing a rain-drenched forest path, put a raining effect on it. The photo will appear alive, and the audience can feel the rain in their minds.
Similarly, if you have a photo of a snow-covered mountain, add a snowfall effect. The audience will feel that they are a part of the photo.
One effect that goes well with a nature slideshow is the slow zoom-in effect. You feel like you are going into the photo.
Slideshow maker
Whether you are making a professional nature slideshow for school and office or a casual nature screensaver slideshow for your computer, you need a slideshow maker that has many features.
There are many slideshow makers available, but we recommend that you use iMyFone Filme. Filme is a slideshow-making software that is user-friendly. You can use it to create school projects and business presentations.
You can cut and crop your slideshow with Filme. Add music, texts, video transitions and music to it so that your slideshow is catchy.
The best thing about Filme is that it has many features, but the interface is not complicated like most video editing applications.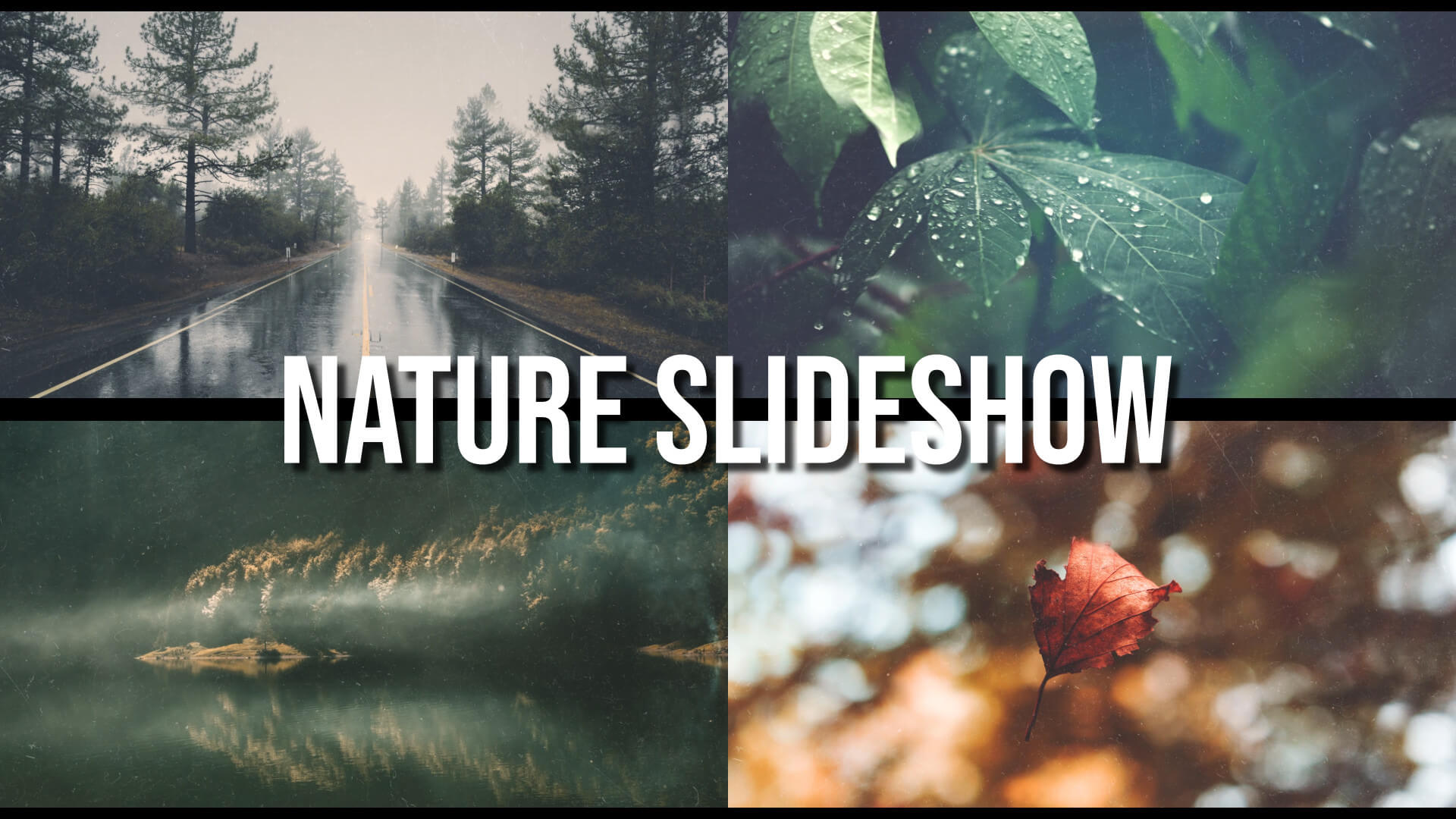 Part 2: How to make a nature slideshow?
We are going to learn how to use iMyFone Filme to make a nature slideshow. A short description of Filme has already been written in the previous section. Here, we delve deeper into the details. We start by looking at some of the features of Filme.
iMyFone Filme Key Features:
Fast Video Mode: Fast create videos with multiple templates of different themes.
Effects: Filme looks like a typical video editor. It has a timeline, an effects library and a preview window. The effects library has 172 effects. 43 of them are filters, and the remaining 129 are GIFs of various themes.

Transitions: There are 112 video transitions. Video transitions are effects that enable smooth transitions from one video clip to the next. 25 of 112 transitions are designed specifically for slideshows.

Text: There are 45 text types in Filme. You can find texts for titles, subtitles, end titles and titles that appear on the lower third of the screen. Some of these texts are animated.

Audio: The library also contains 51 audio clips that you can use in your slideshow. The audio clips belong to different genres, and you get 28 sound effects.
134524 people have Download it.
Thus, the effects library of Filme is pretty well stocked. There shouldn't be a problem creating a slideshow even if you do not have your own media.
There are two ways by which you can make a nature photography slideshow in Filme. The first method is called the "Fast Video" method and the second method involves importing your media files (photos/videos) and creating a slideshow.
Method 1: Create Slideshow from Fast Video
The "Fast Video" method is the fastest and easiest way to make a slideshow with Filme. Follow these steps to create a nature slideshow with this method.
Click on the "Fast Video" button on the top left corner of the screen. This will open a new window.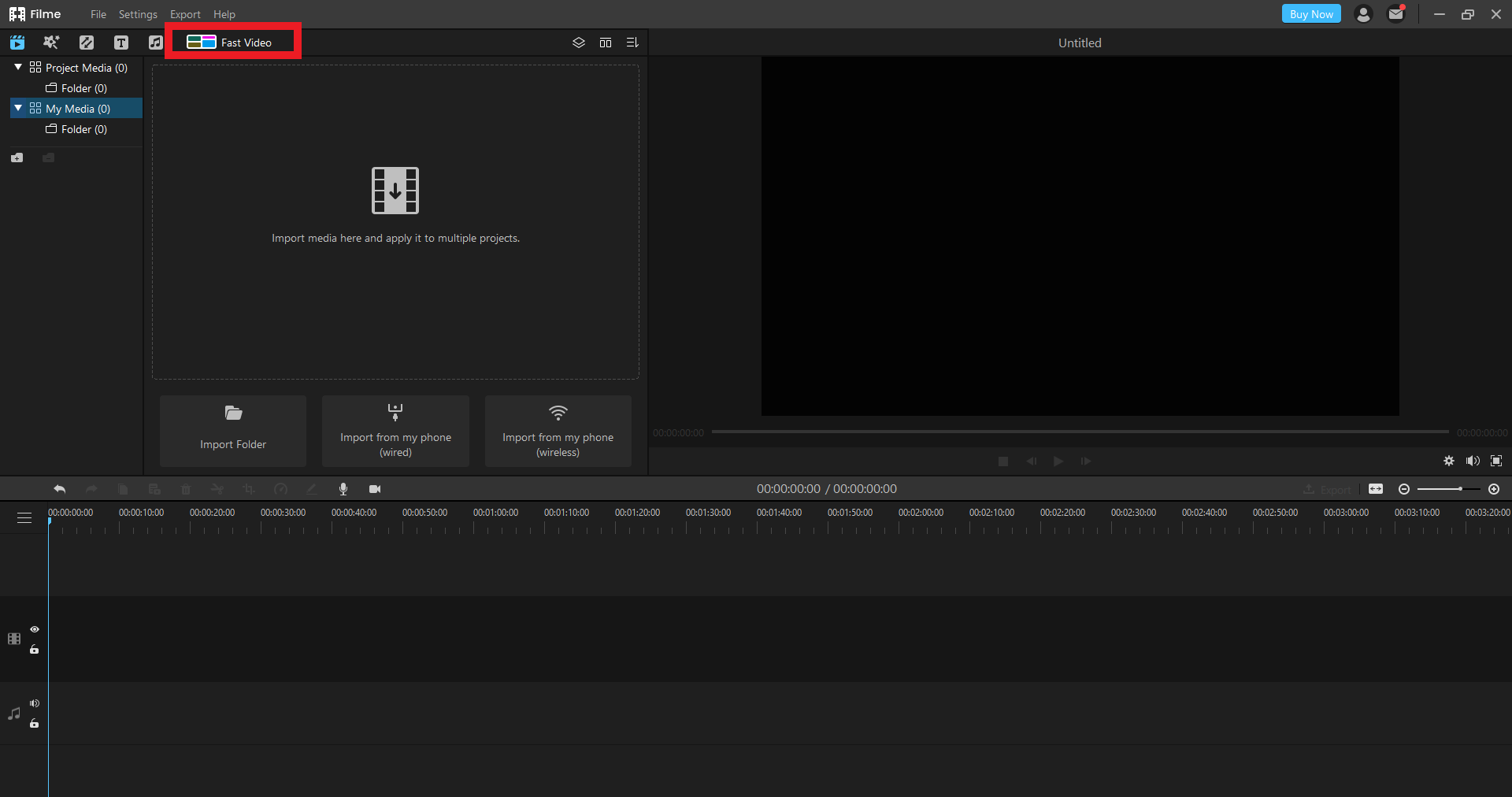 Select a template. Templates are videos on themes.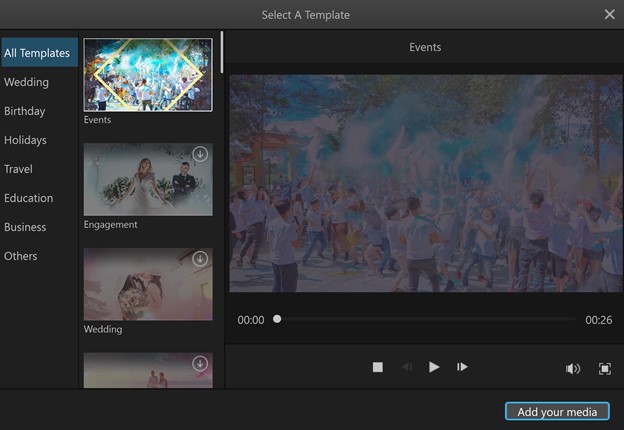 Click on the "Add your media" at the bottom right of the window. This will open another window where you can import your media.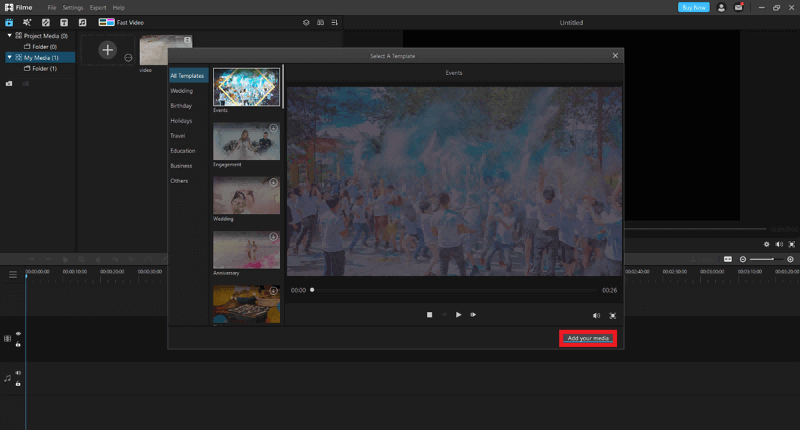 Import your media and select the "preview" button.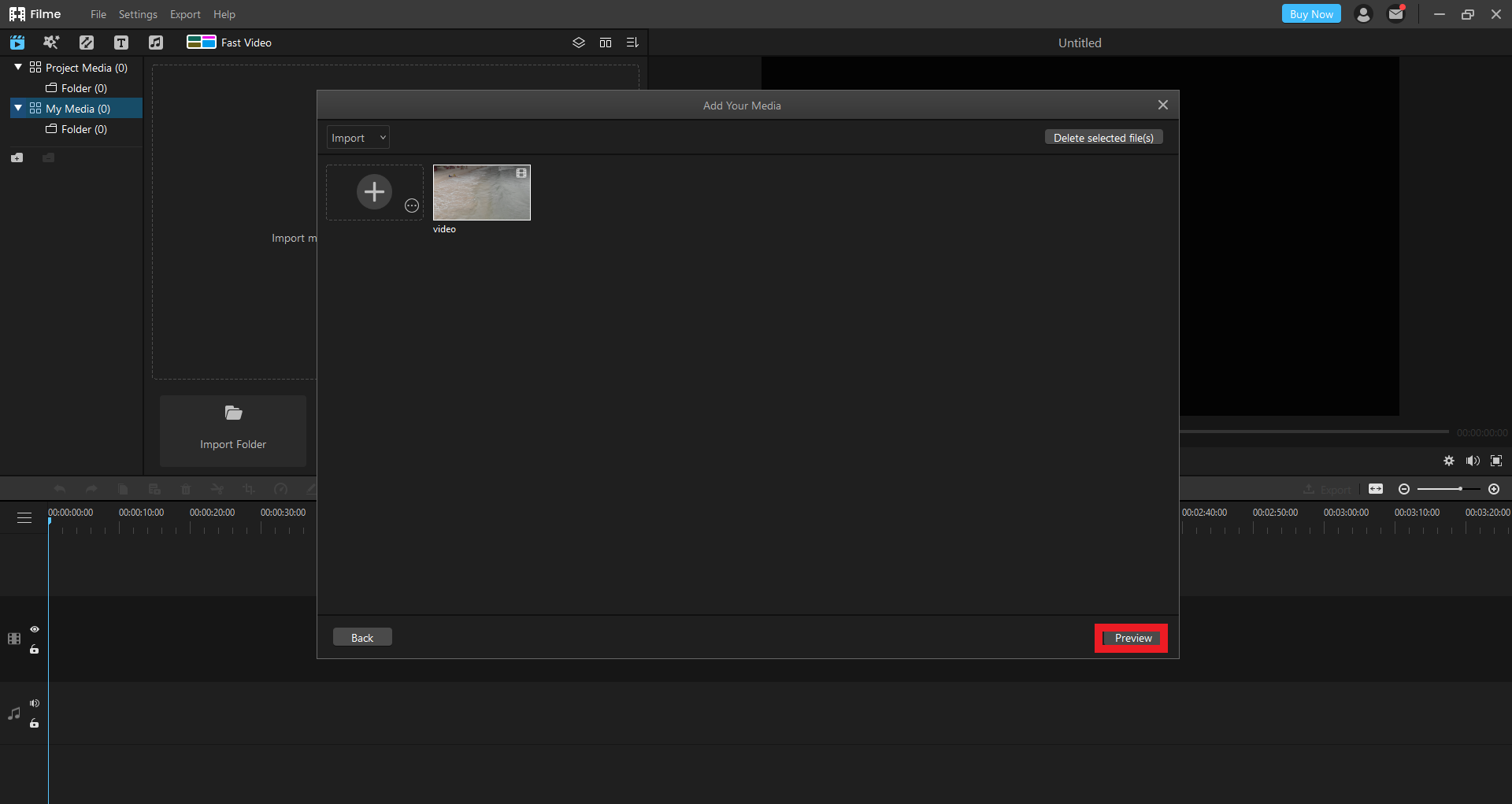 Your slideshow is ready. Save it by clicking the "export" button and then choose where to store that file.
This is the simplest way of creating a slideshow.
Method 2: Import Your Media
This method a little more time-consuming than the previous method, but it gives you more control over your slideshow. Follow these steps to create a nature slideshow with this method.
Importing media files
Import all your media files in the software. Go to "File" then "Import media". Choose whether you want to import files or a folder. You can also import from your phone (wired and wireless).
Your media files will appear in the effects window.
Arranging your video clips, audio clips, and photos
This is the first step towards creating your slideshow. Drag the photos, videos, and audio into the timeline. The timeline is the place where you arrange the media files in your preferred order.
There are separate timelines for video and audio. Place the videos and photos one after the other in the video timeline. Do the same with audio in the audio timeline.
Adding effects, transitions, elements, and text
Adding effects
If you want to add effects to your photos and videos, click on the toolbar's effects wand button. Choose your desired effect and drag it into the timeline and place it on that part of the slideshow where you want to see that effect.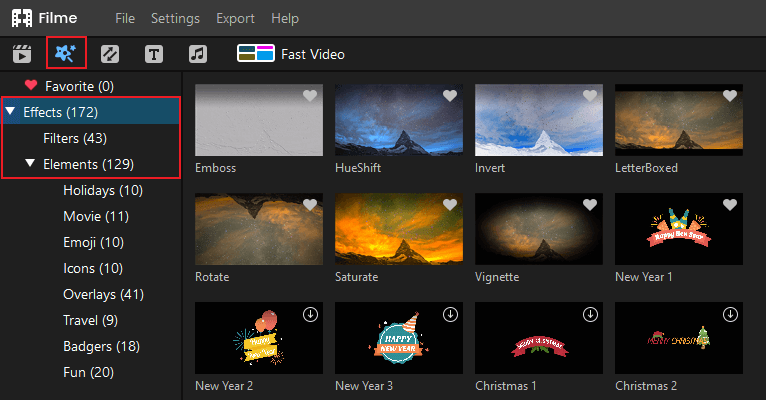 There is an important point to keep in mind here. When you add an effect, it automatically applies to the entire video clip. If you want to add that effect only in a particular part of the clip, then you have to first separate that part. You can do so with the "cut" tool.
The "cut" tool is represented by a scissor symbol and can be found in the toolbar just above the timeline. Move the timeline cursor to the point in the video where you want the effect to begin. Select the "cut" tool and click on where the cursor is. Then move the cursor to the point where you want to end the effect. Click on this point. You have separated that part of the clip and created a new clip in the process.
Now your effect will appear only in that part.
Adding transitions and texts
Click on the transition button (diagonal wand symbol), select the transition and drag it between two clips.
If you want to overlap text and elements onto your video clip, drag the selected text and transition and place it on the timeline above the video clip timeline. Edit the text after selecting the "edit" button (pen with a line symbol) from the toolbar above the timeline.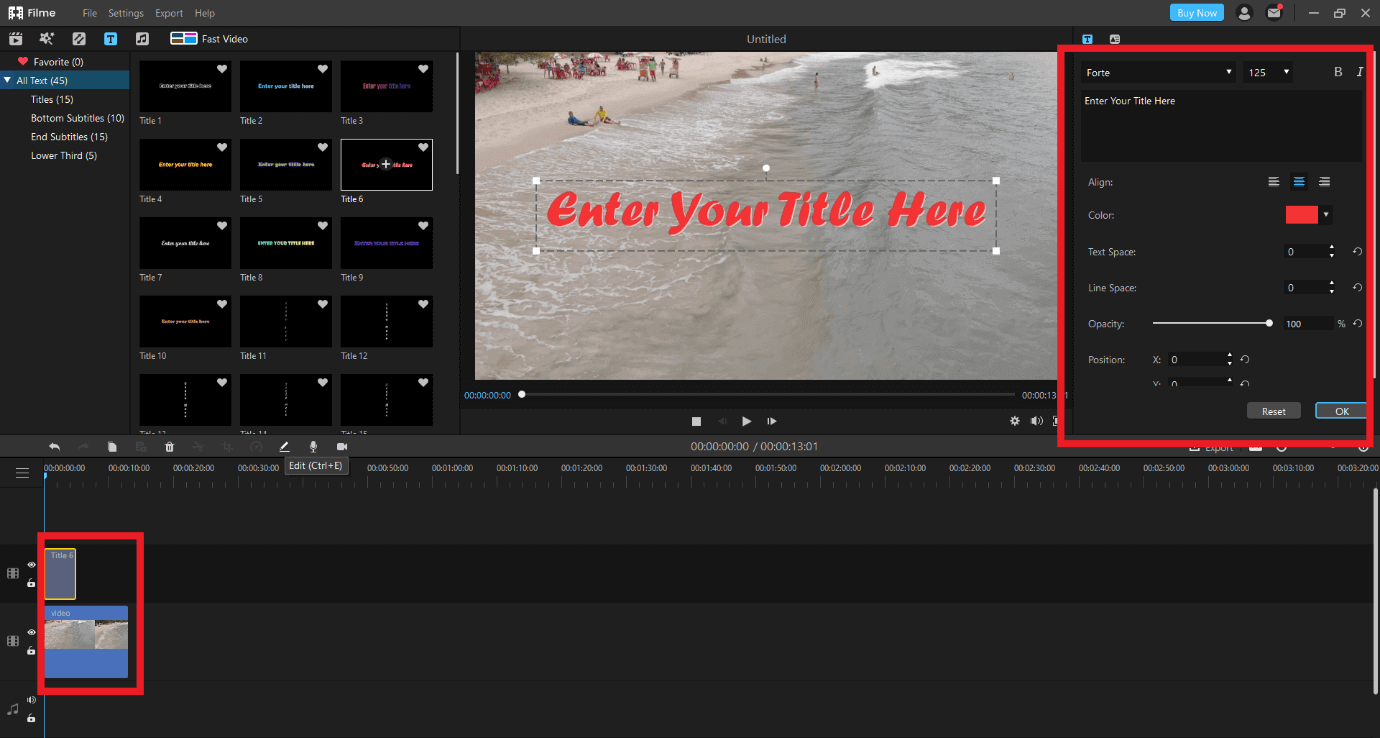 Note: You can preview the effects, elements and text on the preview window before using them on your video. Just click on the effect, element or text you want to preview, and it will play on the preview window.
Your slideshow is ready. Preview it once before exporting the video.
Exporting
Click on the "Export" button. The export window will ask you to choose where to store the video, resolution and encoding. After you have selected them, click export, and your slideshow is ready for presentation.
Part 3: Beautiful nature slideshow examples
Some beautiful examples of nature photography slideshow are as follows:
Example 1
This nature slideshow video online is very soothing to the senses. The breathtaking images and the relaxing background music will evaporate your stress.
The photos show nature in various forms. You will find lush green mountains, snow-covered fields and mountains, Aurora Borealis, flower valleys, lakes, sea beaches, forests and many more.
The effects and transitions are cleverly put, and that makes the photos come alive.
Example 2
This slideshow has sublime nature photos. You will find photos showing sunlight filtering through tree branches, forest trails, forest streams, the Grand Canyon, archipelagos, mountain lakes, animals in the wilderness and many more.
The background music is uplifting and, together with the photos, gives you a divine and out-of-the-world feeling.
Example 3
This slideshow is only one and a half minutes but contains some of the most beautiful pictures of nature. You will find a solitary rail track in the forest, forest bridges overgrown with moss, mountain peaks above clouds during sunrise, trees forming a canopy over a road, misty lakes, a forest of maple trees and many more.
The background music is so soothing that it will immediately relax you. The music, together with the nature slideshow video, will transport you to a different world.