Graduation is the most celebrating moment of our lives. It is because we have achieved what we wanted to. It is also the end of some lovely memories that we have spent in the university/college. You can collect all memories in a slideshow. Moreover, if you are giving a graduation party to your loved one, you can create a slideshow from graduation pictures. Today, we will share how you can make a graduation slideshow. We will share video editors that can create an awesome slideshow. By the end of the article, you will be able to create a slideshow on your own.
Part 1. What Do You Need to Make A Graduation Slideshow Video
High-quality Images
The first thing that you need is high-quality images. You are going to create a slideshow from images, so if the quality of the image is perfect, your final slideshow will be stunning. You can never compromise on the quality of images. You might think that we can increase the resolution of the video; however, the image remains the same.
First, the resolution of all the images in the video must be the same. If there is any issue with the resolution, make everything similar. Some video editors, such as Filme, offer you to adjust the size of the images while adding them to the timeline.
Video Editing Tool
You will create a slideshow using a video editing tool. Therefore, the video editor must have all the features you need. There should be effects, transitions, stickers, and text. It should also offer editing tools so that you can edit images as you like. Some video creators also have templates for creating stunning slideshows. The templates will help you do everything with ease and create a stunning slideshow without any hassle.
Songs
Your slideshow could be boring if it does not have any songs. The song makes the video more energetic. You can add relevant songs to the slideshow. For graduation, motivational and happy songs are preferred. We will also list the top 10 songs at the end of this article.
Idea to Present the Images
Once you have everything ready, you need to brainstorm some ideas. You need to think about the captions, stickers, images, GIFs, effects, and transitions that you will be adding to the slides. You must have an idea because it will help you in creating the slideshow. You can also gather some quotes to share.
Part 2. Best Slideshow Tools for Making Graduation
iMyFone Filme - Windows & Mac
iMyFone Filme is a desktop video editor that contains basic to advanced editing tools. You can easily create the best graduation slideshow using any of its two methods. The best thing about it is that it is user-friendly and suitable for beginners.
Features:

The Fast Video mode of Filme makes it super easy to create a slideshow. There are many templates available for various purposes. You can also find a few graduation templates.

Filme has libraries for effects, transitions, stickers, text styles, and GIFs. You can create a stunning slideshow without any hassle.

You can add multiple images and videos in a single frame. You can also place videos and images over another video or image. Soundtracks can also be mixed.

The file can be exported in any format you prefer. You can change the container, codec, frame rate, and other settings.
Method 1: Using Fast Video
Step 1: Launch Filme on your computer. Go toFile>New Project. Now, select the desired aspect ratio as you like. You need to select the ratio according to the platform you are going to use for uploading the video.
Step 2: Click onFast Video. You will have a new window. There will be a list of dozens of templates. You can choose anyone you like. After selecting the template, click onAdd You Media.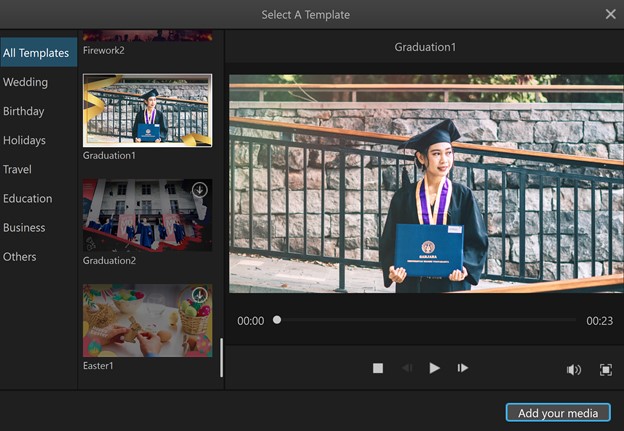 Step 3: Import the images from your computer or mobile phone. Arrange them as you like. Click onPreviewto see the slideshow.
Step 4: See the video. For changing the sound, click on the sound icon and upload the sound you like. You can also change the duration of the slides. If you need other changes, you can go back.
Step 5: The final step is exporting the video. Click onExport. Choose the settings for the video and click onExport.
Method 2: Through Advice Editing
Step 1: Open Filme and create a new project of the desired aspect ratio.
Step 2: Click in Media to import the images and video from your computer or mobile.
Step 3: Drag the images and videos to the timeline. Arrange their duration by dragging the ends.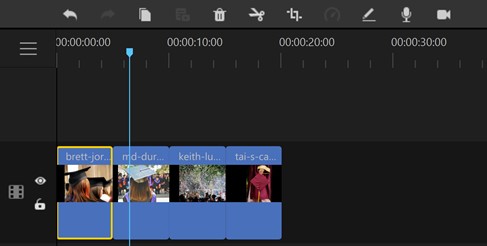 Step 4: Add effects, transitions, text, stickers, or anything you like. Go to the menus and select the desired transition, effect, or text.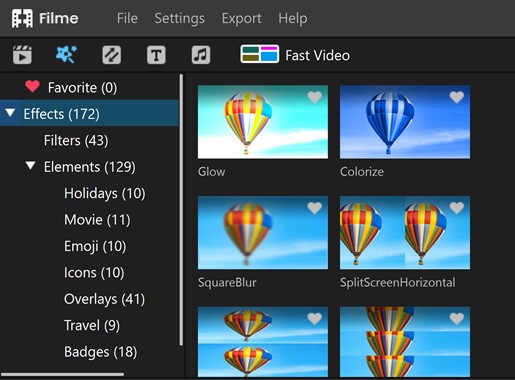 Step 5: Click on theExportbutton. Set everything and click onExport.
Watch this video to learn how to use Filme to create slideshow easily:
Also Read:
How to Make a Slideshow with/without music on Facebook >>
Best Ways to Make a Professional Slideshow with Adobe Premiere Pro >>
VivaVideo - iOS & Android
VivaVideo is a popular video editing application. You can easily create graduation slideshows with it.
Features:

VivaVideo also has some themes that can make your slideshow more attractive. There is a huge library, so you can select easily.

You can import media from your mobile or stock library. VivaVideo has a stock library, and it has also collaborated with Giphy, so you can select GIFs as well.

There is a huge music library; you can select the music according to genres. Moreover, you can also have sound effects.
Steps to Use VivaVideo
Step 1: Open VivaVideo. You will see theCreatebutton at the bottom center; tap on it.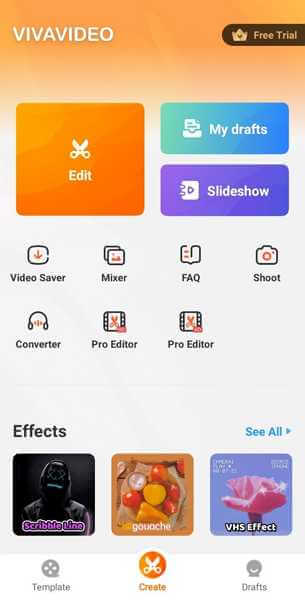 Step 2: You need to select the media that you want in the slideshow. You can select images, stock photos, videos, GIFs, or whatever you like. You can also arrange the images and clips by pressing and holding them. Finally, tap onNext.
Step 3: Your media will be imported into the video editor. After every image, you will see a transition option. Tap on it and select the transition you like.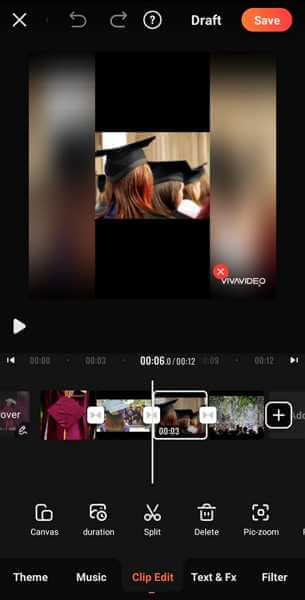 Step 4: Tap on theMusictab at the bottom. You can add music or sound effects. You can also edit the music if you want.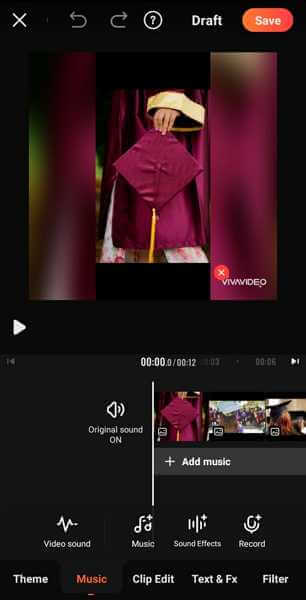 Step 5: You can also make other changes, such as text and effects. When you are done, tap onSave. Select the resolution, and your video will be exported.
Part 3. Tips for Creating a Good Graduation Slideshow Video
1. Use Transitions and Effects
If you just add images one after the other, the viewers will find it boring. It will be like a slideshow of the '90s. You need to make it attractive, and the best way to do it is transitions. You need to add suitable transitions in every slide. It makes the slideshow more interesting.
Effects also create a mesmerizing sensation. You can have different types of effects in the images, and everything will look more attractive.
Video editing tools have effects and transitions. You can easily select from the library.
2. Add Some Quotes
Graduation slideshows are incomplete without quotes. You can select inspirational quotes from successful people and celebrities. You can add the quotes at the start, end, or even in the middle of the slideshow. But make sure not to add too many quotes. Otherwise, it will be a quote slideshow instead of a graduation slideshow.
3. Add a Relevant Song
There should be at least one suitable song in the slideshow. You can also add multiple songs and tracks. Filme also supports the mixing of multiple audio tracks. We have shared a list of songs, so you can easily choose anyone you like.
4. Add Multiple Images in a Frame
You can have a single image in one slide, but adding more than one image could make the slideshow more attractive. You can set a background for it, and then you can add one or two images to it. It will look awesome and unique.
Final Words
Creating a graduation slideshow is quite easy. We have explained the step-by-step method. You can use any tool you like. We recommend Filme as it is a desktop video editor, so it has more features and tools as compared to mobile applications. It also has two graduation templates, so you can create a slideshow in one click. We have also shared some tips that you can keep in mind while creating a slideshow.