An iPad is a portable device that can be carried anywhere easily. If you go on an exciting vacation during the summer, and you have a lot of photos to show to your friends at school or colleagues at work, you can create an awesome slideshow presentation. It is a very easy task and can be executed by anyone using an excellent iPad slideshow maker. This article entails all the steps on how to make a slideshow on iPad. Just keep on reading!
The Easiest Way to Make A Slideshow
iMyFone Filme
is a comprehensive video editor that comes with Fast Video Mode feature, which can help you make a slideshow in just one click. You can try it out first.
Download it below for free!
How to Make a Slideshow On iPad [Common solution]
Suppose you want to create a great slideshow, you will have many options to perform this task. Next we will show you the most common solution for you. It is to use iPhoto on iPad. iPhoto lets you create amazing slideshows of your favorite photos with ease. Below are the detailed steps:
Steps to Make a Slideshow on iPad Using iPhoto
Step 1: Tap the Photos app icon to open the application.
Step 2: Select those photos or video clips that you would like to use in the slideshow. Then tap "Slideshow" button to check the Slideshow Options menu. It's in the upper-right corner.
Step 3: Then you will see a Slideshow Options menu. The first one is "Play Music", if you want to play background music along with the slideshow, tap the On/Off button in the Play Music option. Then you can select any song from your iPad library.
Step 4: And you can also tap the "Transition" option to add the transitions you want to use on the slideshow.
Step 5: If everything is ready, then tap the Start Slideshow button to check the slideshow on your iPad.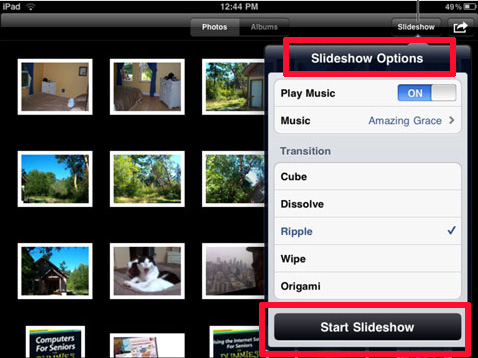 Top 3 iPad Slideshow Apps to Create a Slideshow
Since the use of slideshows to present memorable photos and videos in a compelling manner is getting popular day by day, a number of slideshow makers can be found on the internet. If you want to choose the one that fulfills your requirements, you need to compare the pros and cons of different applications.
1. iMovie
This is an excellent video editor created by Apple specifically for iOS and macOS users. It has a lot of editing features, including the option to modify the color settings of the videos and the photos. It also has many unique features, such as the picture-in-picture effect and the cropping and rotation of videos and images.
Pros:

This editing application is so powerful; it allows the users to create movie trailers as well.

It has a wide collection of in-built templates.
Cons:

Its use is limited to Apple users only.

It does not have enough professional editing features.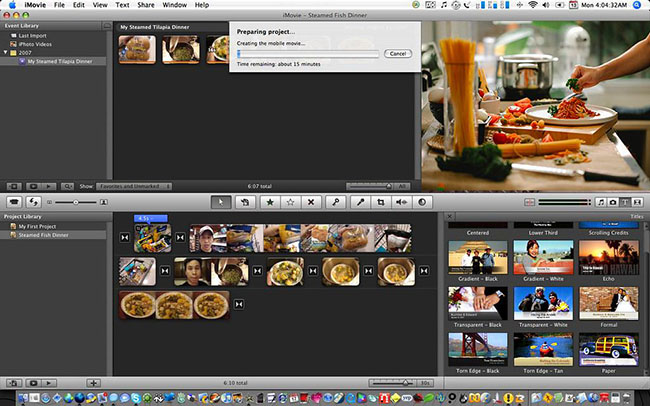 2. Flipagram
If you are searching for the best slideshow app for iPad, Flipagram won't disappoint you at all! The best part about this particular application is that it not only allows its users to create presentations but also allows them to edit the slideshow in such a way that it appears similar to an aesthetic TikTok video.
Thus, if you are a fan of TikTok and want to use a slideshow creator with a simple user interface, this is the right application for you.
Pros:

You can add music files in the background.

Extremely user-friendly application.

Exciting transitions and effects can be added.
Cons:

Some editing functions glitch and do not perform the task properly.

Videos have a specific length limit.
3. SlideLab
This application is amazing because it offers a lot of editing functions. You can use this easy-to-use application to create an awesome iPad photo slideshow. This application allows the user to save the slideshow on their iPad and share it with their friends and family across multiple social media platforms.
Pros:

It does not alter the original size of the images.

Sideshow is very easy to create.

It has a number of great filters.
Cons:

The application is bugged.

Background music has a limited collection.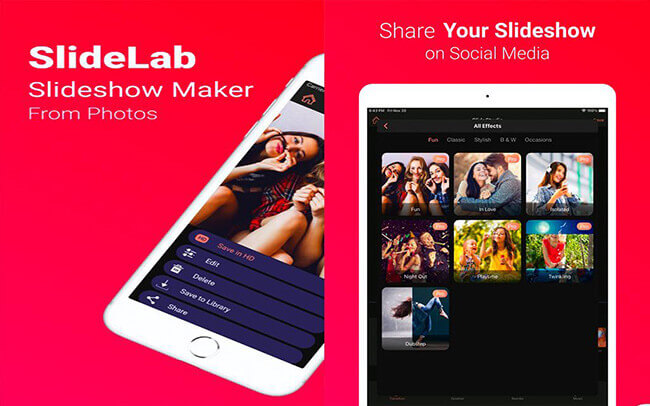 The Easiest Way to Make A Slideshow - iMyFone Filme
If you want to learn how to make a photo slideshow, you can use an awesome Slideshow application called iMyFone Filme. It is an extremely comprehensive video editor with advanced editing tools.
Key Features
1. You can easily create a slideshow with Fast Video Mode. Just oneclick!
2. There are over 50 templates to choose from while creating slideshows.
3. Free background music is available for using on a slideshow.
4. You can adjust the ratio of the slideshow with ease.
5. Filme also offers a variety of text fonts for you to choose from! It certainly helps to make your slideshow stand out.
6. Filme offers animations, transitions, attractive filters to make the presentation more exciting.
7. The finished presentation can be shared on different social media platforms like Facebook, Youtube, Twitter and Vimeo!
Steps to Create Slideshow Video With Filme Fast Video Mode
Step 1: First, download and install Filme, then simply press on the Fast Video logo in the top toolbar. After that you will see the menu below. You will find out various templates for you to use on the slideshow.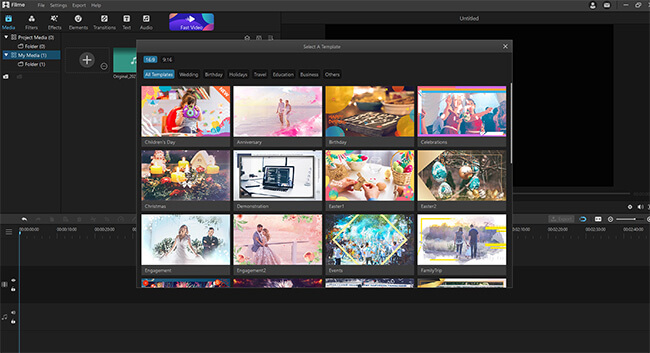 Step 2: Next, click on "Add your media" button to add the photos you want to use on your slideshow. Then you can easily import media that you need: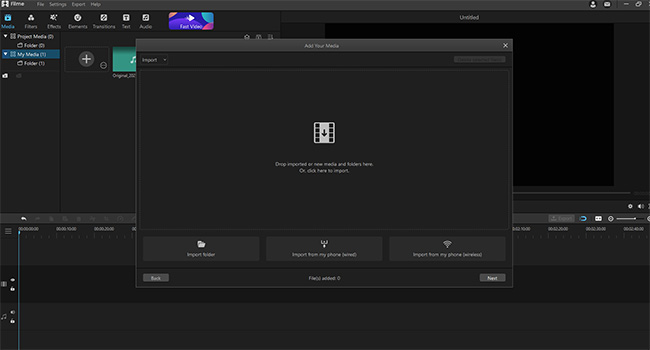 Step 3: After adding the media successfully, just press "Next" in the bottom right to preview your slideshow. And you can also change the music and the duration of the slideshow with ease. If you are satisfied with slideshow created, you can easily share it with your friends by pressing "Export" button. Filme allows you to share the finished videos to Facebook, Twitter, YouTube and Vimeo.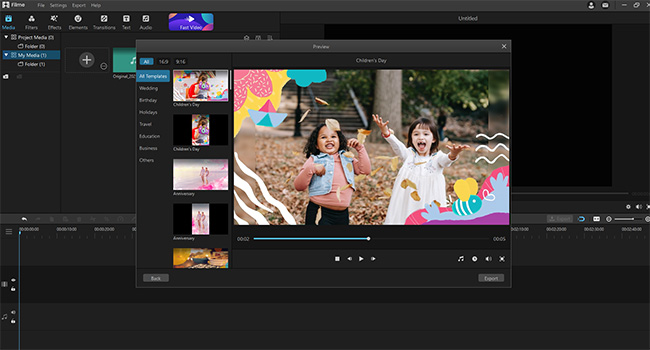 Hot FAQs about Creating Slideshow
Discussed below are some of the frequently asked questions regarding the creation of slideshows using an iPad.
Question 1: How do I post a slideshow from my iPad to Facebook?
Once you have created your slideshow and you wish to share it with your friends and family, you need to click on the 'export' or 'share video' button. A list of applications where the video of that format can be posted will appear. From the list, choose the Facebook option. If your Facebook account is logged in, your profile page will pop up with the video ready to be posted.
You can add a caption and then click on the 'Post' button. In case your account is not logged in, you will have to enter your log-in information in a pop-up that appears after you select the Facebook icon from the list.
Question 2: How do I make a slideshow with music on my iPad?
You can use the best slideshow maker for iPad like Filme or iMovie. After your photo and video files have been added in order to the storyboard, you can search for the 'Music' button, typically found at the top of the toolbar. Click on the button, and you will be allowed to choose music files from your library. Choose the soundtrack you want to add, edit its duration, and the task is done!
Question 3: How do I do a slideshow on my iPhone?
You can use an iPhone application similar to the best slideshow app for iPad that allows the users to edit and create video and photo slideshows. It is an easy task, similar to the iPad process. Apple has an in-built slideshow function in the Photos. You need to select the photos or videos from the Photo gallery and create a slideshow using different fonts, music, and transitions.
Conclusion
Creating slideshows on an iPad is a very simple and exciting process. You can feel free to explore different features, animations, and transitions, etc., to make your presentation more compelling. It is best to use fancy fonts, animations, designs and add background music of your choice to enhance your presentation to the fullest. If you are new on slideshow making, using software like Filme can make the process extremely easy and doable, even for beginners. You don't need to possess any particular skill to be able to create an impressive slideshow.