During a funeral, one usually finds themselves reminiscing a loved one's life events after they pass away. Reviewing a lifetime's worth of photos and videos is usually filled with tears and laughter. While viewing their memories on earth, you celebrate their living moments.
Dedicating a funeral slideshow as a tribute can be one of the best ways to remember someone who passed away. It can help people to move past the grieving phase and remember the deceased for their happy moments on earth.
A funeral slideshow is an emotional video that helps pay respects to a person long gone. It is necessary to look at their lives and remember one's connection with them.
Although this a tough call, especially for those who lost a closed person, a meaningful funeral slideshow will help you view their life events one last time.
This article will guide you in creating the best funeral slideshows and help you choose suitable funeral slideshow songs.
Part 1: What You Need to Know Before Making a Funeral Slideshow
Creating a funeral slideshow is an emotional and sensitive process. There are several methods available for editing a traditional slideshow.
However, it would be best if you stay grounded while editing them. Keep these five crucial things in mind while making a funeral slideshow:
1. Tools
When preparing for a slideshow, you need to use the proper software to help you with the process.
The software must also have all the right tools needed to prepare funeral slideshows. They must come in handy and offer the appropriate music and effects in the slideshow.
Different software's have varying tools in them, so you need to choose the most efficient video editor.
2. Format
While playing the slideshow at a funeral, keep in mind the format you saved it in. It is essential to speak to the funeral director if they support different formats in a video.
It will not only help save time but prepare you to convert your funeral slideshows in a format supported by the funeral parlor.
3. Content
A funeral slideshow is meant to focus on a person who passed away. Naturally, everything you insert in the slideshow will be related to them.
When creating a tribute video, make sure you have a clear idea of the content you would like people to see.
Insert at least 30-40 meaningful pictures. If you go overboard, it may disrupt the flow of the funeral slideshow.
You can add short clips of the person not lasting not more than 2 – 3 minutes. The longer the clips are, the less time you will have to display other things revolving around the person.
Make sure you thoroughly research the type of music you insert in the funeral slideshows. It would help if you leaned more towards relaxing and peaceful music without many dramatic effects in it.
Funeral slideshows usually last for 3-7 minutes. Try to include everything in a limited duration so that you don't deviate from the timeline.
You can always include the extra content in a silent video played in the background during the refreshments at a funeral.
4. Services
If you would like someone to assist you in making a professional-looking funeral slideshow, you can always hire an expert. They will charge a small fee for creating such slideshows on your behalf.
5. Sharing the slideshow
There are chances not everyone might be able to make it to the funeral. In such cases, make sure you can share the funeral slideshows with people.
You can either send them in a CD or upload digital links for the attendees to view them.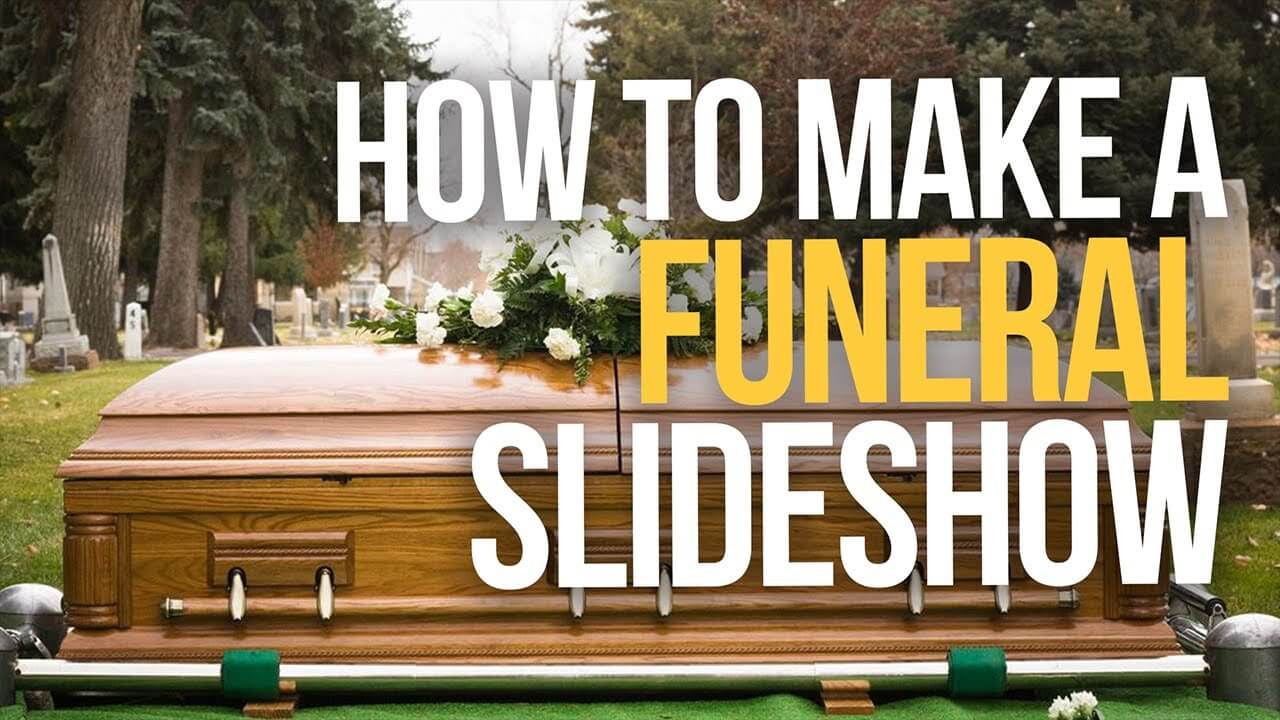 Part 2: 3 Best funeral slideshow makers
A funeral slideshow is more than just pictures and videos clipped together. These videos narrate a person's story, personality, and journey.
To give the most special tribute, one needs to choose the best slideshow maker.
There is no doubt there is plentiful software available online, but will they provide the correct tools for you? Most importantly, will they suit your preferences as a creator?
To save your time, we have selected three recommended funeral slideshows packed with features and efficient editing.
1. Filme
One of the best video editors for a funeral slideshow is iMyFone Filme.
Filme lets you capture your precious memories in slideshows and videos creatively. Instead of providing the same dull tools, it has unique features to make your slideshow stand out.
Filme offers access to various tools you need to create an engaging slideshow from basic editing to advanced. No matter your editing level, the user-friendly interface in Filme is perfect for anyone.
Similarly, this software is beneficial when you want to edit a funeral slideshow. With just a few clicks, you can produce memorable funeral slideshows for your loved ones.
Here are five unique features of Filme that are essential in a slideshow maker: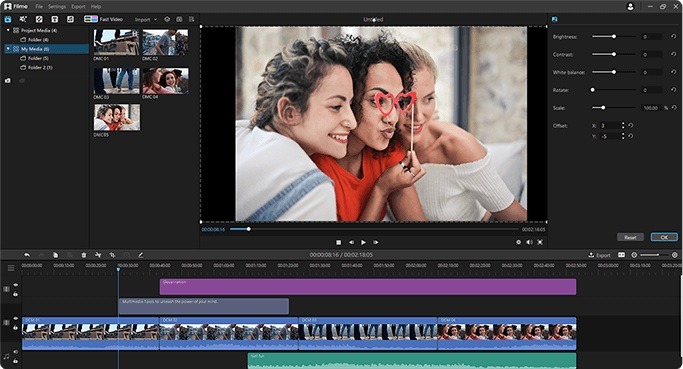 The Fast video tool in Filme is a lifesaver for many. While using this feature, Filme will introduce you to ready-made templates or themes, music and effects.
While selecting the funeral template, the Filme video editor will create your slideshow automatically. All you will have to do is import pictures and videos into the software.
Effects make the video appear more creative. In Filme, you have access to significant effects. You can add filters to refine a funeral slideshow and make it more vivid.
It is advantageous when you have photos that are of low quality. By applying a fitting filter over them, it will transform the pictures instantly.
Transitions such as Zoom, Blur, and fade seamlessly combine two clips. This feature is ideal when you have more clips and want to display them neatly in a funeral slideshow.
Filme offers text options that you can add anywhere in the window. You can write heart-warming captions in a funeral slideshow to highlight events as well.
You can edit the cinematic text options in various fonts, colors, and sizes.
In a funeral slideshow, adding meaningful music is very important. Filme has several audios ranging from different genres. It will also save you from the task of looking for copyright-free music.
2. Fast reel by Movavi
Movavi slideshow maker is a popular video editor. This software is praised for being feature-packed.
Movavi has introduced Fastreel, a software that specializes in funeral slideshows. It includes many in-built templates that are easy for anyone to use and workaround.
In just a few minutes, you can build the perfect funeral slideshow with Fastreel. You won't need to upload any video montages in the software as Fastreel does all the work.
You can upload pictures, collages, and videos in Fastreel along with heart-warming captions. In the end, you can add the appropriate funeral slideshow songs from Fastreel's music collection - all for free.
3. Smilebox
Smilebox is a unique software that lets you create all sorts of invitations, collages, flyers, and slideshows. There is a wide variety of ready-made funeral templates for slideshows.
The Smilebox software creates slideshows efficiently. Their unlimited storage helps you edit an end number of slideshows according to your performance.
All you have to do is upload images and videos into Smilebox. You can also add music from your audio gallery or pick one from the collection Smilebox offers.
You can drag and drop media files and adjust the video's colors and speed according to your liking.
If you want to create slideshows like professional, Smilebox lets you add your very own business logo on videos.
Part 3: How to Make a Good Slideshow Funeral in Filme
iMyFone Filme has user-friendly software that edits slideshows and videos in a creative yet professional manner. It has great templates and plenty of resources needed to create basic to advanced videos.
The Filme software has several ready-made templates that are useful for creating slideshow videos quickly. As it has everything needed for a video, you won't be looking for such features anywhere else, from effects to music and transitions.
Before you start using imyFone Filme, remember to install the program on your computer. The software is available for PC and Mac and supports a wide range of image, video, and audio formats.
There are two ways you can make funeral slideshows in Filme. Here is a tutorial for making a good slideshow in Filme.
The quick Method: Make a funeral slideshow with Fast Video
Step 1: Open File and click on the 'Fast Video' logo visible on top of the toolbar.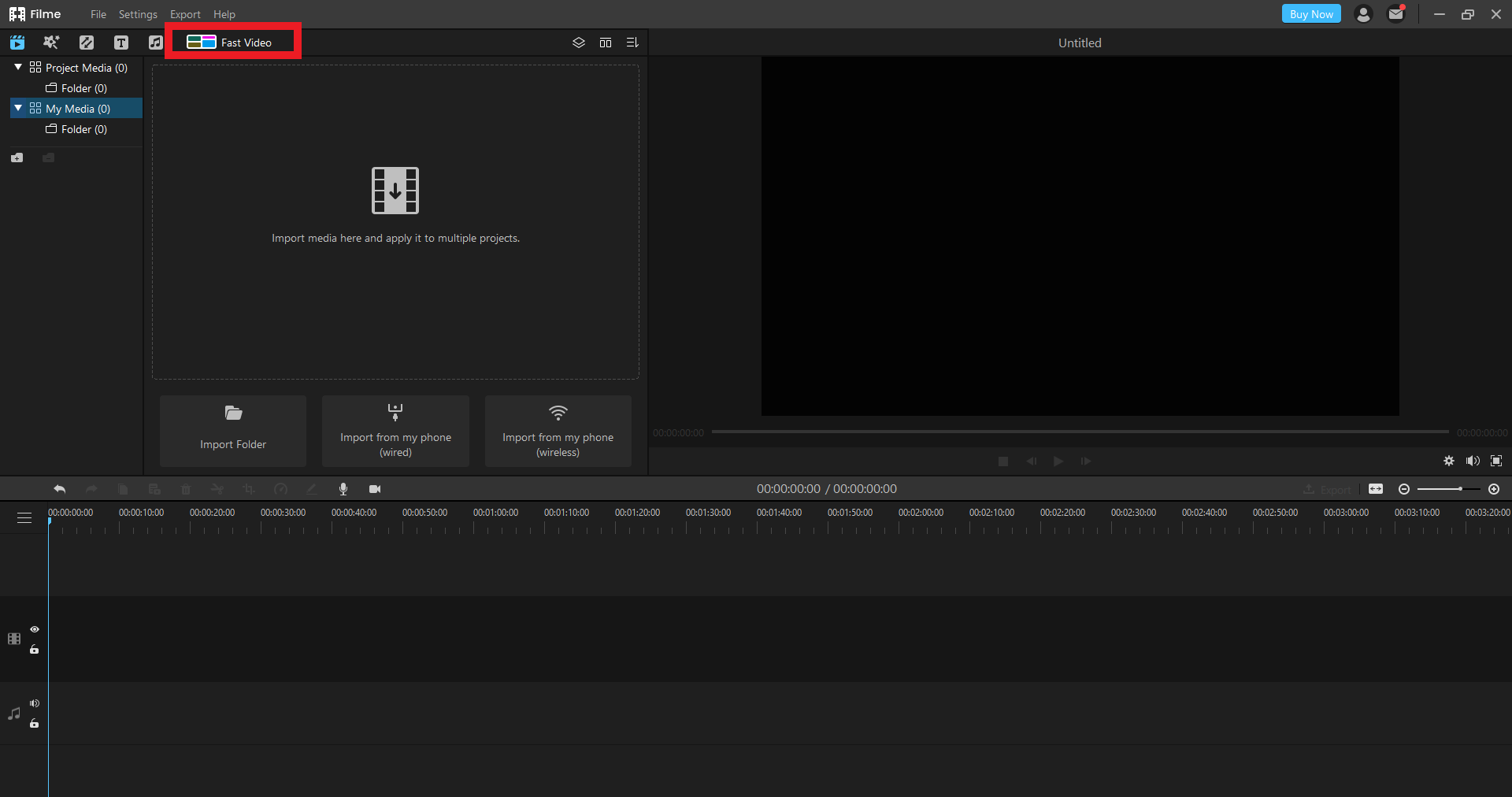 Step 2: A drop-down will appear, featuring ready-made templates for different occasions. Navigate down and select the last option, 'Others'. Click on the 'Sorrow' template and wait for it to download.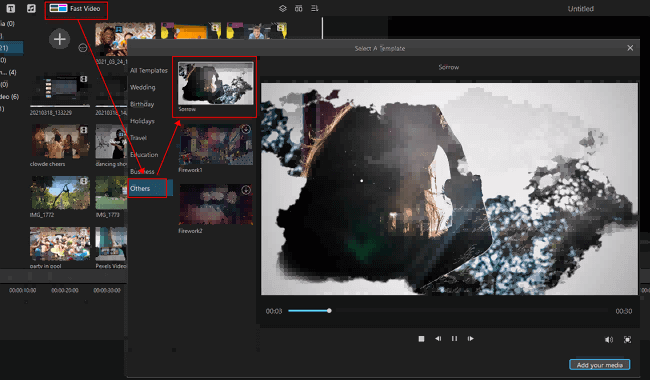 Step 3: After the template has been downloaded, select the 'Add your media' option. Click on the 'Import Folder' and add images or videos you'd like.
Step 4: To add more images or video files, click on the '+' sign button.
Step 5: After you have selected the media files, press 'Preview' at the bottom and click on the 'Export' option to save your work on PC.
Step 6: Select the format you would like to save your videos and click 'Export'. Your funeral slideshow will be saved.
By using the Fast video feature in Filme, you can create a funeral slideshow quickly.
The Normal method: Making slideshows using custom images, music and text
Step 1: Open Filme and click on 'import media here'.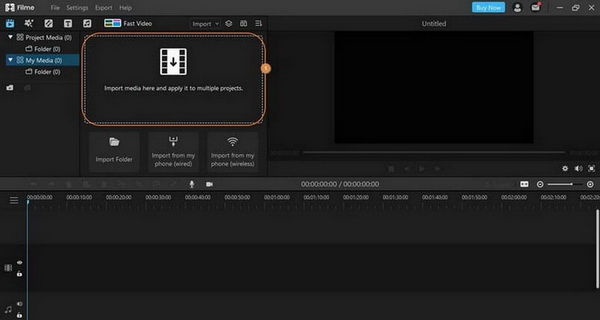 Step 2: Select the pictures and videos you would like to insert in the slideshow.
Step 3: Click on 'effects' and add the suitable filters you would like. The Filme effects are plentiful, where you can find split-screen, black and white, zoom and many more.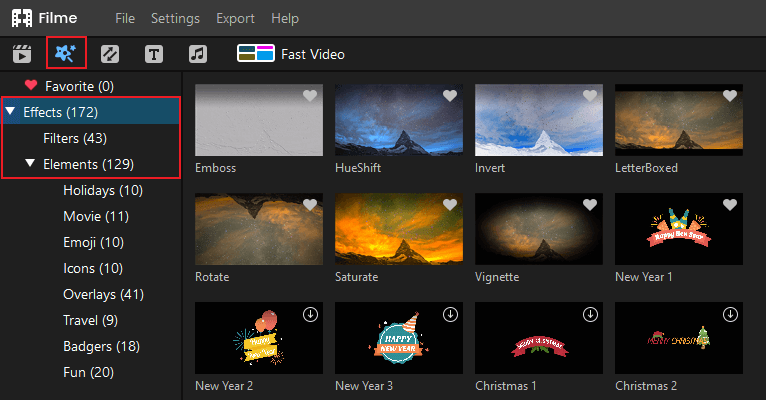 Step 4: Proceed to the next step and select 'transitions' you would like in the slideshow. The transition styles include speed, blur, warp, and various other styles.
Step 5: Move to the 'Text' option and add meaningful captions and head Iines. You can edit the color, font and size of the text as well.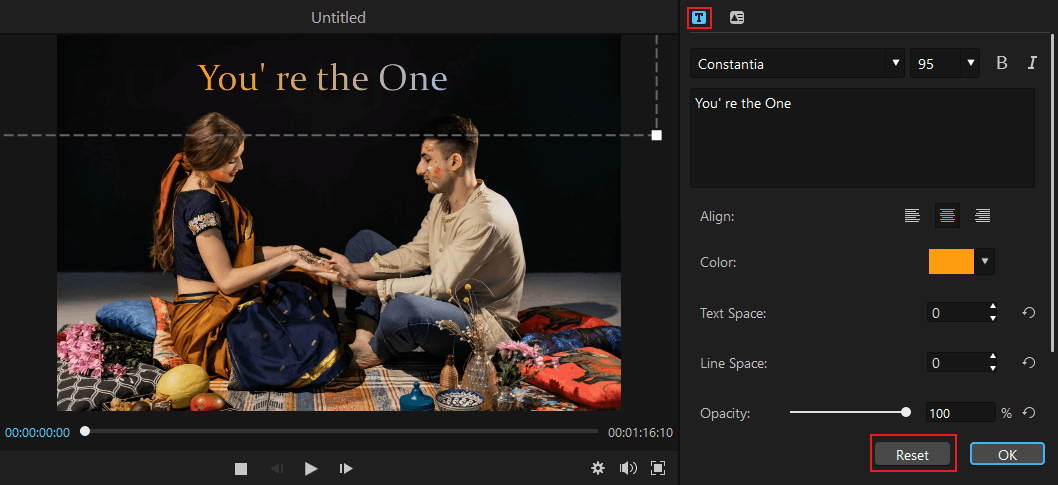 Step 6: Next, select 'Music' to add to the slideshow. You can choose from the in-built collection of music film has to offer. The categories of light music and cinematic music are best suitable for funeral slideshows.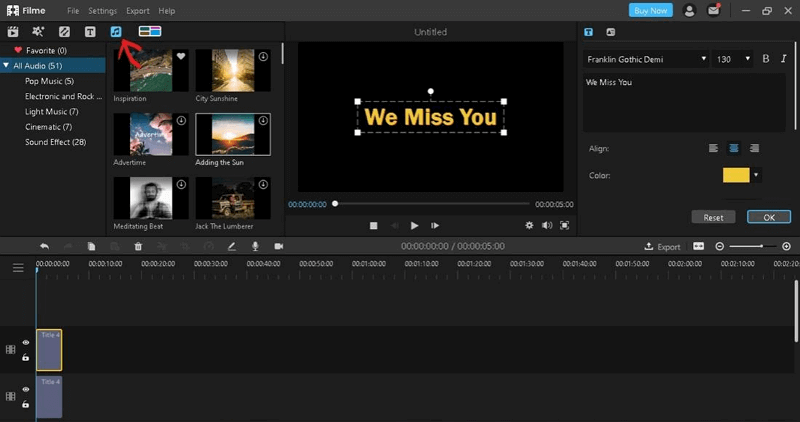 Step 7: Preview your slideshow, click on 'Export' and save the video.
In this way, you can create a funeral slideshow in Filme by using the two methods.
Part 4: The Best Music for Funeral Slideshow
Choosing a song for a funeral slideshow is not an easy task. One needs to select music that is fitting for such an occasion.
However, this does not mean you should select a piece of very sorrowful, dark, and depressing music. While funerals are sad days for people who lose their loved ones, it is also the time to celebrate their life.
Thus, it is best to choose music that has a perfect balance between sadness and happiness.
Here is a list of music compiled which are suitable for funeral slideshows. They are divided into different categories to help you select one easily:
Calling all angels by Train

Knocking on heaven's door by Boy Dylan

Tears in Heaven by Eric Clapton

Fire and Rain by John Taylor

Somewhere over the rainbow by Israel Kamakawiw'ole
These are some of the most popular yet classic funeral songs. The lyrics in each of these songs celebrate the joys of life shared with friends and families.
Islands in the sky by Geoff Harvey

Canon in D by Johann Pachelbel

Amazing Grace

Tears of love by Audiocalm
Instrumental songs are always the top choice to select for funeral slideshows. This soft and slow music acts as a mellow backdrop in memorial services.
Songs for parents and grandparents
Song for Dad by Keith Urban

Fathers and Daughter by Luther Vandross

What a wonderful world by Louis Armstrong

You raise me by Josh Groban
Parents and grandparents are some of the most crucial individuals in our lives. These are top songs that are dedicated to them in a funeral slideshow to relive the precious moments.
Amazing grace by Carrie Underwood

I'll fly away by Jim Reeves

Remember me by Mark Schultz

Save a place for me by Matthew West
Spiritual songs in funeral slideshows are a great way to pay tribute to someone religious.
These songs are also the right choice to insert in funeral slideshows as most funeral services are performed religiously.
Part 5: Good Funeral Slideshow Examples
Understand how you can create a unique and memorable funeral slideshow by looking at these two examples:
1. Funeral slideshow for people
This example of a funeral slideshow is simple yet effective. The editor starts with old pictures, which are refined through a video editor app. Next, several photos are used starting from childhood to adulthood.
The use of photos isn't just random but marks some special event for the person who passed away. Various transition styles are used to present the images, and enough time is dedicated for each picture on the screen.
Next, the music is soft, emotional, yet not too dramatic. It suits the slideshow perfectly, paying a heartfelt tribute.
2. Funeral slideshow for pets
Just as people, funeral slideshows are often dedicated to pets as well. Here is an example of a good boy Fidowho sadly passed away.
Instead of using music, the creator has used an emotional song to dedicate their grief for their pet dog. Appropriate pictures are placed in the slideshow with various transition styles used.
The use of text in the video adds depth to the slideshow. The ending quotation is full of emotions yet marks the final goodbye.
Creating a tribute or funeral video is not as easy as it seems. You will have to ponder over putting the right pictures, videos, and text captions which might take some time.
However, these funeral slideshows are worth all the time and energy because they celebrate a person's life one last time.