Presentations are pretty much part of our daily lives. Whether we need it for school or as a pitch to a client, it can be stressful if you don't follow the right steps. So without wasting any time, you can learn how to make a slideshow video easily following some simple steps and most importantly using the right software which is user friendly and doesn't make things complicated.
Give it a read and learn about iMyFone Filme software and some other methods including online tool and built-in software. This full guide will definitely have something you want for making a slideshow video.
Part 1:How to Make A Slideshow Video with Filme - Free Software
iMyFone Filme is a very user-friendly software to make slideshow video for school projects or businesses. You can crop, cut, fade, add music, and many more effects that you may need while editing the video. These edits may not seem necessary but can make the presentation very catchy and retain people's attention. But the question is how can we make slideshow video using this software so let's walk through some steps to create an interesting slideshow video.
Features:

Multiple templates for making stunning slideshow videos in different styles as you want.

Create slideshow video with Fast Video mode in the fastest way.

Abundant resources and effects for editing, including transitions, animations, titles, filters, and more.

You can add texts with different styles to make your slideshow video more attractive.

You an mix photo, video and music into the slideshow video.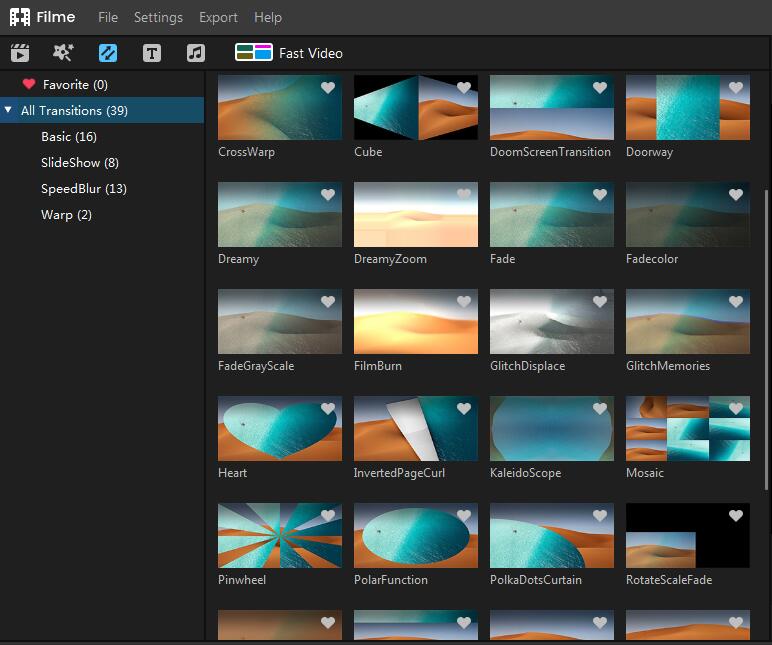 1

Make Slideshow Video with Custom Music
Step 1: Import all the files you need to edit to this software.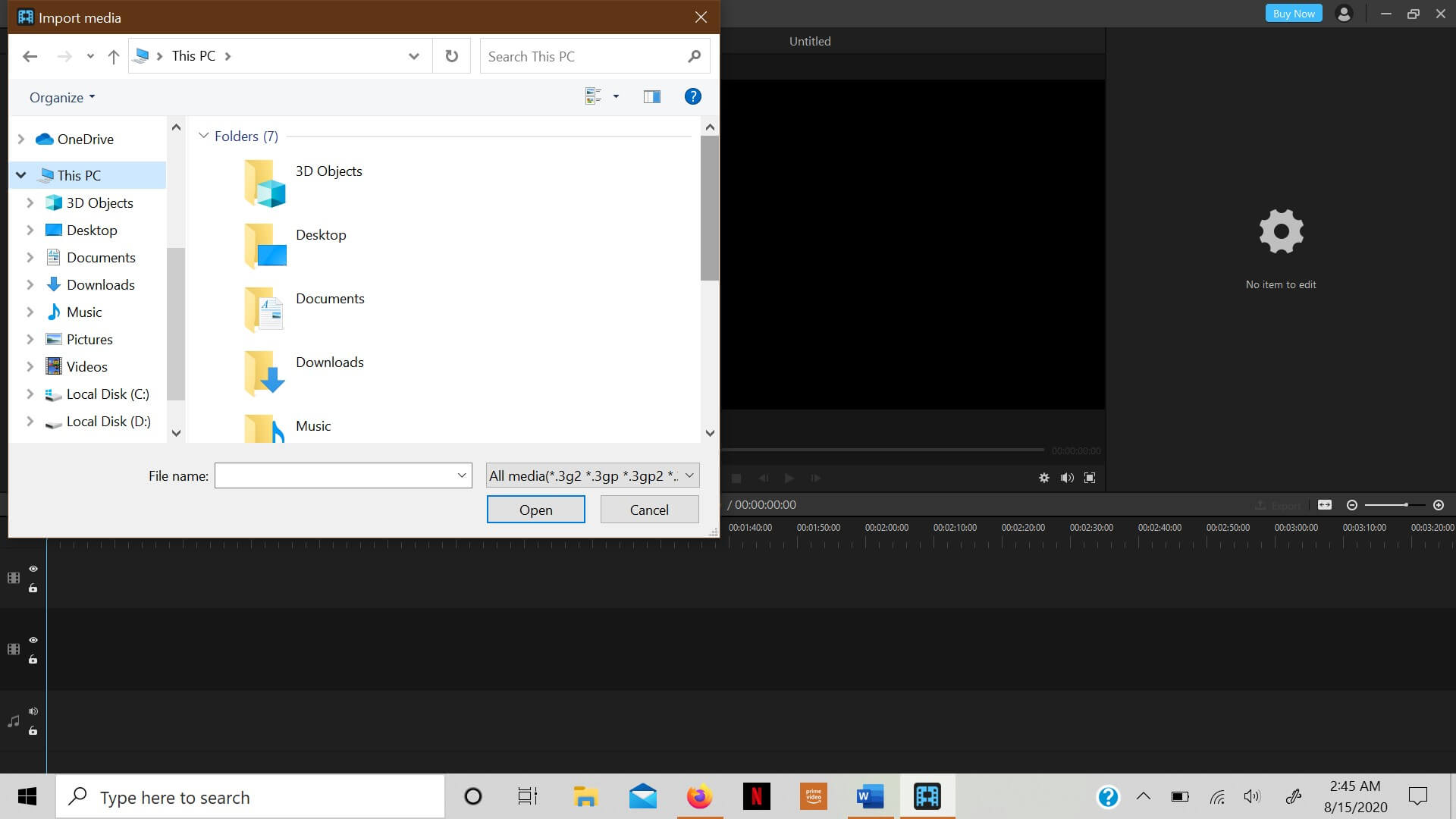 Step 2: After this, you can select the pictures or videos you want to add to the slideshow and press "Open".
Step 3: Once you have selected the photos and pressed open, they will be imported into the library. After which you can click on the '+' sign box in the picture below, in the order you wish to add the pictures.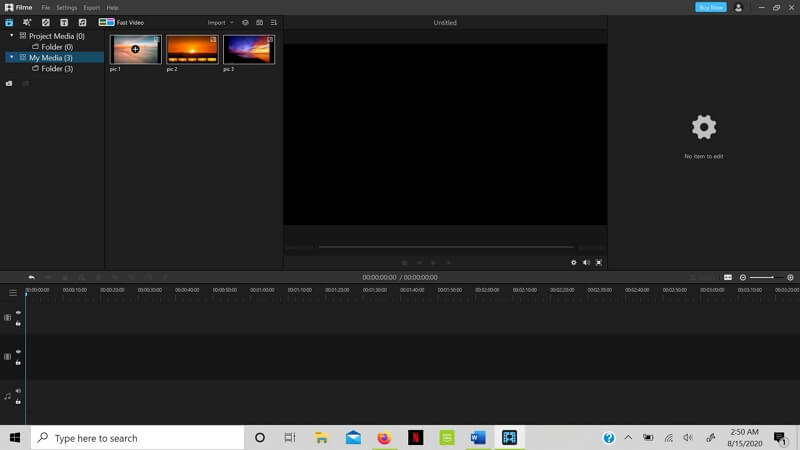 The pictures will automatically be attached and you can put them in the grid as shown below: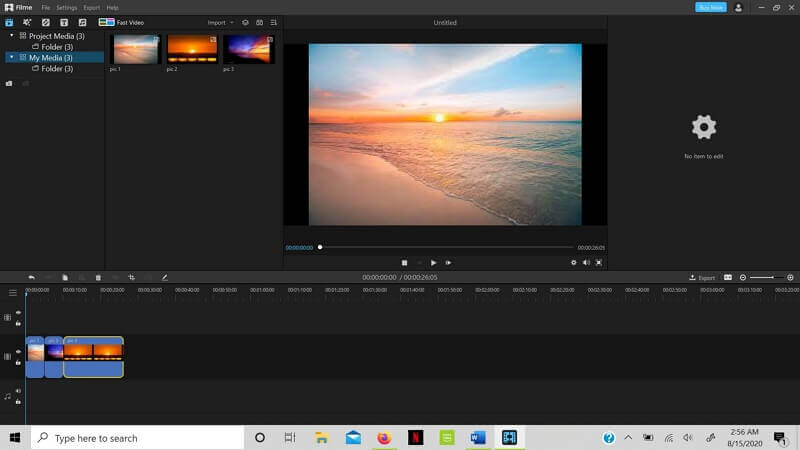 This is a very basic interface so you can play around and explore more things as you work. Here you can easily drag to increase the duration of the picture being displayed. You can add or remove by simple drag and drop.
Step 4: Lastly, to add music you will need to click on the music sign on the top toolbar shown in the picture below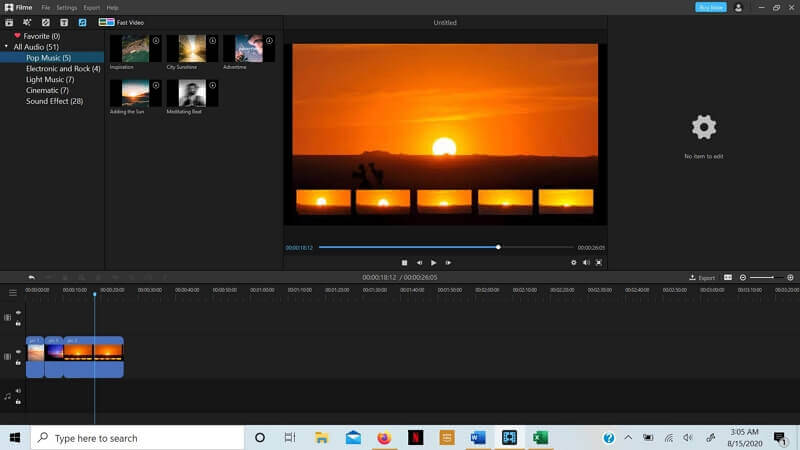 Now you can select your favorite music and click the add it just like you added the pictures. You can easily extend it and move it around as you did with the pictures.
With this, you are good to go. Super simple and easy!
2

1 Click to Create Slideshow Video - Fast Video
This is the simplest and quickest way to make a fancy slideshow.
Step 1: To make a slideshow video with Music- Fast video you simply need to press on the Fast video logo in the top toolbar. Once you press that you will see the following menu: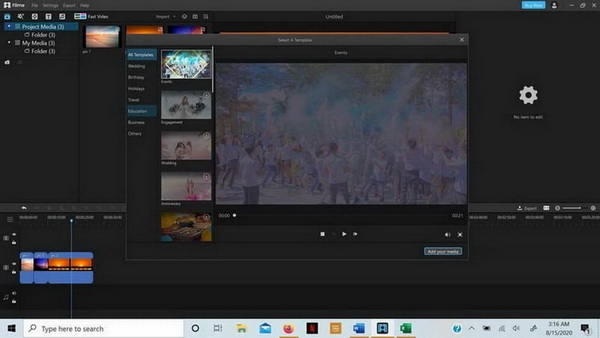 Step 2: From here you can choose your template and click on 'Add your media' boxed in the picture shown above. Once that opens you will get an option to import media from your system like this:
Step 3: After selecting the media and importing it successfully, press 'preview' in the bottom right and you are all set. Your slideshow is ready. So you can now share it or save it on your laptop by pressing 'export'  and selecting where you want to save it as shown below: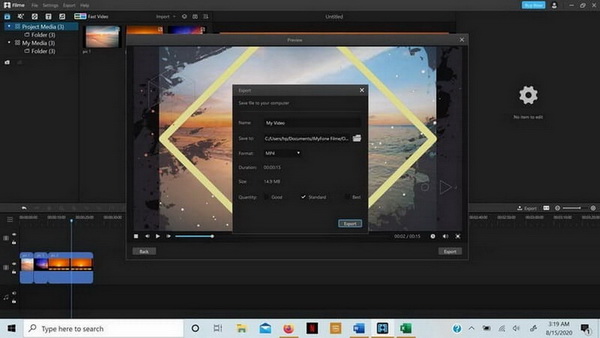 3

Make Slideshow Video with Text
This is also as easy as the previous ones you have read.
Step 1: After importing and editing the data successfully, you can click on the small 't' in the top toolbar which stands for that. Now you can add your text, select the font and place of the text. A picture for reference is shown below.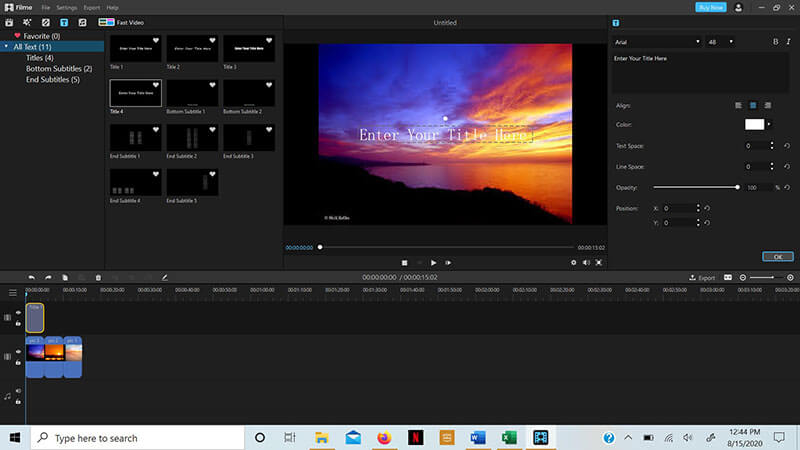 Step 2: The text will show in the grid below. You can move it around if you want to change the text to a different picture simply by dragging it.
Step 3: Now you can place your cursor where the text is shown. The pointed arrow is shown above. Place your cursor here and right-click or press 'ctrl+e' to edit your text.
4

Make a Slideshow with Picture and Video
You can follow all the simple steps mentioned earlier. When you import media just import videos with pictures. The grid below is very user friendly. You can move things around and always press 'ctrl+e' to edit placing your cursor on any specific thing you want to edit.
Part 2:How to Make A Slideshow Video with Windows Built-in Software - Microsoft Photos
How to make slideshow videos without downloading any software? Well, Microsoft Photos is another very handy software for making slideshow videos.
Method 1: Simply import the media that we want to add and click on 'Create'. It then gives you an option whether you want an automatic video that Filme's Fast Video mode or you want to customize it yourself.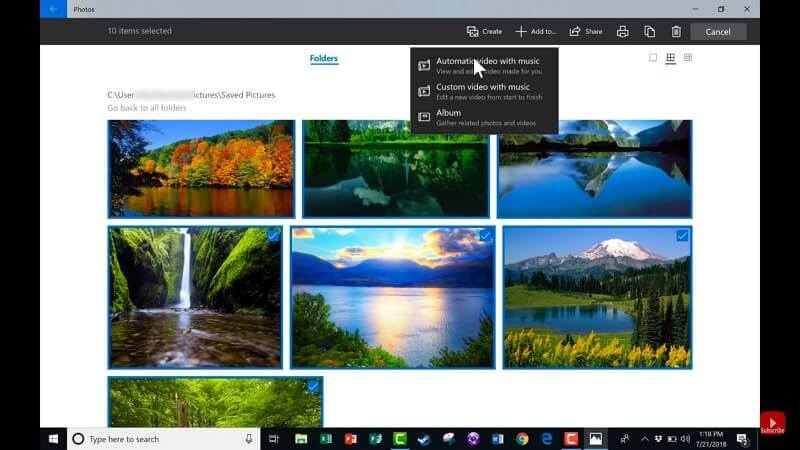 Method 2: If you choose the automatic one, the slideshow will be ready in a couple of seconds. But if you choose the customized option something like this will appear: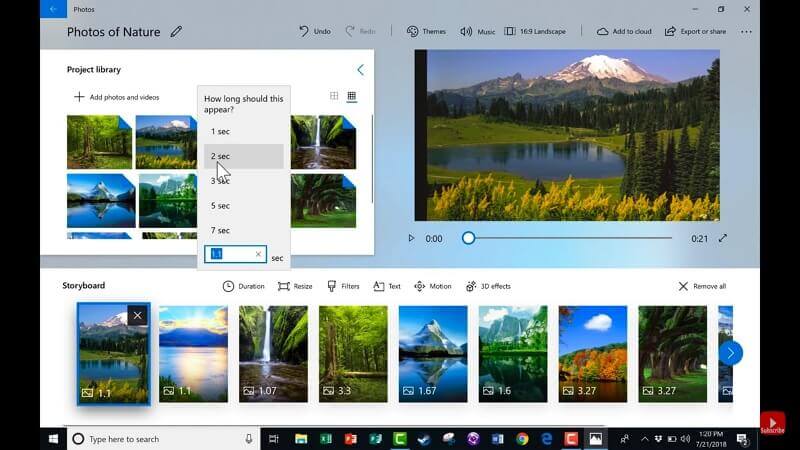 As you can see, here you can move the pictures around the storyboard, change the duration of the pictures and other available options and you are done.
To save there is an 'Export or Save' option on the top right corner. You can choose to save it wherever you want and share it via email or any social media.
Pros:

Extremely user friendly and thus easy to use.

Fast thus time convenience to users.
Cons:

Beginner level editing options.

Limited graphics options.
Part 3: How to Make A Good Slideshow Video Online
Another option to make a slideshow video easily is making it online. The steps are similar but the options might vary from different websites. You simply open the website and it gives you an option to import media. It is shown below: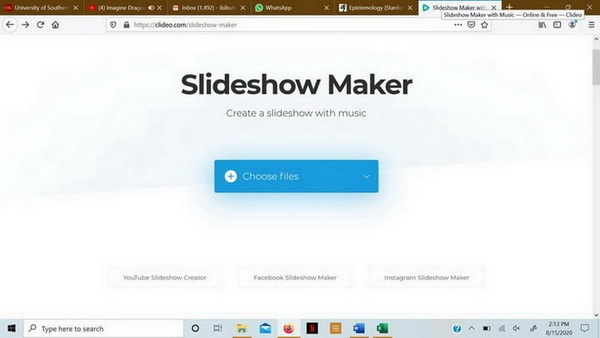 Step 1: So now you import media you wish to add, and it takes you to the editing menu shown below:
Step 2: Now you can simply click on the picture and edit it from the options on the right side.
Step 3: Click  Create and you are done.
Pros:

Simple and easy so can be used by anyone.
Cons:

Very limited options for editing.
Part4: The Best Slideshow App for Your Mobile Phone
Thinking about the video slideshow maker in your mobile phone? The Filme Lite is a free slideshow app which is strongly recommended.
Features:

Several basic editing functions including divide, trim and reverse are contained.

One-click template for creating your video faster.

A slideshow with music app which allowing you to add any music you want; it tells you how to make a slideshow video with music.

It is easy to resize and compress video.
Part 5: 5 Tips for How to Make A Slideshow Video Perfectly
A well-presented information can indeed turn things around so here are a few tips in creating a good slideshow video: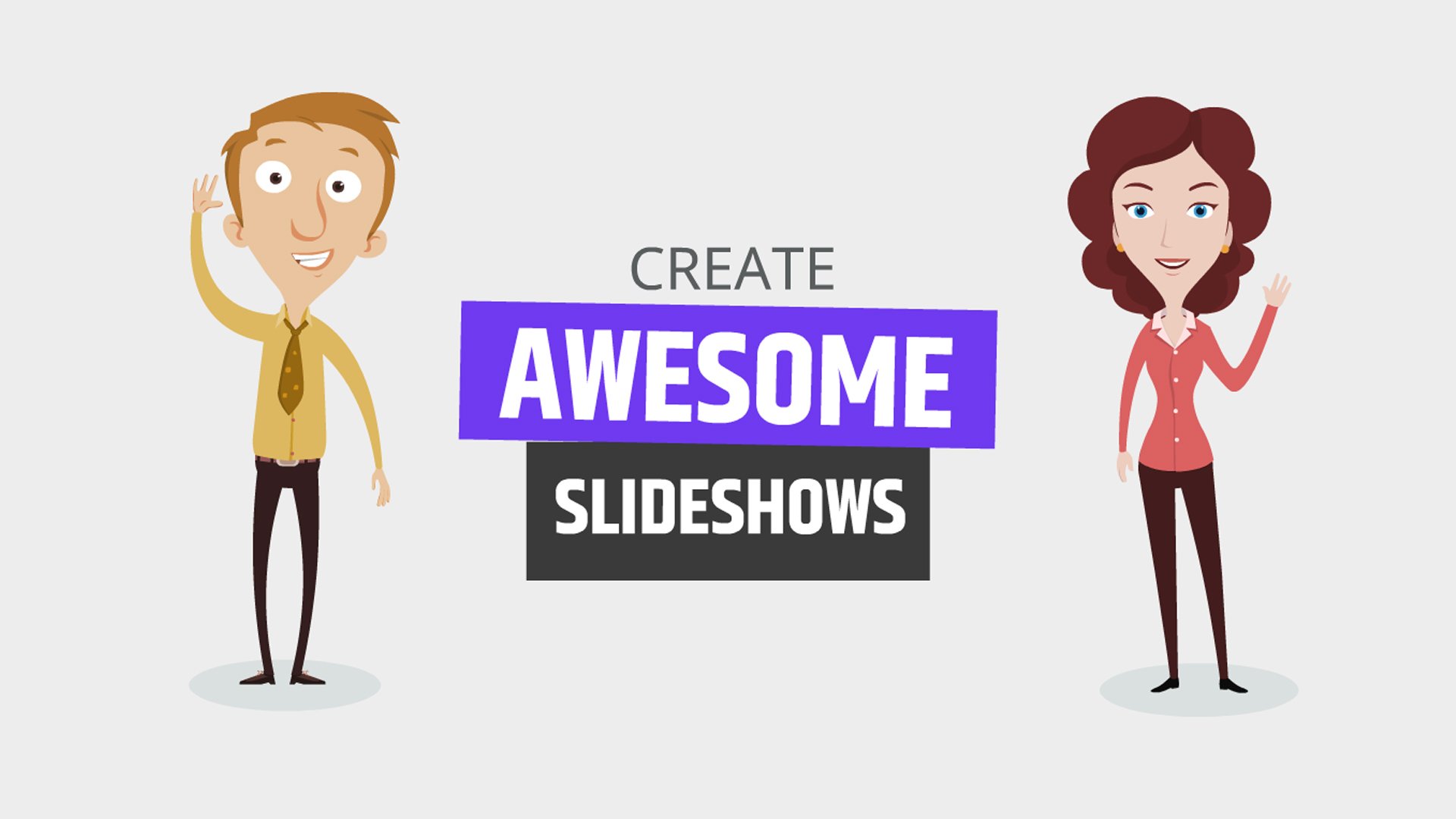 1. Pay attention to the picture quality
The use of a low-quality picture can put off the audience and can be perceived as a lack of effort or seriousness. The whole idea of images is to provide a balance and make the audience to visualize the text so a blurry image would not help but put them off.
2. Keep it brief and do not fill it with words
Presentations should be brief and to the point. This is because when watching a slideshow, the audience is expecting to gain knowledge through visuals and not simply read the whole text from the slides.
3. Picture order matters
The overall order matters a lot as it will make it easier for the audience to follow the idea, otherwise it may confuse them and therefore, they may lose interest.
4. Don't overuse effect
Funky effects might seem fun, but they aren't suitable for formal presentations. You surely wouldn't want to see words floating around while someone is asking for funding for their business.
5. Match music with the emotion you want to convey
Music is very important and should match with the context otherwise you can seem dumb and might offend someone such as adding a party song while talking about an unfortunate event.