Open Source are free editors that you can get without any inversion. There are multiple alternatives of programs that are developed and shared to the community to encourage the video editing and content creation. Among all the options available, you might wonder which one is the best to use. That is why we want to make a comparison of OpenShot video editor vs Shotcut.
On this article, you will learn all the features and comparisons of OpenShot vs Shotcut, which is the best and their review. We will also share our editor's choice of video editor tools.
Part 1. Overview of OpenShot Video Editor
OpenShot is a video editor created as an open-source program that can be downloaded for free. You can download it for different operating systems on their official website. It is a powerful tool that can be the starting point you need to learn how to edit your own videos.
It requires some practice to learn how to use the entire interface, but with all the features available, it is worth it. However, there are multiple videos and YouTube tutorials that can facilitate the whole process. It is compatible with multiple formats and operating systems so it is a flexible alternative.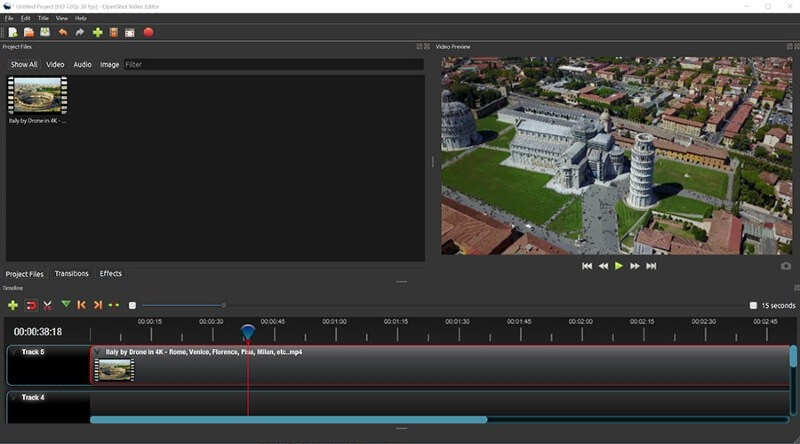 1. Main Features of OpenShot:
Powerful key-frame animation to adjust each moment of the video

Unlimited tracks and layers for the images, videos, and audios for a project

You can use multiple editing options like scaling, trimming, snapping, rotation, and cutting

You can use over 400 transitions to smoothly change among video clips

It is possible to add images and overlay then in multiple layers

3D animation effects with more than 20 effects to create amazing videos

You can add over 40 titles templates and subtitles with animations to your videos and project

You can control the speed of the video clips

It is possible to separate the audio from the video and edit them separately

It is possible to add filters and effects that will help you create amazing videos

It is considered a cross-platform program that can be installed on multiple operating systems: Linux, Windows, and Mac
2. Pros:

Professional outcomes of videos

Completely free video editor

Since it is compatible with different operating systems, you can install it on multiple computers and keep editing videos using any equipment.

It supports HD resolution

There are a multitude of tutorials and guides online to learn how to use it

It is available in more than 70 languages
3. Cons:

It ask shows multiple notifications that can be annoying to the user

It takes time to start up when you first open it

It has no management for users, videos, and models.

It does not use the drag and drop feature to import files and that takes up a lot of time.

You need some time to learn how to use the interface

It lacks a proper technical assistance if you have bugs

The program can crash down, causing you to lose the video.

It takes time to process and export the video
Part 2. Overview of Shotcut Video Editor
Shotcut is an open source video editor that can be downloaded on their official website. This video editor is compatible with multiple operating systems. It can be a useful alternative to start creating videos with remarkable video and audio quality. Here you can learn more details about its feature: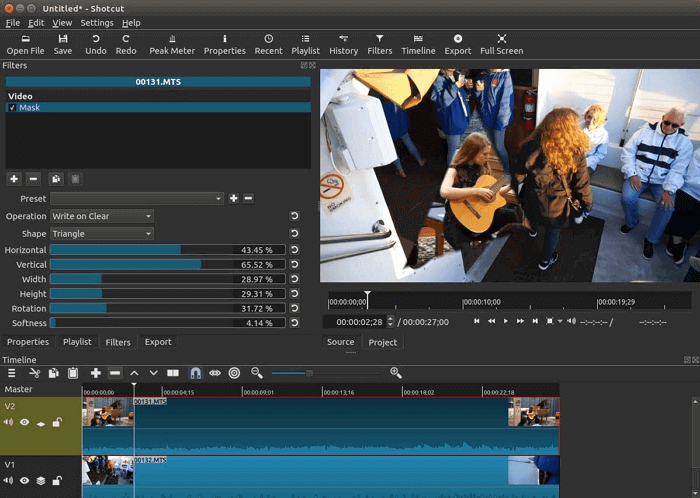 1. Main Features of Shotcut:
It has an incredible amount of video filters that will facilitate the adjustment of the mood of the video and the affects you can achieve.

You can adjust the speed of the video clips and audios

You can use multiple video transitions to your videos

It enables the use of blending modes to adjust the different video clips and effects

The video clips can be reversed and played backwards

The videos can be adjusted and modeled on a 360ᵒpicture that can be rotated.

It can adjust and edit the audio with filters that can control features like bass, compressor, gain and much more.

You can mitigate the noise on the audio tracks

It supports multiple video formats and audio formats

It includes multiple video editing tools like trimming, copy, cut, paste and rotate

Drag and drop features to move the files and media elements through the timeline
2. Pros:

It is a free open-source video editor program

It supports multiple media formats

Offers incredible audio editing and quality

The incredible amount of filters can make the video creating options

It facilitates the overlays of the effects and video clips.
3. Cons:

It lacks the VFX or color grading tool

The export process can be frustrating and slow. It does not have presets formats for any devices and it takes time to adjust each parameter. It can take time and can be a tedious task to configure each video.

It does not offers stock music to facilitate the video creation

To add text, you need to use HTML text filters as the program does not offers a more friendly-user alternative

It is not supported by mobile devices, which represents a limit for the alternatives.
Final Verdict about OpenShot and Shotcut
We can compare all these features, but keep in mind that only you can decide which video editor would be the best to use. In conclusion, if you want to use more video editing features at the cost of a difficult to use interface, then choose OpenShot. If you want a friendly-user interface with less video editing functionalities, Shotcut is the right choice for you.
Also Read:
【Editor's Choice】Best Video Editing Tool for You -iMyFome Filme
We presented two interesting video editors. However, if these open source alternatives do not suit your necessities, then we want to recommend you our editor's choice: iMyFone Filme.
This video editor is a premium alternative with free trials that will show you all the features of a robust video editor. It is available for multiple computer operating systems, as well as mobile operating systems. Here are some of the most remarkable features:
Features:
It is compatible with almost any video or audio format

You can add cinematic effects to your video

You can edit the audio and add your voice narration

It enables the use of screen recording tools with Face Cam recording to show your reaction

Add smooth transitions between video clips

You can add text and subtitles within minutes thanks to its intuitive tools

It has a quick video mode that allows you to create a new video in 5 minutes
Pros:

It has a dedicated technical support team

You can use multiple functionalities with only one tool

The video and audio quality is remarkable

It includes an asset library for free
Final Words
Open Source programs can be a nice alternative to start adventuring yourself into the video creating process. If you don't want to spend money on licenses of tools, then you can try using these free video editor alternatives.
We prepared a comparison of OpenShot vs Shotcut, but keep in mind that only you can determine the right option based on your necessities. We also want to mention that if you want to create professional videos, remember that a premium tool will offer better functionalities. That is why we still recommend to use a video editor like iMyFone Filme.

iMyFone Filme
Make Digital Storytelling Easy with iMyFone Filme!
Download Now