This article looks at the pros and cons - as well as key features - of Kdenlive and OpenShot, two open-source video editors that are highly user-friendly, allowing new users to start using them without a steep learning curve. If you are not satisfied with both of them, you can free download and try iMyFone Filme which is quite beginner-friendly yet with professional features amd clean, easy-to-use interface.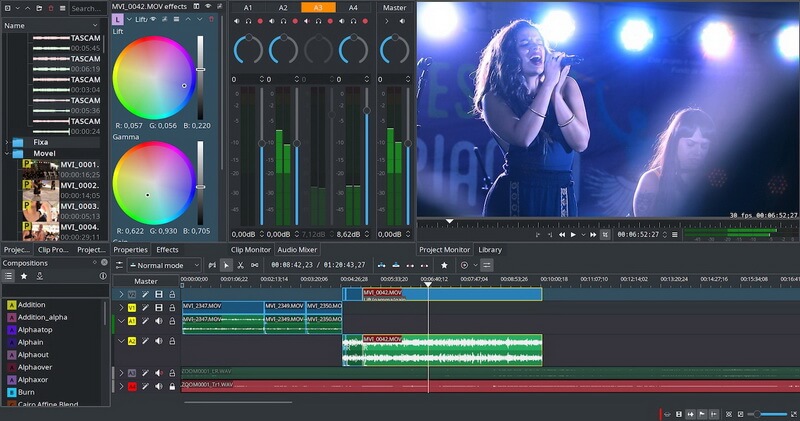 Kdenlive is a mature non-linear editing software application that's free for any purpose, including commercial use. It has been compiled using several other open-source components such as FFmpeg and frei0r, among others. It bills itself as being suitable for beginners as well as professionals because of its extensive feature list, a wide range of format support, proxy editing, keyframing, and more. The editor's flexibility makes it appealing to new users, while the advanced features give it a variety of professional use cases. Kdenlive also comes with a plethora of online resources you can use, such as title templates, wipes, render profiles, and so on. The extensive ecosystem of such open-source resources is probably the most appealing feature of this software.
Key Features of Kdenlive
Non-linear multi-track editing

UI is configurable, with custom shortcuts

Supports almost any video or audio format

Advanced titling module

Built-in effects, transitions, and adjustment controls

Edit in low-res, render in hi-res (proxy editing)

Automatic backups, easy roll-back to earlier versions

Templates and other add-ons available online
Pros:

Intuitive UI - great for new users and beginners

Several advanced features make it suitable for some professional jobs

FFmpeg libraries allow it to support a wide range of file formats

Easy to configure layouts and shortcuts, and even choose from various light and dark themes

Professional title tool

Proxy editing for low-spec computers - renders in the original resolution after editing

Auto-save ensures no loss of any version including the current one

Timeline preview offers an alternative to real-time playback for videos with complex effects or videos in very high resolution

Keyframing is available with many of the effects and transitions

Great audio editing experience - very similar to video editing

A small but active community of users
Cons:

No hardware acceleration

Can't use mixed frame rates - higher frame rate sections may get trimmed or slowed down

No auto-updates via package manager

Usability may be poor in Windows and Mac - several known issues

Not suitable for inexperienced users on Windows and Mac platforms
Despite its flaws, Kdenlive is still a compelling choice for anyone who supports open-source projects. Although it can't be used for all types of professional video editing, it serves the purpose of most tasks such as creating professional-looking videos for online distribution.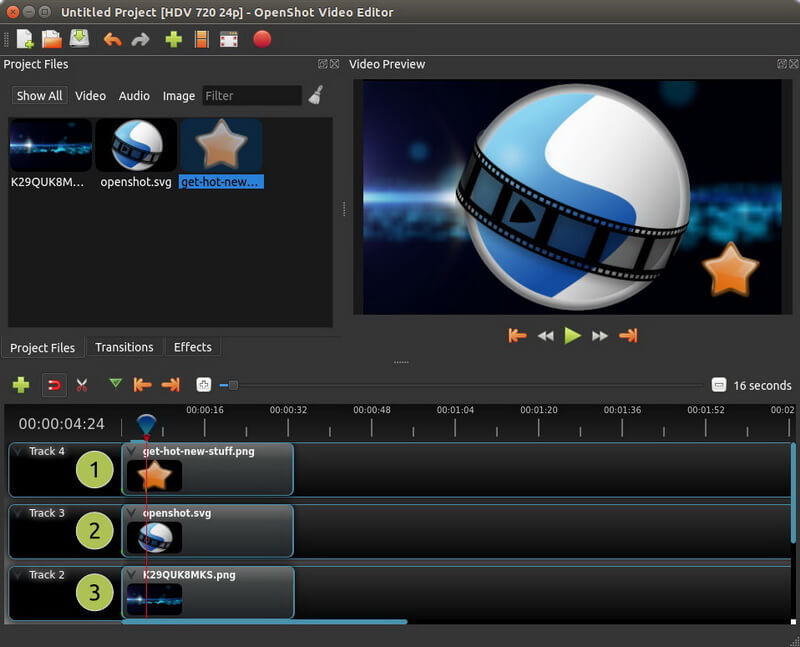 An even more popular open-source video editor is OpenShot, a cross-platform (originally Linux but now available for Mac and Windows) utility that focuses on simplicity, power, and stability. Based on the MLT multi-media framework, OpenShot leverages some powerful open-source components to give users a seamless video editing experience that they can carry across multiple operating systems. Like Kdenlive, OpenShot is also based on FFmpeg libraries, giving it the flexibility to support an extensive range of video and audio formats. The simplicity and minimalism of the UI belie the powerful features under the hood, making it perfect for both first-time users as well as consummate professionals that need advanced video and audio editing capabilities. It comes with a fully loaded feature-set that includes basic editing tools, unlimited layering and tracks, real-time preview of transitions, 3D titling, high frame accuracy, audio editing and mixing, and much more.
Also Read:
Key Features of OpenShot
Advanced timeline editing

Extensive editing tools

Digital effects for videos

Full audio editing suite

Time mapping for changing video speed

3D effects and titles

Templates for titles and sub-titles

Watermarking and image overlays

Preview transitions in real-time

Resize, scale, snap, rotate, cut

Unlimited keyframes with multiple keyframe interpolation modes

Extensive file format support

Projects work across Linux, Mac, and Windows
Pros:

Integrates well with respective desktop OS interfaces

The same project file can be accessed on all versions of OpenShot

Intricate keyframing capabilities to create unique animation effects

Complex compositing, unlimited layers and tracks, etc.

Extensive transition options with keyframing for most

Automatic transition on clip overlap

Layer stacking matches track sequence (first on top, last on bottom)

Blender application offers more than 20 pre-designed 3D animations

Frame-level accuracy
Cons:

Rendering and final output in high-resolution formats takes a lot of time

The sub-titling process is a little tedious

Using OpenShot on a high-end PC has little effect on the actual performance

Video effects are not that easy to modify after adding them to clips

Not ideally suited to low-end laptops
Full Comparison between Kdenlive and Openshot
Although both Kdenlive and OpenShot are essentially built using the same MLT multi-media framework and use a lot of the same components, the UI and specific features vary greatly. For instance, Kdenlive has a more cluttered interface but comes with some truly engaging video effects. In contrast, OpenShot's UI is much cleaner and intuitive but offers rich transitions and the ability to keyframe them in an intricate manner.
If we were to point out the biggest differences, it would boil down to the following:
Full Comparison: Kdenlive vs OpenShot
User Interface: OpenShot editor has a much more appealing UI since it was designed with simplicity in mind. Kdenlive is not really complex but you definitely have to go through a couple more steps to get to the really cool features.

Rendering and Processing: Kdenlive is a lot slower even on a high-end machine. OpenShot is comparatively faster but seems to be independent of high-end specs. Though faster, it's still quite slow when it comes to high-resolution outputs.

Effects and Transitions: OpenShot gives you solid control over effects and transitions but Kdenlive overwhelms it with a large built-in repository complemented by third-party resources that are accessible from within the software.

Documentation and learning: Kdenlive has extensive documentation but OpenShot's literature is more organized and focused on individual features and tasks.

OS Support: Although both applications support Linux distros as well as Mac and Windows, the OpenShot cross-platform experience is definitely superior to that of Kdenlive.
Despite these differences, both applications are equally powerful. It all comes down to the editor's preferences for feel vs. functionality, visual appeal vs. raw power, etc. The good part is that since both support Linux, Mac, and Windows, you can install both of them on your machine and enjoy the best features of both. And since both are based on FFmpeg libraries, you won't have any problem exporting and importing across both utilities.
But if we had to pick a clear winner, OpenShot would probably get that accolade.
【Editor's Choice】Best Video Editing Tool for You - iMyFone Filme
If you're averse to using open-source utilities or if you're looking for something designed for Windows and Mac, then iMyFone Filme should be considered seriously as your go-to video editor. Here are just a few reasons why.
Intuitive UI with clear sections, menus, iconography, and labeling

Convenient tools like Fast Video Mode to instantly create video slideshows from existing media files

Extensive libraries of effects, filters, text options, and audio

All the basic timeline editing tools such as crop, trim, split, speed change, zoom/pan, etc.

Enhancements including adjustments for contrast, color, and brightness

Voice-over recording with voice-changer feature

Screen recording for tutorials, vlogs, and other interactive or instructional video creation

Supports an exhaustive list of file formats (video, audio, and images)

Easy export with full control over settings
One of the reasons iMyFone Filme is growing in popularity is the simplicity of operations. Any task can be completed, previewed, saved, and exported in minutes. The Fast Video feature allows you to instantly create slideshow videos with audio using existing clips and images, and you can even import media easily from your smartphone using a cable or wirelessly. The intuitive controls help you work faster and accomplish tasks in record time. And when you're done, you can directly share your videos to popular social platforms like YouTube, Vimeo, and more. The best part is that new features are constantly being added because this is a relatively new product and the development and testing timelines are very aggressive. It's a win-win situation for users who need a solid platform that's easy to use and light on resource usage.