Video editing has become more exciting and easier thanks to the various video editing tools available online today. These software and apps come equipped with tools and editing effects that make video editing an effortless task for beginners. Funimate is one video editing software that is making headlines among mobile users.
If you wish to learn about Funimate, we are going to tell you all about it in this post. Do not worry if you need an advanced video editor that works for mobile devices and PCs because we will also provide insight into some even better alternatives to make your videos more engaging.
You can give your videos a crazy touch with the Funimate video editor. There are more than 10 million users have downloaded the app from the Google Play Store. Funimate lends you easy access to tools and effects, using which you can transform a simple freestyle video into a fantastic super catchy video. AVCR, Inc. has developed the software to make video editing super fun without attaining a special qualification for becoming a video editor pro.
The software works by giving users a blend of both basic and advanced video editing features. The software provides you an easy way to get featured on social media accounts by posting your interactive video on the Funimate community. In simple words, if you want to edit your videos or want to enhance your freestyle videos with multiple effects, Funimate has everything pile up for you.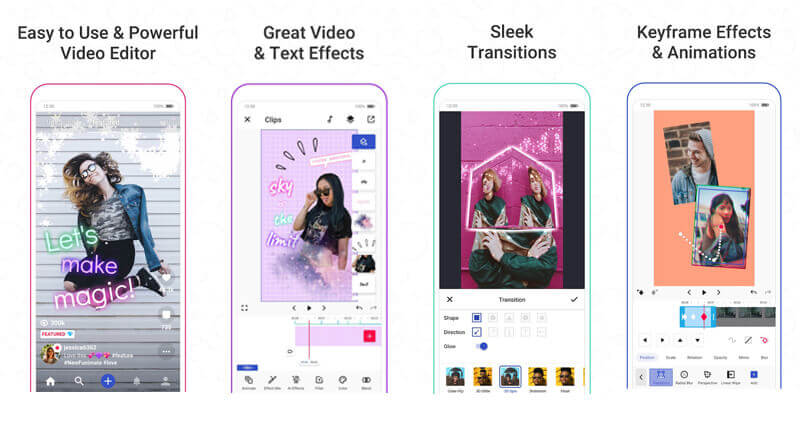 Main Features of Funimate Video Editor
Some fantastic features making it a priority among users is the list of features compiled below:
1. The AI Effects option allows you to change the background of your video and mask it with much cooler effects.

2. Funimate Pro has more than 100 advanced video effects that keep your videos unique.

3. The Element Gallery feature enables you to include emojis, stickers and customize the text to make your videos meaningful.

4. Basic Funimate editing features include cutting, trimming, cropping, merging, transition effects, and templates to make things easier for users.

5. The Funimate video editing community is an effective way to get noticed on social sharing sites such as TikTok, Instagram, and YouTube.

6. It allows you to add music to your videos to make them highly engaging.

7. Supported to add intro-outro animations.

8. Create looping videos and slow-motion videos with just a simple click.
Pros of Funimate Video Editor:

An array of video effects to choose from.

Reliable for creating short music clips.

Easy to use and time-saving.

Helpful for users who want to be a star on social apps.

Funimate Pro free app is safe for kids with all the privacy settings in it.

It gives you fast and instant excellent results.

Easy video sharing options.

Available for both Android and iOS.

It helps you create a professional-looking slideshow.
Cons of Funimate Video Editor:

To create an account for the app, the user must be above 13 years old.

It requires 36 MB of free space for smooth downloading.
Other Information of Funimate Video Editor:
Operating Systems: iOS
Billed Once: $13.66
Weekly Subscription: $2.99 with 7 days free trial
Monthly Subscription: $6.99 with 7 days free trial
Size: 196MB
How To Use Funimate Video Editor To Edit Videos
You can download the Funimate pro app on your device and start being creative. You can use Funimate edits to transform your simple video into a masterpiece by going through the following simple steps:
Step 1: Download Funimate Video Editor on your device.
Step 2: Open the app and choose the "Video Edit" option.
Step 3: Choose a video from your Gallery and choose a variety of filters from the app to make your videos more appealing.
Step 4: Now, if you need to trim the video, simply select the video and drag the cursor to adjust the video play.
Step 5: Using the "Touch Edit" option, you can add filters and touches to your videos. You have two options for retouching the video. You can either use the filter from the Library or customize one according to your taste.
Step 6: Include transitions into your video by selecting the "Transition" option. Make your videos sleeker with just the right sort of transition option your video requires.
Step 7: Want to add a bit of text to keep the video interesting? Select the "Add Text" option and enter the text of your choice. Moreover, insert animated text, rotate, change the font and style of your text.
Step 8: Go to the Sticker Library to add stickers to your videos.
Step 9: Now, add sound effects to insert the audio of your choice. Listen to the audio by pressing the "Start" button and see if the music perfectly balances your video.
Step 10: Choose the file format of your choice and save it on your computer.
Want Video Editot for PC? Check Top 3 Compatible PC Alternatives!
Do you want a better software other than Funimate? Is Funimate for PC not giving you the results you want? Check out these interesting PC-compatible suits that you can perfectly use as an alternative for Funimate.
Want to create high-quality videos with just a simple few clicks?
iMyFone Filme is an advanced and intuitive video editing software with all the basic and advanced features you need for video editing. This feature-rich software allows you to create stunning slideshows and eye-catching videos with the help of multiple effects and filters. You can add transitions, create slideshows, use built-in templates, create Gifs, and make use of the picture-in-picture effect to make your video a delight to watch.
Pros of Filme Video Editor:

The Fast Video Mode allows you to create videos instantly with just a simple click.

Other basic features include overlays, filters, split, rotate, crop, and adjust speed.

It is relatively easy to use,which is suitable for beginners.

Filters and animations to make your videos more colorful.

Filme allows you to add text and cinematic tiles to keep things engaging.

Perfect for creating professional-looking videos.

Supported to share your videos to several social media platforms.

It is compatible with Windows and Mac OS.
Cons of Filme Video Editor:

Filme is not available for mobiles.

The product is new in the market.
Animoto video editor is another simple and go-to video editing software you can use to make video editing a fun-filled task. The simple drag and drop interface makes things more understandable for beginners. You can change the background, insert different layouts, choose multiple aspect ratios for enhancing video clarity, add special effects and customize video clips to make your video more attractive. If you have no idea how to create interesting videos, you can dive into more than 20 ideas for your business, community, and digital classroom through the built-in templates within the software.
Once you feel satisfied with your videos, export them and share them with your friends and family on social media. It produces 1080HD high-quality videos in Mp4 format. The software transfers simple images into an entertaining video that you can use in your classroom and business presentation. Plus, Animoto supports a wide range of devices, including Windows, Android, Mac, and iPhone.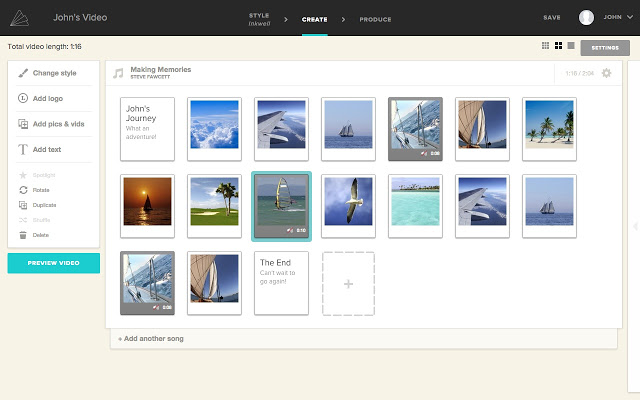 Pros of Animoto Video Maker:

Add logos to your business videos.

The pro version gives you watermark-free videos.

Preset templates for easy video editing.

Thousands of licensed music tracks available.

Perfect video editor for commercial use.
Cons of Animoto Video Maker:

Editing individual transition is not supportive.

Limited editing features.

The free version gives a watermark on the videos.
Need an innovative video editing tool to help you edit videos without any hassle? You can start editing videos and use tools and effects to make them look magical with Movavi. Along with providing you essential tools of crop, trim, or rotate, the software even allows you to create 3D movies in an instant. You can visualize your videos, add filters, create animated text, and much more. The software will keep you hooked up with the video editing process for hours and hours.
Besides, you can combine your old videos with new ones and create an even more interesting video to be shared on your social media profile with the help of Movavi Video Suite. This feature even makes it an excellent choice for screen recording.
After creating, either save it in any video format of your choice or upload it on YouTube and increase your followers. Allow video and audio conversion for a wide range of formats. It even lets you convert the format of your audios, images, songs, and audiobooks. You can even create a slideshow to keep things interesting on your blog.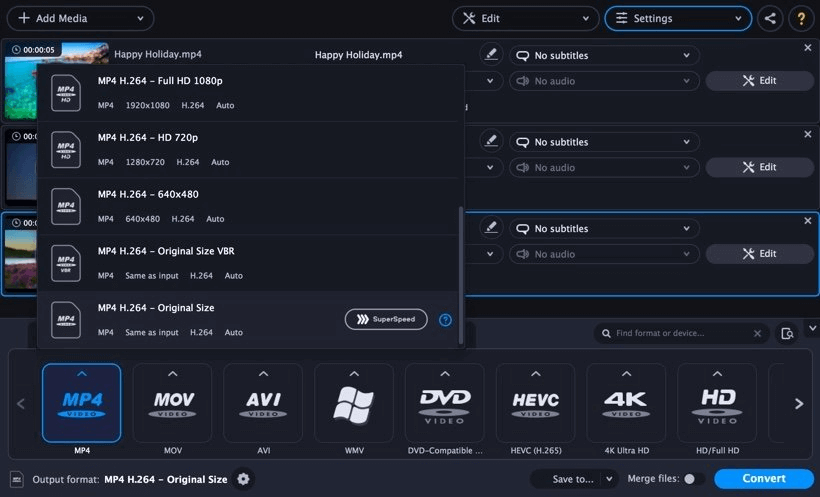 Pros of Movavi Video Editor:

Simple and easy to use.

High-end video format supported.

Supports 180 video editing formats.

Fast video editing.

The chroma key feature can change the background of your videos.

Burn edited videos to DVD, CDs, and Blu-ray discs.

Reverse videos.

Make slow-motion videos with ease.
Cons of Movavi Video Editor:

It does not have basic video editing features such as trim and preview of your videos before saving.

The clumsy interface makes it difficult for beginners to grasp the editing features.

HD video work is difficult.

Not suitable for professional users.
Conclusion
With a great range of video editing software, you need to make a wise choice. Funimate is a good option for smart devices, but you will need a better alternative with more options for your PC video editing needs, especially if you need professional work done.
If that is the case, Filme video editor is an all-in-one solution for your video editing needs and desires. The software is not only an exceptional video editor but is a screen recorder and offers smooth slideshow preparation.