Camtasia is one of the most powerful video editing and screen recording software available for Windows PC. The tool comes with a variety of features to edit, create, and share videos online. With this exclusive app, the creator can develop stunning visuals to generate slideshows, guides, tutorials, presentations, and other multimedia content. It's worth mentioning that Camtasia video editor lets you import video files and audio tracks that help to make creative projects.
How to Download It?
Downloading the latest version of Camtasia editor doesn't overwrite the already installed versions, so you can have multiple versions downloaded at a time. If you want to install the latest version, follow these steps for Camtasia download.
Step 1: First of all, download Camtasia from Camtasia.exe in your window.
Step 2: The next step is to locate the download. You will mostly find it in the download file folder. After locating the Exe file, double-tap the Camtasia.exe to begin the installation process.
Step 3: When the installation ends, select your language and tap on OK.
Step 4: Read the license terms and if you want to customize the install, click "options".
Step 5: Now you can customize your installation from the options menu.
Key Features:
Almost every feature of the Camtasia screen recorder is built by keeping experts and beginners in mind.
Transitions Effects:
Camtasia video editor provides 75+ new transition effects to make videos polished and engaging.
Motion Blur Effects:
The motion blur effect instantly makes movement and effects feel smoother.
Corner Rounding Effects:
This feature rounds individual or all corners by making them sharp and smooth.
Lottie (JSON) Support:
The users can import other apps into Camtasia cheap editor for Windows PC.
Customizable Media Clips:
The best thing about Camtasia editor is the availability of a wide range of elements and video clips that can be added to videos and easily customized.
VU Audiometer in Editor:
You can get a visual readout to adjust the audio volume level in the editor. Therefore, users need to take assistant from Camtasia review to learn about this feature.
Emphasize Audio Effects:
The Camtasia video editor can mix background commentary and music. You can drag and drop this mixed audio onto the clip by adjusting the volume.
Organization and Sharing:
Camtasia cheap video editor combines all specific video projects to make a new project file. You can quickly transfer it to another computer and share it with colleagues.
Representation of Group Assets:
Groups have been a proven way in Camtasia Mac to organize items and sections on a timeline.
Fast Editing:
If you want to edit and display high resolution and large videos, the Camtasia screen recorder provides the option of proxy video. These copies can be edited quickly because of low data volume and returned to the original recording.
Pros and Cons of Camtasia:
Within a short time interval, Camtasia editor has become a reliable choice. So let's discuss the pros and cons of this application to explore more about this tool.
Pros:

Simple and easy-to-use interface with required tools and flexible screen preview.

The software offers preloaded features in the media, transitions, annotations, animations, voice narrations, cursor effects, and visuals effects.

Option to add multiple tracks where media files can be imported with lock options. Easy and fast importing of media files with flexible listing views.

Exporting of files can be directly saved or uploaded to the required platform.
Cons:

Options functionality needs improvement in response time to avoid crash of software.

Software initialization takes more time to operate, so it's a time-consuming process.

The users have to pay for each upgrade separately.
Also Read:
Full Review of Camtasia:
Camtasia editor has become the standard for quality, simplicity, and powerful features among various editing apps. It lets you work on different projects, creative content, online learning presentations, software demons, and other similar tasks. Camtasia screen recorder easily merge images and videos, zoom in on visual elements, and record cursor movements on the screen. Moreover, the Camtasia review reveals that it gives you more control and flexibility over the visuals. So the Camtasia has become a full-fledged e-authoring tool to assist managers, teachers, and other professionals with their presentations or lessons.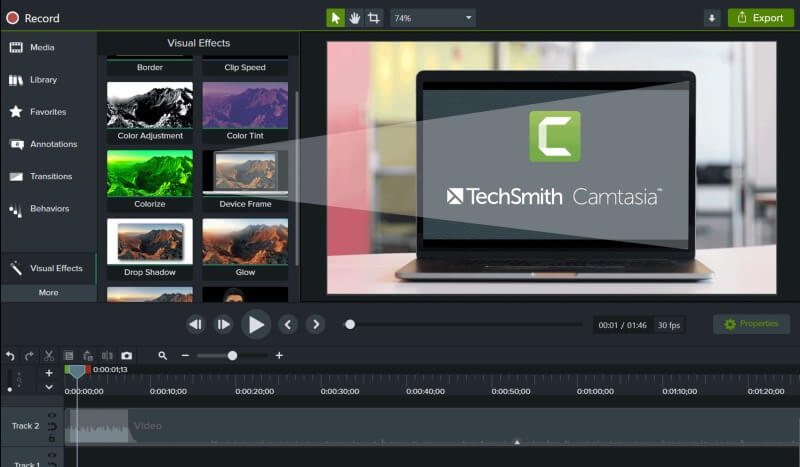 1. Screen and Audio Recording:
Screen and audio recording in Camtasia screen recorder is controlled with a simple recording toolbar. However, this editing toolbar has been simplified in the latest version of Camtasia. You have to select the area you wish to edit and record with your system audio or microphone. Alternatively, you can also record audio and screen to simply draw a grid around that you want to record. Moreover, you can also use this feature to create a GIF of something instead of a large GIF.
2. Templates:
Camtasia video editor has a lot of templates that can be easily dropped onto the piece of media you want to edit. You can add these templates to spice up the video content as there are 13 affects you can use in Camtasia cheap editor.
Border

Clip speed

Color tint

Color adjustment

Colorize

Device frame

Corner rounding

Glow

Speed shadow

Interactive hotspot

Remove a color

Motion blur

Media matte
The device frame effects are slick, and users can simply drag the desired template onto the clip they choose from the existing frame.
3. Packages:
The users can create packages to share and back up their Camtasia resources such as shortcuts, themes, templates, libraries, and presets.
Import a Package:
Step 1: Open an existing or new project in Camtasia
Step 2: Choose the package file to import and tap to open
Step 3: Click skip or replace and a dialogue will display as a list of imported resources
Export a Package:
Step 1: Open project and select file, export, and package one by one
Step 2: A package manager will appear
Step 3: Choose the Camtasia resource to export and click export
Step 4: Enter "save" and give the package name
In this way, you can export and import packages with Camtasia Mac and windows.
4. Music Library:
The Camtasia video editor has a wide music library and it's pretty simple to add music to the video. Let's have a look at the steps to add music to your video with Camtasia editor.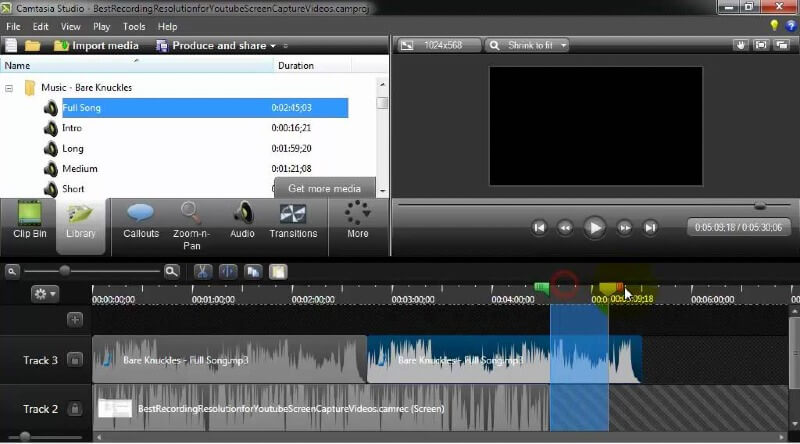 Step 1:
In Camtasia video editor, open the video in which you want to add music.
Step 2:
There are different ways to add music in Camtasia. You can choose media from import media and the menu. However, users can find music files from TechSmith Assets in libraries folders.
Step 3:
After importing the media file, you can also add a new track according to your video requirement.
Step 4:
When you select audio in the timeline, you will see a shading line. From this, you can adjust the volume by dragging it up and down to the desired level.
5. Basic Editing:
The program comes with basic editing tools, and its main focus is on instructional emphasis making it a reliable e-authoring app. The Camtasia price is affordable, and you can create classy animation for your video by using different visual elements. The tool supports animated callouts, and you can draw various shapes in your video. Moreover, the program supports split-screen mode, and users can capture screen during video editing.
Camtasia Video Tutorial:
For those people who never used the Camtasia editor, and want to learn this program, thanks to this excellent Camtasia tutorial support provided by Camtasia studio.
The Best Alternative to Camtasia Video Editor and Screen Recorder:
iMyFone Filme is the best Camtasia alternative that is simple to learn and easy to use. Newbie users looking for some creative and simple video editing software should use Filme. The software has powerful and unique functionality to make amazing videos within minutes. When you want to overcome time wastage, fast forwards, and speed up processing, IMyFone Filme is the best Camtasia-free alternative. Therefore, with this app, users can record screens and edit videos with great professionalism.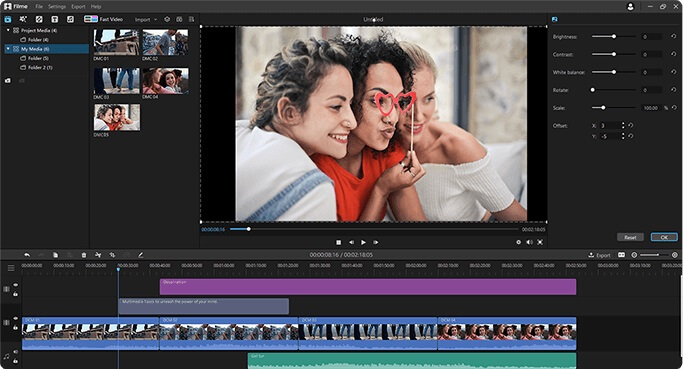 Key Features:
Image Editing:
Adjust the image position

Adjust audio speed

Trim audio clips
Transition Editing:
Users can apply transitions to a single clip, video, or image

You can apply different transitions in the same video
Video Editing:
Trim video clips

Crop and resize videos

Change video speed

Adjust brightness/white balance/ contrast
Pros:

The fast video mode of IMyFone Filme enables users to use the refined and built-in template to make the well-edited video.

High quality and exclusive interface
Final Words:
The selection of Camtasia editor is an ideal investment for online creators, particularly if you are creating tutorials and screencasts. Moreover, the Camtasia video editor is a powerful tool available for macOS and windows. The software supports a range of formats with an impressive degree of control over the video. However, if you are worried about Camtasia price, you can try it free for 30 days to learn basic video editing skills. The best thing about this software is you can save your finished editing in Google Drive, Vimeo, or YouTube.

iMyFone Filme
Record Screen within 3 Clicks with iMyFone Filme!
Download Now