VSDC video editor is an exclusive video editing tool that helps users to edit videos with ease. One of the best things to consider about VSDC is it's completely free. Therefore, you don't need to worry about payment, trial period, and subscription. The developers have become able to build a strong community with VSDC free video editor that will be helpful for you to understand its features. You can perform a wide range of functions with VSDC pro to add effects, support different formats and reduce file size. Moreover, with a clean and simple interface, the software allows users to edit video without troubleshooting issues.
Many of us want to know is VSDC safe to use and a good choice? The answer is yes because it is secure, and you can download VSDC free video editor from the official site. The software has free and pro versions with plenty of features. The VSDC video editor pro can provide you high-quality editing, conversion, and performance to make professional videos with ease. However, if you want to learn the basics, you need to explore all features by editing various parts of your videos. With VSDC free video editor, you can edit any video without paying a penny as there is no pressure to buy a premium version.
Part 2: Way to Download VSDC Video Editor:
The VSDC video editor is specifically designed for editing and creating video files with visual and audio effects. Moreover, VSDC free video editor download for PC is also available, but you have to know the correct downloading process. The installation method is simple and easy, and you need to follow the below-mentioned steps.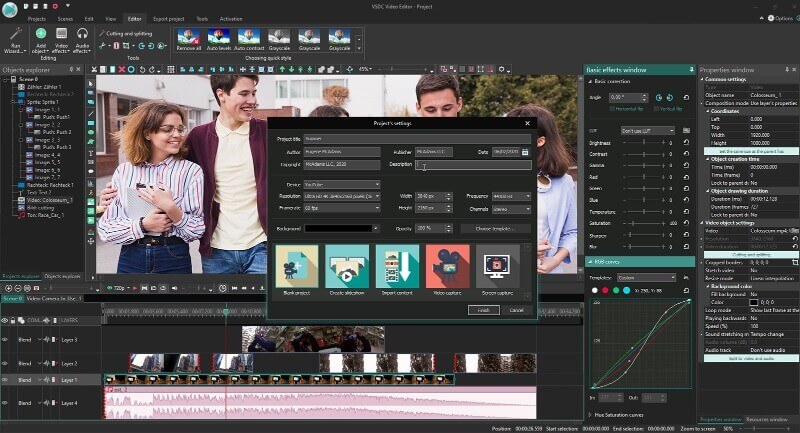 1. Go to the official website and click the download video editor button.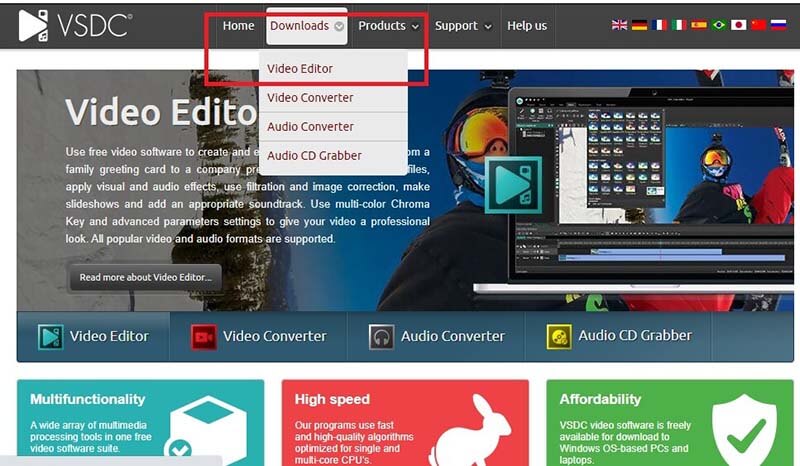 2. You will find complete instructions on the screen about downloading. You need to follow the steps.
However, keep in mind that the current VSDC pro version doesn't run on the window version. Therefore if you are using Windows XP, make sure to use VSDC free video editor version 6.4.2.
Part 3: Pros and Cons of VSDC:
VSDC video editor pro is considered a highly functional video editing tool, and it supports different types of files and formats. Therefore, you should consider the pros and cons of VSDC to know more about is VSDC video editor safe to use or not.
Pros:

Provide all kind of video editing tools

Exclusive visual effects

Different amazing blending modes

Custom colors availability

Latest editing features for professionals like Subpixel resolution, and Chroma key

Easily affordable

Technical supports service
Cons:

Hardware acceleration and audio waveform features are not available

Standard masking tools and voiceover

Lack of acceleration features and pro exciting features

No video stabilization tool

3D support and motion tracking is missing

Not much beginner-friendly
Part 4: Interface and Features:
The VSDC video editor features a highly intuitive and modern interface that uses wizards to make video editing and creation hassle-free and simple. The program provides plenty of features despite the simplicity of the user interface. These features permit users to create complex and long videos. Some of its features that make it unique are:
Non-Linear Editor:
One of the best things about VSDC free video converter is it is a non-linear tool. The software allows users to place objects in any position on the timeline. Moreover, you can also change the position and shape of the object with this amazing tool.
Audio and Visual Effects:
Users can add different audio and visual effects to get exceptional results. However, the total VSDC effects are divided into categories for easy navigation;
Object filters

Color correction

Transition effects

Object transformation

Spectral FX
Masking:
VSDC free video editor × 32 permits its user to create different shapes of masks for hiding, or highlighting different elements in your video. You can use the VSDC video editor to apply various effects outside and inside the masked area. One of the usual reasons for masking is blurring the face to remove unwanted marks.
HD and 4k Export:
Some users are confused and want to know is VSDC a good video editor, so keep in mind that VSDC is the only free video editor tool that permits users to export H265/HEVC codec to maintain the high-quality HD, and 4k files.
Motion Tracking:
The motion tracking tool of VSDC editor pro allows the tracking movements of the object in the video by assigning the trajectory to other elements. With the help of this software, making captions or placing a mask on a moving object becomes easy.
Subpixel Accuracy:
With VSDC free video editor, you can position objects with Subpixel accuracy that makes smooth rotation, precise positioning, and easy animation.
Transitions and Effects:
VSDC free video editor is ideal for creating dozens of eye-catchy video effects. Users can find these effects on the "video effects" bar, and you can easily apply them with one click. It also includes Instagram-style filters, basic transitions, color adjustments, and transparency effects.
Video Capturing:
Another creative feature of this tool is its ability to capture video from different video tuners, IP cameras, and webcams on your computer in an arbitrary format.
Built-in DVD Burning Tool:
The VSDC free editor comes with the burning tool to easily burn your work results to optical discs.
Video File Converter:
The software is designed to convert video file formats into multiple forms. It has basic features like removing unwanted segments, merging different files, and splitting the video into parts.
Easy Social Media Export:
To make a video for YouTube, Facebook, Instagram, and Twitter, VSDC free video editor provides users special export profiles that reduce the stress of choosing the suitable format.
Part 5: VSDC System Requirements:
VSDC is a semi-professional level video editor with low VSDC system requirements. You will not find an editor with a 256 Mb RAM program like this. Therefore, if your system is outdated, or runs on an old window version, you can still enjoy VSDC pro. There are two options available: 64-bit optimized version, as well as a 32-bit version. The 64-bit version is an optimal choice and some of the VSDC systems requirements are;
| Operating system | Windows 2000/XP/Vista/2003/10/8/7 |
| --- | --- |
| Processor | Any processor with 800MHz frequency |
| RAM | 2GB |
| Graphics card | Minimum resolution of 800×600×16 bit color |
| Storage | 20 MB |
Also Read:
Part 6: VSDC Video Editor Alternatives:
If you are looking for the best alternative to the VSDC video editor, you should consider iMyFone Filme. It comes with different free effects, music, and transitions to spice up your editing experience. Its fast video mode is ideal for exclusive editing with refined templates. There are many features of iMyFone Filme that are easy and creative.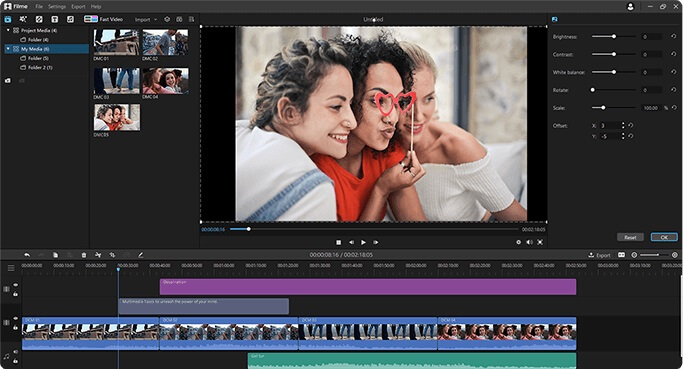 Features:
All in one video editor with flexible text addition options

The software is rich with features including music, filters, and transitions

Offers complex and extensive editing of slideshows

Quick filters adding options with fast mode
Features:
Easy to use

Advanced editing features with simple UI

Dozens of audio, image, video formats support

Record screen and audio for teaching, and gaming

Availability of Free version
Olive is a new open-source video editor with plenty of features. This software aims to provide an alternative to high-end video editing tools, so you can say it is a good alternative to the VSDC video editor.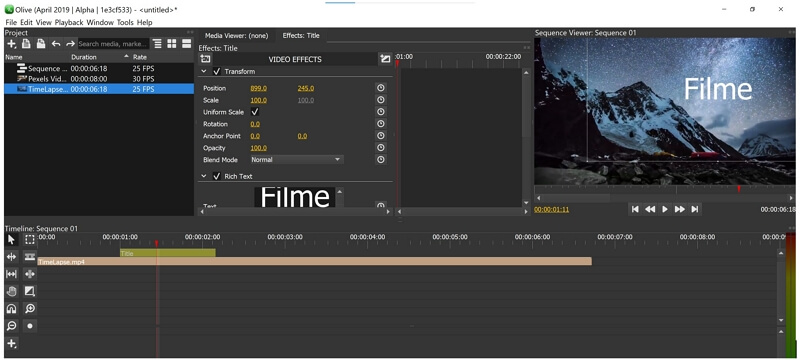 Features:
Editing:
Olive is a free video editor that provides tons of editing features to its users. You can edit your audio and videos with great ease by using Olive video editor.
Color Management:
Olive video editor offers complete color management as it is capable of matching footage from different cameras.
Disk Cache:
The olive software is a time saver and easy to handle complex projects. The users can specify the disk cache according to their work requirements.
Pros:

Open source and free

Blazing fast preview

Hardware accelerated

Proxy clip support
Camtasia studio:
Camtasia Studio is an all-in-one video editor and creen recording software program. It permits designers to create professional videos efficiently, and available for macOS and windows.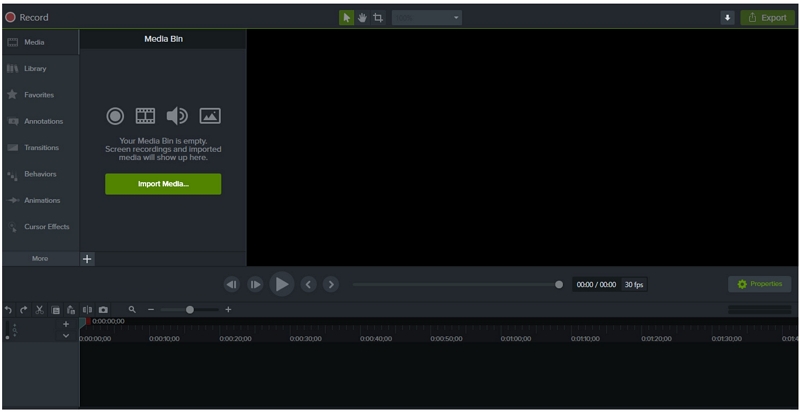 Features:
Transitions Effects:
More than seventy-five transitions to make editing more polished and engaging.
Audio Effects:
Merge audio effects quickly to mix background music.
Motion Blur Effects:
Camtasia moves smoother with blur effects.
Quick Editing:
To edit and display high resolution and large video smoothly, Camtasia studio offers the opportunity to use proxy video. These copies can be edited quickly because of their low data volume and original HQ recording.
Cons:

Exclusive screen capture feature

Easy to learn

Interactivity features

Great customer service

Ideal asset library
VSDC free video editor review reveals its significance in /he world of video editing as it is free and comes with several features. The tool is not limited to monochrome layout and sepia-tone overlays. You can use different features like color correction, object transformation, transition effect, FX, and audio effects. Therefore, if you are looking for an ideal and creative video editing software, VSDC free video editor no watermark is the best choice.