Olive is an open-source and free video editor. It is available on Windows, Mac, and Linux. Many youtubers, like Jack Cole recommend this video editor, but how good is it on earth? If you want to know whether it is good for video editing or not, read this article.
Moreover, we will also share best alternatives that you will find useful - Moreover, we will also share best alternatives that you will find useful - iMyFone Filme, making your video editing experience fabulous and effective. Let's start, making your video editing experience fabulous and effective. You can download it below and try it out.
Part 1. Interface of Olive Editing Software: Simple but Old-fashioned
The interface of Olive is simple but not user-friendly. It is difficult for a new user to find all the tools and use them to edit the videos. A few basic tools are on the left of the timeline. They are visible, but beginners need to understand what they can do.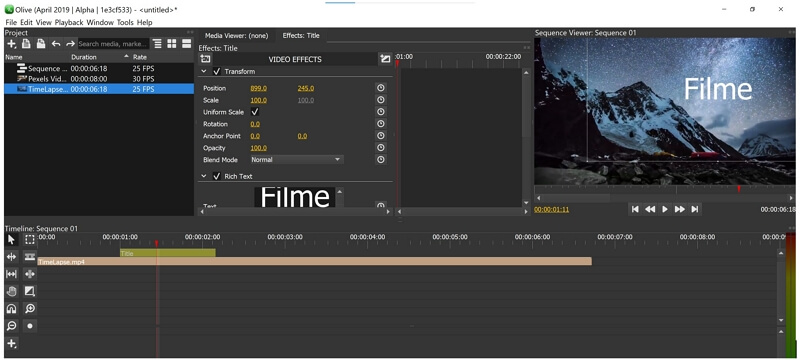 There is a separate tab for effects where you can edit your audio and video effects. It is also quite simple, but it looks like an old-fashioned video editor, and you need to enter values to edit the video.
The timeline of the video editor is also cluttered. The upper timeline is for videos, and the lower one is for audio. But it is difficult to distinguish between them. Moreover, the media appears as a very thin line on the timeline, and there is no preview on it. You will only see the name of the video or audio.
Overall, the user interface is quite old-fashioned. It should be improved so that users can use it with ease. Best alternative goes to iMyFone Filme, with simple and user-friendly interface, making your video editing experience fabulous and effective.
Part 2. Main Features: Not Professional Enough but Multifunctional
Basic Tools
Olive has all the basic tools for video editing. You can cut, trim, rotate, scale, change position, and make other changes without any hassle. You can go frame by frame and edit whatever you like.
Text
You can add text to your videos. You can add captions, titles, subtitles, or anything you wish. The text will be simple; however, you can adjust its different properties, such as shadow and padding. Adding text is quite simple.
Video Effects
There are various video effects available. You can use any of them to make your video more interesting. It offers the blur effect, color correction, keying, distortion, and a lot more. All you need is to select what you need.
Transitions
It also offers some simple transitions to add between your video clips. There are fading and cross-dissolve transitions.
Audio Editing
Olive also offers some simple audio editing features. You can add any soundtrack to the video. You can trim, split, and adjust its duration. You can also adjust its volume and panning. Moreover, it has a voiceover tool to record your voice.
Part 3. How to Use Olive Video Editor Easily
Using Olive could be a bit difficult for you for the first time. After that, you will get used to it. Follow the steps and edit videos without any hassle.
Step 1: Open the video editor on your computer.
Step 2: Go to the File menu and click on Import. Now, select the video and other media that you want to edit.
Step 3: After importing the media, you will see everything in the Project panel. Drag the videos to the timeline.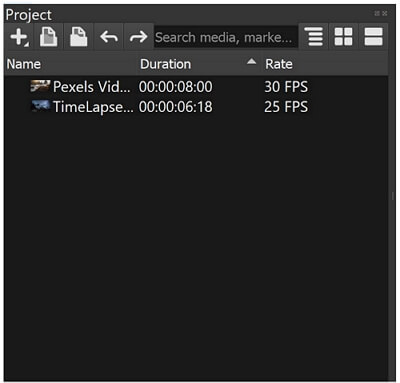 Step 4: Now, you are ready to edit your video. If you want to trim the video, drag the ends of the video to adjust the duration. On the left of the timeline, there are some tools that you can use. You can use the razor tool to split the video.

Step 5: You will also see a "+" button with the tools. Click on it to add a title, bars, solid color, and other things. For now, click on Title. Move the cursor from where you want to start the title. Click and drag it to where you want to end it. The title will be added to the video. Make sure to place the title layer above the video layer; otherwise, the title won't be visible. Select the title layer, and you will see options in the Effect tab. Now, you can edit the title as you like.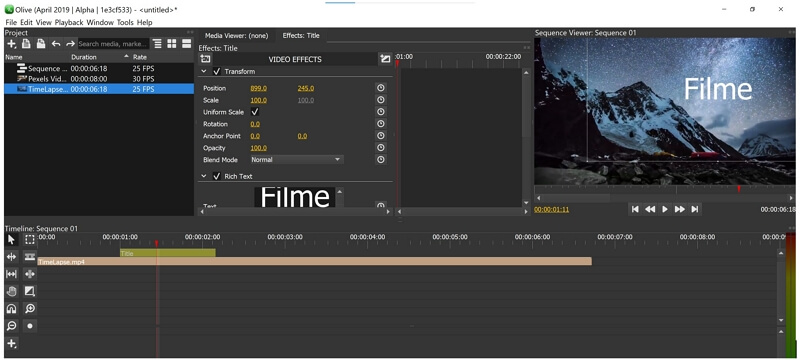 Step 6: You can also add video effects and transitions. After editing, click on the File menu and click on Export. Now, export the file in the desired format.
Part 4. Detailed Pros and Cons of Olive Video Editor
Pros:

It is a free video editor, so you don't need to pay anything. It is available for Windows, Mac, and Linux.

You can add multiple audio and video tracks to the timeline. You can mix media to achieve what you need.

The precision of the timeline is commendable. You can zoom into it and edit the video with perfection.

You can record your audio directly from the video editor.
Cons:

There are two versions of Olive, but both are alpha software. They are in the development stages.

Both versions have many bugs, especially the latest version. Moreover, there is no improvement on version 1.0.

The latest version is unstable and cannot be used with ease.
Watch this video to get a better idea of Olive Video Editor:
Part 5. Best Alternatives to Olive
If you are looking for one video editor that can help you do everything in your video editing process, there is nothing better than Filme. It is a versatile editor with tons of features and exceptional tools. You can use Filme as a video editor, audio editor, video resizer, color corrector, screen recorder, voice changer, slideshow maker, and video converter. Everything is present in this software, so you don't need to use any other tool for video editing purposes; this is more than enough.
AVS4YOU is an amazing video editor that offers excellent features. You can do almost any type of basic editing without any hassle. The best thing is that its user interface is commendable and 100 times better than Olive.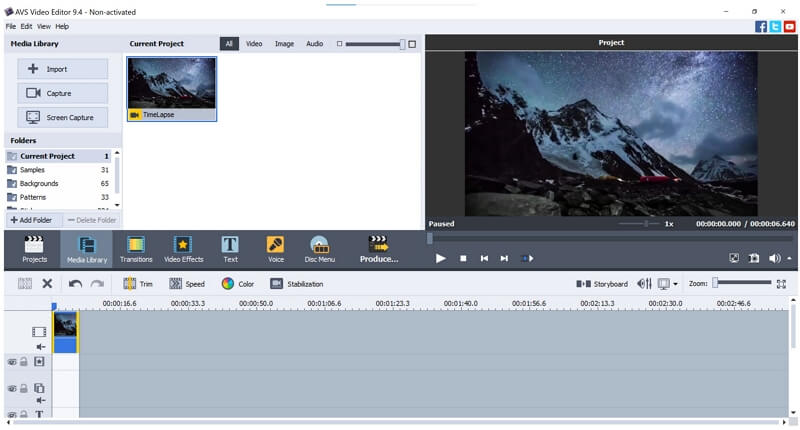 Pros:

You can cut, trim, change speed, adjust color, and make other changes in no time.

There are hundreds of transitions and video effects to make your videos more appealing.

You can also capture your computer screen and record your voice.

It also offers many stunning text styles to make your videos up to the mark.

It is easy to use and perfect for beginners.
Cons:

The software might crash during video editing.

You need to purchase the plans separately for different PCs. It works only on one PC, and you can't use it on another.
You Might Also Want to Read:
AVS4YOU Video Editor Full Review >>
Final Words
We have discussed the interface, pros, cons, and other things related to Olive video editor. It is a simple and free video editor for basic editing. If you want to trim, cut, change the format, or do other basic changes, it is an excellent option. But the effects, text, and other advanced options are quite basic. You can use Filme as it is an exceptional video editor with tons of exciting features. You can create cool and mesmerizing videos without any hassle.