If you are thinking of using PowerDirector for video editing, then you should know that it leaves a watermark on the videos that are edited using the free version. However, there are a few ways to get rid of the watermark. We are going to tell you some easy methods to remove the PowerDirector watermark without any hassle. Or you can also try MarkGo which can remove watermarks in just a few clicks.
Remove Cyberlink PowerDirector Watermark from Video and Image Easily
iMyFone MarkGo is a nice tool for removing objects from videos. It is a single software for removing and adding objects or watermarks from videos and photos.
Wonderful Features of iMyFone MarkGo
User-friendly, without any technical knowedge required to remove your watermark.

Easy to remove and add watermark, with no traces at all.

Free to try the remover, during which you can check the compability.

Able to add watermark for up tp 100 pics in batch.
Steps on how to remove PowerDirector watermark with iMyFone MarkGo:
Step 1: Download, install, and open iMyFone MarkGo on your device. Click on Remove Image Watermark or Remove Video Watermark depending on whether it is video or image you would like to edit.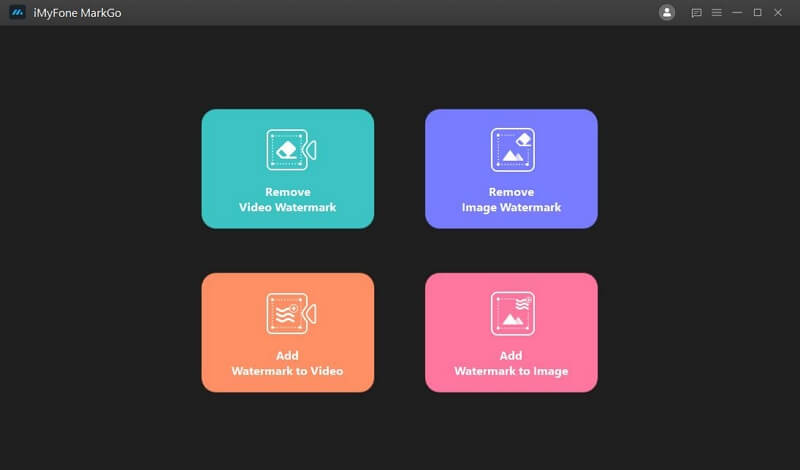 Step 2: After clicking on the certain feature, you will get to the interface of adding media. Click on the interface to add video or image.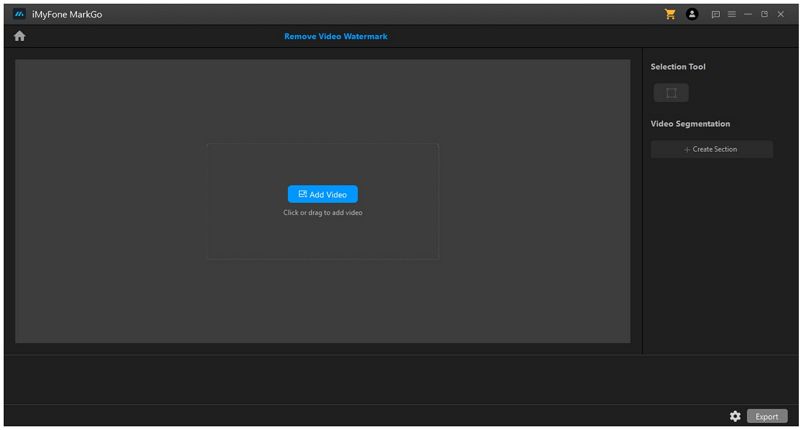 Step 3: After the image or video have been imported into MarkGo, you can click on the selection tool which help you to select the watermark part. Just move the box to where the watermark stay on the video or image. Click on the Remove Now button to preview.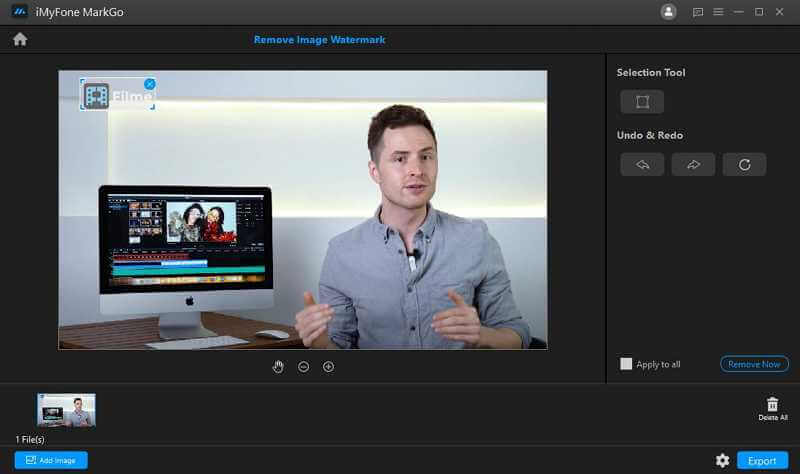 Step 4: After previewing, you can click on the Export button to export the video without watermark.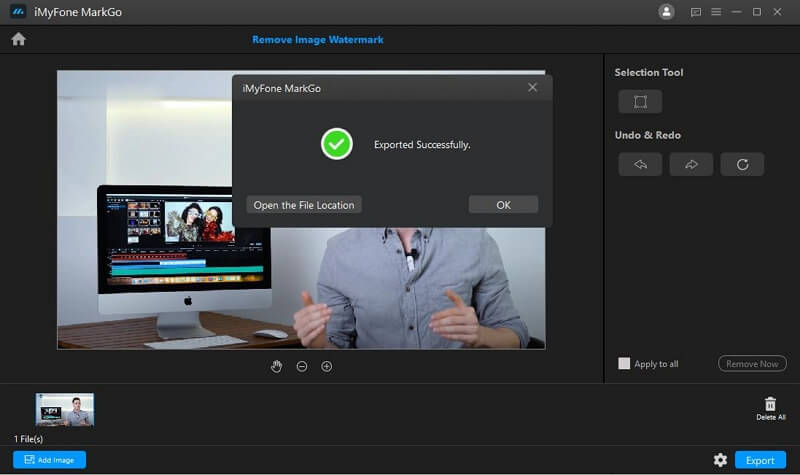 Pros and Cons of iMyFone MarkGo:
Pros:

Easy to use.

Simple and intuitive interface

Processing steps are quite easy

Batch processing feature
Cons:

Offers limited trial You can't export the video or image during free trial.
You might be interested in:
How to Remove Canva Watermark >>
Remove PowerDirector Watermark on Android
In this part, we will tell you how to remove the Cyberlink PowerDirector watermark on android, which is one of the best watermark apps for Android.
You can remove the watermark on android through two methods. Let's have a look at them.
1: Online tools and applications
There are a number of online tools and software where anyone can easily upload videos and photos to remove watermarks and different objects from them. You can use any online platform for this purpose. Online tools are mostly free, and you can use them to remove watermarks quickly.
2: Through PowerDirector premium purchase
PowerDirector adds its watermark only in the trial version. If you buy any premium bundle or package of PowerDirector, then this app will automatically remove its watermarks without destroying media quality.
Steps on how to remove PowerDirector watermark on Androids:
Step 1: Download and install the latest version of the PowerDirector app from the Play Store.
Step 2: Create a video or edit a pre-existing video from your device and click on the small arrow at the top right corner of the mobile screen. Here you will see the different options; click on Save to Gallery or SD Card.
Step 3: After clicking on the option, you will again see some options like Full HD 1080p, HD 720p, and SD 360p. Click on Full HD 1080p, and the app will show you the premium packages.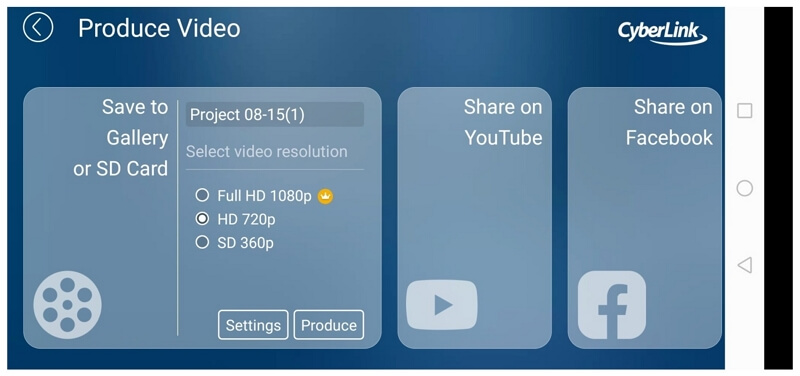 Step 4: Choose any monthly or yearly plan according to your budget and buy it. The prices will be mentioned in the plan's description. After purchasing the premium plan, the spp will automatically remove watermarks from your files.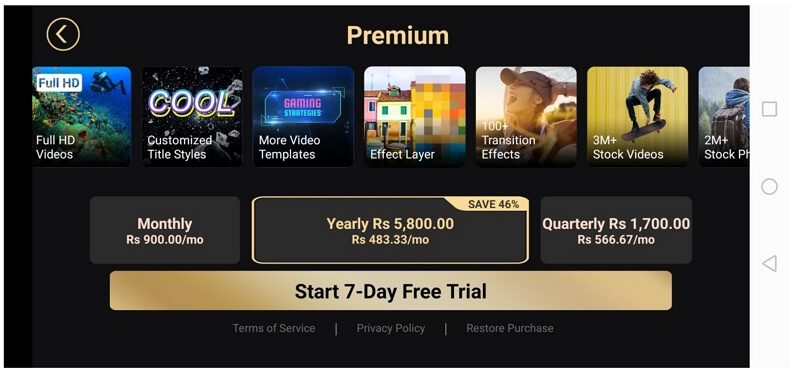 Remove Watermark from Cyberlink PowerDirector 17
Cyberlink PowerDirector 17 is available for desktop users. There is a bug in the software, and you can export your videos without the watermark. The process is super simple. So, let's have a look at the steps.
Steps on how to remove PowerDirector watermark with Cyberlink PowerDirector 17:
Step 1: Download and install Cyberlink PowerDirector 17 on your device. Open it and go to the main editing page of PowerDirector 17. Drag and drop the desired file from your device to the timeline. Add everything you need and create a perfect video.
Step 2: When you are done with editing and adding media, right-click on the left side of the timeline and then click on Enable selected track only. After this step, click on Produce at the top of the screen.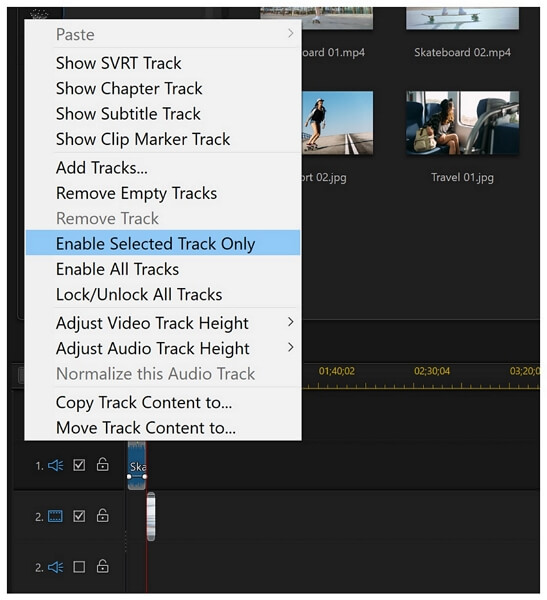 Step 3: After clicking on the Produce button, select the format and location. Export the file, and it will be saved at the desired location.
Step 4: Go to the location where you have saved the file. Play the video, and your video will be played without any PowerDirector watermark over it.
Simplest Way to Remove PowerDirector Watermark via Purchase
We have seen the premium purchases for Android, but here, we are going to tell you how a person can remove the watermark with PowerDirector packages on the desktop. Users will get the edited file free of any watermark after subscribing to these PowerDirector's premium packages. There are several monthly and yearly plans which you can choose according to your desire. These purchases will not only allow you to save videos without watermarks but will also add many additional features to your software.
Pros and cons of PowerDirector features via Purchase
Pros:

You will get additional features

The software will remove the watermark automatically

The quality of your media will not be destroyed

Procedure becomes easier
Cons:

Costly
Steps on how to remove a watermark with PowerDirector packages:
Step 1: Go to the PowerDirector's Buying plans through this link. On the screen, you will see different plans for different versions of PowerDirector. All the plans will have a full detailed description.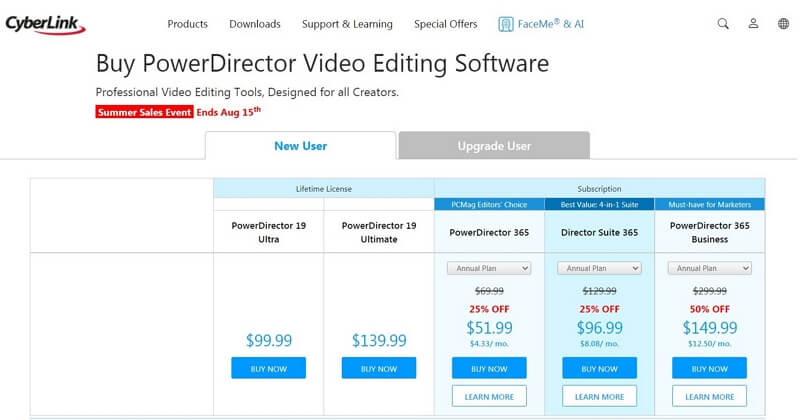 Step 2: Read and understand all plans carefully and select one of them. Click on Buy under the selected plan. The website will ask for your email address.
Step 3: Enter your email address and wait for an instance. Now, you will be directed to the next window, where you can enter your personal information regarding the payment process.
Step 4: First of all, fill in all the information about your residency, like your country, province, and postal code, etc. After that, fill in all the necessary and required information about the billing process. Cyberlink will deduct payment through your Credit/Debit Card.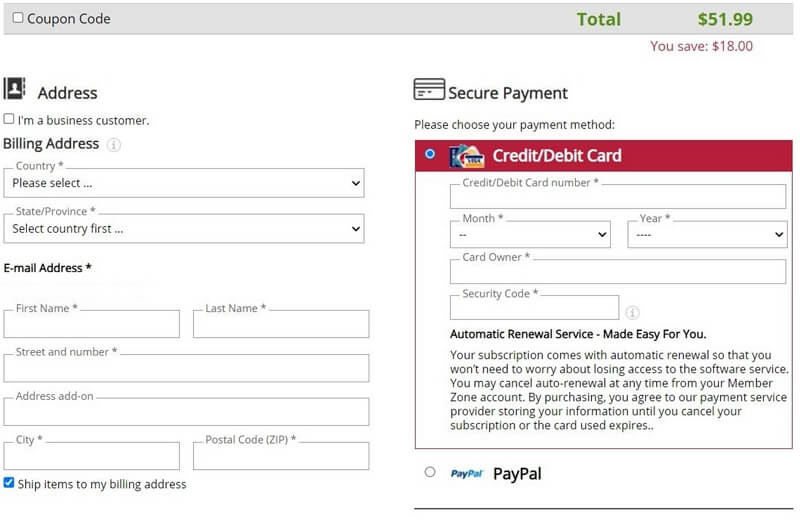 Step 5: Fill in all the information and click on Submit Secure Order at the bottom of the window. Your order will be placed and activated to your account after some time. After activation of your subscription, you can enjoy additional and premium features of the software. Moreover, you will also get the final edited file without any watermark over it.
Also Read:
CyberLink PowerDirector Review >>
Final Words
Cyberlink PowerDirector is a wonderful application for editing videos. It can also be used for professional purposes. The software is also popular because of its user-friendly interface. Even in the free version, you can enjoy numerous features but with a watermark. We have listed four different methods through which you can get rid of PowerDirector's watermark easily. Of course, you can also use Photoshop to remove watermark if you already have it installed in your computer, but this advanced software might require a learning curve.
At the same time, if you are bothered by all kinds of watermark, whether from videos or images, we recommend you to try iMyFone MarkGo which enables you to remove watermarks in 1 click. It also allows you to process watermarks in batch.