Do you often find yourself thinking about removing the video subtitles?
Subtitles are added to videos and movies to facilitate people unfamiliar with the language used in videos. However, it can become a distraction for you, and it' s hard to focus on the actual content. Therefore, many of us feel it necessary to remove subtitles from videos.
You might have noticed that you can turn off subtitles for some videos, but it is not possible for all types of MP4 files. Fortunately, you can remove subtitles from video files. We will share some tools to help you professionally remove the subtitles.
Different Types Of Subtitles: Softcoded or Hardcoded
There are two types of subtitles in video files: softcoded and hardcoded subtitles. The hardcoded subtitles have been embedded into videos, movies, or films. It's very difficult to extract or remove these types of subtitles.
On the other hand, soft-coded subtitles are not embedded by default. Users can add or remove these subtitles at their convenience. When your video player shows an option of turning captions on/off, it represents the soft-coded subtitles in the videos.
Method 1: Best Choice –iMyFone MarkGo [AI-Powered]
iMyFone MarkGo is an AI-powered tool used for editing photos and videos. You can get rid of unwanted objects and watermarks, add watermarks, remove subtitles, and do a lot more editing of photos and videos. Besides, the powerful tool also lets you edit your PDF files.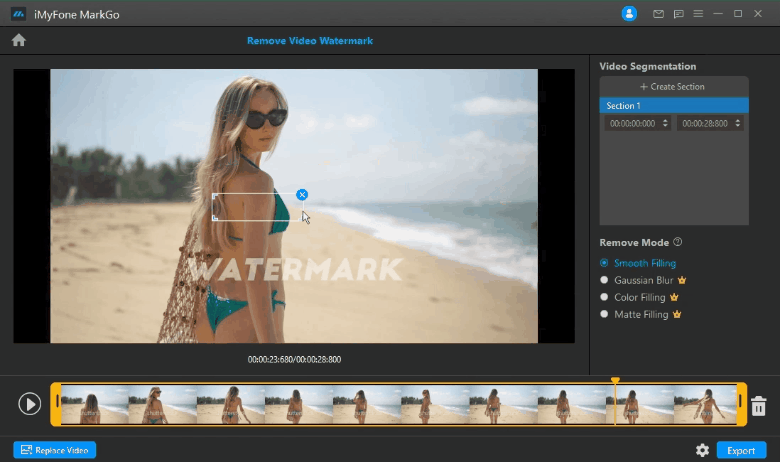 Wonderful Features of iMyFone MarkGo
User-friendly, without any technical knowledge required to remove watermark in just one single click.

Easy to remove and add watermark for videos and pics, with no traces at all.

Free to try the remover, during which you can check the compatibility.

Able to add watermark for up tp 100 pics in batch for copyright considerations.
Watch the video tutorial to learn more about MarkGo.
There are many free and paid features within the app. We will tell you the cost-free method of removing the video watermark by using the MarkGo tool. The story of iMyFone MarkGo's feature doesn't end here, but there are a lot of other enticing features that you can unlock by downloading the tool on your Windows or Mac device.
Here is a step-by-step guide to removing subtitles from video files.
Step 1: Launch MarkGo And Enter The Environment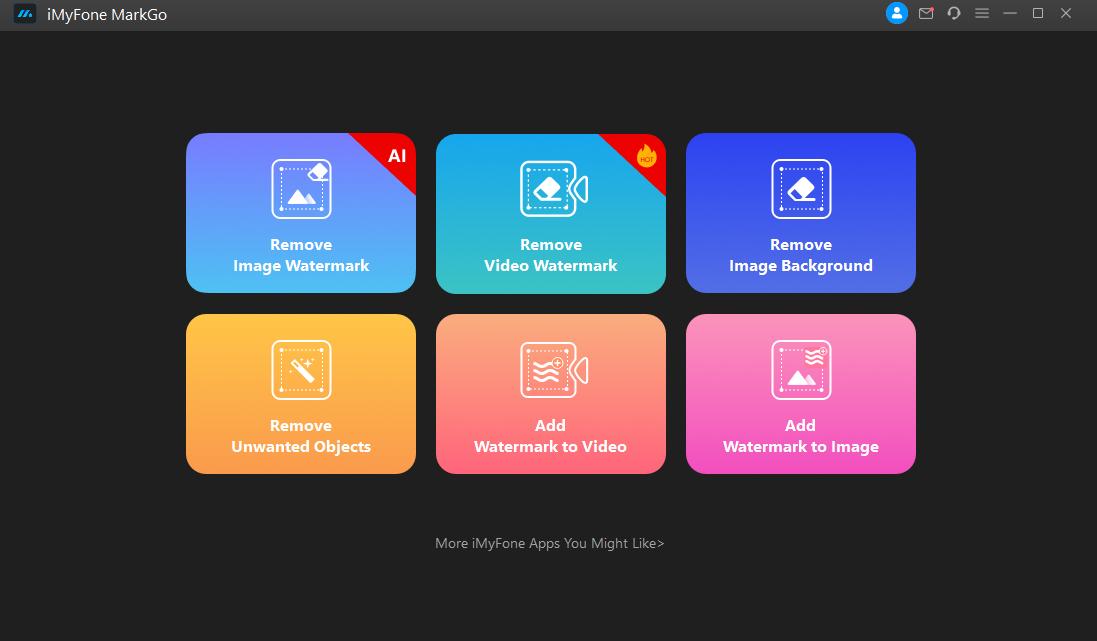 Launch the software and choose 'Remove Video Watermark' from the options shown on the home window of the application.
Step 2: Upload Your Video
You will be asked to upload the video from which you want to remove the subtitles from. Choose the desired video from the destination folder and import it to the application for editing.
Step 3: Select The Subtitle Area
Once the video has been imported, you will select the area in a video where the subtitles are located. Make sure to select the whole area of the subtitles. There is no free selection tool available in the application, and you can only select rectangle or square areas.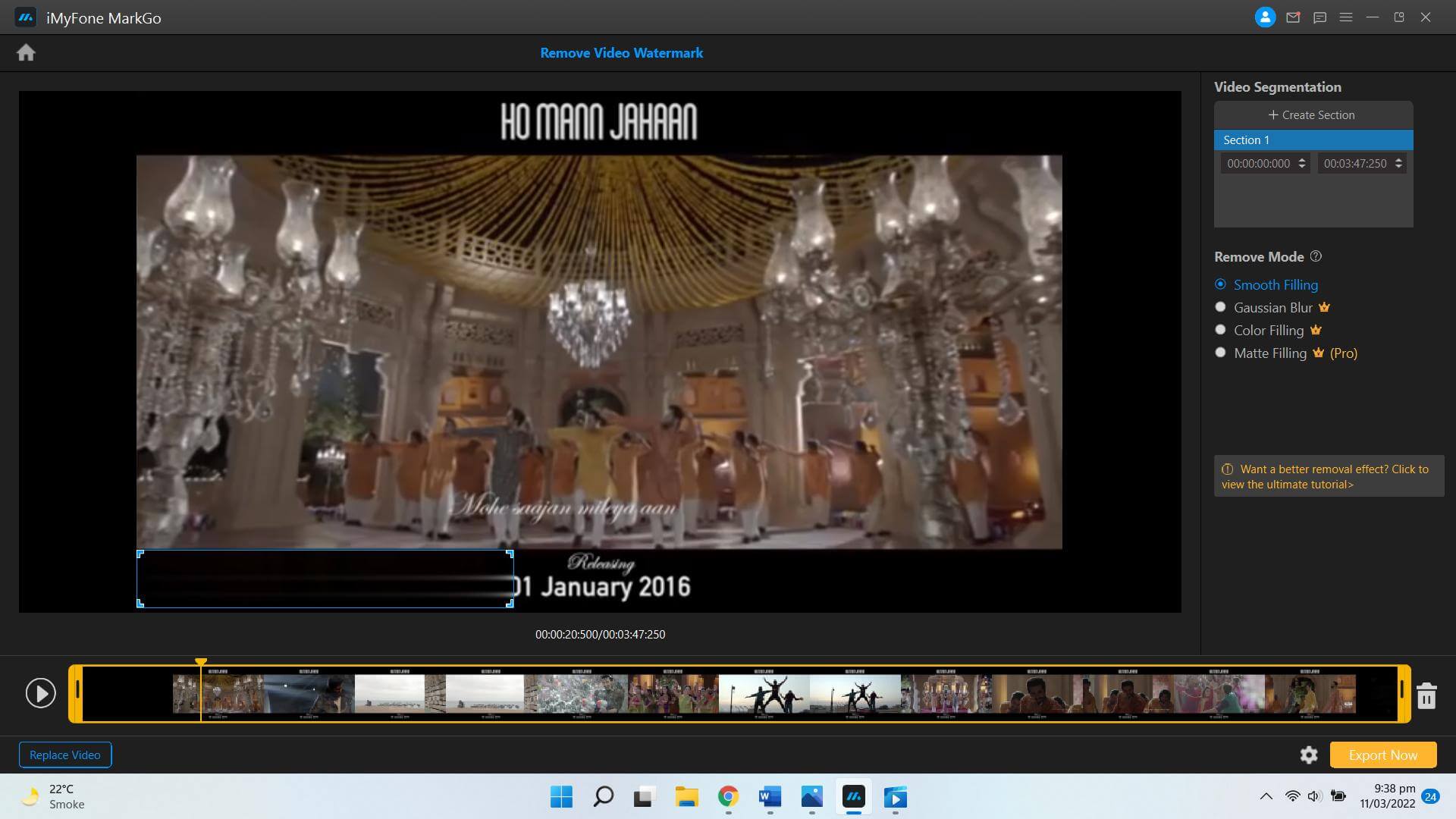 Step 3: Remove Subtitles From Video Files
In the free version of the application, only one option of Smooth Filling is available for removing video subtitles. However, you can get the paid version at a very affordable price to do more editing like a matte filling, gaussian blur, or color filling.
When you choose the Smooth Filling option, the subtitles area is replaced with the background of the video.
Step 4: Save Your Video
The final step is to export your edited video to your Mac or Windows device. Once you hit the Export button, the file is saved within a matter of seconds to your destination folder.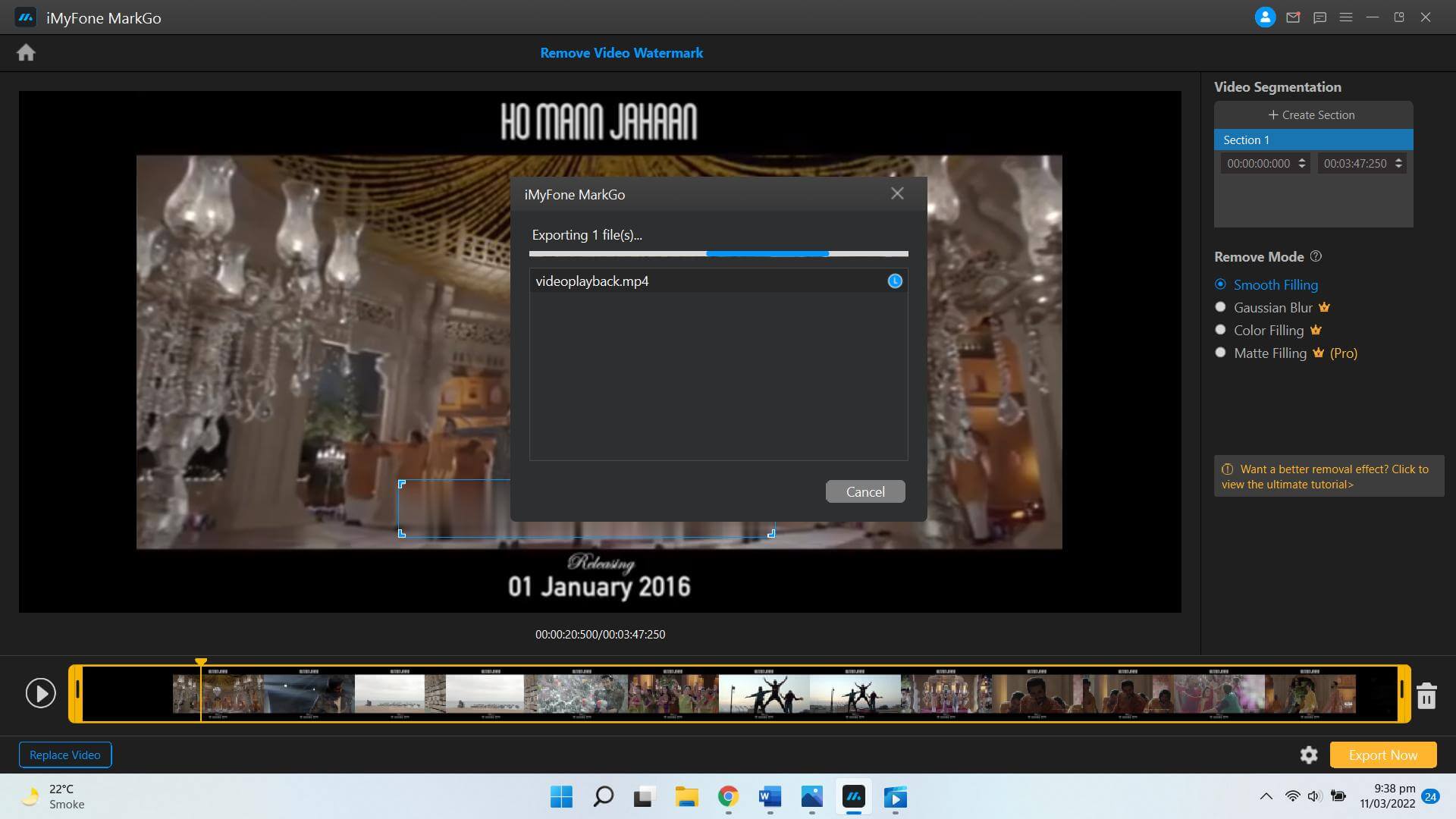 Tips
Hunting for a tool to get rid of subtitles efficiently? Why not try
iMyFone MarkGo
? Helps you remove subtitles 100% clearly with AI-powered Technology within 5 secs in 1 click.
Method 2: How to Remove Subtitles From Videos on Android
When watching videos or movies on your phone, you often desire to remove subtitles. If you're watching movies on YouTube, the player gives you the option of keeping captions on or off. However, if you're watching a video or movie from another source, the impulse to remove subtitles is strong.
You can remove the subtitles from videos on Android by using the VLC player. VLC player is often thought to be software for Windows and Mac devices. But you can also use it on your Android or iPhones.
Here is what you need to do for removing subtitles from MP4 files using a VLC media player:
1. Install the VLC media player from Google play store or Apple store.
2. Launch the application and click on the kebab menu icon on the bottom left corner of the interface.
3. Tap on settings to discover different options given. Look for Subtitles in the menu.
4. Enter the subtitle menu and deactivate the option of subtitle tracks.
Alternatively, if you're looking to remove hardcoded subtitles from videos, you might need to download third-party applications that are not recommended. It can put your device and data at risk of being hacked or pirated.
Method 3: How to Remove Subtitles From Videos Online
If you're more comfortable using the open-source online platforms to get the task done, we got you covered.
FileConverto and 123 Apps are two online platforms that can be used to crop videos, remove subtitles, or get rid of hardcoded subtitles from your videos. We will share the method of removing subtitles using FileConverto.
Whether you want to remove or extract subtitles from MKV files, MOV, AVI, or MP4, the platform supports almost all the file formats. There is no direct method to get rid of those hardcoded subtitles but to crop video size and dimensions.
Here are simple steps to follow for removing the subtitles with fast processing.
1. Visit the official website of FileConverto and select the video you want to remove subtitles from.
2. Upload your video, choose the start position and new dimensions for your video.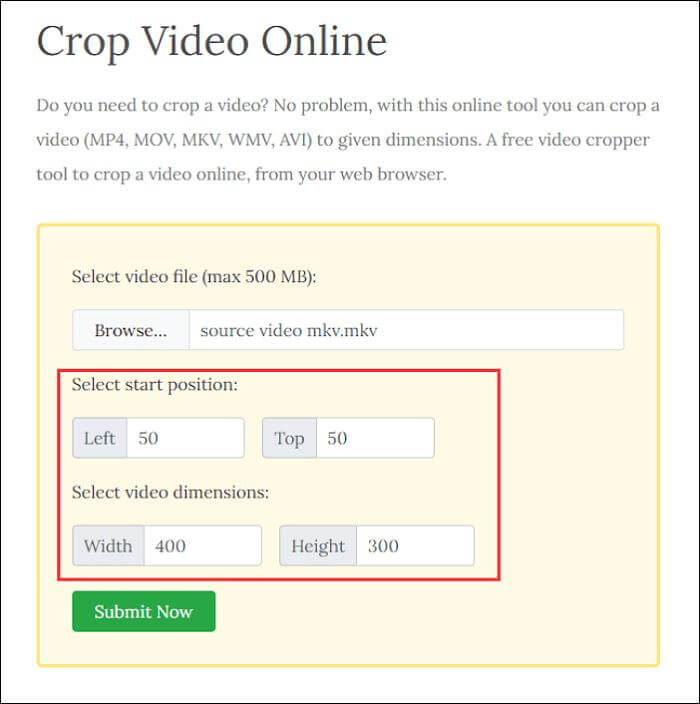 3. Tap on Submit Now to start the processing. The free video cropper will remove the subtitles area.
4. After completion of the process, choose if you want to change the name of the output file. Download the file.
Method 4: How to Remove Hardcoded Subtitles from MP4 Videos?
Aiseesoft Video Converter Ultimate is a convenient software to convert, edit, crop, or remove the subtitles from videos. However, the software also works to remove subtitles with its cropping features. It can result in losing some details of your videos.
However, when you want to know how to remove hardcoded subtitles from MP4 videos, Aiseesoft can be a useful tool to try out for simple videos.
1. Download, install and launch the software.
2. Add the video you want to edit, and enter the edit menu.
3. Select Rotate & Crop for removing the subtitles. Select the crop area size to remove hardcoded subtitles. Alternatively, you can select Zoom mode or change the video's aspect ratio.
4. After selecting the settings, convert the video, and save it on your device.
FAQs about How to Remove Subtitles
1) Is it possible to remove subtitles?
Yes. There are two types of subtitles in video files: softcoded and hardcoded subtitles. However, soft-coded subtitles are not embedded by default. Users can add or remove these subtitles at their convenience.
2) How can I remove subtitles from videos for free?
The MarkGo tool can be used to remove the subtitles from video for free. You can unlock a lot more features, like watermark removal and background removal by downloading the tool on your Windows or Mac computer.
Conclusion
This article has discussed different ways to remove subtitles from videos in different formats. If you want to know how to remove subtitles from Facebook videos or YouTube videos, you can simply turn the captions off from the settings of your social accounts.
For manual removal or extraction of subtitles from videos, the most effective tool is MarkGo. It's a convenient and easy-to-use software. You don't have to sacrifice the actual video frame to remove the backgroundor subtitles.
You can download iMyFone MarkGo for your Windows or Mac device from the following links: