When it comes to inserting or removing watermarks, no one can better our embedding capabilities. You can quickly include several photos or movies into the same file with this program. Then you may rename photographs, remove them or rotate them. You may modify picture order by encoding numbers in your image name so your image will be placed in the same encoding order each time. All photographs are encoded at a quality of 100 percent. Thus, there is no quality loss.
Part 1: Best Mac Software to Remove Watermark –MarkGo
For Windows users, there are several watermark software solutions accessible. But, when it comes to Mac, possibilities are limited, as are appropriate apps.
With iMyFone MarkGo Watermark Remover on Mac, you can quickly remove watermarks from photos and videos in seconds! You can effortlessly eliminate undesirable background and export them without sacrificing quality with a few easy clicks.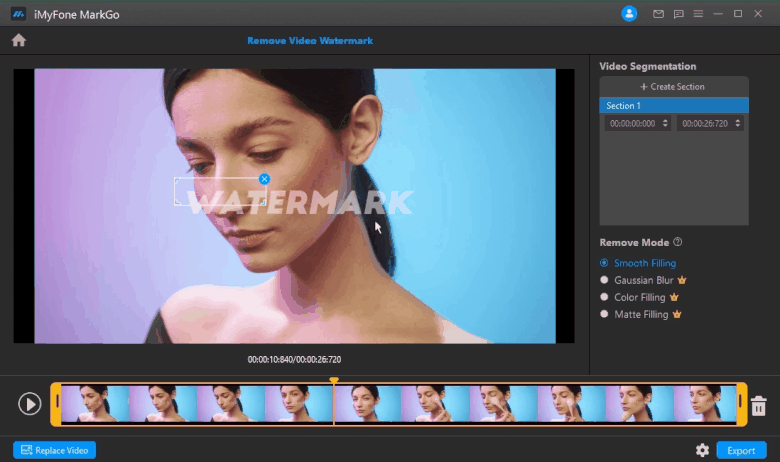 Watch the video tutorial to learn more about MarkGo.
MarkGo watermark remover is compatible with both picture and video files. It provides numerous methods for removing them, including matte filling, color filling, and Gaussian blur. Additionally, the program can erase watermarks and objects in bulk. Reconstruct the specified area from surrounding pixels and replace them with appropriate textures. They use a combination of image detection and deep learning to erase watermarks. Watermarks can be removed from images and videos in bulk. You can add customized text as a watermark to protect copyright and add images as watermarks.
Step 1: Launch iMyFone MarkGo and select the appropriate option.
Once installation is done, and the opening of the software is done, MarkGo will now go on to the video upload step.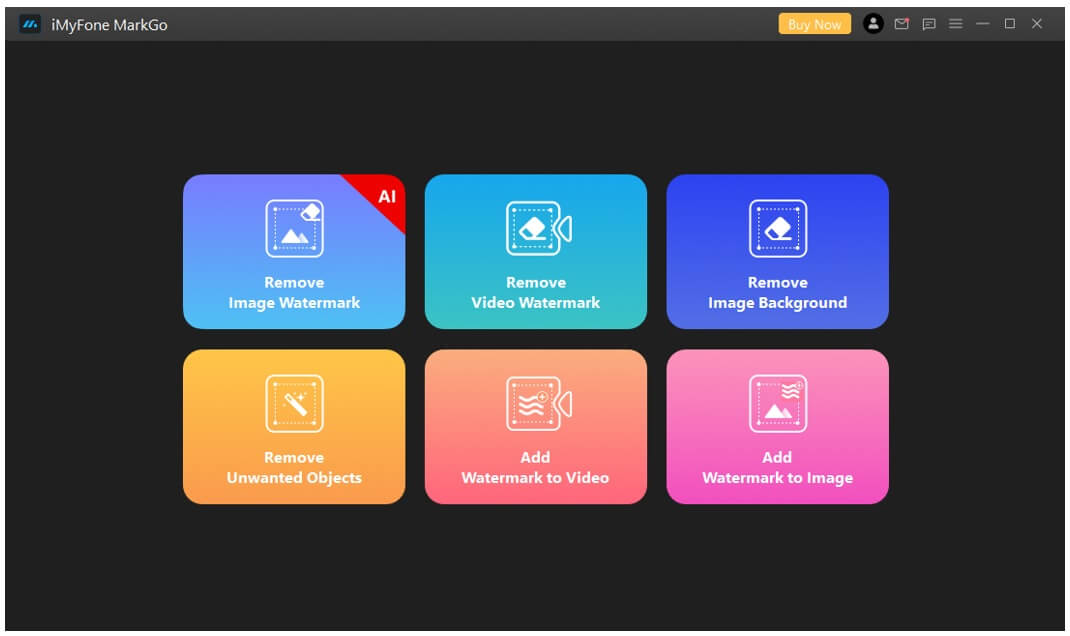 Step 2: Import the Video from Which You Would Like to Remove the Watermark
Once you've selected remove the video watermark, you'll be transported to the import video phase. You can tick the 'Add Video' button of the video to edit.
Step 3: Selecting and Editing Videos
The video will begin to load, and a timeline will appear below it. You may swiftly cycle through the video to find the location of the undesired object.
Segmentation of video is also possible, specifying a start and stop time for each portion.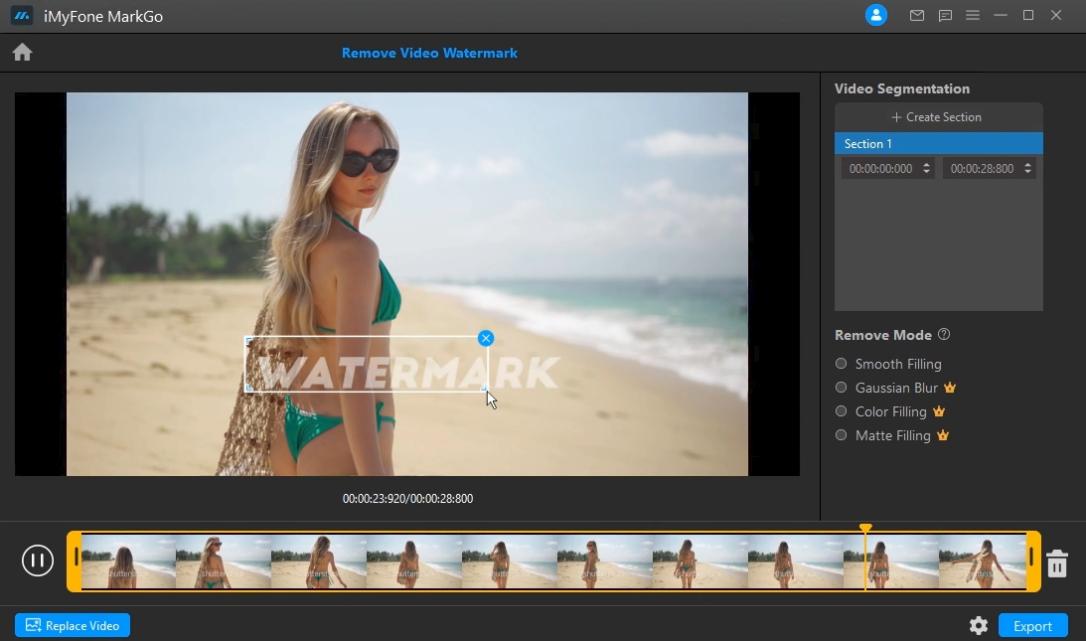 Step 4: Getting Rid of the Watermark
Once the watermark or item is visible on-screen, use the 'Selection Tool' to display a selection box.
Just drag and extend the box to fill the watermark or undesired item. Click Play to get a preview, then export it to finish the procedure.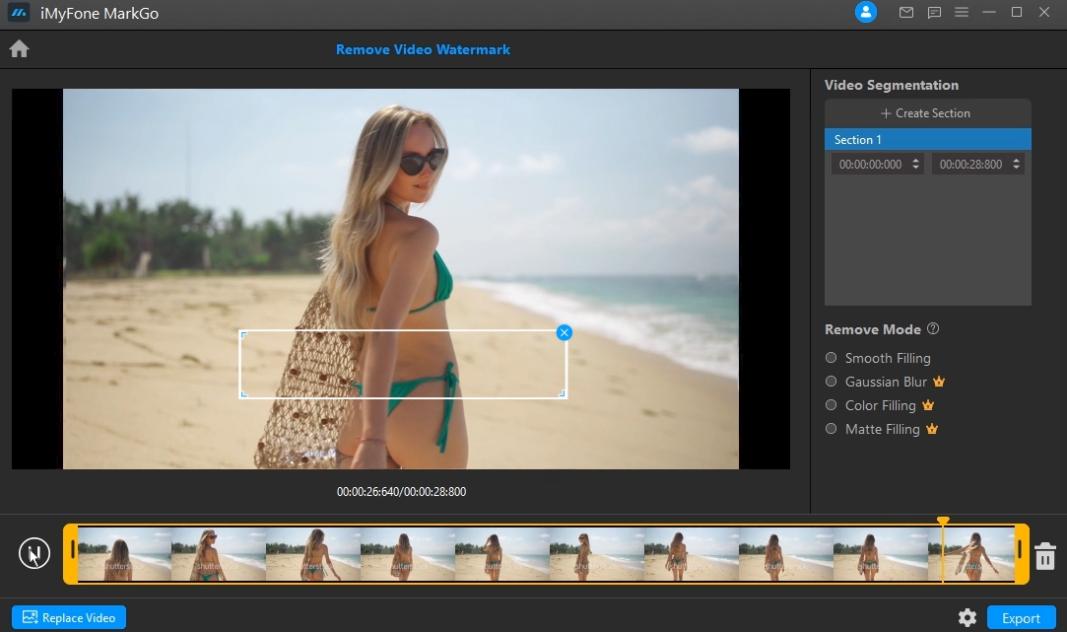 Pros:

MarkGo features a modern interface and has little influence on your machine's performance, consuming little of your system's resources.

Simultaneously, it can batch-process images/videos for watermark removal. So you can reduce the duration of image/video editing assignments.

The app's inherent targeting algorithms, blurring, and color correction tools enable you to easily remove unwanted elements from your photographs and fill in space (color and matte filling, Gaussian blur).

The MarkGo regains color by identifying the surrounding colors of the watermark and selects the best color to conceal it. The smart filling algorithm restores videos by elegantly removing objects.
Tips
Hunting for a tool to remove watermark from images and videos in batch without quality loss? Why not try
iMyFone MarkGo
, a professional watermark tool that helps you remove watermark with one click.
Part 2: Erase Watermark from Image for Mac - Super Eraser
Super Eraser effortlessly removes undesired components from your images and quickly fixes them. Super Eraser is powered by the most cutting-edge picture restoration algorithm, outperforms all other photo editing apps, including pro image processing tools. Numerous trials demonstrate that the intelligent Super Eraser produces better and more natural-looking outcomes than comparable equipment.
Pros:

Remove any watermarks, logos, signatures, date stamps, or text that may be present.

Remove unnecessary things, such as cables, buildings, and garbage cans.

Eliminate skin imperfections and acne
Cons:

At first, the app was appealing but did not provide the results suggested.

Ghosting and shadow remnants persisted after repeated attempts to eliminate undesirable things.

There was always a clear and discernible distinction between the original and modified photographs, where one could detect the attempted erasing.
Part 3: How to Eliminate Watermark from Video Mac--Ease US
Use EaseUS Video Editor to remove watermarks from videos. It lets you blur the watermark, cut the movie to remove it or replace it. This program eliminates watermarks from videos in WMV, MOV, RMVB, MP4, AVI, MPEG, VOB, FLV, M4A, and MPG formats.
It's also a great video editor. It splits, rotates, mixes, and trims a Windows 10 video. It can also convert YouTube to MOV and MP4 to MP3.
Cons:

Cannot perform a full scan of the hard disc.

The timer does not function properly.

Limits on automatic scanning

Limited-time-only free version

Choose "Import" from the home screen or drag the source video files there.

You can add video files to the video track by right-clicking them and selecting "Add to Project." You can also drop and drag the video to your liking.
· Click "Tile" on the toolbar to see a tiled square in the preview window. Drag the preview window to resize or move the watermark. "Add" > "OK" to apply the mosaic blur. If your video has many watermarks, click "Create" to add a mosaic square. Mosaic effects can be used for the entire movie without modifying the timeline duration.
· After removing the watermark, click "Export" in the toolbar.
Part 4: Get Rid of Watermark from PDF on Mac in Batches--PDFelement
Watermarking protects your papers online from theft or unauthorized usage. Are you concerned about how to remove watermarks from PDF files? A bulk PDF Watermark Remover for Mac will help PDFelement Pro support batch processing if you have many PDF files.
We suggest PDFelement Pro for bulk watermark removal. Add artwork, change text, add a watermark, and more to PDF files with this unique software. In addition to removing watermarks, this Batch PDF Watermark Remover for Mac can extract text, photos, and watermarks. It may also password-protect PDF files.
Pros:

It may offer flexible options for converting an image to a PDF document.

It's fantastic. However, a few options, such as creating a sign, are tough to locate.

There is no monthly payment required; you must choose the six-month or one-year plan. Cannot complete forms on an iOS device.
Step 1: Delete watermarks in bulk from PDFs.
To use this PDF watermark removal tool on your Mac, you must first download, install, and activate it.
Step 2: Import a PDF
Tick the "Open File" to enter the option. You'll be taken to your computer's drive. Find the PDF file you wish to remove batch watermarks from and click "Open" to import it. You may also drag and drop files into the software by clicking inside the blank area. The file will instantly upload.
Step 3: Delete PDF watermark in bulk
You may use the webpage to remove watermarks from PDF files. On the "Batch Process" tab, select "Watermark." To erase the watermark, choose "Remove." Select which watermarks to remove by checking on PDF. Then select the PDF files to be watermarked and click "Ok." Using the same methods, you can watermark several PDFs in bulk.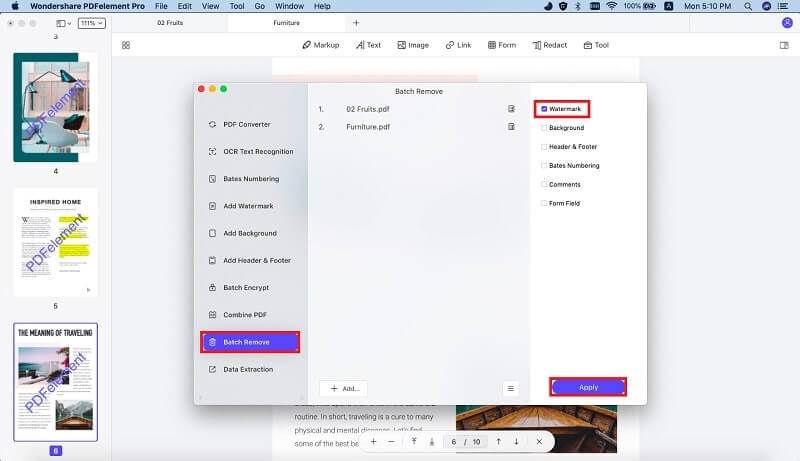 Part 5: Delete Filmora Watermark Mac- iMovie
It's now relatively common to see logo/text watermarks on videos, which is terrific. Adding watermarks/logos to your movie will help prevent piracy and illegal information redistribution and promote your brand. It can also validate your videos, shown on videos from reputable news companies. These agencies usually include their logo/watermark in the text.
You can't go wrong with iMovie on a Mac to erase the Filmora watermark. With its help, you can rapidly view your videos and create high-quality trailers and 4K movies.
With iMovie's sophisticated video editing features, you may cut and eliminate undesired areas. So here's how to remove a watermark from a movie in iMovie:
To begin, open iMovie and import the movie from which you wish to erase the watermark.
Step 2. Hover your mouse over the "Crop" button. Adjust the frame that appears above the video.
Step 3. Resize the frame until all traces of the Filmora watermark are erased.
Step 4. Finally, click the "Apply" button to save the changes. After that, select file to save your video without the watermark.
FAQs - How to Remove Watermark on Mac Quickly
Q How do I remove watermarks from videos for free?
Visit the iMyFone MarkGo website and click the Free Download option to get the app. Open the installer, read the licensing agreement, and click the Install button. After installation is complete, click the Start Now option to begin using the app. Once the program has been launched, click the Erase Video Watermark option.
Q How can you erase a watermark from a video on Mac?
• Launch MarkGO and import the movie from which you wish to remove the watermark.
• Select the "Crop" option. Adjust the frame that appears above the video.
• Resize the frame until all traces of the watermark are eliminated.
• Now, tick the "Apply" button to save your changes.
Q Can I remove the watermark from the video online?
Yes, there is much online software available where you can remove watermark from your videos.
Conclusion
Watermarks can be removed from photographs, documents, movies, etc. If you want to remove watermarksquickly, an online watermark remover is the best alternative. Enlarging watermarks on other people's work is prohibited; enlarging watermarks on your work is legal. Watermarks can be removed using a clone stamp, spot heal, and eraser. You may also trim, blur, and adjust the watermark.Background can be erased in a effective and quick way using MarkGo.
You can download the software on Windows or Mac from the following links: