This article will show you add image to video without watermark using the best, most convenient, and free software available. A watermark is an identifying image, shape, or piece of text that overlays the document. Watermarks are usually very light so that they don't interfere with reading the text.
Best Software to Add Text to Image without Watermark --MarkGo&nbsp
Watermarks and logos in photographs are obnoxious and can detract from the overall look of the image. The AI-powered MarkGo technology makes removing logos, persons, watermarks, and other objects from your favorite images a breeze. After a few clicks, it will appear as if the watermark never existed.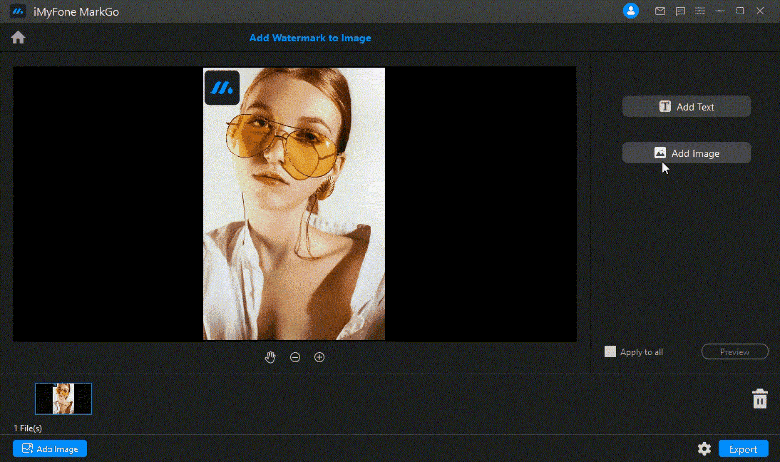 Watch the video tutorial to remove watermark using MarkGo
If your photographs have ever been stolen or shared without credit, your first instinct could be to use a watermark to secure your work and ensure that credit gives where it is due. It's natural for photographers to feel possessive of their work.
After all, images formerly shared on the refrigerator, in an album, or in person. They're now disseminated worldwide via the internet, and there's no doubt that this has changed things.
While watermarks don't always safeguard your work, there are certain best practices to follow if you decide to apply one.
How to Add watermark with MarkGo?
Step 1: Go to iMyFone MarkGo and press the Free Download button and install the software.
Step 2: Upload the image or video
Select the image or video from which you want to add the watermark by clicking the Upload button.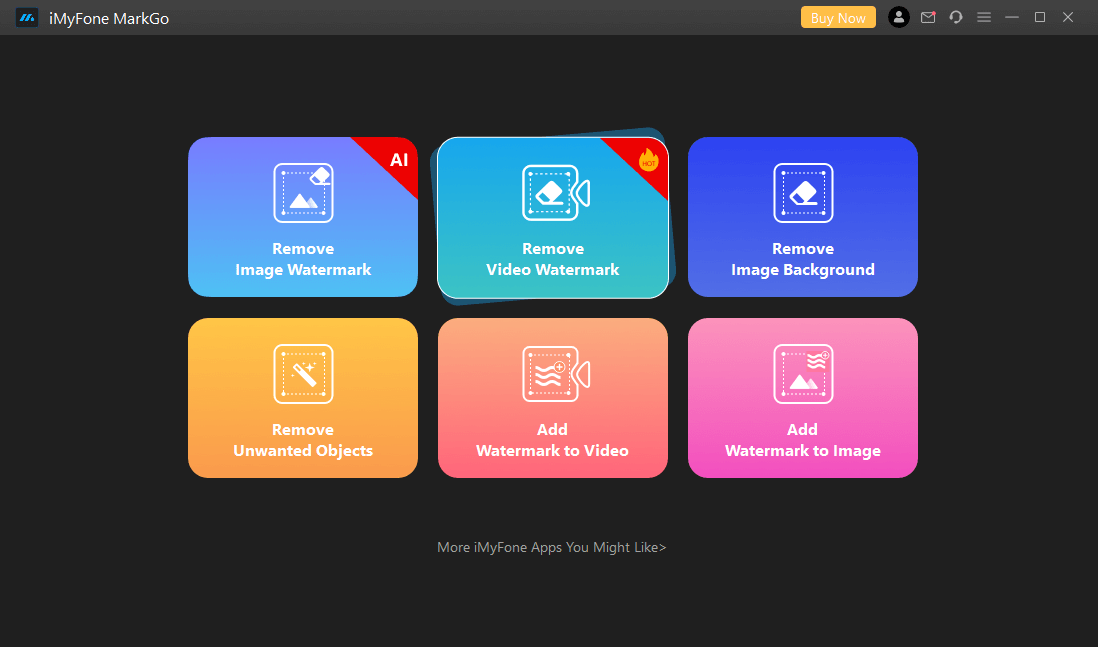 Step 3: Use selection tool to select watermark area
Using the selection tool, select the area of the watermark you want to add.
Step 4: Click the add now button
You have now successfully add the watermark! Examine the specifics of your photographs and make minor adjustments to add any watermarks.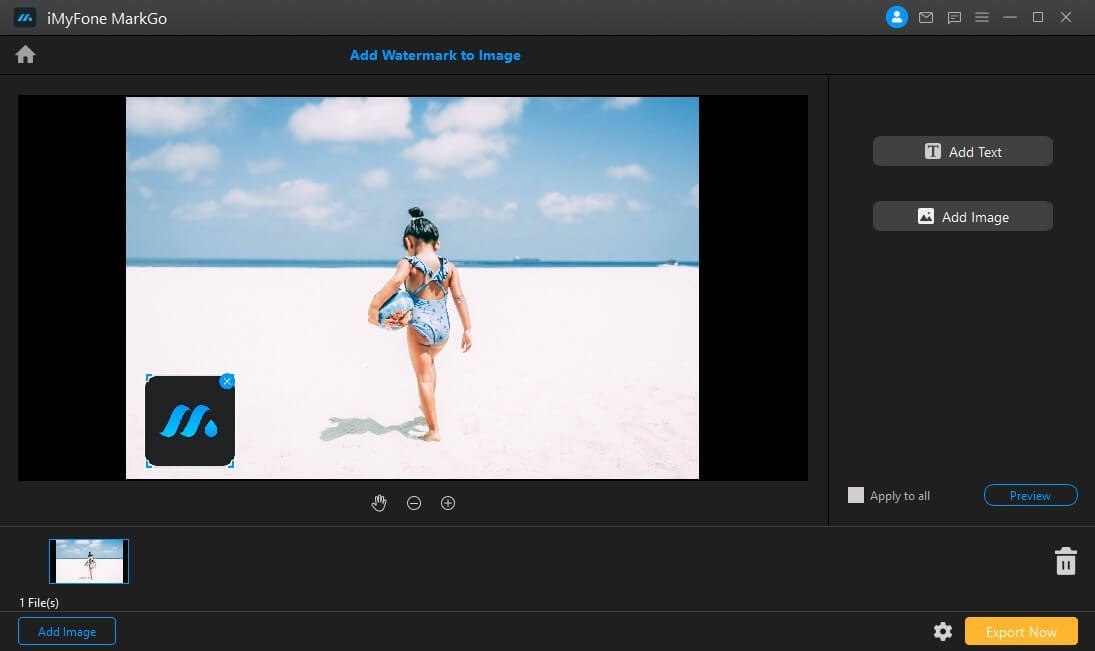 Step 5: Export the video/image
After you already add the image/video watermark successfully, you can export it now.
Why is Filme MarkGo better than other alternatives in the market?
· It's cheap to buy and easy to install on your Macbook or Windows devices
· You are provided with AI-powered technology for removing or adding watermarks to videos or images.
· It's quick and easy to understand.
· Anyone from beginner to professional can capitalize on the tool to add text to photos without watermarking or adding text to videos.
· You can buy it for a lifetime at a very reasonable price.
Pro:

Watermarks can be add with only one click, and no technical understanding is necessary.

With no traces, it's simple to add and apply watermarks to films and photos.

Best add watermark software that also allows you to test compatibility.

For copyright reasons, you can add a watermark on up to 100 photos in a group.
Tips
Hunting for a tool to add image to videos in batch without quality loss? Why not try
iMyFone MarkGo
, a professional watermark tool that helps you add watermark and image with one click.
Add Image to Video without Watermark--iMovie
iMovie is a digital video editing tool for Macs and some iOS devices. You can import video from a variety of sources (such as a MiniDV tape, VHS tape, or DVD) or record directly in iMovie utilizing a Web cam with iMovie. After you've imported your video, you may edit it by trimming it, combining clips, inserting graphics, adding audio tracks, special effects, and transitions to make a final movie.
Method 1: Add Video Watermark in iMovie—Crop
Step1:Launch iMovie.
Step2: Drag and drop the video into iMovie as instructed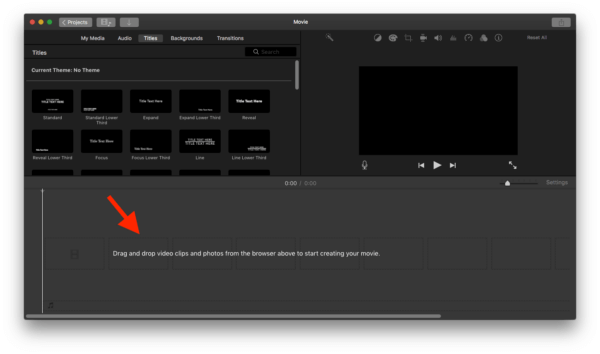 Step3: add the watermark.
Step4: Then go to File>Share>File
Pros:

Support MP4, MOV and other common video formats

Clips in 4K quality and MOV format are supported by the software.

It has a lot of filters, themes, and credit possibilities.

Compatible with the Mac family of devices
Cons:

Video uploading may take long or fail to upload

Download videos lose quality

Visible traces on watermarked area
Easiest Way to Add a Picture to Video Online for Free without Watermark - FlexClip
FlexClip is a free online video editor with no watermark that you can use to quickly and easily edit your video on your PC without a watermark. It's really simple to use, making it great for novices. The software has advanced video editing features as well as a large media library with royalty-free video, audio, and image resources.
Step1: Start with an intro/outro template.
Step2: Upload a background video from FlexClip's media collection or your PC if you want to start with a blank canvas.
Step3: Go to Overlays. Find the best combination sample of the logo and text. Edit the text, then upload your logo image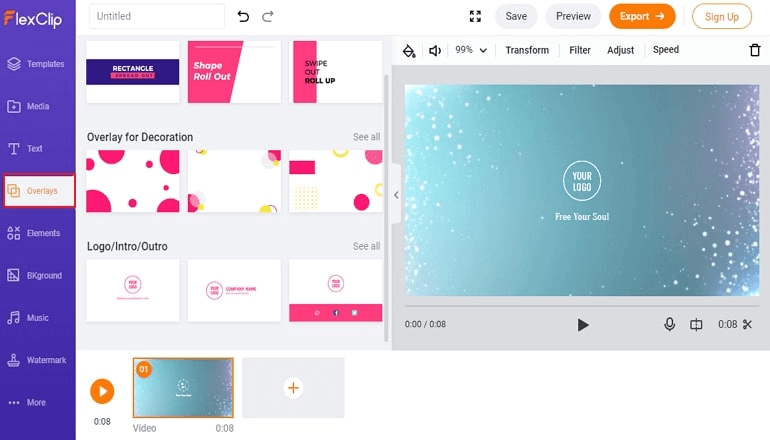 Step4: Set up any audio file as background music by going to the Music section.
Step5: Export and distribute. Save the intro/outro video to your computer or share it to YouTube with a single click.
Why Recommend flexclip
· Free and easy to use.
· Intuitive and user-friendly interface.
· No watermarks.
· No experience or skills needed.
· Rich video editing features.
· Edit a video in minutes.
How to Add Images to Videos Online without Watermark--EasePaint
The best software the company has ever released. It is well-known for its user-friendly design, and most computer users do not require training to utilize the most recent version of the software. Furthermore, the earlier edition of EasePaint Watermark Remover Serial Key is a little more difficult to use.
Key Features

You may make things even more efficient by utilizing the user interface's side walls.

The path is quite easy to unroll the post with EasePaint Watermark.

With a well-thought-out administration framework, the interface is fluid and strong.
System Requirements

Operating System: Windows 10/8/7/Vista/XP.

Free Hard Disk Space: 100 MB of minimum free HDD.

Installed Memory: 1 GB of minimum RAM.

Processor Required: Intel Core 2 Duo or higher.
Pros:

In addition, Optimize the software interface.

Moreover, Fix other known issues.

However, Fix some fonts can't be use issue in Watermark Photo.

Similarly, Fix the video can't be a play issue after maximizing the window in Watermark Video.

Optimize the software interface.
How to Use EasyPaint
· Step1: Download the software.
· Step2: Extract the archive using the WinRAR software on your PC.
· Step3: Run the setup.exe file from the extract files.
· Step4: Continue the installation until it is complete
· Step5: Close the program and run it again.
· Step6: Finish. Enjoy the free full version of Ease Paint Watermark Remover Licensed.
FAQS---Easy Ways to Add Image to Video without Watermark


1. Is It Possible to Apply One Watermark to Multiple Images?
Yes, MarkGo possible one watermark apply to multiple image
2.How can I add a watermark on ios?
Step 1. Upload video or image to MarkGo watermark remover app
Step 2. Locate the MarkGo watermark and adjust the selection box.
Step 3. Preview and export
3. How do I add watermark a JPEG on a Mac?
On the Design tab, select Watermark.
In the Insert Watermark box, select Picture > Select Picture, and then browse to the picture you want to use.
Next to Scale, make sure Auto is selected and Washout is checked, and then choose OK.
Conclusion
MarkGo is recommended for add image to video online free without watermark simple watermark, textual content, background, and object removal. However, it is not particularly beneficial for sophisticated tasks. In any case, you can test the textual content free model to evaluate if the product meets your needs. The Best Featured with AI based technology, iMyFone MarkGo provide auto watermark detection to help you add image and remove watermark without a pause, which has been used for nearly all the purposes related to watermark removal. So if you want to add photo to video, you can easily use iMyFone MarkGo for better results.