The fusion of AI technology and creativity has given rise to an exciting frontier: NSFW AI generator. NSFW, or "Not Safe for Work," content encompasses explicit and adult material that was once taboo.
With the advent of artificial intelligence (AI), artists, content creators, and enthusiasts now have powerful tools at their disposal to explore their creative boundaries.
In this article, we will walk you through the best NSFW AI art generator, NSFW AI chatbot, NSFW AI story generator, and NSFW AI voice generator.
Let's dive right in!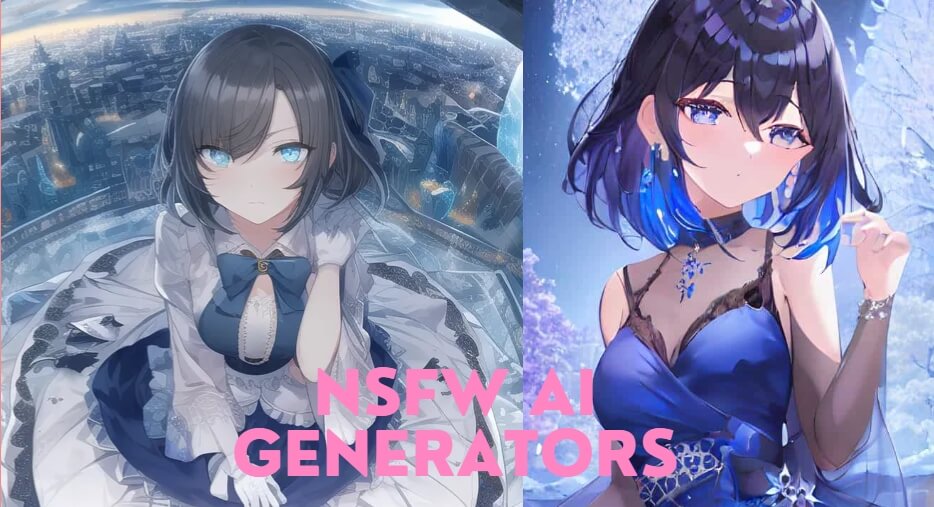 Part 1. What is NSFW and NSFW AI Generator?
NSFW, or "Not Safe for Work," refers to explicit art unsuitable for public or workplace settings. AI has enabled controversial art creation.
Recent years have seen the emergence of NSFW AI generators, blending AI and adult content. These tools generate explicit content tailored to user preferences, such as NSFW AI art, chatbots, story and voice generators.
NSFW AI Art Generators use complex algorithms like Stable Diffusion to create vivid and provocative images for mature audiences.
An NSFW (Not Safe for Work) AI chatbot is a chatbot or artificial intelligence system designed to engage in conversations or provide responses that contain explicit, inappropriate, or adult content, unsuitable for workplace or public environments.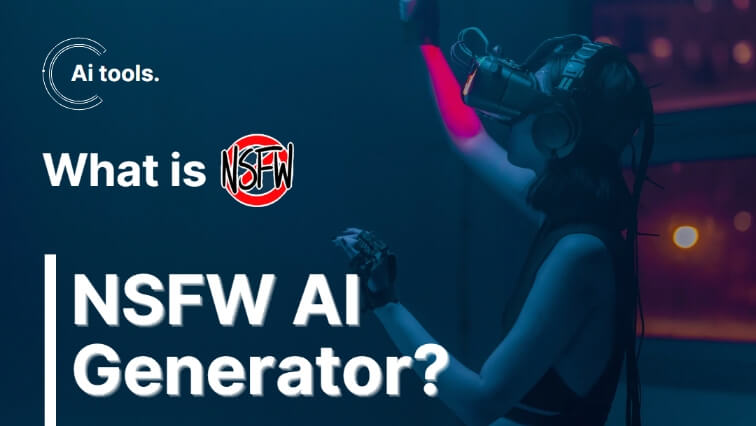 NSFW AI voice generators are often used in adult-oriented or mature-themed content creation, including adult entertainment, audio content, or applications where explicit voices are desired.
An NSFW (Not Safe for Work) AI story generator is a type of artificial intelligence software or tool designed to generate explicit or adult-themed written content, such as stories, narratives, or text-based scenarios.
Part 2. 9 Best NSFW AI Art Generators to Create Images from Text
Unstability.AI is an AI image generator designed by the admin of the Stable Diffusion Discord server due to the platform's NSFW content restrictions. This tool leverages the Style GAN technique to create realistic and unique NSFW images.
Known for its capacity to produce abstract and surreal visuals, Unstable Diffusion offers complete customization, allowing users to fine-tune output by adjusting various factors and settings.
Price: Free, 52 credits per day.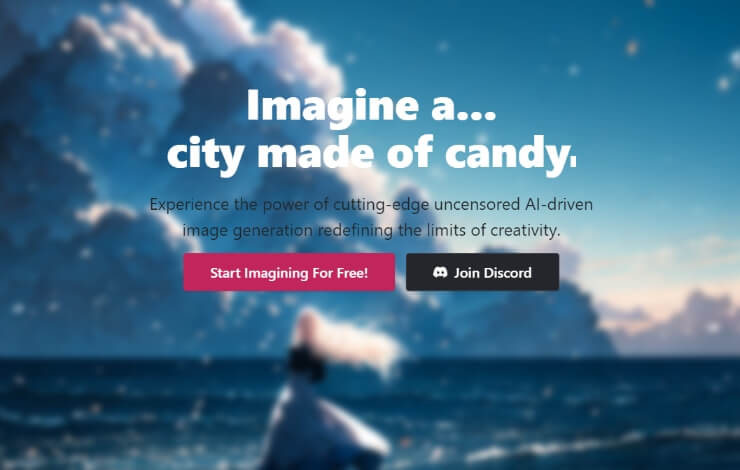 How use Unstable Diffusion to Generate NSFW AI art:
Step #1: Head to its website & Click "Start Imagining For Free".
Step #2: Enter the prompt to describe what you want to generate, choose Genre and style, and click "Create" to get the NSFW AI art.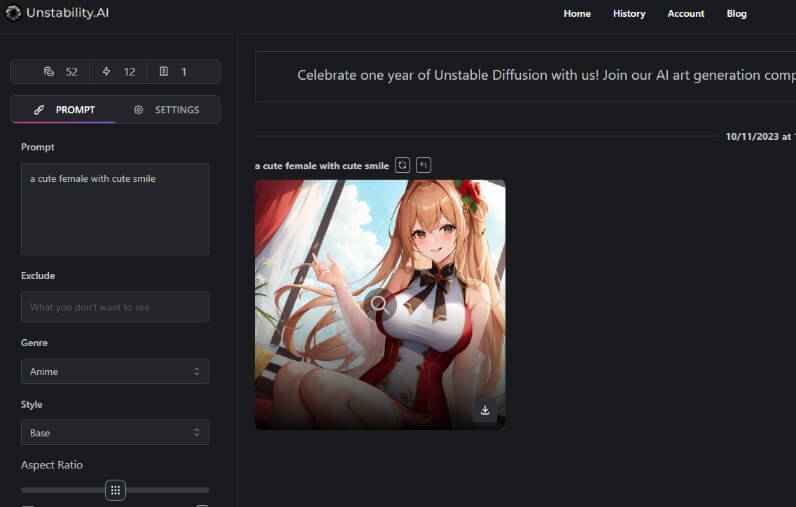 Step #3: Download the result.
Pros:

High-quality, intricate NSFW images.

Distinct and unique aesthetics in the generated content.

4 genres and 2 styles to choose from.

Has free credits to use per day.
Cons:

Limited library of NSFW content.

Occasional registration issues.
PixAI stands out as an NSFW AI art generator with unique features. It offers VisualChat, allowing users to interact with its Image Bot for custom art pieces. Users can input their ideas, utilize various prompts, or even upload reference images for AI-generated art.
All you need to do is to enter your text prompt or upload reference images, choose various styles, and click "generate", you will get perfect NSFW AI art cater to your preference.
Price: Available for free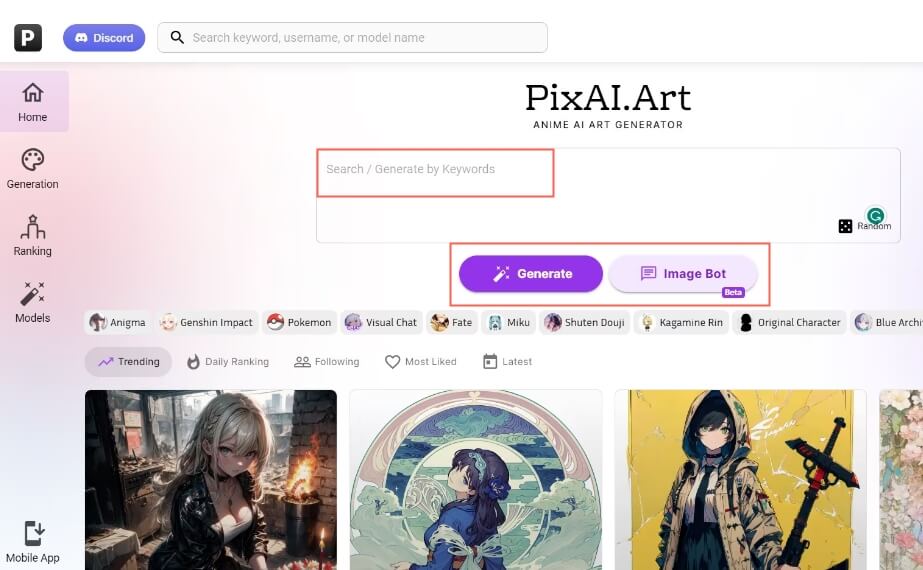 Pros:

A wide range of art styles in its Models Market, including Daydream, Whimsical, and PixAI Western Real Style, etc.

Users can generate NSFW AI art from text prompts or reference images.

Uncensored images, even in the free version.

Advanced settings like HiRes for clearer images and precise image control.
Cons:

Potential wait times, particularly for detailed art creations.

It is semi-NSFW.
Yodayo is an advanced NSFW AI art generator designed for mature audiences. It not only generates special art but also offers a unique feature called the Tavern, allowing users to chat with a fun character.
You only need to head to "AI Art", enter your prompt, and you can get the perfect NSFW AI art cater to your preference within 2 seconds.
What's best is that you can gain access to the engaging community for sharing AI creations.
Price: Users obtain 100 free YoBeans daily; purchase starts at $5 for 550 YoBeans.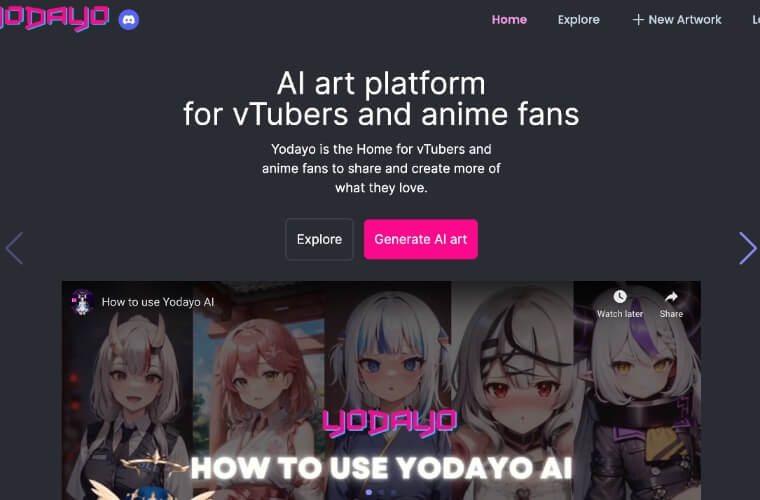 Pros:

Provides various model styles, like realistic, cute anime, and 3D-style models, and more.

Users can select from special spells like 2011 racing Miku clothes, 2B style, or silent voice style

Yodayo ensures responsible art creation by preventing the posting of inappropriate or disturbing content.

The platform is easy to navigate, feature-rich, ad-free, and offers advanced customization settings.
Cons:

Depending on usage levels, there may be a slight wait time, typically ranging from 5 to 20 minutes.
SoulGen.ai is a versatile NSFW AI art generator renowned for producing realistic and detailed images using deep learning technology. With an extensive library of NSFW content, it covers people, anime, and mythical creatures.
Notably, it excels in generating both lifelike and anime-style images with exceptional accuracy, making it suitable for artists and designers of all skill levels.
Price: Free trial; Pro version is available at $9.99/month or $69.99/year.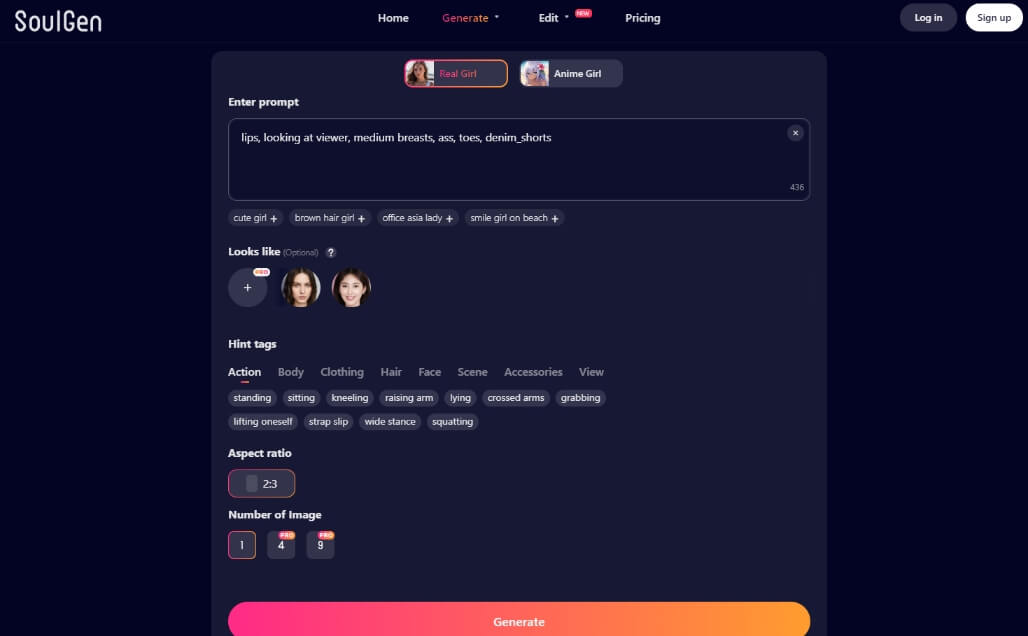 How use SoulGen.AI create AI girl:
Step #1: Enter this website.
Step #2: Enter prompt.
Step #3: You can upload photo of anyone you want the AI art to look like.
Step #4: Customize the hint tags, including action, body, clothing, hair, face, etc. to cater to your preference.
Step #5: Click "Generate" to get the NSFW AI art.
Pros:

High-quality NSFW images that are realistic and visually appealing.

User-friendly interface for easy exploration and creation of NSFW artwork.

Allows to customize the details, like action, body, clothing, hair, and more.

Enables to let the AI generated art look like somebody you want.
Cons:

Solely accessible online, without a dedicated app version.
PicSo is a highly popular AI tool designed for creating artistic and NSFW character images. It stands out for its ability to generate stunning and highly detailed images from text or prompts in a wide range of artistic styles.
It tends to be explicit compared with other nsfw ai art generator.
Price: Offers a free trial.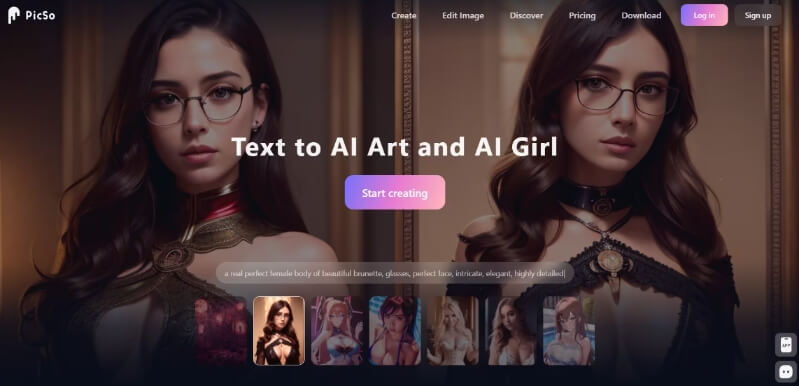 How use Picso create AI girl:
Step #1: Head to this website and click "Start creating".
Step #2: Enter prompt, and tap on "generate".
Step #3: Download your dream girl.
Pros:

Produces high-quality, realistic, and detailed images.

Offers versatility in generating NSFW content across various art styles.

Provides access to NSFW anime-style images.

PicSo offers two AI girl styles, real and anime. Users can even upload clear photos of a frontal face to personalize their art.
Cons:

The free plan is exclusively available on Android and iOS platforms.
Sexy AI is an NSFW AI art generator specifically tailored for adult-themed artwork. It is essential to note that users must be 18 years or older to access this platform.
Price: Accessible for free with a pro membership option available at $10 per month.

Pros:

Users enjoy uninterrupted art creation without encountering ads.

Offers various styles, including Realistic, artistic, and empower.

The platform permits the generation of up to 2 images at no cost, even without requiring an account.
Cons:

Limited customization options, such as sampling methods and seed values
Mage Space is an NSFW AI art generator utilizing a stable diffusion-based model. This platform is designed to create NSFW images that maintain a level of safety, ensuring they are not overly explicit, making them suitable for a wider audience.
Price: The platform offers a free plan, and users can opt for the basic plan at $4 per month.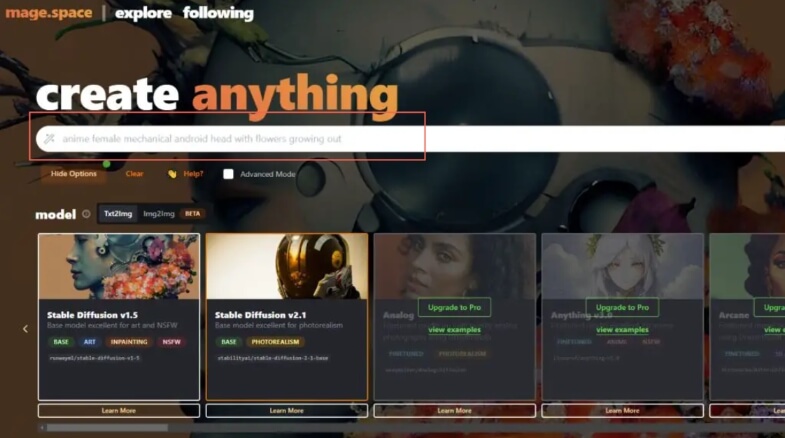 Pros:

Create an unlimited number of AI art creations for free and keep them private.

Mage Space offers a straightforward and quick method to generate AI art.

Allows customization of settings like the model seed value, negative prompts, and samplers for personal preference.
Cons:

To access and view NSFW AI-generated images, users need to upgrade to the basic plan, which is priced at $4 per month.
OnlyBabes.ai is an AI art generator tailored for creating NSFW and uncensored images. This tool is specifically designed to generate unlimited, uncensored art to cater to various fantasies and preferences.
Price: Gold membership is available for $14 per month; The platinum plan is priced at $23 each month.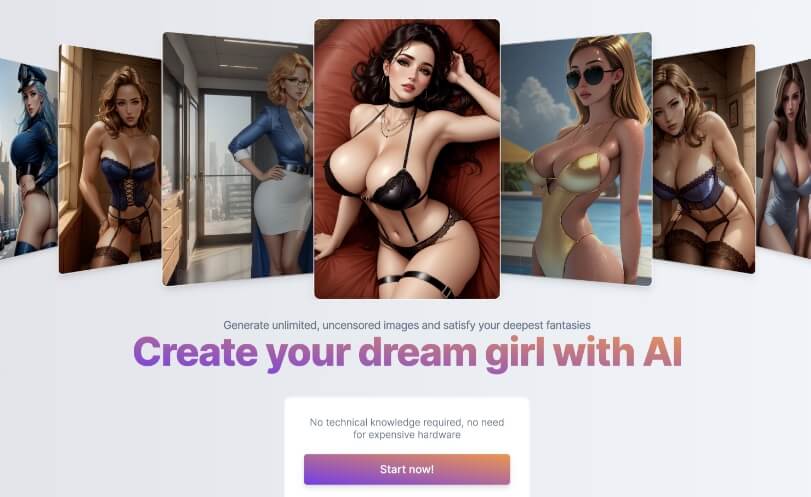 Pros:

Different art styles, including Elegance, perfection and spicy.

It's accessible and user-friendly
Cons:

Users need to create an account to get started, but this helps ensure a safer and more personalized experience for all users.
Part 3: Bonus Tip: Generate NSFW AI Voice for Voice Change and TTS
MagicMic is a real time AI voice changer that offers nsfw AI voice for users to change their voice into that of sexy girls in real time, with which users can endow their dreamgirl with nsfw voice.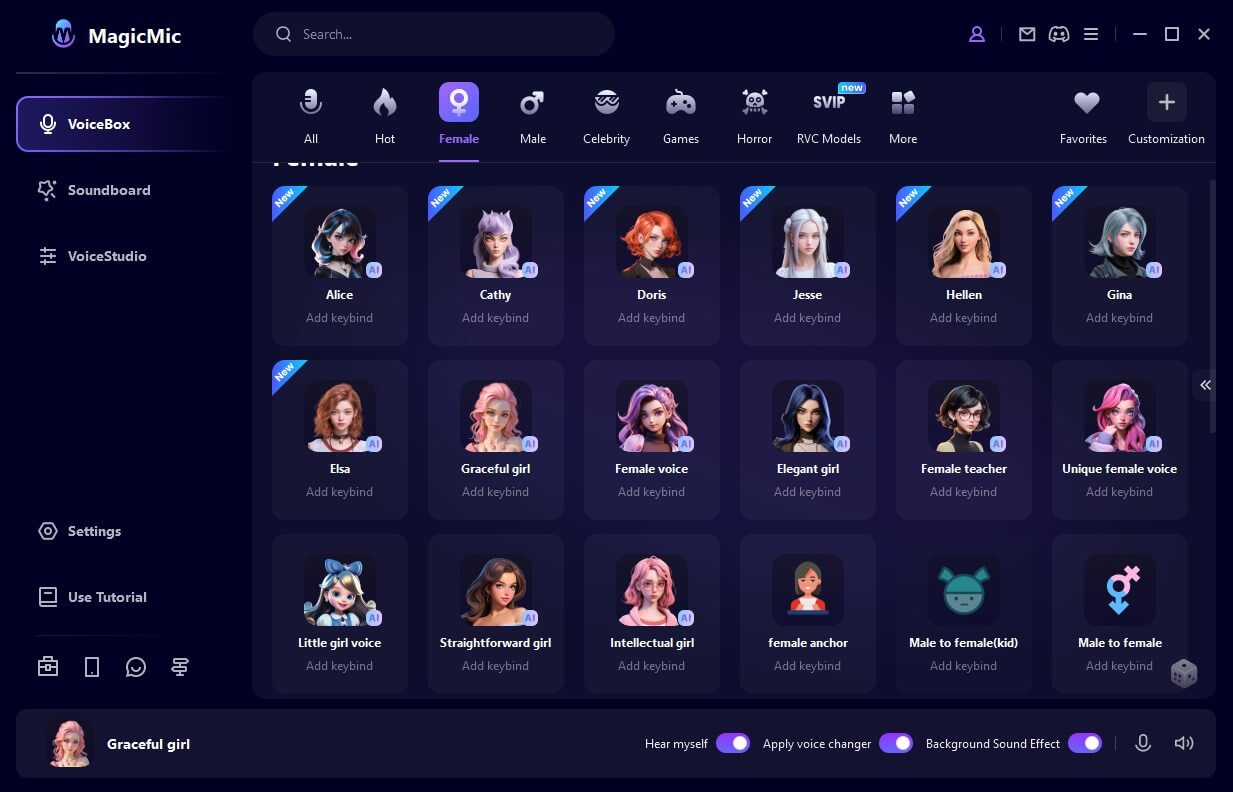 Free Get NSFW AI Voice in MagicMic:
Step 1: Download and Launch this Application
Step 2: Configuration
Enable "Apply Voice Changer" for immediate voice change, and activate "Hear myself".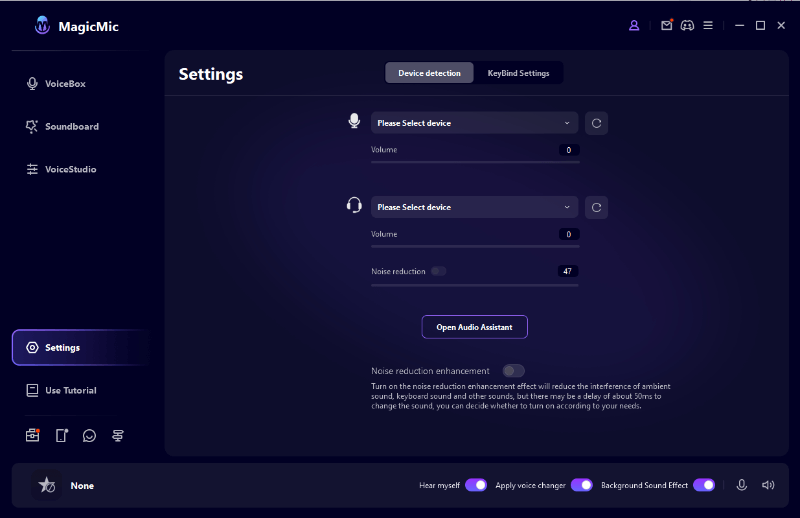 Step 3: Audio Device Selection
Opt for the Voice Changer Virtual Audio Device as your app's input.
Step 4: Get NSFW Voice AI for Real-Time Voice Change
Search for "Baby" to get the realistic baby AI voice in MagicMic.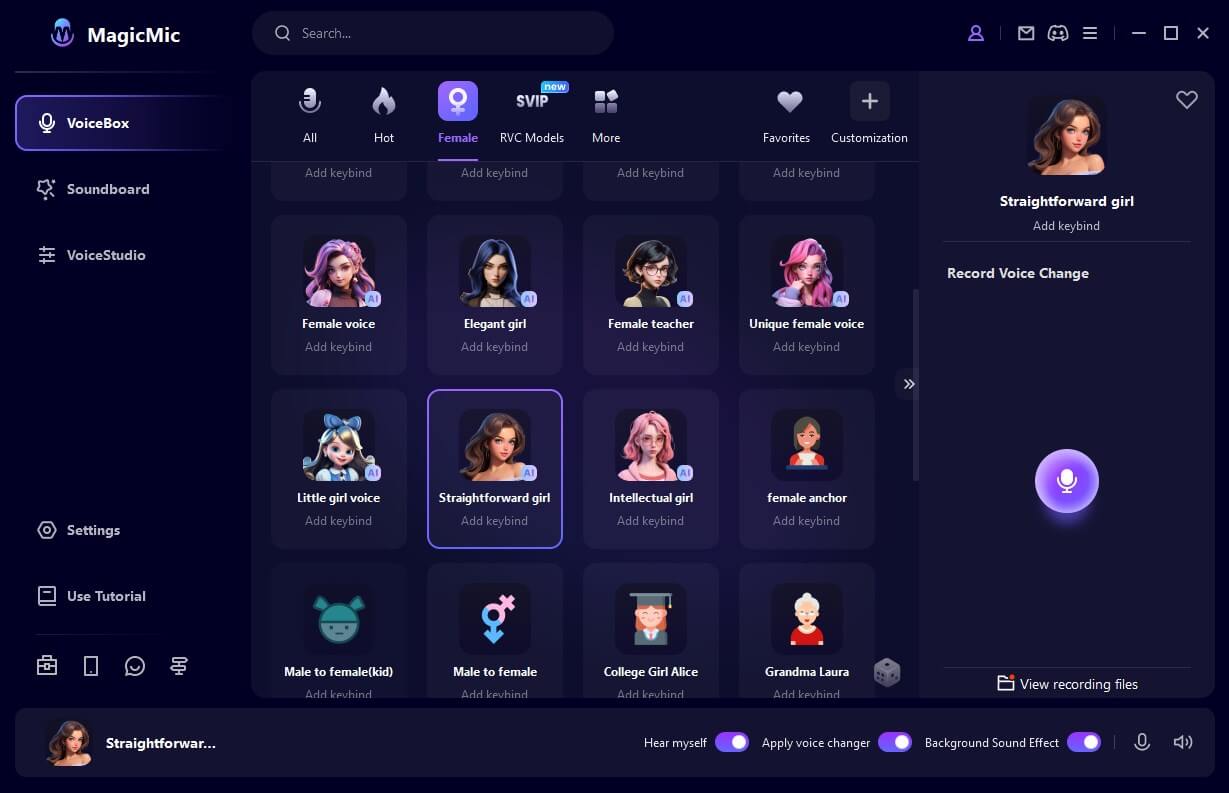 Special Offer: Get Official MagicMic with A Discount
35% off Coupon Code: MAGICMICYT
Key Features:
Access to 225+ AI voices, including NSFW AI voice, satisfying all your needs in streaming, gaming, or pranking.

Make your streaming more fascinating and vivid with 600+ voice effects and 200+ voice memes.

Improve audio recording and quality for a top-notch listening experience.

Allows to generate any voices that you want to transform into only by uploading audio files.

Personalize and customize any voice to make it what you want.

Integrate with well-known platforms such as Discord, Fortnite, Valorant, Zoom, Twitch, and more.
If you desire NSFW AI voice to dub for your video or digital content, head to VoxBox, where you can find various NSFW AI voices like voices of some Vtubers, including Gawr Gura, Hatsune Miku, and more.
Additionally, VoxBox enables users to dub in 77+ languages using nsfw voices, and it also allows to clone anyone's voice to be used in their own content creation.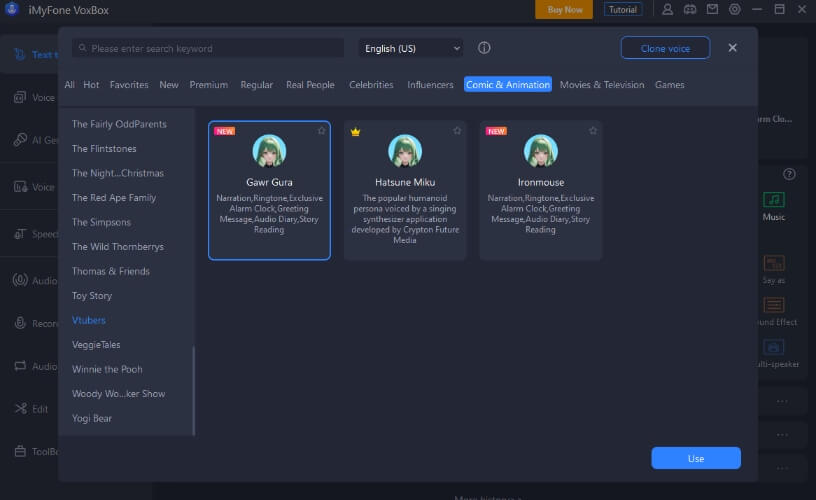 Key Features:
Gain access to an extensive collection of 2000+ free character counts for text-to-speech conversion.

Powerful voice clone enables any voice generation with high quality.

Select from 3200+ voices available in 77+ languages.

Text-to-speech, speech-to-text, recording, editing, and audio conversion, all-in-one.

Export results in the format of MP3, WAV, Ogg, and more.

Perfect for audiobooks, podcasts, content production, and more.
Part 4: Chat with Your AI Companion Now!
Replika is a NSFW AI chatbot designed for adult conversations and role-playing scenarios. It serves as a popular choice for those seeking online, adult-oriented experiences.
While it may not be suitable for everyone, it has garnered significant attention as a unique application of AI technology.
Pros:

Offers customization to create a personalized AI companion, whether as a girlfriend or boyfriend.

Capable of generating NSFW chat content.
Cons:

Does not produce explicit images or artwork.

The web version has limited customization options.
CrushonAI is another NSFW AI chatbot, with which you can chat with a range of persona, ranging from seductive fox girls to anarchic fictional characters.
Pros:

A library of persona types available to conduct NSFW chat with.

Allows interactive chatting with any characters.

Enables to create unique and personalized characters.
Cons:

Some advanced persona options need to upgrade to premium feature to unlock.
Part 5: NSFW AI Story Generator to Make NSFW AI Story
NovelAI is a tool for generating personalized NSFW written erotica using AI algorithms. It can create sexy stories based on user-provided elements like characters, settings, and narrative, catering to individual preferences.
It's a valuable resource for authors seeking inspiration or readers interested in customized erotic stories.
What's best is that it now has released its new feature to convert text to image.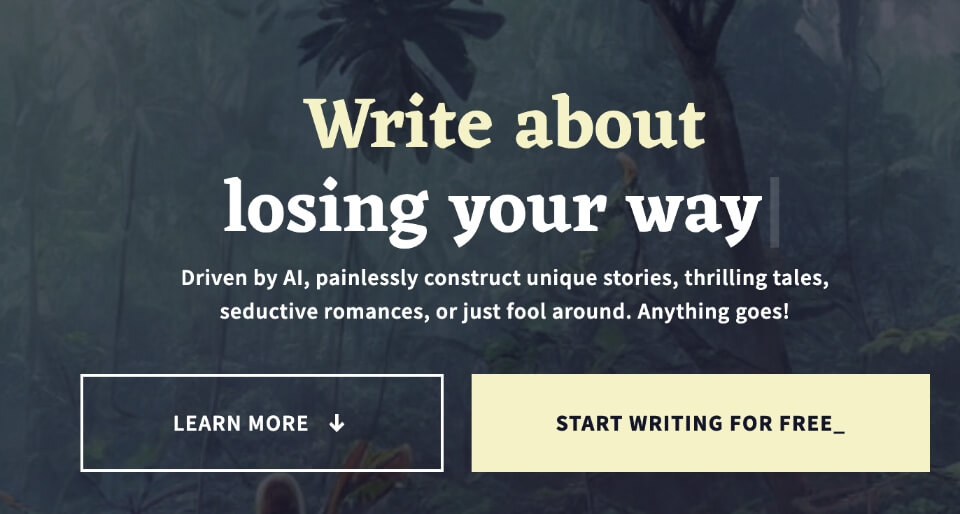 Pros:

Generates adult content from text.

Offers NSFW art based on AI-generated erotica.
Cons:

Limited options for NSFW images.
Part 6: Hot FAQS about NSFW AI Generator
Is there an AI that allows NSFW?
Yes, there are AI tools designed for NSFW (Not Safe For Work) content creation, including images, stories, chatbots, and voiceovers, including Yodayo, Picso, Sexy AI, NovelAI, Replika, and more.
Is there a NSFW AI with no limit?
Yes, NSFW AI generators like CrushOn.AI and SExy AI allows users to have nsfw chat or generate NSFW AI art.
What is the best NSFW AI for Iphone?
While there isn't a specific "best" NSFW AI for iPhone, several AI tools with NSFW capabilities are accessible on iOS devices, such as OnlyBabes.ai. Availability may vary by region and app store policies.
Can you use Midjourney for NSFW?
No, Midjourney has an NSFW filter.
Is there an AI to make NSFW story?
Yes, there is a NSFW AI story generator that can make NSFW stories, with which you only need to offer setting, narrative and characters.
What is the best NSFW AI for chat?
Crushon.AI is the best NSFW AI chatbot that offers a wide range of characters for users to conduct nsfw chat with.
Is there an AI offering NSFW AI voice?
Yes, MagicMic and VoxBox are AI voice generators that boasts NSFW AI voices for users to conduct real-time voice change or make text to speech voiceovers.
Final Thoughts
In a world where creativity knows no bounds, NSFW AI generators have emerged as powerful tools for artists, content creators, and enthusiasts. From visual art to storytelling, voice transformation, and engaging conversations, these tools have redefined creative expression.
Ready to embark on your creative journey? As we have reveiwed several NSFW AI generators meeting all your needs. Download MagicMic now and unleash your imagination with NSFW AI generation.