Are you a fan of PackGod's witty roasts and humorous remarks? Do you want to gain PackGod soundboard to add a touch of PackGod's charm to your content creation, gaming, or streaming endeavors?
In this article, we'll dive deep into the world of PackGod and explore the best PackGod voice changer and Soundboard options available. Whether you're a content creator, gamer, or simply looking to have some fun, we've got you covered.
Let's embark on this journey to discover the perfect soundboard for you!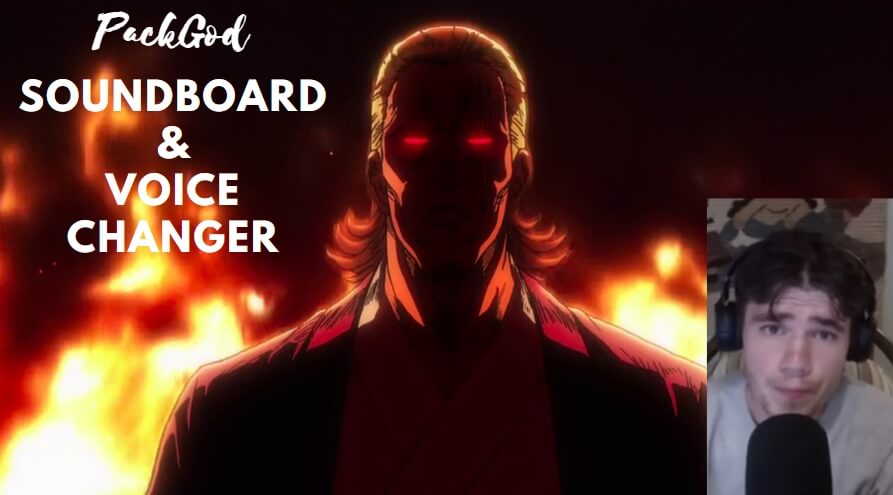 Part 1: Basic Info about PackGod
PackGod, whose real name is Elias Lichten, is a prominent American YouTuber known for his distinctive content style. He specializes in roasting individuals on Discord and creating diss tracks aimed at fellow YouTube channels.
His videos are centered around a specific style of trash-talking known as "packing," characterized by quick insults and humorous remarks directed at his targets. Notable recipients of his witty insults include well-known YouTubers like IShowSpeed, steak, and JiDion, as well as various interesting personalities on Discord, such as furries, E-girls, and Discord moderators.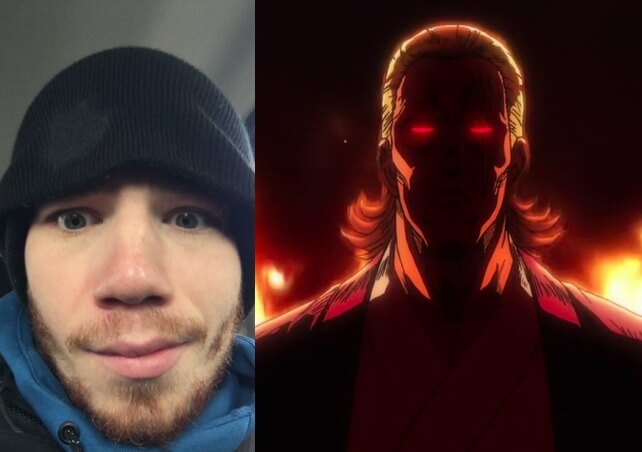 Part 2: Best PackGod SoundBoard Recommended
MagicMic is a powerful PackGod SoundBoard that allows real-time audio modification on both Windows and Mac systems. With a single click, users can access a wide array of audio filters and effects, making it the ultimate choice for transforming your voice during gaming, streaming, conversations, or video broadcasting.
Apart from various soundboards, this versatile tool offers 225+ AI voice filters, 600+ voice effects, 200+ voice memes, and an impressive voice cloning feature, enabling effortless voice transformation.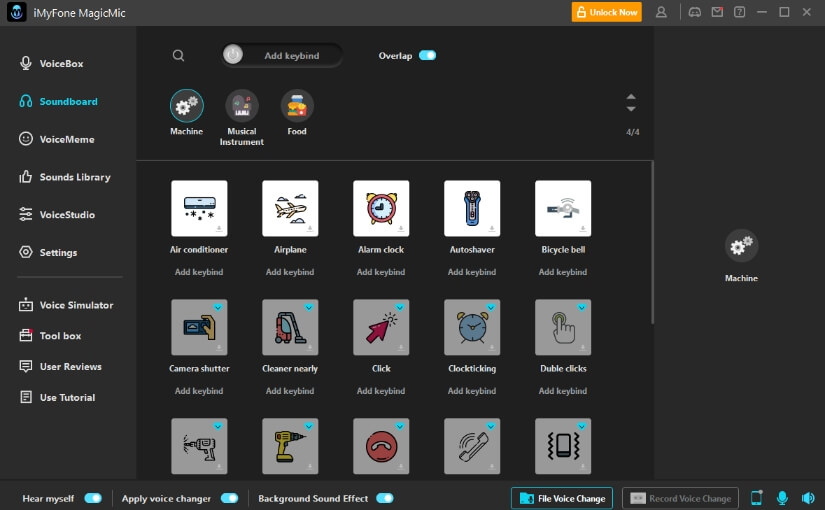 Key Features:
Access to PackGod soundboard and others trendy on the internet.

Access 600+ voice effects, 200+ voice memes, and 225+ voice filters for instant voice transformation.

Generate any voice as you want only by uploading corresponding audio file.

Change your voice in real-time during games, streaming, and more.

Set up hotkeys for quick application of sound effects or voice filters.

Seamlessly integrate with Discord, Fortnite, Valorant, Zoom, Twitch, and other platforms.
2. Myinstants PackGod Soundboard
Myinstants Soundboard is a popular choice to gain PackGod soundboard for adding PackGod's iconic effects to your audio, especially favored by meme creators for its extensive collection of humorous memes.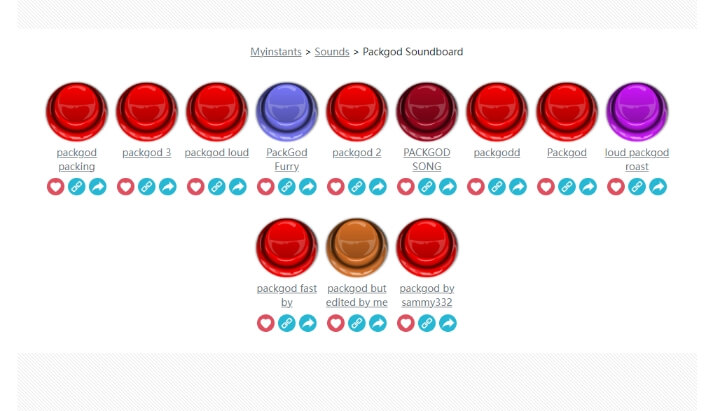 Key Features:
Access a wide variety of soundboard buttons for versatile audio customization.

Easily navigate through categories to select your preferred sound effects.

Share your chosen sound effects across platforms with a single click.

Save your favorite sound effects for quick and convenient access.

Stay updated on the latest trending sound effects.
3. 101SoundBoards
101Soundboards, offering PackGod soundboard, is a versatile platform that allows you to explore a vast library of sounds, offering millions of options. You can search or browse by category, favorite sounds, and even upload your own to create a personalized soundboard.
Additionally, it provides text-to-speech voices for reading text aloud and offers enhanced features when you create an account. It's a fun and creative way to play with a wide range of sounds for various purposes.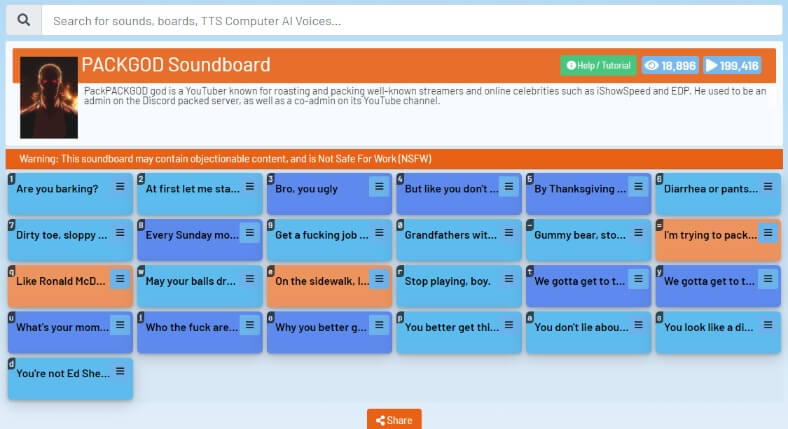 Key Features:
Access an extensive library with millions of sounds to suit your needs.

Upload your own sounds to create a personalized soundboard.

Save and access your favorite sounds for quick use.

Utilize text-to-speech voices for reading text aloud.

Create an account for additional features and customization options.

Have fun playing with a wide variety of sounds for entertainment or creative projects.
Part 4: Bonus: Use PackGod Voice Changer to Sound Like Him in Real-Time
MagicMic - Best PackGod Voice Changer
As what we have mentioned before, MagicMic offers various AI voices for real-time voice change, including PackGod AI voice, apart from PackGod soundboards, and all you need to do is to upload an audio file featuring his iconic voice to effortlessly generate PackGod voice AI, best for pranking others, gaming, streaming, and more.
How Generate PackGod AI Voice in MagicMic:
Step 1: Download and Launch this Application
Step 2: Configuration
Enable "Apply Voice Changer" for immediate voice change, and activate "Hear myself"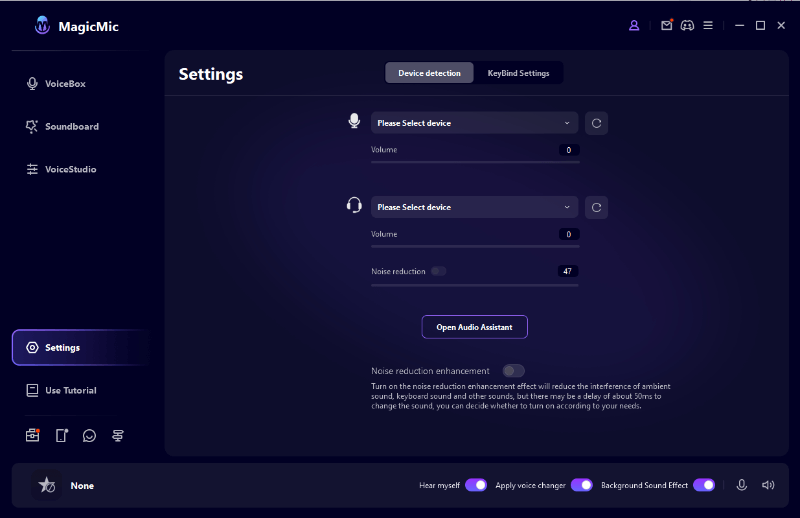 Step 3: Audio Device Selection
Opt for the Voice Changer Virtual Audio Device as your app's input.
Step 4: Get Voices or Effects
Create your preferred voice, like PackGod's, and establish convenient keybinds for smooth transitions between effects by uploading an audio file showcasing the desired voice.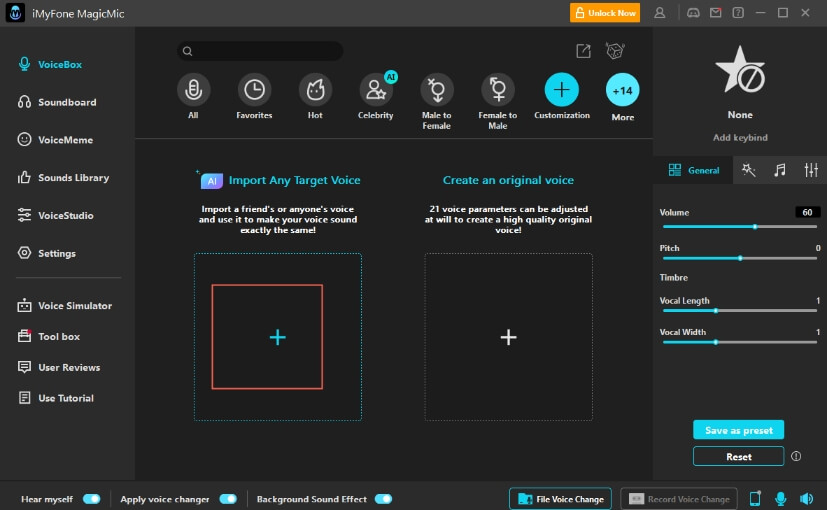 Part 5: Hot FAQs About PackGod SoundBoard
1. What is PackGod SoundBoard?
PackGod SoundBoard is a collection of PackGod sound effects that allows users to use in their content creation, streaming, gaming, and more.
2. Where can I get PackGod SoundBoard?
You can gain Packgod soundboard in MagicMic, where you only need to click it to use it in content creation or real-time conversation.
3. Can I change my voice into PackGod voice in real-time?
Sure, you can achieve that easily using MagicMic, and all you need to do is to generate PackGod AI voice and use it while gaming, streaming or pranking.
4. What is PackGod Voice Changer?
PackGod Voice Changer is a tool that allows users to alter their voices into PackGod voice in real-time, enabling various effects and voice transformations for creative and entertainment purposes.
Conclusion
In conclusion, whether you're a dedicated PackGod fan, a content creator seeking to add a unique touch to your work, or a gamer looking to level up your interactions, the PackGod soundboard offers endless possibilities.
With MagicMic, you can unlock PackGod's charm and creativity in your own digital content, and also can transform into him while conducting real-time conversation.
Don't miss out on the fun – download MagicMic today and start using his soundboards and sounding like PackGod in real-time.