AI generator animated short software is revolutionizing the field of animation like never before. These innovative tools not only significantly enhance animation production efficiency but also ignite unprecedented creative inspiration among creators.
In this article, we will introduce you to five leading AI animation generator software solutions that not only craft captivating animated shorts but also help you save time and effort.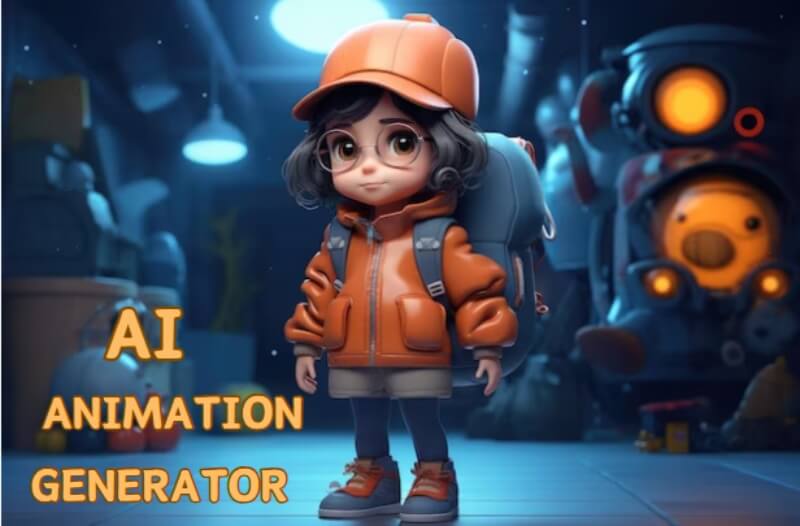 Part 1. What is AI Animation Generator?
An AI Animation Generator is a computer program that harnesses the power of artificial intelligence and machine learning to craft animations. These software tools can generate animations using a variety of methods, including relevant keywords or image inputs, and some have the capability to start from scratch.
The best AI animation generators excel at creating a wide range of visual content, such as presentations, slideshows, marketing and branding materials, promotional videos and advertisements, 3D models, explainer videos, whiteboard animations, and even post-production visual effects (VFX). These versatile tools empower users to create visually appealing and informative content.
AI animation software saves time and money, enabling users to concentrate on creativity, business goals, marketing, film production, and branding, without the need for traditional filming or acting.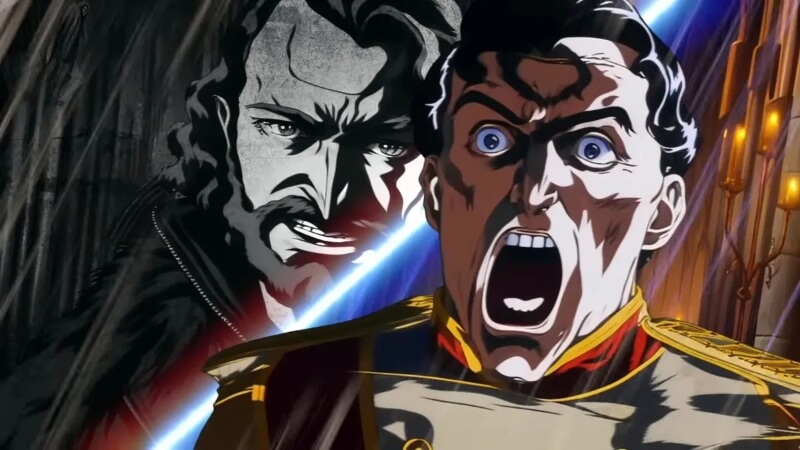 Part 2. Discover the Best 5 AI Animation Generators
The Krikey AI animation generator is a fantastic tool for storytellers of all kinds. It boasts user-friendly features, budget-friendly pricing, and an extensive array of customization possibilities.
With Krikey AI, you have the power to craft distinctive and captivating narratives destined to resonate with a global audience. This suite of AI Animation tools has completely transformed the animation creation process, dramatically cutting down production time from a laborious 5 days to just 5 minutes.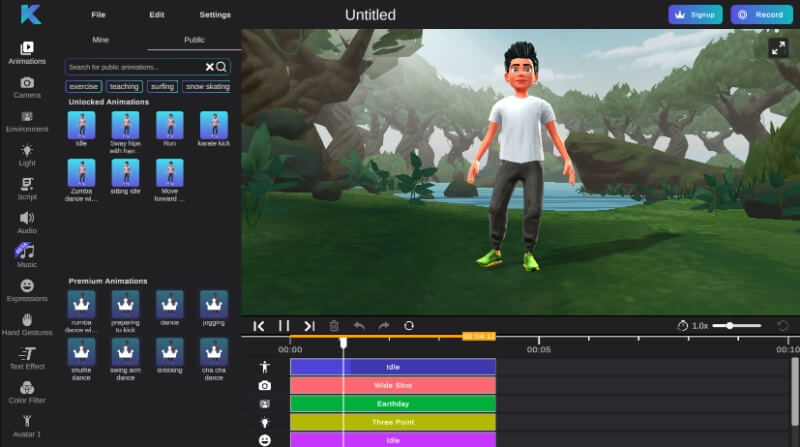 Crafting with Krikey's Text to Animation AI in 4 Simple Steps:
1.Begin by establishing your Krikey AI account to kickstart your cartoon-making journey.
2.Design: Personalize your 3D Avatar Cartoon Character to your liking.
3.Animate: Enter a text prompt (e.g., 'jumping jacks') or upload a video (e.g., someone performing a backflip).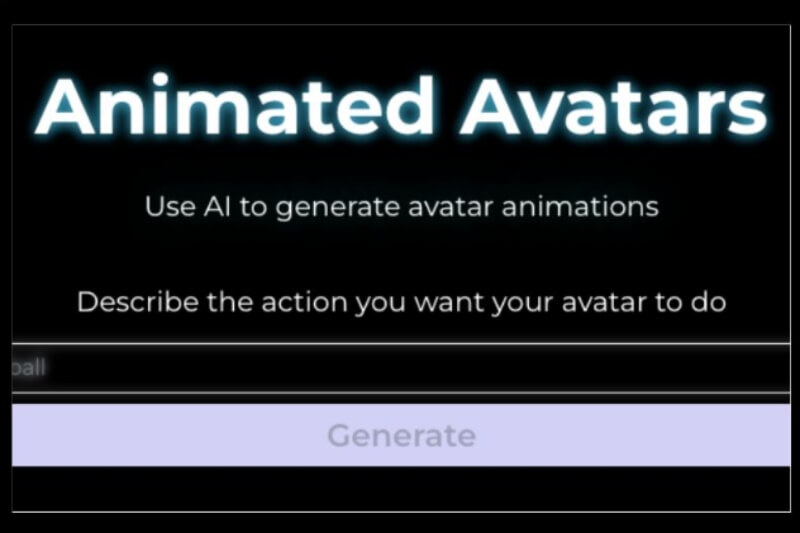 4.Watch the Magic: Krikey AI swiftly transforms your input into a captivating 3D character cartoon animation within minutes.
Key Features:
Krikey.ai offers a user-friendly interface that makes animation creation and customization effortless.

A vast selection of anime and cartoon customizations to tailor your animations to perfection.

Millions of 3D animations to enhance your storytelling with dynamic visuals.

Easily download and share your creations across platforms, connecting with a wider audience.
Appy Pie is your go-to AI Animation Generator. Transform text prompts into captivating animations effortlessly. Just visualize, type, and watch your ideas come to life. It offers features like AI Video to Animation, turning videos into engaging animations, and AI Image to Animation for dynamic image enhancements.
Appy Pie's tool lets you describe characters and scenes, bringing your words to animated reality. It's a cost-effective solution, saving you from hiring professionals or buying expensive software. Plus, it's designed for all skill levels, making professional-quality animations accessible to beginners and experts alike.

Your 3 Steps Path to use AI Animation Maker
Step 1: Start by entering your story, description, or script into the platform. The AI Animation Generator will analyze your text for context, characters, emotions, and settings.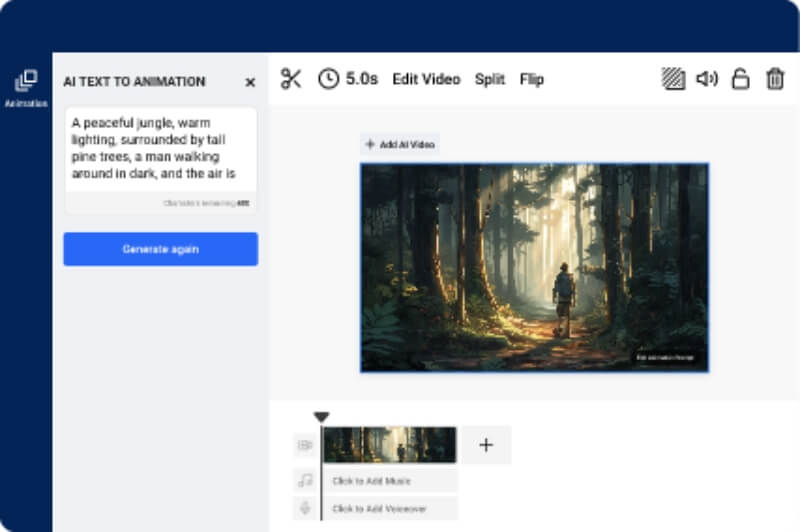 Step 2: Review the generated animation. Add background music, voice-overs, or adjust pacing to align with your creative vision.
Step 3: Once done, download the final output and share your animated tale on multiple platforms or mediums.
Key Features:
Intuitive NLP: Convert text into animations with natural language processing.

Real-time Previews: Instantly visualize and edit your animations as you create them.

Music Integration: Easily add background music to enhance your animations.

Voice-Over: Incorporate voiceovers for richer storytelling.

Dynamic Creation: Craft characters and scenes from text descriptions effortlessly.
Gooey.AI is an AI Animation Maker, simplifying the creation of AI-generated animations without the need for complex CoLab notebooks. With Gooey.AI, you can effortlessly input your prompts and keyframes to breathe life into your ideas, harnessing the animation prowess of Gooey & Stable Diffusion's Deforum. Bring your visions to animated reality with ease.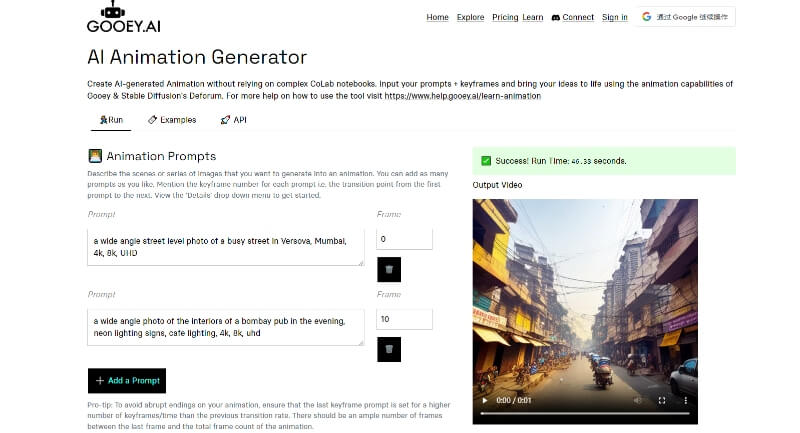 Key Features:
Unified Billing: Manage all billing accounts effortlessly in one place.

Code-Free Workflow Integration: connect custom AI workflows without coding.

Inspectable Workflows: Gain insights from others' impressive creations.

Transparency: Say goodbye to complex Google Colab notebooks.

API Integration: Easily connect your website or apps to numerous APIs or create your own.
The Neural Frames AI Animation Generator is a revolutionary tool that can revolutionize the animation workflow. This groundbreaking software streamlines the creation of digital video art, freeing you to concentrate on storytelling and conceptualization. It enables you to swiftly and effortlessly transform your concepts into captivating animations.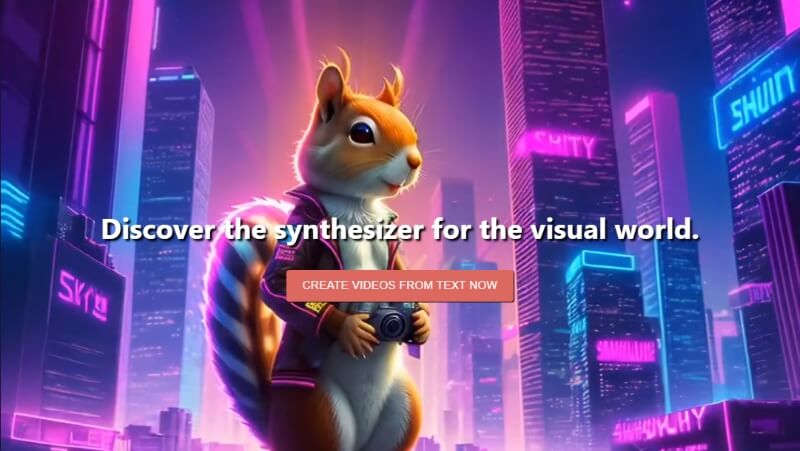 Key Features:
Limitless Creativity: Neural Frames brings your text prompts to life, from abstract art to hyper-realistic scenes.

Musical Enhancement: Upload songs and manipulate video elements to match different musical components.

User-Friendly: Easily place objects, create animated characters, all without the need for shooting.

Effortless Artistry: Neural Frames simplifies digital video art creation.
VideoScribe stands out as a beloved choice among whiteboard animation software for both animators and social media experts.
This AI-powered animation generator is your key to crafting engaging animated videos and marketing materials tailored for various social media platforms.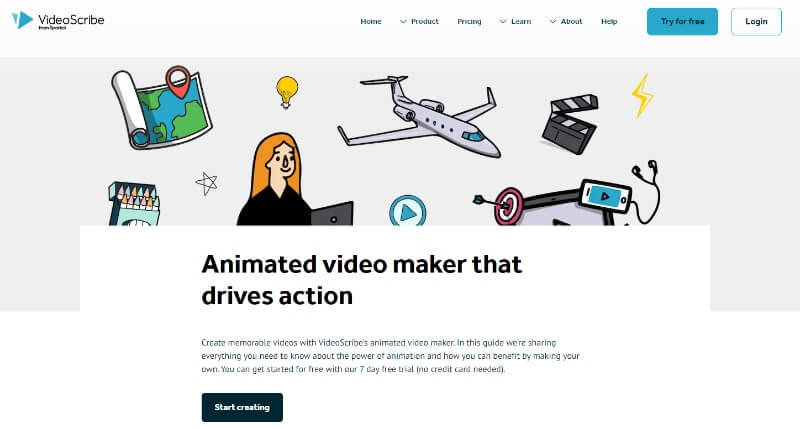 Key Features:
User-Friendly: VideoScribe is easy to navigate.

Effective Communication: Ideal for conveying complex messages to groups.

Artwork Flexibility: Easily upload custom artwork for professional videos.

Abundant Tutorials: Access numerous tutorial videos for learning support.
Part 3: Bonus Tip to Generate Animation Voiceover by TTS and Voice Changer
1) MagicMic - Real-time AI Voice Changer
MagicMic AI voice changer can tranform of your voice with over 250 diverse AI voice filters, all in real-time. With a library of 600+ voice effects and 200+ voice memes, enhance your favorite programs like never before.
MagicMic goes beyond voice alteration – it can even provide voiceovers for your AI generated Animation videos. It also supports voice recording and audio file voice alteration.
For a one-of-a-kind voice transformation, make use of the voice custom feature, all achievable with a single click. Elevate your audio experience with MagicMic today!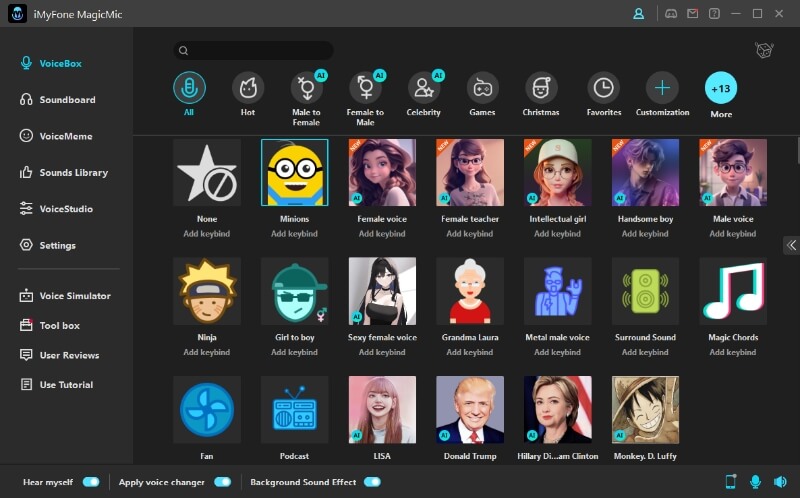 Key features of MagicMic AI voice changer
250+ voice variations, along with a vast library of 600 soundboards and 200 voice memes.

Low-latency, real-time voice changes for gaming and streaming on platforms like Discord, Twitch, Fortnite, Xbox, Skype and more.

Noise reduction for clear communication, even in noisy environments.

Tailor keybinds for precise gaming audio control.

Enhance audio quality for exceptional content creation.

Compatible with Windows, Mac, Android, and iOS
How to use MagicMic to change your voice in animated videos?
Step 1: Download and Set Up MagicMic
Start by downloading MagicMic from the official website or clicking below. Choose your microphone and headphones, then enable "Apply Voice Changer" and "Hear myself" at the bottom.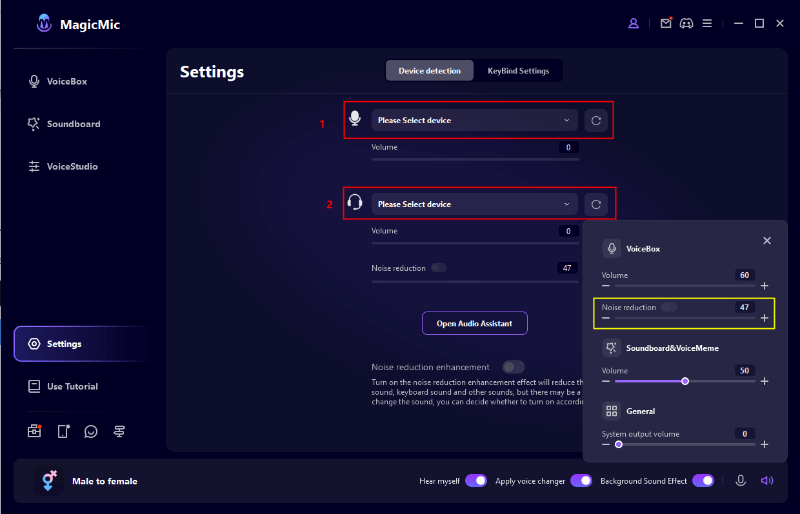 Step 2: Upload or Record Voice
Click on the "Tool Box" on the sidebar, choose to upload a file or record for voice modulation, select your preferred sound effect, then click "Export" to obtain the modulated voice.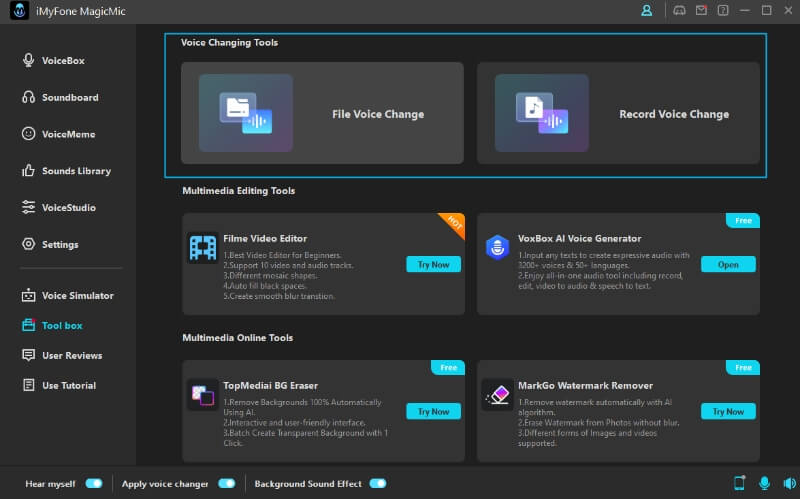 2. VoxBox - Animation Voice Text to Speech
VoxBox stands at the forefront of animation voice text-to-speech technology. It empowers you to access AI-generated voices for text-to-speech conversion, elevating your content creation, podcasts, audiobooks, dubbing, and beyond.
Moreover, VoxBox boasts an extensive selection of 3200+ voices, spanning celebrities, fictional characters, and many others.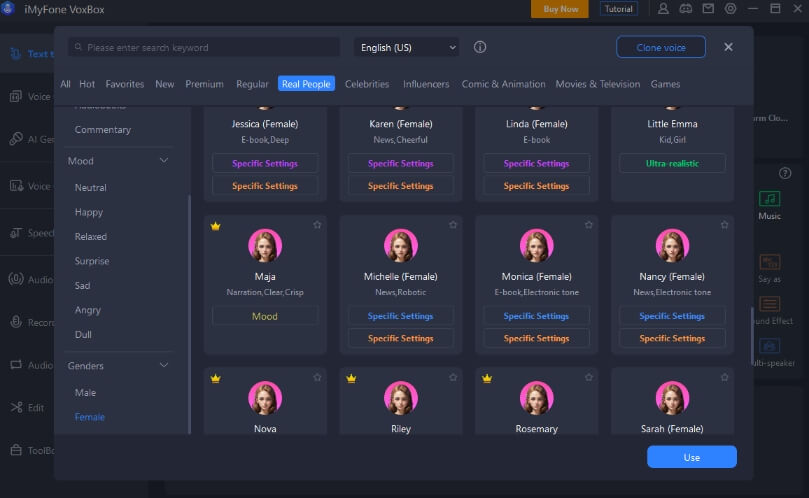 Key Features:
Explore 2000+ complimentary character voices, including the charming Baby AI voice, for text-to-speech applications.

Enjoy an all-in-one solution encompassing text-to-speech, speech-to-text, recording, editing, and audio conversion.

Leverage state-of-the-art voice cloning technology.

Choose from a diverse array of 3200+ voices spanning 77+ languages.

Effortlessly export TTS voiceovers in various formats such as MP3, WAV, Ogg, and more.
Part 4: FAQs about AI Animation Generator
What is an AI Animation Generator?
An AI Animation Generator is a software tool that uses artificial intelligence and machine learning to create animations automatically or assist in the animation creation process.
What can I create with an AI Animation Generator?
You can create various types of animations, including 2D or 3D animations, character animations, visual effects, and more, depending on the capabilities of the specific software.
Do I need to be an animator or have animation skills to use AI Animation Generators?
No, many AI Animation Generators are designed to be user-friendly, allowing individuals with no animation experience to create animations easily.
Conclusion
In conclusion, AI Animation Generators have ushered in a transformative era in animation creation. These innovative tools, including AI Generator Animated Shorts, have streamlined the animation process, making it more accessible, efficient, and versatile.
With the power of AI, creators can bring their visions to life quickly and easily, whether it's for marketing, entertainment, education, or beyond. As technology continues to advance, AI Animation Generators will undoubtedly play an increasingly pivotal role in shaping the future of animated content production.