The two editors iMovie and Final Cut Pro are widely used and are specifically designed for Mac users. Choosing the right editor depends on a number of different factors and what are your requirements to get one. In this article, we will tackle with iMovie vs. final cut pro and will give you an ultimate comparison so that you can make the final choice.
As the best alternative to the Final Cut Pro and iMovie, we have for you is iMyFone Filme. Filme is more friendly and easy to use to beginners. iMovie only available in Mac/iPhone. You can use Filme in Windows/Mac. Filme have the best 4k HD exporting. Download iMyFone Filme now.
Part 1. Comparison at a Glance | iMovie vs. Final Cut Pro
To compare the two, we need to know what are final cut pro and iMovie. So, final cut pro and iMovie are video editors created by Apple for Mac and iOS devices solely. Here, you can see a brief side-by-side comparison between the two editors below:
Features

iMovie

Final Cut Pro

Description

Pricing

Final Cut Pro is available at $299.99 whereas, iMovie is completely free but you can only get it once you purchase an Apple device.

Ease of use

iMovie is a beginner-friendly application and is therefore easy to use with features best for first-timer users.

Text

Final Cut has unlimited options for presets which are advanced and can be customized easily when compared with iMovie.

Interface

UIs of both editors are similar but, Final Cut Pro has more advanced tools on its interface than iMovie which has a simpler interface and fewer panels than Final cut pro.

Workflow

Tie

The workflow of both editors is similar in case how both import footage, have a magnetic timeline, add effects through presets and therefore, this feature is a tie.

Operating Speed

Being compatible with Apple devices only both of the tools are relatively swift in working. The operating speed of iMovie is faster because of smaller files and fewer tools as compared to Final Cut Pro.

Advanced Effects

Final Cut Pro has a variety of advanced features as it is specifically designed for professional editors. Whereas, iMovie is for beginners with less and tools relative to editing for first-timers.

Color

The color correction palate of Final Cut Pro is far more advanced than iMovie and allows you to customize the colors of the footage according to the objective and mood of the video.

Plugins & Integrations

A large number of third-party plugins are available for Final Cut Pro. Some of the editors have even created plugins of their own that are available either at a very low cost or for free.
Part 2. Head-to-Head Comparison| iMovie vs. Final Cut Pro
A query we need to address is if Final cut pro windows available? No. Unfortunately, not only Final cut but iMovie is also exclusively made for Mac OS. Now, we will compare both editors to know which of them has the features you want to have while editing a video.
1. Pricing Plan
Final Cut Pro: $299.99 (one-time price)
iMovie: Completely free
Now, that the pricing plan is right in front of you, it is clear that Final cut pro cost ranges almost $300 and it is a one-time payment through the Apple Store. Although, we have heard the discounted rates are offered if you are a student or you buy the PC with the software already being installed into it. With this price, you can get access to several updates but we can't say if this includes the lifelong updates.
On the other hand, iMovie is a completely free application that comes with Mac PC and can also directly be installed through AppStore on your iPhone. This unique feature makes editing possible without using a PC. However, if you compare final cut pro vs premiere and creative Cloud price plan, then you will know that Final Cut Pro is a better option.
2. Ease of Use
If you are a user who is looking for a simple video editor with main features and no distractions then, iMovie can be the software of your choice. As this is very basic and beginner-friendly, you won't be hindered by advanced features. It can be used even on iPhone but not all features can be accessed on your phone.
On the other hand, Final cut pro is more on the professional side but is also a user-friendly application. It has more advanced features which can be intimidating for new users who are just here to edit and cut videos and add text.
3. Text
Although, iMovie has a number of presets for text with motion-based graphics to add to your videos but Final Cut has a vast range of text presets which can individually be customized.
iMovie has eased to use of the texts in your videos making them shine bright. All you will need to do is go to the tab for titles and simply choose the preset. You can customize it a bit but your options are limited.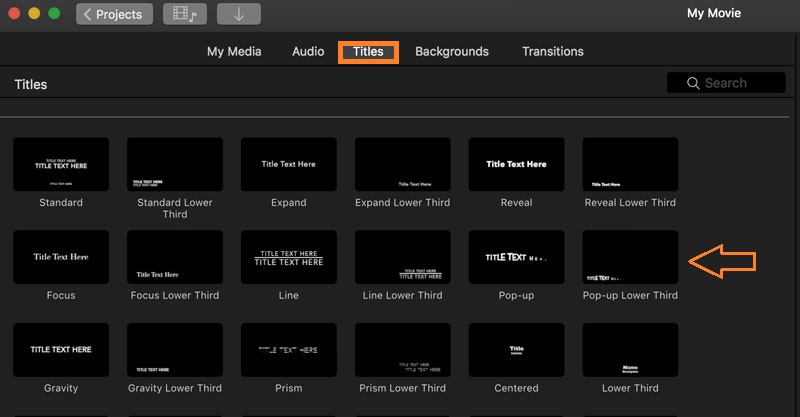 On the other hand, adding text in Final Cut Pro is a bit of a sophisticated process. You need to go to Titles and generators. Here, you will find a large variety of presets. Double click on the text to choose it and then you can customize it. You can change the font style, size, and even the place you want your text to be.
So, the process in both is quite similar yet Final cut pro has unlimited options and customizing features which makes it superior.
4. Graphical User Interface
As of now, you know that Final cut possesses advanced features and tools. Thus, it has an additional panel to iMovie which has three panels on its interface.
As we already know iMovie is designed so that it is easily accessible by beginners who just want to chop and edits their videos simply. Therefore, it has three panels on its UI which are:
Source Panel: Holds the video clips and the complete footage.
Timeline: Holds only the edited clips from the magnetic timeline.
Program Panel: It's a playback panel and shows which clip you are playing.
Whereas, for a professional editor like Final cut pro, there are four panels. The only additional panel is
Effects Panel: helps professional editors to manipulate the video clips in the Source panel and even in the timeline.
5. Workflow
The workflow in both the editors may it be video editing final cut pro or iMovie is quite different because of the detailed and extensive editing features of Final Cut. Whereas, when you look at iMovie the steps you take to edit a video are minimal. You will simply import the footage and put it on a timeline, edit and cut the parts, and lastly export the edited video.
Now, if you look at Final cut pro this software was designed in a way to edit large-scale projects. Here, you will import the footage you want to edit and because of the magnetic timeline in both editors, all the clips you will add will stick together. Even you cut a clip the surrounding clips will join to make it a whole. During fcp editing, you will have a vast range of effects, color correction tools, and even manipulation could be done when the footage is in the timeline. Not only this, Motion compositing is also another advanced feature of Final Cut Pro; making it the star of the show.
6. Operating Speed
Both of the Final cut edit and iMovie are only available for Mac OS which works to their benefit and increases their Operating speed.
Now, if we compare the two, both of them import the footage clips into the project which means project sizes are larger as compared to other non-apple products. Once, these projects are functional, they play effectively and experience no to minimal lag.
In iMovie, there are fewer tools and effects as compared to Final cut which makes the operating speed of it faster with smaller file sizes, and due to extensive options and features, it slows down a bit.
7. Advanced Features
The features in iMovie are comparatively very less than the advanced features of Final cut pro. In iMovie, you can do simple editing, add photos and voiceovers, manipulate the speed of sound, use preset texts and then export it. Another feature that both editors possess is the Ken Burns Effect which helps in zooming in and out of video or pictures giving a dynamic look.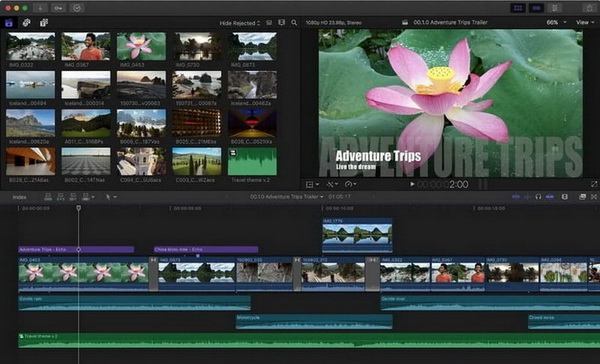 On the other hand, when you look at Final Cut you can do a lot more to your footage like with the Color inspector tool which helps in color correcting, audio clips can be expanded. Another important feature is the Flow dissolve tool which simply removes the pauses that are made while conversing. Final Cut also has Advanced compositing that helps in manipulating the graphics, and to animate videos, also has the access to key frames. With this feature, you can connect two clips and make an amazing effect. There is an alpha channel in the Final Cut which creates the composite of two clips automatically.
8. Color Correction
It is a process where you can change the colors of the clips to make them more even and set them according to the tone of the video to make it more engaging. As iMovie is a tool for beginners the color correction is simple and basic and it also compliments the videos that edited through it. On the other hand, with Final Cut Pro, this tool is highly advanced with more accessed features to give a professional look. You can access video scopes that provide RGB parade, waveform, and Vectorscope. With all these tools you can do color grading to your video clips and see how it affects the entire footage. In advance of this, there is an automatic color correction tool that works by either matching the colors of the selected clip to another portion of footage or by balancing the colors of the clip.
9. Plugins & Add-ons
Although iMovie has an access to plugins, they usually appear to be of low quality and therefore, most videos edited by iMovie users have shaky footage. This is also due to the fact that iMovie was designed for simple editing and small projects and these plugins don't work well with it. In final cut pro, there is access to professional plugins such as a warp stabilizer, smooth transition packs, mask zoom, auto zoom, and many more. These final cut pro plugins are also offered by Filmora, Motionvfx, Shutterstock, etc.
Integration that iMovie doesn't have access to is share destinations which allows you to export a file to several destinations simultaneously and saves time.
Part 3. Final Verdict of iMovie & Final Cut Pro
So, we can briefly conclude that the Final Cut Pro was a clear winner in terms of the features and technical aspects. Although, both may have similar timelines and interfaces, but Final Cut has a lot more advanced features than iMovie. iMovie is a beginner-friendly editor for users who fancy the limited features it offers. Whereas, Final cut pro is more of a professional editor with a vast range of features, which will help you grow as a professional editor. Well, how to use final cut pro is what you learn over time and experience or you can watch the final cut pro tutorial to learn more.
People Who Liked this Content Also Like:
Remove Watermark with Final Cut Pro >>
Everything You Need to Know about iMovie Slideshow>>
4 Ways to Add Video Transitions in Final Cut Pro >>
Part 4. Best Alternative to iMovie & Final Cut Pro
As the best alternative to the Final Cut Pro and iMovie, we have for you is iMyFone Filme. It can be regarded as the best video editor tool available on the internet, where you get all the freedom to edit your videos with all the cool features this tool possesses. It is a user-friendly tool that allows you to paint the picture of your imagination into reality. Filme allows you to edit videos, add effects, titles, zooming in and out, and much more with ease.
Salient Features:
Intuitive interface making it beginner-friendly

Helps you do advanced editing of videos like a professional

More than 170 video effects to give uniqueness to footage

110+ transitions for giving a dynamic look

Select any mode from over 20 instant modes available

Multiple templates and one-click editing helps with fast editing

Available for Windows and Mac OS
Steps to Edit Videos with Filme
Here is a guide you can follow to edit your videos using iMyFone Filme:
Step 1: Import the Video
Firstly, import the footage to Filme that you want to edit from your computer. Drag and drop the clips for editing in the timeline by tapping on the '+' icon in Filme.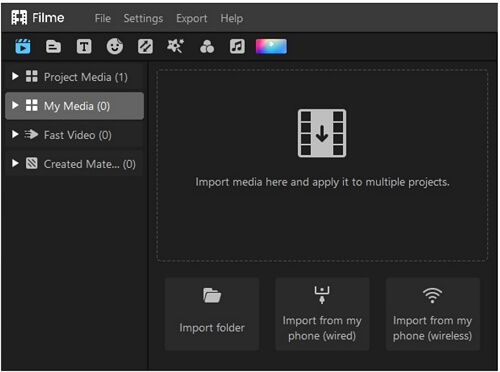 Step 2: Video Settings
Now, edit the videos to give a professional look by changing contrast, adding effects, graphics, and texts by clicking on the menu option in the top right corner of the software. You can also add music to your videos from the available tracks.

Step 3: Export video
Lastly, you can export the edited video to your social media or with your friends and family.
Final Thoughts:
In this article, we did an ultimate comparison of Final Cut Pro and iMovie so that you can choose the video editor according to what you require for editing your videos. If you are a beginner looking to edit your videos you should check out iMovie as it is a perfect tool for that. Once, you get enough experience and you want to give a professional look to your videos opt for Final Cut Pro as it has more advanced features. Keep in mind; both of the tools are for Mac and iOS users. If you want something for your Windows PC, feel free to check out iMyFone Filme, it is a powerful alternative and best for editing videos even for a professional user.