Most of us know KineMaster video editor as one of the top mobile video editors available for iOS, Android, and other platforms. It is one of the most downloaded video editors with over 350 million downloads. It is an open-source application but also comes with a subscription option for pro users, hence the name KineMaster Pro. Although it's quite popular, there are quite a few alternatives to KineMaster's products. In this review, we'll cover all the basics of what you need to know about KineMaster and take a look at some great alternatives for you to consider.
For Desktop - iMyFone Filme
Part 1. What is KineMaster and How to Download KineMaster on Mobile
KineMaster is a robust video editor for devices such as smartphones and tablets running mobile operating systems. It is available on both major app stores for iOS and Android devices, as well as the ChromeOS store for Chromebooks. There's also a PC version that is available as a browser extension (KineMaster for Windows and Mac Chrome extension linked below.)
The app offers all basic editing features to manipulate videos, enhance their look, and beautify them with stickers and overlays. If your device is powerful enough, it can also handle multi-layer video content.
How to Download KineMaster
On the Play Store for Android devices, use this link to download KineMaster for Android.

On the App Store for iOS devices, use this link to download KineMaster for iPhone/iPad.

For Chromebooks, you can download neMaster for Chromebooks from the Google Play Store. Since it is basically an Android version, it will run on top of your ChromeOS.

It is also available as a Chrome browser extension here.
Part 2. Full Review of KineMaster
Now that we have a broad overview of what is KineMaster, how to download KineMaster to various devices, what features it offers, and how much it costs to upgrade, let's dive deeper into its key features to see what it is capable of.
Interface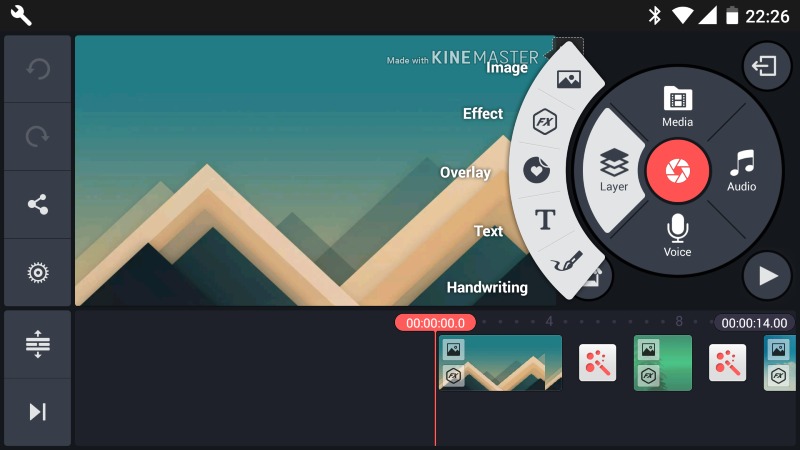 One of the major drawbacks of KineMaster is, as we saw, the lack of a dedicated media library. It piggybacks on your device's Gallery or Camera Roll to save videos and other media. However, this doesn't take anything away from the beautiful design of the Media Panel, which is like a control center to access KineMaster's major features such as video and audio recording, layer controls, audio, media management, etc. One important aspect of KineMaster is that the interface on iOS as well as Android is very similar, which is useful when switching from one device type to another; in other words, use it on your iPhone 12 Max Pro running iOS 14 and you can easily use it on a friend's Samsung Galaxy S21 Ultra 5G running Android 11.
Basic Features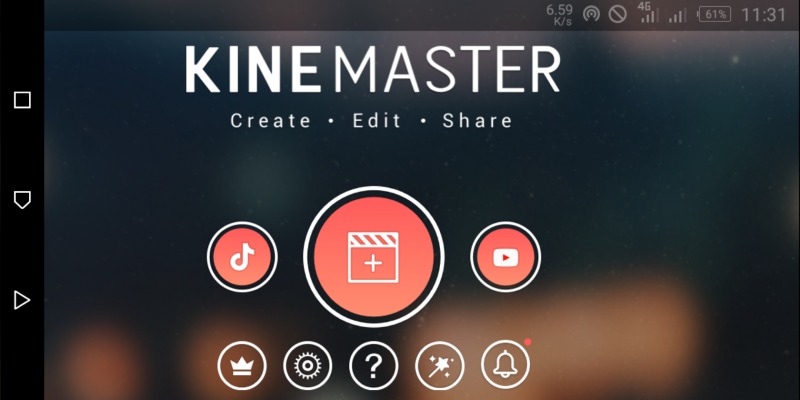 As we saw in the previous section, KineMaster offers all basic features for free. This includes comprehensive editing features such as cropping, trimming, speed control, reverse videos, and more. The free version also includes the KineMaster Asset Store where a lot of the content is free to download. Some of it is accessible through in-app purchases but there's a lot of great free stuff you can use such as transitions and effects, as we'll see in the next two sections. Unless you're a professional video editor looking for some advanced tools such as intricate keyframe editing for motion animation and so on, you'll be pretty happy with the free version. What makes it attractive is that the features are easy to find and use, which is an important aspect of the overall user experience.
Transitions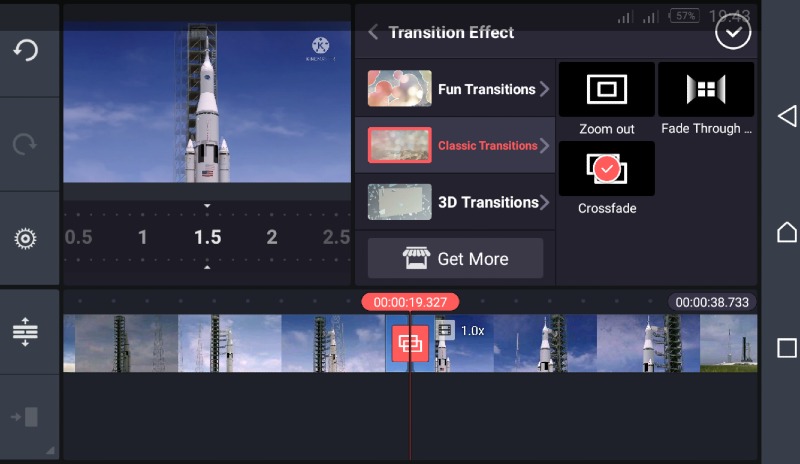 KineMaster boasts a wide range of transitions that you can add between video clips. One advantage is that you won't need to close any gaps between clips because when you cut out a segment of a video, the clip on the right automatically snaps next to the piece on the left. The transition can then be added in between these clips. You'll see a + symbol between the clips, and tapping that will show you a range of transition options. The only disadvantage is that you cannot control the duration or speed of a transition - basically, what you see is what you get. Nevertheless, there are a lot of professional-looking transitions available for free, and they're organized into categories so anything you want is easy to find.
Effects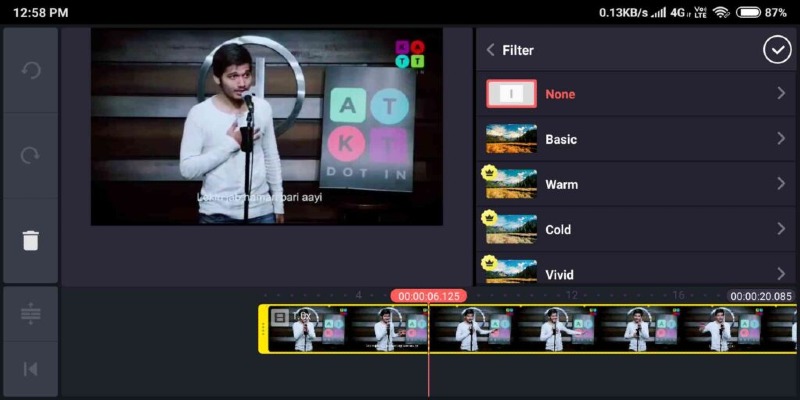 KineMaster also offers extensive filters and effects to make your videos pop. The standard ones are color saturation, color temperature, monochrome, etc., which is similar to most photo editors. However, you'll also get effects like the gaussian blur for free. These effects and filters are applied to the secondary timeline below the primary timeline, which doesn't have the snap-to-previous feature that the primary timeline applies by default. However, you can't add an effect or filter outside the end of the primary timeline because the playback stops there.
Others
You can also add other elements such as text, audio tracks, etc., and record voiceovers as well. This allows you to customize your videos with titles and captions, basically giving you the tools to create video memes and such types of content for social media. The voice recording and audio features work very well, but make sure that you record in a relatively silent location because if your device is a premium one, the built-in mic will pick up a lot of ambient noise that will sound unusually loud when you play it back.
Part 3: Final Verdict of KineMaster
KineMaster is a powerful video editor for mobile, which means it comes with all the standard tools that users need to compile a video, add music, throw in some effects, and edit the finished product before saving it to the local device or sharing it on social media. Although many of the advanced features are locked behind the subscription paywall, even the free version is sufficient for most mobile video editing needs. Let's look at some of the key features offered by the KineMaster video editor.
Key Features
Merge multiple layers of content - video, text, stickers, effects, animations, etc.

Play videos in reverse

Split, trim, and other editing functions

Speed change for slow motion or fast motion

Keyframe tool for layer motion animation

4K export supported for 30fps

Voice changer, sound effects, background music tracks, and voiceover recording

Color filters and adjustments to beautify or correct your video clips

Convenient timeline editing
Pros
Widely used by mobile users

Slick interface with convenient navigation (Media Panel, contextual editing tools, etc.)

Extensive default effects like blurring and mosaic

Option to access Pro features with subscription plans

4K exports
Cons
Additional effects and transitions only available for Pro upgrades

Watermark is added to video exports

Layered video only supported on high-end devices

No built-in media library
Pricing
The free plan offers most features and a limited number of resources such as effects

Pro option available as a monthly subscription for $4.99 or annual plan for $39.99
Technical Specifications and System Requirements
iPhone and iPad Version: iOS 10.0 or later, with a 64-bit (A7 or later) processor
Android version: Android 6.0 or higher
Windows/Mac: Requires the latest Google Chrome version
You May Also Like:
Vsdc Free Video Editor Review >>
Movavi Video Editor Full Review >>
Part 4. 2 Best Alternatives to KineMaster
Although KineMaster is indeed a great mobile video editor, there are a lot of other options out there if you want to try them. Filme Lite and iMyFone Filme are two great examples, the first being a direct alternative to KineMaster for mobile devices and the second being a more robust desktop video editor that's great for beginners and amateurs looking to sharpen their video editing skills. Let's take a look at these two powerful products.
Mobile - Filme Lite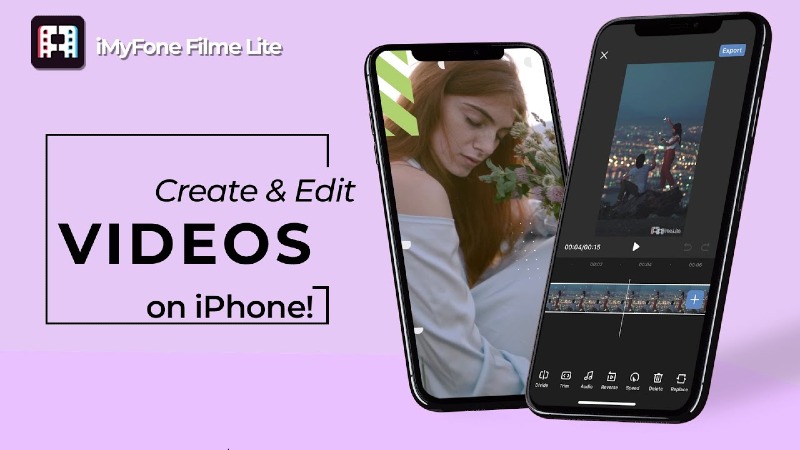 Filme Lite for iOS is a very user-friendly alternative to KineMaster. From templates that offer one-click video creation to intuitive touch-friendly editing tools, Filme Lite has everything you need to edit videos on the go on your iPhone. Easily import media, edit videos, add effects and filters, reduce file size, and either export your edited videos or share it directly to social media channels. The responsive interface is clean and the navigation is super simple. So simple, in fact, that it is one of the best mobile editors for beginners or amateurs seeking to build up their video-editing chops!
Key Features of Filme Lite
Dozens of one-click templates to create videos from existing media

Editing tools such as split, trim, reverse play, and speed change

Compress videos or resize them to suit any channel

Share videos easily across multiple social media accounts
Desktop - iMyFone Filme
If you need a much more powerful video editing solution, then iMyFone Filme is the one for you. With features such as comprehensive timeline editing, transitions, effects, text, audio, voice-over recording, screen recording and more, this is the ideal platform for someone who's just getting started on their video editing journey. Kids love to use the software because it's so intuitive and there's a zero learning curve. Adults love the ease-of-use. Professionals love the simple features that allow them to make quick edits to videos and make them really pop out from the crowd of video content online.
Key Features of iMyFone Filme
Timeline editing with crop, split, trim, speed control, pan/zoom, and other features

Effects, transitions, animations, free audio tracks, etc.

One-click Fast Video slideshow creation

Wide range of file formats supported for import and export

Record screen and voice (voice changer available) and add it to your videos

Control contrast, color, brightness, orientation (rotate video), etc.

Extensive export settings options to get the video exactly the way you want it
Check A Quick Guide About How to Use Filme Video Editor
The Verdict
KineMaster flows really well in terms of user experience, but there are a lot of drawbacks as well. As a KineMaster alternative, Filme Lite and iMyFone Filme ticks all the right boxes, offering matching features and the ability to seamlessly manage your device's media from the app interface. The OS-friendly interface means you get a native experience on the app whether you're on iOS, Windows, or macOS. The best part is that the software is made by a renowned team of developers credited with blockbuster products such as Fixppo, D-Back, iTransor for WhatsApp, and many others. You can try iy out without any cost first!