Snagit and Camtasia are both made by TechSmith, so why compare the two? The reason is that they're both designed for different purposes even though they may have a lot of similarities in terms of features. So, which is the better software product for screen recording and video editing? Does one perform better than the other? Does one lean toward screen recordings while the other is better for video editing? We'll answer all these questions in this Snagit Vs. Camtasia article, so come along with us on this little trip through the world of screen capture and video editing to see which product comes out on top, and for what category.
Overview of Snagit and Camtasia

Make no mistake: both these products are powerful pieces of software. Each has a specific set of functions and use cases that are well-suited for professionals, employees, and individuals. Both are highly regarded products in the market that target different needs, and both are considered essential in certain target segments.
For instance, Snagit is much better for quick screenshot sharing, fast video recordings to capture on-screen activity, etc. Camtasia is a more robust video editing tool suited for longer how-to and tutorial videos for YouTube or any type of web distribution. Even the pricing shows that the products target two different market segments.
In the following sections, we'll look at various functional aspects such as the UI, screen recording capabilities, video editing features, and what platforms each is available for. We'll also show you a viable alternative that covers the feature sets of both Camtasia and Snagit for a very reasonable price.
User Interface
Snagit and Camtasia have very different interfaces because they have different functions.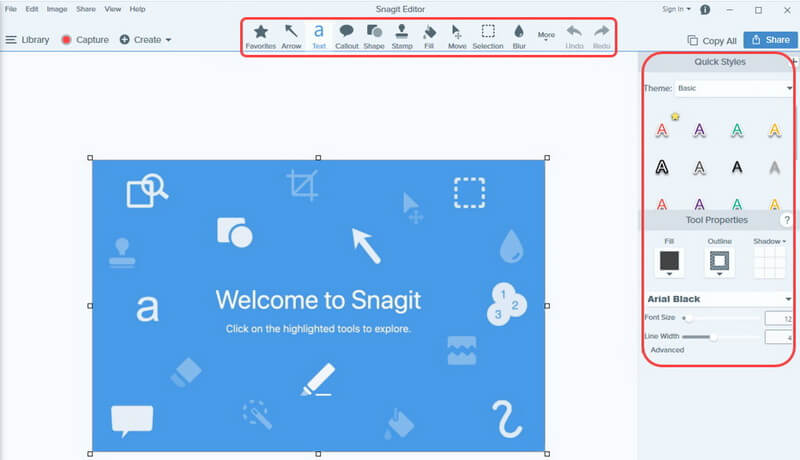 Snagit is more suited to static screen capture tasks so it's designed like an image editor with annotation tools and other related features.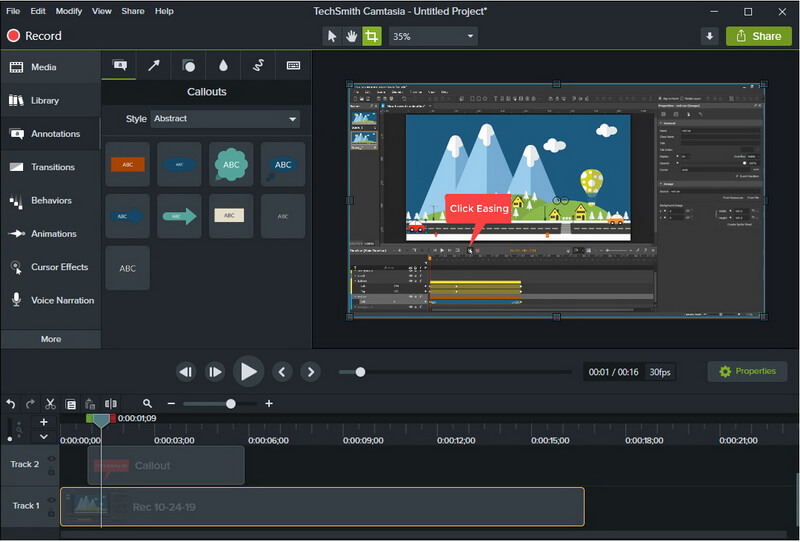 On the other hand, Camtasia is designed to look more like a video editor with timeline editing tools and other utilities for video editing.
Both interfaces are fairly clean, and both come with quite a few features to help manipulate screenshots and screen recordings. The biggest difference in the UI is the look and feel. You can clearly make the distinction between the two tools and figure out what they're meant for as soon as you see the UIs.
In terms of navigation and usability, both interfaces are clearly labeled with clean and relevant iconography, and it's hard to do anything wrong since there's a ton of helpful literature available online for both products.
Screen Recording
As mentioned, Snagit is better for short recordings such as walkthroughs, video voicemail, short clips of your screen activity, etc. The editing tools for video are minimal but you can trim certain sections that you don't want in the final output. The webcam capture is just for images but you can toggle between your screen and the webcam during recording.
In contrast, Camtasia is a more robust video tool so if you're making tutorials that require on-screen visuals or marketing videos that need enhancement features such as filters and effects, this is what you'll prefer. You can record webcam footage as well as record your screen. You can also include system sounds, background music, mic audio, etc. and it even allows you to add clickable links for interactive videos. Camtasia has more comprehensive video-based screen capture features while Snagit is fast and handy when you need to take a quick screen recording and share it with someone without worrying about making it look professional.
If your focus is screen recording and you do a lot of it, Camtasia would be the obvious choice because of the flexible way in which your screen or webcam footage can be captured and edited to perfection.
Editing Features
Snagit has very basic editing features such as the ability to trim down your videos to a shorter duration by removing the unwanted portions from the beginning, end, or even the middle. After you record the video and open it up for editing, you'll see the play bar with the trim tool. But that's about it. However, Snagit has its own appeal for those who need quick and easy screengrabs:
Multiple capture types for images, screen recording videos, and webcam

System audio and external microphones can be enabled

Option to capture full screen, application, window, or selection

Extensive text annotation and markup tools

Several sharing options including Screencast

Useful image editing tools like cropping, page cut-off, etc.
With Camtasia, it's a whole other story. Since Camtasia was designed for video creation and editing, the video editing features are naturally more robust. It comes with a ton of features:
Templates

Customizable configurations

Royalty-free assets such songs and background music tracks

Transitions and effects

Premade and customizable animations

Cursor tracking with effects

Device frames to show content as it would appear on a smartphone, TV, etc.

Media imports

Capture from an iOS or Android device
It also offers a simple but effective editing interface so you can enhance your videos quickly even if you don't have much experience. This aspect makes it appealing to a wide range of users, such as vloggers, trainers, social influencers, and so on. Although it's not a full-fledged video editor like the alternative option we've shown below, it's a great screen recording tool for professional-looking videos made from the comfort of your home PC or laptop.
Availability
Both Snagit and Camtasia are available for Mac and PC. There's also a companion app for Windows that facilitates screen capture from connected devices. That covers the four most commonly used operating systems and device classes in the world, so you're all set with both tools.
Pricing
Since Snagit is meant as a basic screen capture tool, it is priced well below Camtasia at only $49.95. This gives you a lifetime license for the version you purchase, but upgrades will cost you extra as and when they're available. However, you can continue using the purchased version for as long as you like.
Camtasia is a lot more expensive at $249, but if you're creating videos on a regular basis and you want them to have a professional look, it's well worth the money.
[Editor's Choice] Best Screen Recorder & Video Editor for Win/Mac - iMyFome Filme
If you need a more robust video creation and video editing tool, then you should seriously consider trying iMyFone Filme for Windows and Mac. The software is easy to use and comes with nearly all the features you'd expect to see in a professional video editor. It leaves out complex tools such as keyframing but the end result is a very user-friendly front-end interface that's very simple to use but powerful at the back end in terms of editing features and extras.
What Are the Key Features of iMyFone Filme?
Easy video creation and compiling, with support for multi-layer, multi-track video and audio editing

Vast repository of filters, effects, text options, audio, and other assets

Convenient editing tools to crop, trim, change speed, split, reorient, rotate, pan, and zoom video content

Screen recording and voiceover recording to create tutorials, explainer videos, how-to videos, social media marketing content, and much more

Extensive import and export options for a wide range of audio, video, and image file formats

Fast Video mode to instantly create stunning video slideshows with your existing images and clips (with audio automatically added to the video)

Audio editing tools - leveling, fade, trim, cut, etc.

Import from smartphone with a cable or wirelessly
Benefits to New Users
How does using iMyFone Filme benefit new users? Although the features practically sell themselves, there are several specific benefits to switching from another platform or using Filme as your first video editor.
Switching from a more expensive platform saves you money

First-time users can jump right in with a near-zero learning curve

The timeline makes editing easy and accurate

File format support is extensive, which means you can work with nearly any type of video

It also works with images and audio content

The extensive filters and effects give your videos a very professional and polished look

You can record everything on your screen along with audio, which is all you need to make engaging video content that is educational and informative

Easy to import clips from your smartphone and edit on a desktop

Fast video mode means creating videos with just a few clicks

iMyFone Filme is light on resource usage, which means a more seamless and lag-free performance even on slightly older systems. The rendering takes time but that's only with long or high-resolution videos such as 4K or 60fps and higher
If you're sold on iMyFone Filme, head over to the website and download an authentic copy for your PC or Mac. You can get started with creating awesome videos right away, whether it's from a screen recording or previously captured footage.