Videopad is a great video editing tool from NCH software for making the visual content of the next level. Those who want to make a big positive jump in their video-making or editing skills should definitely give Videopad a try. We are going to give an honest review and guide about the Videopad video editor. In this article, we will discuss all things about it in detail. Moreover, this article will tell you whether it is worth using or not.
Part 1: Interface of Videopad
When it comes to interface, Videopad is a very user-friendly editor. It has a clean interface that can easily be understood by users, even at the very first time. All tools, the timeline, and features of Videopad are distinguished or separated from one another to make the interface straightforward and easy.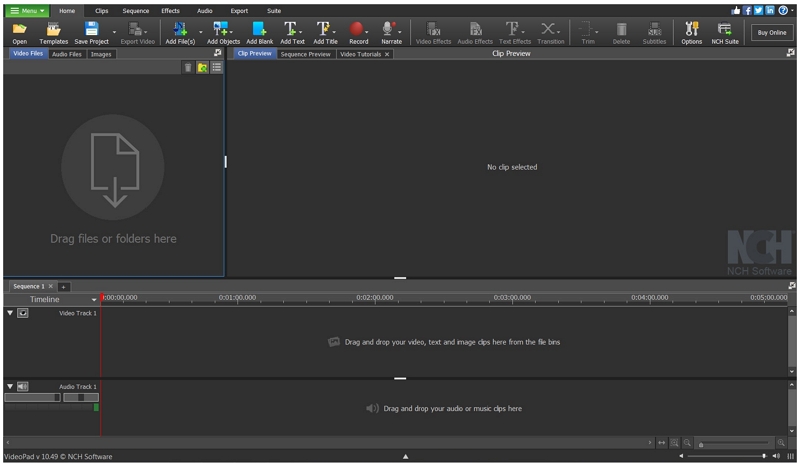 Videopad's interface has a Menu bar at the top of the screen where you can choose Clips, Videos, Audio, and Effect. On the Home page, you will see some other options under the Menu bar for editing videos and adding Sounds, Effects, and Templates.
Videopad's interface shows the selected videos separately to view the changes while editing. Moreover, there are tracks in the bottom section of the screen with the names Video Track and Audio Track to customize the video editing and audio mixing.
Part 2: Main Features
Videopad is a powerful software that makes video editing easy for personal as well as for business purposes. The major reason for its popularity is its countless excellent features that make its users feel happy and satisfied. Here are some of its major and main features due to which it is considered suitable for any multipurpose.
1. Templates and Effects:
Videopad's large library has many transitions, templates, and video effects for the users. It allows users to enhance video quality with different customizable transitions.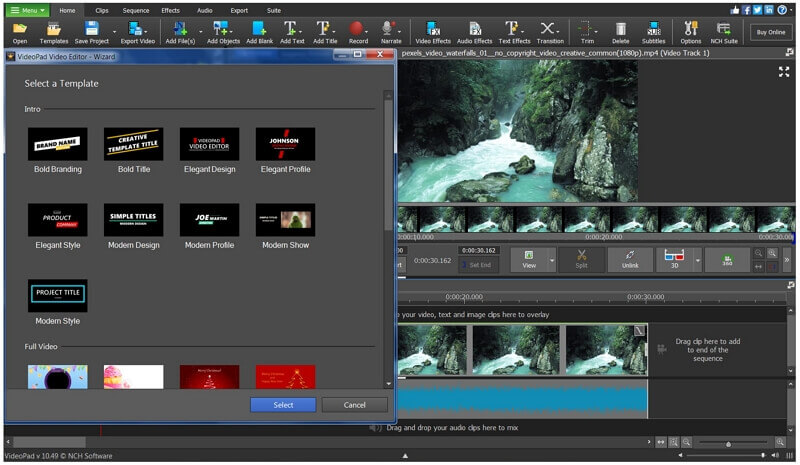 2. Tools for Videos Optimizations:
Different tools help users to improve the video's quality. Due to the Plugin support, it allows adding monochrome colors, cartoons, and photos to videos. The audio tool allows sound mixing and voiceovers.
3. Stabilization Feature:
Sometimes, the camera shakes ruin the quality of videos. The Videopad video editor has a Video Stabilization feature that eliminates or reduces the poor quality of video due to camera shakes.
4. Online Publishing:
Videopad allows users to export and publish videos online to any platform directly by using the social media sharing tool. Now, users can export videos to YouTube, Facebook, and other platforms just after editing them.
5. 3D Video Editing:
Videopad allows users to edit 3D videos with high-quality color effects, text, visual effects, and overlays.
Part 3: How to Use Videopad
Follow the basics steps to use Videopad by NCH Software.
Step 1: Install Videopad and open it; you will see some options to select New Project, click on that, or you can also click on the Add Files at the top of the screen.
Step 2: Now, select the media from your device. Under the Menu Bar, you will see many options like Add Files, Add Text, Add Blank, Add Title, Transitions, Video Effects, Audio Effects, and Trim.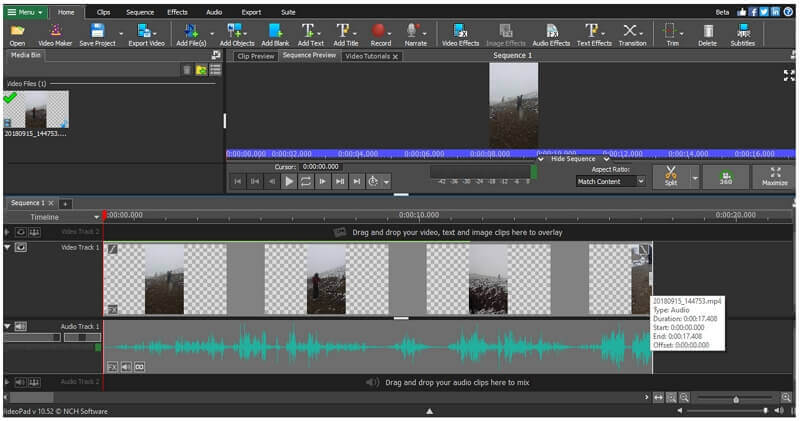 Step 3: You can do anything of your choice to any part of the video just by moving the cursor over the timeline. In this way, you can add Text, Transitions, and anything else to your desired part of the video.
Step 4: You will see three different tracks: Video Track 1, Video Track 2, and Audio Track. You can easily customize all the transitions, text, overlays, and audio mixing to your video through these tracks.
Step 5: Once you are done with all edits, click on the Export button at the top of the screen. After clicking on Export, you will see some other options to save the video to your device, burn to DVD, or share it online on any social media platform.
Part 4: Pros and Cons
Pros:
1) Easy to use:
Videopad has a very easy-to-use interface for professionals and beginners. Its interface makes everything clear to make everything easy. Moreover, there is a Videopad tutorial for understanding its operating method.
2) 3D video editing:
Videopad is not like normal video editors, but it also allows users to edit 360-degree videos for VR headsets and YouTube.
3) Export System:
Videopad has a variety of options for exporting videos. You can easily save the edited video on your device, can burn the edited videos to DVD with high resolution, and anyone can easily share the edited video directly to any social media platform.
4) Support system:
Videopad is supported by Windows 7, XP, Vista, 8, 8.1, and 10. Mac users can also take advantage of Videopad because it is also compatible with MAC OS X.
5) Inputs and Outputs:
Videopad accepts videos in almost 12 different formats, images of more than five different formats, and 13+ different audio formats as input media. Moreover, users can export video files in 13+ different formats and also share videos online.
Cons:
1) Paid versions:
Videopad free version is enough to edit video like a pro, but the paid versions have more exciting features and tools. To enjoy all those features, you will need to buy expensive plans.
2) Windows VS MAC:
The Windows version of Videopad has more exciting and useful features and tools than the MAC version. The MAC version lacks some editing tools.
3) Notifications:
In the free version, you will get annoying notifications again and again, which irritates a lot while editing. In order to get rid of them, users will have to purchase the paid NCH Videopad.
Part 5: Best Alternatives to Videopad
Videopad is awesome, but here are some alternatives to Videopad. You can also use these to edit your videos for professional or casual uses.
Filme is a beginner-friendly and all-in-one video editor. You can create awesome videos for any occasion, purpose, or social media. It is a combination of a video editor, audio editor, video converter, watermark remover, video recorder, slideshow maker, video resizer, GIF maker, and voice changer. It has everything you need to make your videos stand out from the crowd.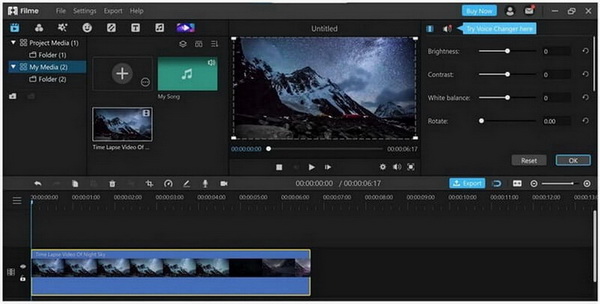 The user interface of Filme is simple and easy to use. Anyone can use it without any prior experience. You can add effects, transitions, stickers, or anything within a few clicks. It can make video editing hassle-free and quick.

iMyFone Filme
Release Your Creativity with Best Video Editor iMyFone Filme!
Download Now
Pros:

Filme is perfect for beginners as well as experts. You can do all types of edits to your videos without any hassle.

There is a music library from where you can select the music you like. You can also import your own music.

You can record your screen along with your voice. Your voice can also be changed using the voice changer.

There are dozens of engaging and cool templates available for creating slideshows. You only need to import images. You can create a slideshow for birthdays, anniversaries, engagements, graduation, travel, events, Mother's Day, and other occasions.

Filme has all the basic and advanced tools for video editing.

The file can be exported in any format along with the desired settings.
Cons:

Filme is a paid tool, so there is a watermark in every video you export from the free version.
VSDC is an amazing video editor with a powerful collection of useful features and tools. This free video editor allows users to make changes to movies and videos to make them appealing and engaging. The software has visual and audio tools for mixing both perfectly.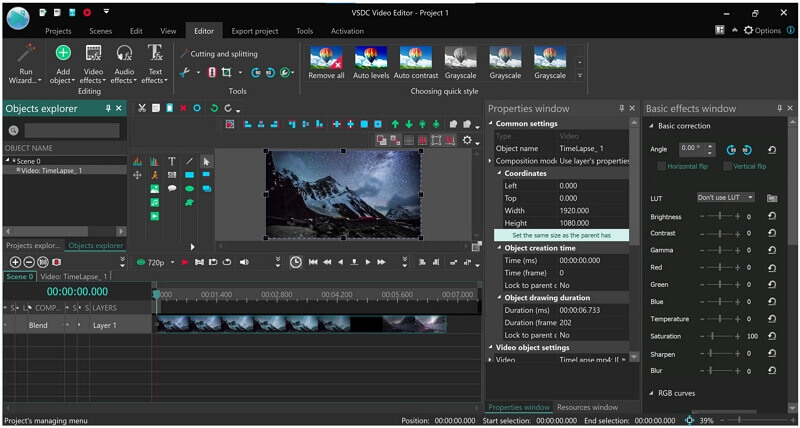 The Blending modes, Instagram-like filters, and other video effects make the free version enough for regular use. However, the paid version has many other helpful tools like color correction, which costs around $19.99.
Pros:

Easy to use.

Modern Interface

Motion tracking

The free version is available.
Cons:

Compatible with Window only

Need to purchase the paid version for more features.
OpenShot is a great option to level up your content creation free of cost. This video editor costs nothing and provides you a high-quality edited video without a watermark.
Due to its simple interface, it is loved by every beginner. The pre-installed tools and features will make you feel like you are using a premium or professional video editor. Anyone can easily edit videos by merging small clips and adding audio, effects, and filters without being charged.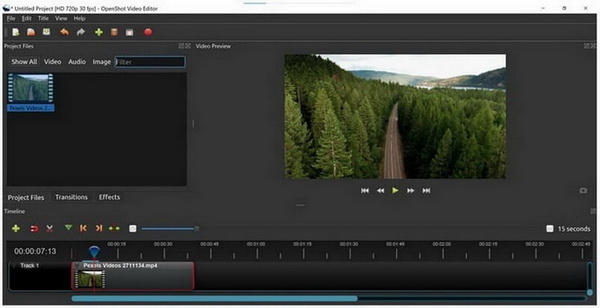 Pros:

Simple interface

Free of cost

You can cut specific parts of videos by trimming and slicing them.

You can add keyframes to make the video outstanding.

Compatible with Windows, OS X, and Linux platforms.
Cons:

Sometimes software crashes during editing

Slow video editing speed

Not easily customizable video effects
Final Words:
Looking for and selecting the best video editor for content creation can be irritating and tough, but we have made it easy for you. Videopad is a great option for editing videos in a satisfactory way. It is free of cost, but some premium versions are also available to enjoy more powerful features. We have also shared some alternatives that you can use. Filme is an all-in-one and versatile video editor that can help you make any type of edits to your videos. It can help you take your editing skills to the next level.