This blog post provides a comprehensive and honest comparison between ScreenFlow Vs Camtasia. Stick to reading to find out which one you should choose.
If you are a professional video editor and have not been living under a rock for the last year or so, you'd already know that Camtasia and ScreenFlow have left the tongues wagging in the market.
Both these video editing and screen recording tools have gained huge popularity among Mac users which engendered a new debate: which one of them is a better option for Mac users? This article will talk you through key features and pros and cons of each software to help you make an informed decision on what is best suitable according to your needs.
Let's start comparing both of them.
Part 1. ScreenFlow
Developed by Telestream Inc., ScreenFlow is a robust video editing and screencasting software for Mac Users. Thanks to its advanced features, it is a one-stop solution to both capture everything on your desktop, microphone, and video camera as well as streamline video editing.
This powerful software has been designed with mobile developers, marketers, and educators in mind. Its highlighted feature is that it supports many varied file types like GIF, AIFF, MOV, M4V, and MP4.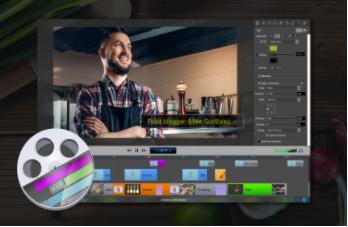 1. Features
Here are the key features of ScreenFlow:
Top-quality Screen Recording
ScreenFlow offers one of the best quality screen recordings. It can capture the whole screen as well as a specific portion.
Supports Multiple Formats
Support tons of video and audio formats including the lossless audio format and uncompressed video formats.
Users can add text to recorded videos easily. This feature comes in handy while making a tutorial or instructional videos.
Starting from basic trim, crop, and readjust recordings, ScreenFlow offers advanced editing features such as professional motion and closed caption support.
One distinct feature of ScreenFlow is it gives the option of exporting the output file as an animated GIF.
2. Pros
The main benefits of using ScreenFlow are:
This software is easy to install and use. Thanks to its intuitive and straightforward interface, ScreenFlow is preferred by beginners or not-so-tech-savvy users. Its interface comes with three simple navigation options, namely: Create a new document, Open a saved document for editing, and New Recording.
Using any of these options is simple due to the flat learning curve of ScreenFlow.
Edit the Recording in Application
One of the desired attributes of ScreenFlow is it empowers users to edit the recorded videos within the program. That is, you can capture a video and then start editing it at the spot.
Reliable and Quick Editing and Screen Capturing
Light in weight yet expansive and featured-pack, ScreenFlow is impressive when it comes to screen recording and video editing - even on low-end PCs.
It even captures mouse movements on your computer's screen, making it an ideal choice for making video tutorials or promotional videos.
Advanced Editing Features
Apart from a remarkable screen recorder, ScreenFlow has stellar editing capabilities. Users can add basic to professional-level effects with ease.
3. Cons
Some of the major downsides of ScreenFlow include:
Limited on-screen text options

Transitions at minimal and are difficult to apply

Quite expensive, $149, compared to the features it offers

Doesn't offer online template resources

No speech to text captions
Part 2. Camtasia
Being a popular screen recorder for over 10 years, Camtasia is mostly used for screen capture and file conversion purposes. It is equipped with some of the advanced editing effects, making it a complete package for making professional and interactive videos such as creating training and promotional videos.
Camtasia offers an intuitive interface, improved sharing tools, and it supports almost all video formats.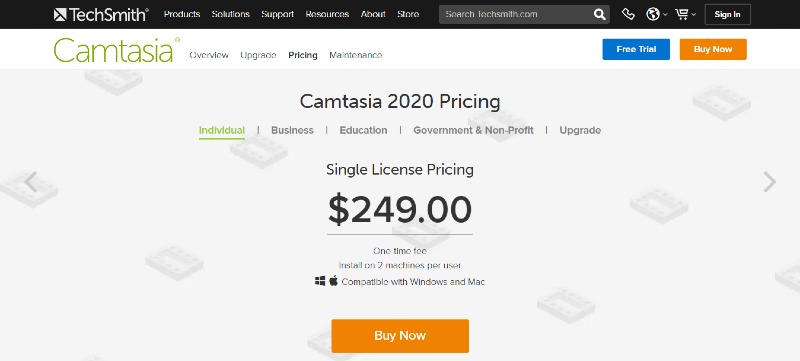 1. Features
Below features make Camtasia a leading player in the industry:
Camtasia makes it exceptionally easy to use Picture-in-Picture mode and create high-quality tutorial videos.
Advanced Screen Capture Mode
Compared to other screen recorders, Camtasia sets itself apart by offering the absolute best screen recording feature. It's easy to use and provides a high-resolution output file. With just a few clicks, you can start recording your PC's screen.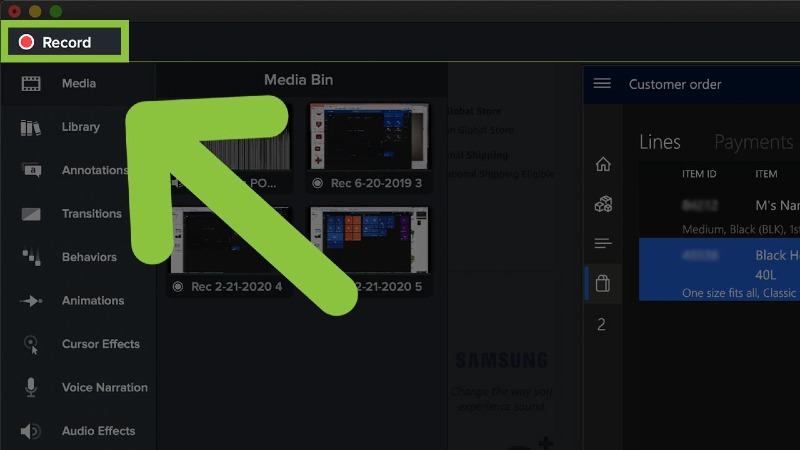 Though Camtasia offers limited built-in effects, its cursor effects are super-amazing. As the name indicates, they add automated effects to your video such as making movements smooth and seamless.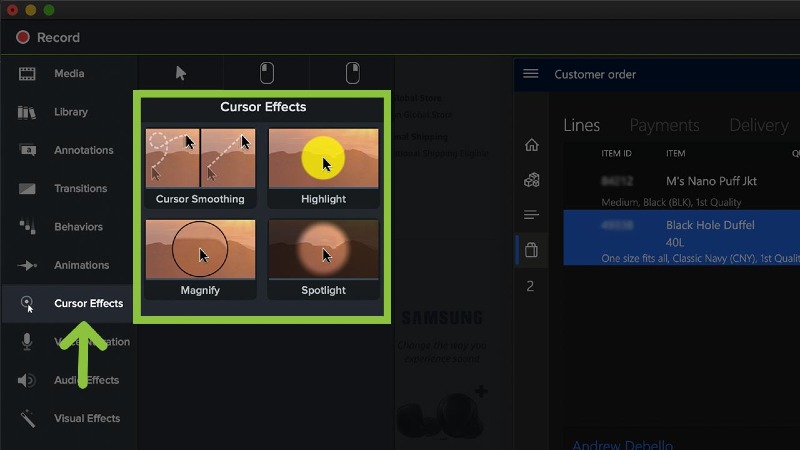 Apart from that, Camtasia also offers:
Add multiple audio tracks

Add quiz or survey for presentation
2. Pros
Here are the main benefits of Camtasia software:
Users can capture a part of or whole screen including the audio from the speaker or microphone or both simultaneously.
There's no upper limit on the video length or the number of videos you capture using Camtasia. Some projects such as lengthy instructional videos or sales presentations require screen capturing for a longer time.
After capturing and editing a file, you can directly share it on YouTube, Google Docs, MyPlaces, Screen-cast, etc. right from your Camtasia dashboard.
Excellent Customer Service
Camtasia offers robust customer service which is always up to the task to clear up your queries.
3. Cons
Like any other software, Camtasia has its set of disadvantages, which broadly include:
Not suitable for professional editing as it has limited customization options

Too expensive - $250. You can easily get better software below this price

Compared to other tools like ScreenFlow, Camtasia experiences more bugs and crashes.

Doesn't offer keyframe tracking to move and animate objects
Also Read: Aamtasia Review
Part 3. Full Comparison Between ScreenFlow Vs Camtasia
Coming to the main question, which software is better for screen recording and editing videos? It's challenging to pinpoint any one software as both of them have an amazing set of features and capabilities.
However, there're certain factors like features, cost, ease of use, efficiency, level of performance, and reliability that help determine the best software.
1. Features
When it comes to features, Camtasia has a clear advantage over ScreenFlow. It offers all the amazing editing features one could ask for including the online template resources. Plus, you get built-in tutorials on how to use these features - making it a preferable choice for experts.
But this doesn't discount ScreenFlow which is also loaded with tons of amazing editing features. It's more suitable for beginner-level users.
2. Ease of Use
Here, ScreenFlow gets an edge over Camtasia. Its interface is very simple and straightforward even for newbies, but if you dig a bit deeper, there's enough punch even for the experts. Camtasia, on the other hand, has a slightly steep learning curve and beginners should expect some time getting used to it.
3. Cost
Camtasia is available to users at a whopping $250 while ScreenFlow can be made available for as low as $149. Clearly, the cost is not in favor of Camtasia.
While the factors like level of performance, reliability, and efficiency vary from user to user depending on their skill levels.
The below table will further clear up which software you should choose.
| Software | Ease of Use | Cost | Reliability | Level of Performance | Efficiency | Ratings |
| --- | --- | --- | --- | --- | --- | --- |
| ScreenFlow | Comparatively Easy | $250 | Reliable | Comparatively low performance, but serves the purpose anyway. | More efficient, works on low-end PCs without slowing it | 9.5/10 |
| Camtasia | Difficult for beginners | $149. | Less reliable - crashes often, causing data loss | Thanks to added features, it offers a high level of performance | A bit less efficient | 9/10 |
Which software you should choose depends on your requirements and individual preferences, but it's safe to conclude that ScreenFlow has a slight edge over Camtasia. Still, the final choice is yours to make - and only yours. Choose the one that fulfills your editing and screen recording needs and requirements.
Part 4. Here's the Better Choice - iMyFone Filme
Well, not everyone has a big Hollywood budget to buy a super-expensive video editor like Camtasia or ScreenFlow - especially if you can get an even better one at a much lower price. That's where iMyFone Filme comes into play.
Having tons of futuristic video effects, animations, themes, voiceover effects, and audio editing tools, Filme has been the top-ranked video editor for quite some time now. Its simple and intuitive interface, blazing-fast speed, and high performance and reliability make it a better choice than either of the aforementioned tools.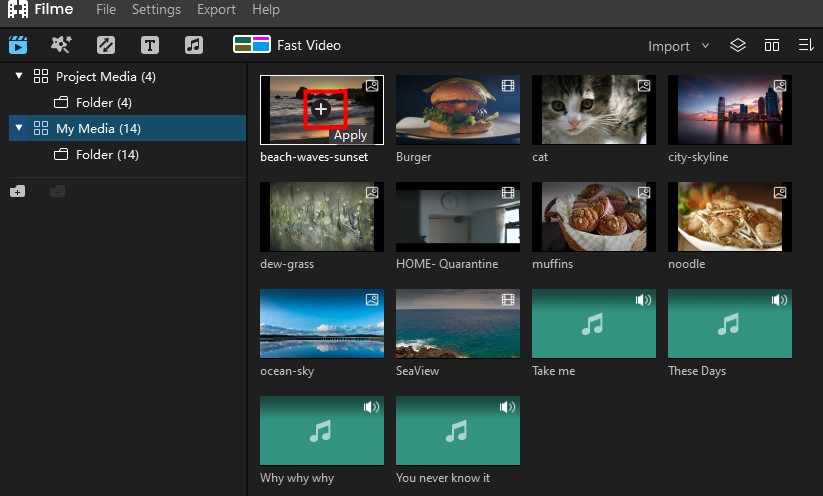 Key Features of Filme
Below features justify why iMyFone Filme is the best video editor in 2021:
Multiple editing modes

Unlimited video effects and themes

Multi-layering of videos

Easily adds cinematic titles and text to videos

Adjust style and atmosphere of videos

All basic video editing features including rotate, crop, trim, split, and so on

Detach audio from video

Advanced fast video mode

Add multiple tracks simultaneously

Creates amazing slideshow
Pros of Filme
Easy to use for not-so-tech-savvy users

Compatible with all formats including MP4

Light in weight and doesn't slow down your computer

Instant preview of effects while editing