Screen recording can help you tremendously if you are someone who wants to record your screen for professional use to present your work, for making tutorials, or even during fun gaming sessions to later upload it on YouTube. A decent screen recorder and video editor can help you get through all of this and much more with ease. If you are looking for some viable options for a screen recorder and editor for your PC, then, you are certainly at the right place. We will guide you through everything in detail; further in the article.
5 Best Choices of All-in-One Screen Recorder and Video Editor
Now in this part, we have enlisted the 5 best free Screen Recorder and Video Editor which will ease your process of recording and editing videos. So, with further ado let's get started: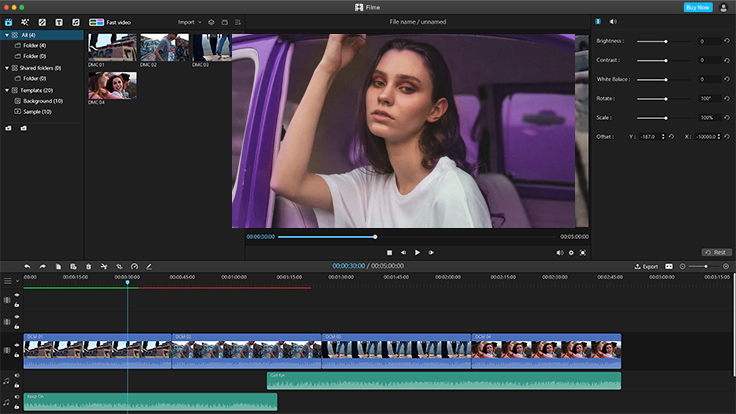 iMyFone Filme is an amazing software for screen recording and video editing. With its intuitive design and user-friendly interface, it helps users to get their job done in seconds. It will help you to explore your creative abilities with its many exquisite features which are basic and easy so that everyone can edit their own videos in no time. Undoubtedly, you can consider it as the best free screen recorder and editor available on the internet.
Pros:

Exports your video, fast

User friendly for beginners

Intuitive layout

Come with built-in effects

Quick editing like a pro
Cons:

A bit difficulty in learning

Doesn't change the text title
Pricing Options
Free trial for a month.
Monthly: $19.95
Yearly: $29.95
Lifetime: $59.95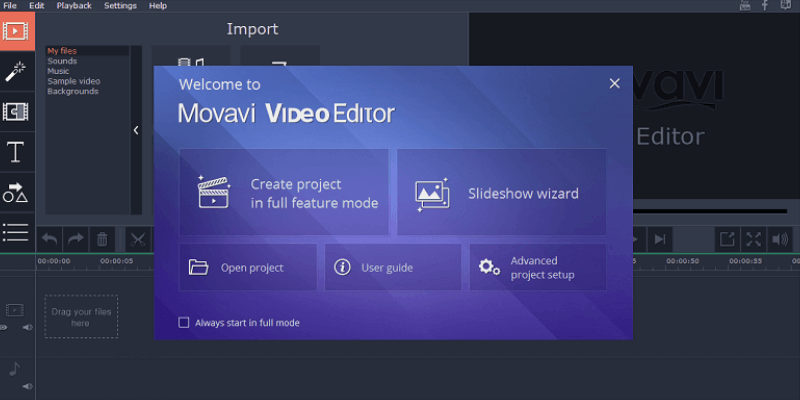 It is an easy-to-use software and helps you with screen recording and editing your videos. it also has a feature that allows you to save the videos you record in GIFs format. You can also take screenshots; add effects and audio to your recording. This software allows you to upload your files to Google Drive or directly to YouTube. You can even share your video on social media.
Pros:

Simultaneously record audio with the screen

Schedule recording

Tools for screen casting

Allows taking and editing screenshots

Supports multiple video formats even HD
Cons:

Software crashes often reported

5 minutes video limit in the trial version

No proper customer support service
Pricing Options
A free 7-day trial is available
Lifetime: $39.95/ 1 PC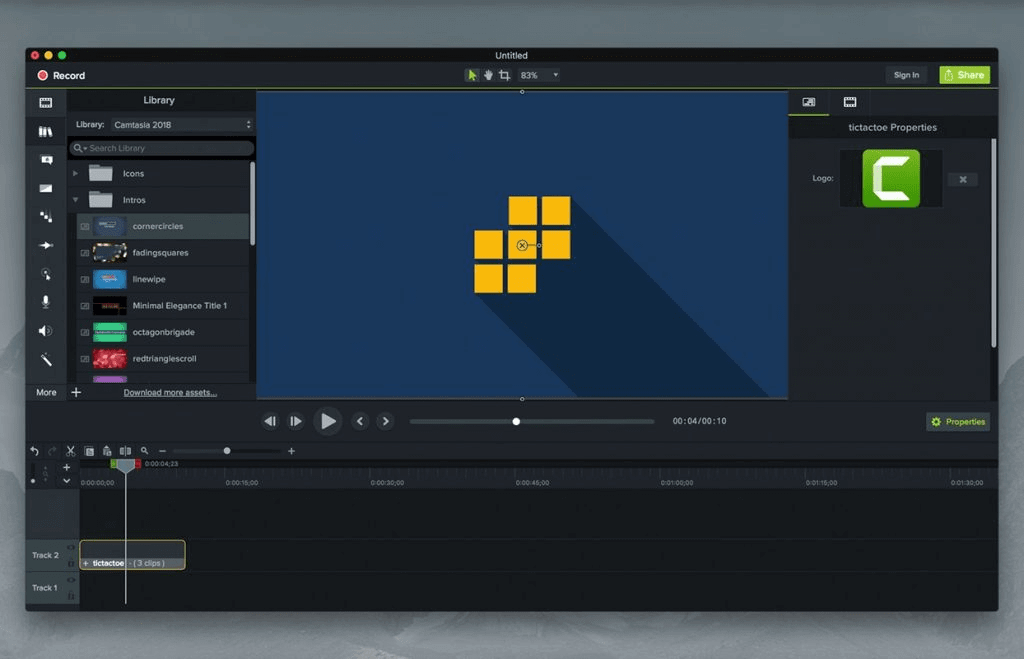 Camtasia is a tool that simply enables you to record your screen. If you want to know how to edit screen recording, this is a perfect tool for you. It allows you to record your entire screen or only a portion of it which makes it an ideal choice if you want to make tutorials or demo videos. This software allows you to add visuals and effects to videos. Another amazing feature which we might highlight is adding motion graphics and voiceovers to your videos.
Pros:

Capture videos in high quality

Allows you to add captions and voiceovers

File sharing options

Allows editing frame by frame

Imports existing videos and slides
Cons:

Watermark in free trial videos

Slows down on heavy files

Most expensive

Congested interface
Pricing Options
Free trial for 30 days
Lifetime: $249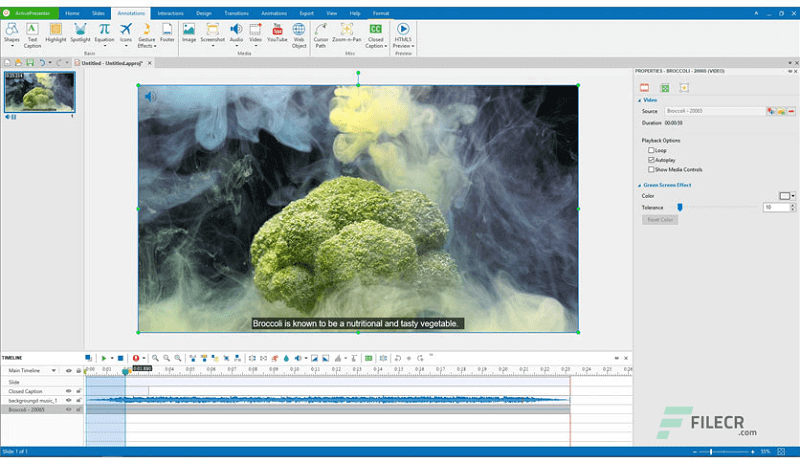 Active Presenter 8 is a perfect screenflow screen recording editing software tool available if you want to make up quizzes, guides, and other creative and interactive content. It has a simple and easy to use interface, which makes it a very user-friendly software. Therefore, it is considered one of the best ones available. It is an efficient software for designing content with amazing editing features.
Pros:

Intuitive interface

Records video and audio

Records webcam

Allows you to take a screenshot

Safe and best for creative use

Makes interactive content
Cons:

Not well suited for beginners

Lacks various video effects

Limited options in the free mode

Needs time to export video
Pricing Options
The free version is available
Standard edition for Lifetime: $149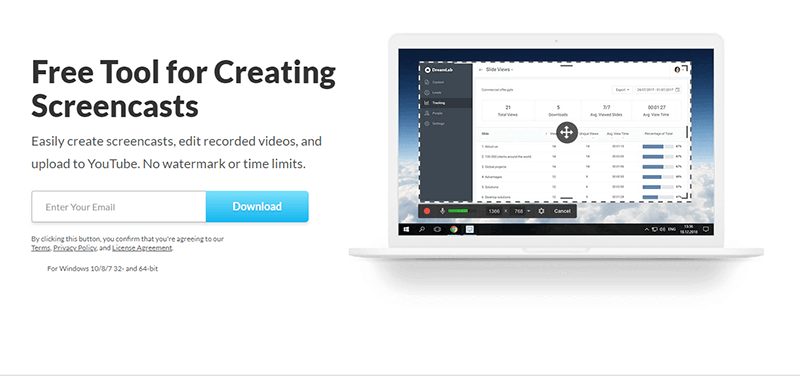 If you want to download ezvid screen recorder & video editor for windows then Free Cam is the one for you. It is quite a simple and free screen recorder. It has its own built-in editor for audio as well as video. It allows you to take professional screenshots either of the entire screen or a part of your screen. It doesn't have annoying ads running around and therefore, has an intuitive interface.
Pros:

User-friendly layout

No watermark on videos

Records audio from system and microphone

Omit noise from the background

Highlight the mouse
Cons:

Webcam recording is not allowed

High CPU usage

Uploading large files take time

Not available for Mac OS
Pricing Options
Free cam is available for free
Pro version has a 14-day free trial and $227/year
How to Record Screen & Edit Videos with iMyFone Filme (Windows & Mac)
If you are looking for the best free screen recorder and editor, then your ultimate choice will be iMyFone Filme. Our software will assist you to edit the videos professionally. You can add effects, animations, music, and much more. The software has a Fast video mode for the slideshows and an Editing mode that will edit your videos smoothly. There are many features and tools to help you edit your recorded video for Netflix or recorded video for Youtube. With all this, the most amazing feature we might add is that you can edit the quality of the video for a smoother viewing experience.
Key Advantages and Features

User friendly and easy to operate
Helps you record your screen in few clicks
Allows screen recording of an entire or a part of your screen
It supports various audio and video formats including flac, 3g2, mpa, mp3, m2v, and many more
You can add effects, transitions, and audio to your videos
It has an amazing one-click editing feature with fast mode video
Allows trimming, cropping even adjusting the speed of video
Specially designed separate versions for Windows and Mac OS
How to Record Screen and Edit Videos Using iMyFone Filme
Follow the step-to-step guide to know how you can screen record and edit your videos using iMyFone Filme:
Step 1: You will have to record your screen with these 3 simple clicks:
a. Firstly, you will launch the installed software and click on the record screen button.
b. Adjust the part and size of the screen you want to screencast or record.
c. Lastly, click on the record button on the lower right corner of the screen to begin recording.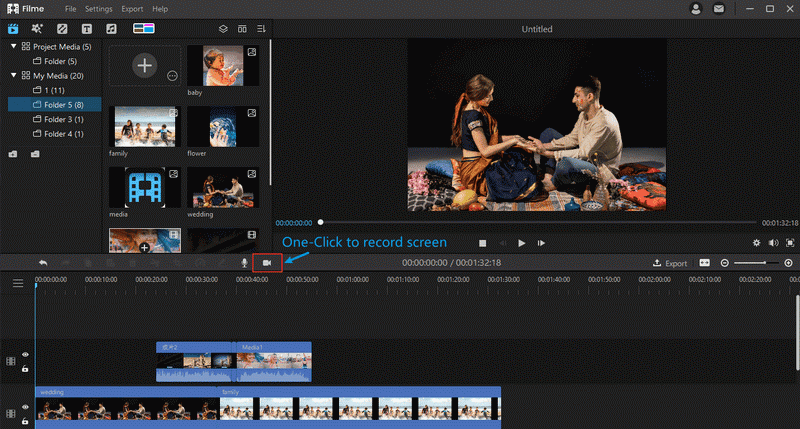 Step 2: Once the recording is done, it will appear in the Media importing Section.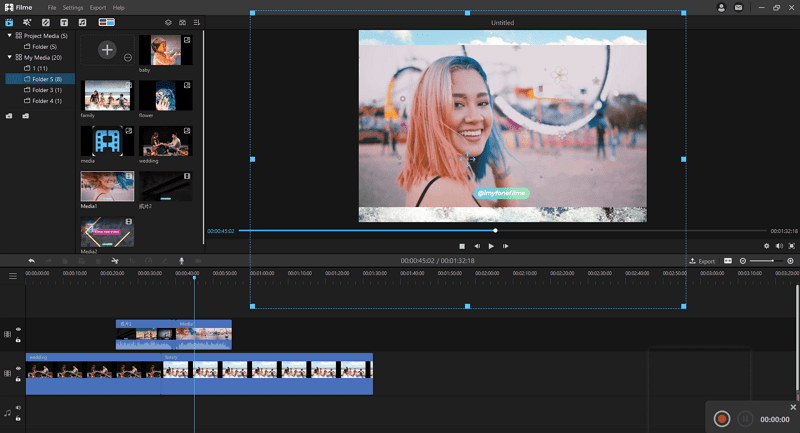 Step 3: Next, you will drag between the timeline of the video for further editing of the video which may include cropping, adding music, transitions, templates, and text.
Step 4: Lastly, you can preview the changes. Now, you can export the edited video or share it on social media.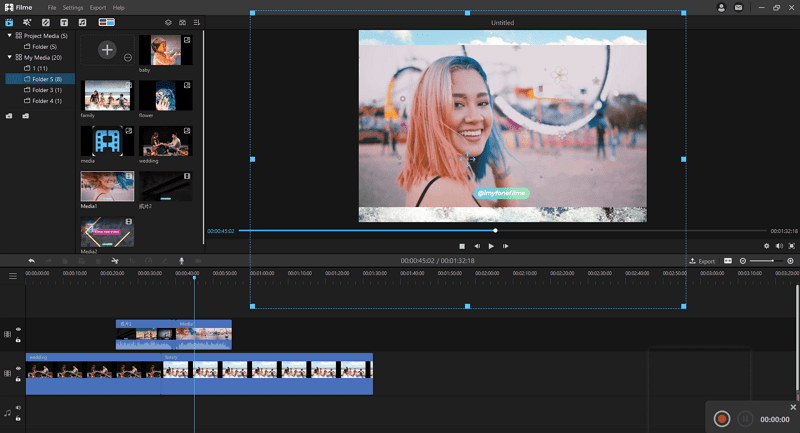 FAQs of Screen Recording
1) How to edit Screen Recording?
Once you are done with Screen recording, your recorded video will appear directly in the Media Importing Section. In this part, you will drag through the video and edit it the way you prefer. You can edit by selecting tools from the toolbox. Then, you can crop, clip, add effects, texts, or voice over to your video.
2) Can I crop my Screen Recording?
Import the video you want to crop to iMyFone Filme by clicking on the import button. Then, select the crop icon among the set of toolbars. After that, you will crop the recorded video to a certain ratio and size by adjusting the rectangular box on the screen.
3) How can I speed up my Screen Recording?
You can speed up your screen recording by selecting or importing the video you want to speed up. Once you get the video, select the speed icon from the list of tools on the toolbox on the top of the screen. A speed slider box will appear. Move it towards the right of the slider to accelerate the speed of the recorded video.
4) How can I increase the volume of my Screen Recording?
Once you have imported the video of your screen recording to iMyFone Filme, you will see the audio clip with the video. Now, to increase the volume of the screen recording, you will need to double click on the audio click. This will lead you to the audio editing panel. Here, you will see the sliders where you can adjust the volume of your video. You can move the slider in the right direction in order to increase the volume. Also, you can adjust the fading in and out of the sound in this section.
In Conclusion
In this article, we shortlisted 5 best screen recorders and editors among a variety of recorders available on the internet. All the pros and cons are mentioned with the prices of each tool, so it's easy for you to choose according to your requirements. But above all of these tools, iMyFone Filme stands out with amazing features and even the price range. It will give you all that you can ask from a top-notch recorder and an editor to gain that seamless results in your video.