Nowadays, videos are indeed the best means to learn anything. Everything can be learned through recordings, including visual lectures to cooking and cosmetic procedures. Additionally, as YouTube gets bigger, 4k screen recorders for PC are becoming more famous as a tool for recording video tutorials.
So, if you're making documentaries, a videogame, or lectures, recording specific screen actions will help tremendously. In this article, we have discussed the 10 Best 4k Screen Recorders for PC that can help you in creating awesome video content. Keep scrolling to know more.
10 Best 4k Screen Recorders for PC
1. iMyFone Filme [Editor's Choice]
This is a multi-functional video editing program that is perfect for everyone. It is a great tool for editing video content and creating awesome clips from images through a variety of filters, textures, sounds, artwork, and themes to embellish the end result.
iMyFone Filme is also one of the best 4K screen recorders for windows. It is considered a powerful content creation tool for PC and Mac users. This video editing software is recommended for anyone who is interested in creating short videos or YouTube tutorials for their channel. The content creators on different social media sites can also use editing tools for video creation.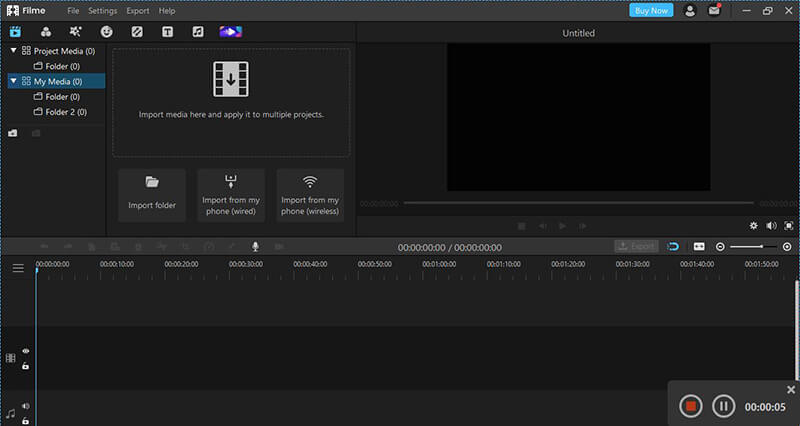 Features of Filme:
Filme can record computer screen or microphone, or both simultaneously.

Recording a screen with iMyFone Filme involves only a few steps.

Filme can do the screen recording with high quality.

You can easily adjust the size of the cursor for capturing the recording area you need.

You can export the recorded video with multiple formats.
Why Choose Filme:
1. Filme is one of the best 4K screen recorders for PC that is designed for both newbies and expert video editing professionals.
2. It comes with basic video editing features: trim, cut, split, change speed, pan & zoom, and more.
3. Filme is designed for both newbies and experts. The simple and easy-to-use interface of this tool allows everyone to edit their clips.
4. Its Fast Video mode helps you edit the recorded videos in one click with ready-made templates.
5. You can upload recorded videos to Facebook, Twitter, YouTube or Vimeo. Your social media audience and followers will love these masterpieces.
6. It has a free trial, so you can try out the secreen recording features for free.
2. ShadowPlay
ShadowPlay has been on the list of best 4K screen recorder windows 10 due to its compatibility on all windows and unlimited length video recording. It is basically used for recording games on your screen and it is popular among gamers and streamers, but it can also be used for screen recording. It has the ability to power-grabbing special moments that are ignored by other screen recorders.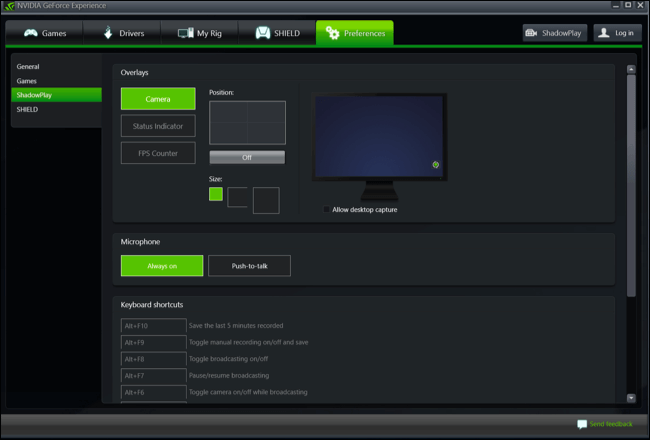 NVIDIA's ShadowPlay is also the best video recorder for live streaming. If you own an advanced PC, with the latest NVIDIA hardware, you can also access the unique feature of the FPS counter overlay. This screen recorder is also compatible with Windows X/Vista. ShadowPlay requires at least a 600series graphic card for maximum performance. This is the main requirement of this video editing tool.
Features of ShadowPlay:
Easy to use and attractive user-interface.

Can be used for recording up to 4K resolution.

GPU-accelerated H.264 encoder.

Manual mode allows unlimited screen recording.
3. Bandicam
If you are looking for the best 4K screen recorder for PC, Bandicam is a perfect option to consider. This video recorder ensures the highest FPS for allowing you to record the videos in high quality. Gamers, streamers, or content creators on social media sites can use Bandicam for recording the screen.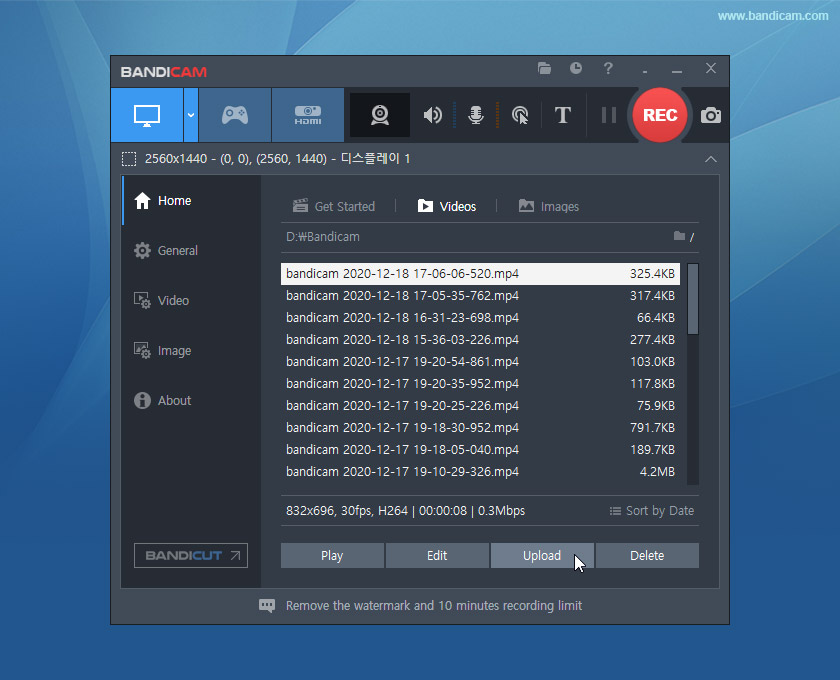 This video editing tool has many encoding and code options and you can select any of these options based on your personal preferences. Bandicam screen recorder can be used for getting the best quality of recordings due to its versatility. The screen capturing can also be performed with this software.
The users who are looking for 4 HD Ultra UHD game videos can also get install this application to get the best results. The maximum frame per second of this video editing tool is 144. Bandicam supports Apple TV, Xbox, android, ios, and HDTV. You will have to purchase a specific video capture card for recording the clips through your devices.
Features of Bandicam:
Supports a wide range of video formats.

Supports the hardware acceleration.

Enables you to record games and videos easily.

Sound can be recorded from the mic and system.
4. ShareX
With the most user-friendly user interface, ShareX is one of the best 4K screen recorders for PC. It can be used by beginners and experts to record screens and create awesome video content. This video editing tool also allows you to add pictures and images to the recorded video. ShareX also enables the users to record a specific window or monitor of your screen. You can also select to record the whole screen with just a single click.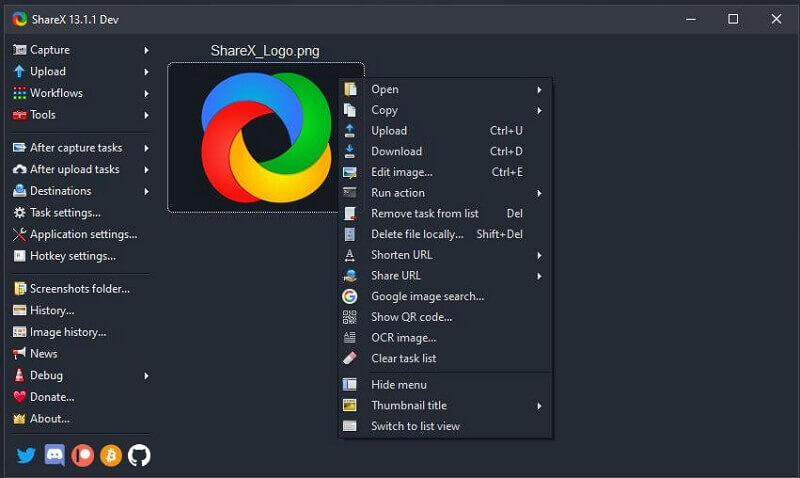 ShareX is also the best option to consider when it comes to editing features and elements. It can be used for adding images, texts, transitions, animations, effects, and filters to your videos. The video clips are easy to upload on several major platforms like OneDrive, Google Drive, and several others. This screen recorder includes all the required features that are required to create video content for your audience.
Features of ShareX:
Can be used for sharing the video clips.

Offers a wide range of productive tools.

Videos are easy to edit based on your requirements.
5. Snagit
This screen recording tool is quite easy to get the videos and pictures straight away. This screen recording tool also helps to get the screenshots from various sources. This user-friendly software enables the users to take over the control of every recording. With just a single click, it grabs any window from every application and webpage.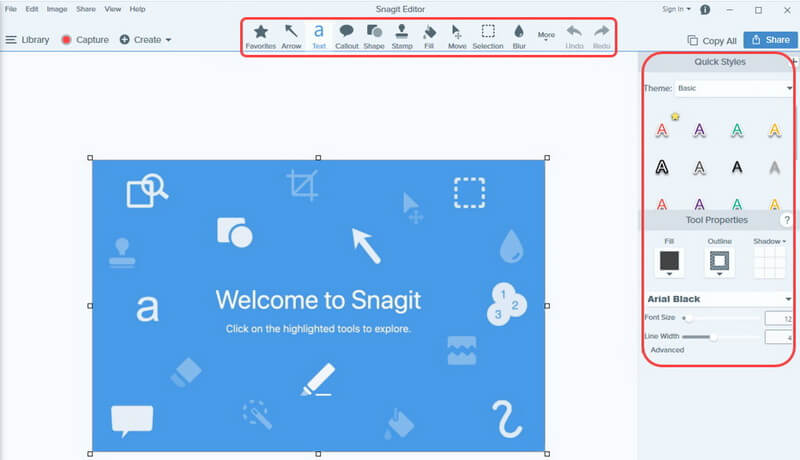 Snagit also has the best editing features and functions. The visual graphics of this tool make it easy to use and edit the video content. Snagit also enables you to add highlights, customize the graphics and get the required results in no time.
Features of Snagit:
Supports audio recording via MPEG-4 and animated GIF.

Includes the option of webcam recording.

Screenshots capturing and quick video recording can also be performed.
6. OBS Studio
This screen recording software is popular among users because of its best performance and useful features. OBS Studio is the best free 4K screen recorder PC that supports major platforms. It offers top-quality editing tools that mean a lot for professional video editors and gamers who are looking for a free option with high-quality performance.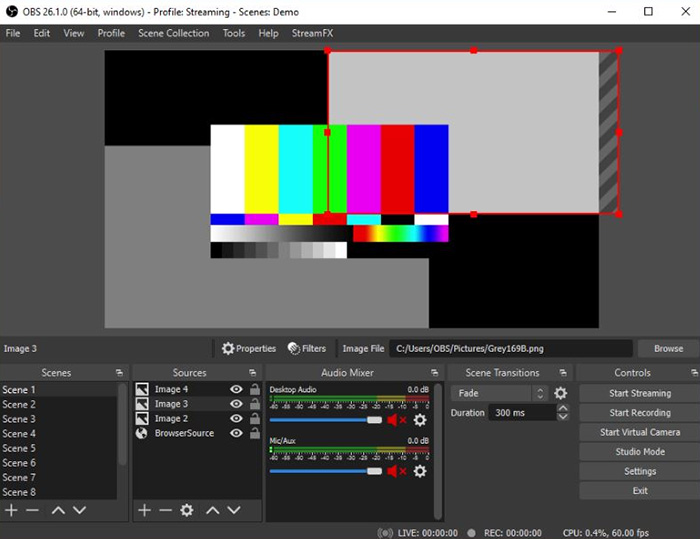 The limited length of video recording is not a problem anymore while selecting FullHD and UltraHD. OBS Studio supports several video formats like Flv, mp4, and mkv. It also supports the steaming of your videos on different social platforms like Facebook live, Twitter, and Dailymotion.
Features of OBS Studio:
Free 4K screen recorder software.

A huge array of recording options are included.

More than 20 plugins are supported.

Live stream video recording is also offered.
7. ActivePresenter
This software records your desktop screen in excellent video quality while capturing all parts of your desktop screen. The free version of this software features several useful video editing tools for those who require high definition and lengthy screen recordings.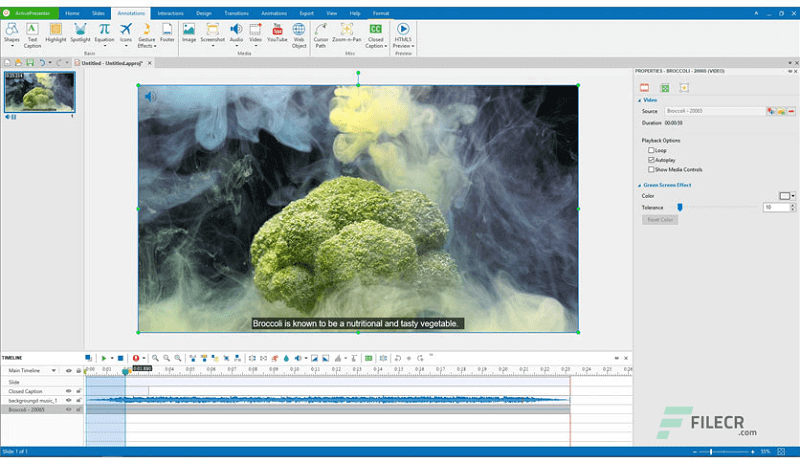 In the free version, there are no restrictions regarding the length limitations of videos. The free version of ActivePresenter doesn't add the watermark to your videos. Moreover, it offers free use of screenshot editing tools like beautiful shadows, colorful effects, trendy styles, and different shades. The transition effects are also supported to give your photos a beautiful look.
Features of ActivePresenter:
Free screen recording tool with many features.

Export options in MP4, MKV, WMV and AVI.

Different annotations are easy to add.

Supports the feature of cloud text to speech.
8. Camtasia
This screen recorder is widely known for its simple user interface and several animations and effects. Camtasia by TechSmith is used for recording activities on your main window screen for several tasks. The voice-over function of Camtasia is a great tool for users who want to add their own voice while recording a video. The video content is easy to enhance by adding special effects, transitions, animations, texts, and annotations.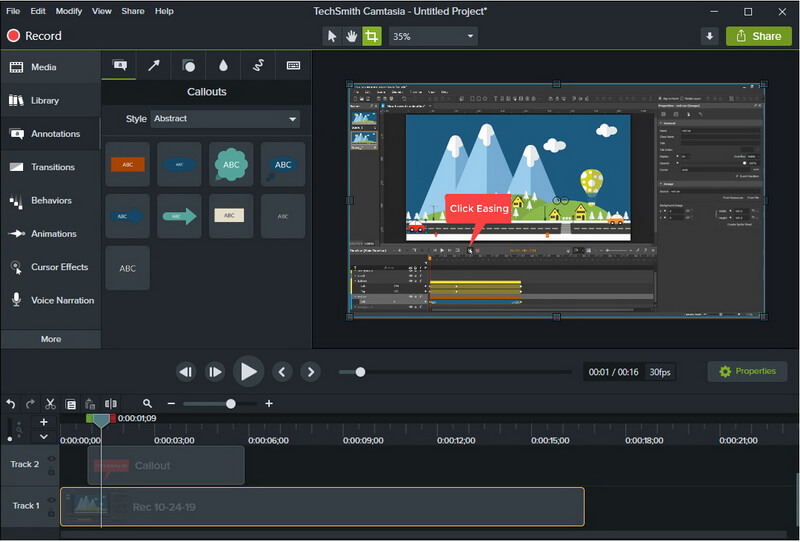 Camtasia is included in the list of best 4K screen recorder for windows as it is a free-to-use tool that can be downloaded and installed by anyone. It includes all the game-changing features and also enables you to combine different video clips to make a masterpiece. This feature is available in some other tools but Camtasia allows you to complete the whole step with just a few clicks.
Features of Camtasia:
Wide range of animations and effects.

Free to use screen recorder tool.

User-friendly interface.
9. Icecream Screen Recorder
The neat and clean interface of the Icecream screen recorder makes it a top priority of users who are inexperienced in video editing or screen recording. The amazing control options with different options of selecting the video resolution make it a good choice. The screenshots captured in high resolution with the Icecream screen recorder can also be edited by adding arrows, texts, numbers, animations, and several other elements.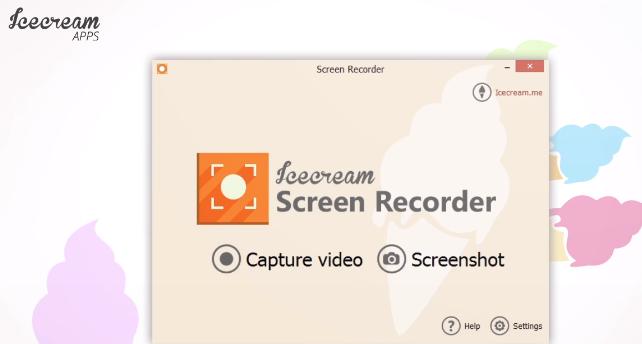 This tool supports different formats like WebM, MP4, and AVI. If you are looking for a screen recorder that helps you convert your videos into GIFs, this tool is a great option. The screen recording is easy to upload on your YouTube channel with a few clicks.
Features of Icecream Screen Recorder:
Video length is easy to adjust or edit.

The video speed can also be changed in no time.

Enables you to add customized watermarks or logos.

Video content is easy to share on social media sites.
10. Readygo
Save the recorded video on your device and add the background voice through your microphone by using the Readygo screen recorder. You can also select the full video or a specified area on the main screen for recording. The window of a program can also be recorded with the Readygo screen recorder in high quality.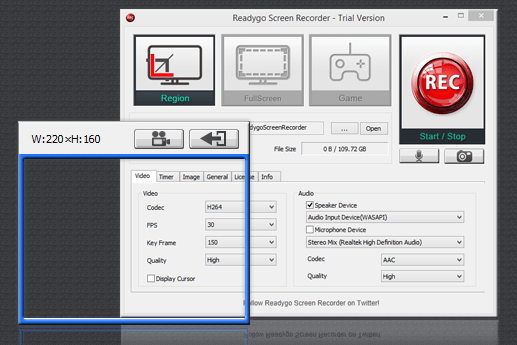 This screen recorder also enables you to capture high-quality screenshots of the main screen. You can add a customized logo or watermark on the recorded videos or screenshots.
Features of Readygo:
Allows audio recording with the external mic.

Includes the option of image capture.

A timer is also available for making things easier.

You can also add a personalized logo.
Hot FAQs About 4K Screen Recorders
1. Do you need a 4K monitor to record 4K?
No, there is no need to have a 4K monitor for recording 4K video content. This is not a major requirement but it is recommended to have a 4K monitor for sharp textures and high-quality content. The lower resolution monitors can also be used for recording in 4K.
2. Can you record 4K on a 1080p monitor?
Yes, the lower resolution monitor can be used for recording in 4K resolution.
There are different tools and software available for screen recording on a PC. You can download and install iMyFone Filme that is the best 4K screen recorder for PC. This user-friendly tool helps you record the screen with only a few clicks.
Conclusion
There are many screen recorders available in the market that can be used for screen recording and screenshot capturing. You can start creating awesome video clips for your fans and followers on different social media platforms like YouTube, Instagram, and Facebook.
Although free screen recorders are a good choice if you want to record screens in 4K, we suggest you go for the premium versions of these software. iMyFone Filme is the best 4K screen recorder that offers several unique features and tools for video editing and processing. It includes powerful video editing features like animations, texts, filters, and effects.