Are you just discovering Minecraft video games? Or are you already into Minecraft video game making but searching for new video ideas for your next Minecraft video game? Whichever, I have an answer for you today. I will be covering all the basics of Minecraft. Also, I will list a few Minecraft video ideas to help you get started.
Minecraft is a sandbox video game invented by a Swedish developer Mojang Studios: and was designed in Java programming by Markus Notch Persson. After private testing, the Minecraft video game was brought to the public in May 2009 before its establishment in November 2011. Minecraft has won several awards and is known as the best video game of all time.
Minecraft Video Ideas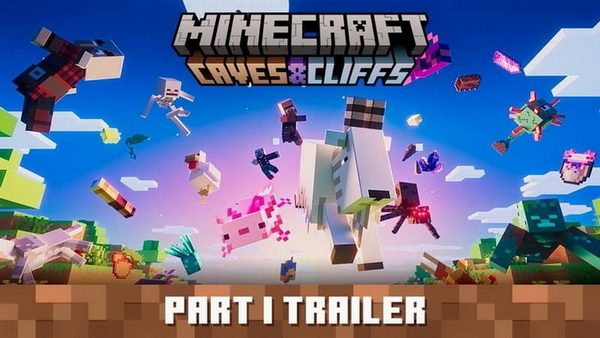 You can start by enlightening newbies on the process of the game.
Make tutorial video on Minecraft survival series
This keyword has a 3k+ monthly search volume. And creating a video around this topic will be a good start. Though there are several videos on this topic, be specific and entertaining in your video.
Minecraft iron farm
Here is another topic people are interested in providing information on it, will not be a bad idea. 3.3k+ individuals are searching for videos on the said topic.
Best summer build. (Build entire waterpark)
Creating a video on the above topic is a good idea. More than 3.2k+ monthly searchers are looking for answers.
Beginners guide on Minecraft
Make a complete video tutorial for beginners who are just starting to play Minecraft. The SERP records 2k+ queries on the said topic.
Best secret base on Minecraft
Here are the least of topics you can cover in your videos. The vital aspect of the whole process is uniqueness and ordinality.
Minecraft NOOB vs PRO
Making comparison between these two characters will always bring joys for beginners and arouse their curiosity with the attractive plot.
How to Start a Minecraft YouTube Channel
What Makes Minecraft Special?
Can you imagine what your experience will be like if you are alone in a thick forest with nothing to protect yourself or feed? You in a forest filled with wood, sand, and stone. All you can think of is how to build a shelter for yourself. So you pick the woods, sand, and stones to build a cabin. After that, you prepare yourself to fight the monsters that appear at night. And a few days later, you looked around and realized that the thick forest has turned into a fortress built by you.
That is how the Minecraft video game feels like it makes you feel like a superhero. You dig up a mud cube, cut tree, stone with a pickaxe, and you use these materials to build anything you can imagine spring up as you painstakingly create a world around you to survive the elements.
1. Why is everyone obsessed with Minecraft?
Fact! Minecraft is an addictive game. Mostly kids. Kids with ASHD seem to hyper-focus essentially on building the creative world. The cuboid world of Mojang Studios has fascinated kids all around the world. You hear them talk about Minecraft, and parents are worried about it. However, the colorful block-building game is confusing to those who are not involved with the game. Minecraft is a sandbox game, which means it has few defined goals and no real ending. You are free to explore and build forever, which means you can get sucked in forever, too.
Although this game is not just mindless entertainment, it helps kids build critical skills like time management, planning, problem-solving, and eyes coordination.
2. How to play Minecraft beginners guide?
Let us see how we can start playing this phenomenal game. It's super easy just head over to the official website to buy and install the game. After the installation, launch the game app to start playing, which gives you the option to play from your browser. As a beginner, sign up and start your game. See the guide below;
Step 1: When the app is open a new screen, enter your username and password, then hit the login menu to continue.
Step 2: Click the single-player button to start building your world.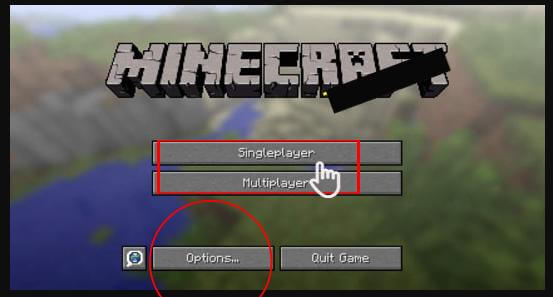 Step 3: Give your world a name, then click the create button below the pop-up screen to start your game.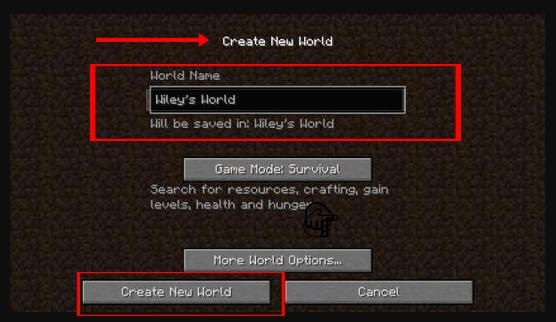 Turn on the game cheats. You can increase or decrease the playing level difficulty and switch to creative or adventure mode as you play. Cheats give control over your world when you are starting the game.
After creating your world, the game will automatically generate the world and place your avatar in it.
Step 4: Select the best game mode in Minecraft. Minecraft offers different types of game mode that allows you experience the open world in a unique form.
As a beginner, select the single-player and the survival mode to start your game. And you will be thrown into your world with little resources to survive your first night when mobs are more likely to attack you. Your first night in Minecraft should be collecting resources, cutting woods, killing animals, etc.
Minecraft Game Modes.
Minecraft offers several types of game modes that will help uniquely explore your project. The modes are;
Survival mode- After randomly being thrown into a new world, a player must try to survive. By utilizing the available resource in the new world.

Creative Mode- Minecraft give player resources that are invaluable & immune to death. The purpose of this mode is to create/design a unique world.

Adventure Mode- A player interacts with mobs to complete an adventure.

Spector Mode

Hardcore Mode- Just like the survival mode.
The Benefits of Playing Minecraft for kids.
Read on to learn more about 5, benefits of playing Minecraft.
Focus and Problem solving- You have to overcome kind of challenges in Minecraft to build your world
Creativity- Minecraft is a massive blank canvas for your imagination.
Confidence - It builds their confidence. They will believe in themselves
Teamwork- Minecraft impact teamwork ability on kids, playing the game. Continue here
What you Should Include in Minecraft Architectures.
Are you out of ideas already, or just starting up and need some excellent ideas for your Youtube video? Here let me help you out:
Build a modern city with skyscrapers- Imagine creating a world with such architectural init.
A fortress beneath the water- Enbacking on such a project will be fun.
Library- add a bookstore in your fortress
Pyramid- Build a Pyramid at the center of your world surrounded by Historic status.
What you should not do in Minecraft.
In Minecraft, some mistakes can rid your excitement in the game. Regardless of the advice; I will be giving in this article. You are free to play the game in your way.
Excessive Movement- Sprinting and jumping will drain the hunger bar during the first few days, And it takes time to renew food production in the game. Hunger can rid the game if you do not know how to manage yourself.
Food Poisoning- Do not eat rotten flesh and raw chicken. It may inflict the hunger status effect on the player, making actions drain the hunger bar faster.
Not mining blocks
Careless underwater digging,
Etc. All these mistakes are what a player should try to avoid. To read more, click here.
Frequently Asked Questions
Q.1: Is Minecraft good for kids?
Minecraft is one of the best games for kids. It teaches kids programming skills, problem-solving, and teamwork abilities. Continue...
Q.2: Why is Minecraft so addictive?
Minecraft is a sandbox game, which means it has few defined goals and no real ending. You are free to explore and build forever, which means you can get sucked in forever, too.
Q.3: Is Minecraft good for the brain?
The researchers behind the Glasgow University study agreed that Minecraft helps our brain. And here is the statement giving to Daily Newspaper:
"Playing commercial video games can have a positive effect on communication ability, adaptability and resourcefulness… suggesting that video games may have a role to play in higher education. The study also suggests that graduate skills may be improved in a relatively short amount of time, with the gains reported here achieved over a period of eight weeks and representing just 14 hours of game play."
Q.4: What are the risks of Minecraft?
I will list the risks involved with playing Minecraft for kids.
Expose kids to bullying and exploitation

The temptation to steal from their parents

Disobedient to parent instructions. Continue here...
Q.5: Is Minecraft a good or bad influence?
There is no formal claim research on Minecraft exists. But there is a great deal of research about video games having a positive and negative effects on kids. Some research suggests it improves processing speed, while some studies said the gamers experience edgy and irritability.
Q.6: What effect does playing Minecraft have on the brain?
A study carried out by chain on 18 college students shows that gamers had Less Grey matter( the thinking part of the brain). Outsider from that, in 1990, scientists warned that games only stimulate the part of the brain that controls vision while leaving the mind responsible for behavior emotion, and learning could become underdeveloped.Read more.
How to Make Minecraft Video Easily
In this article, I will be using the iMyFone Filme editor in this example. In a few steps, your video should be ready.
Step 1: Prepare your content and set up the environments you want to share with viewers.
Step 2: Set up your camera to record your video. Make sure your camera is not shaking.
Step 3: Editing your video. After recording your video, you need to make it look appealing to your viewers. Add some sound effects. Here is where the Filme editor comes into play. Use this link to download Filme editor for free, then launch the editor to edit your video. Editing to your taste( I will be walking through the process in the next paragraph), hit the export button to save your video to your computer.
Step 4: Upload your video to any video platform of your choice. Be sure to optimize your video.
Tips on making a good Minecraft video.
To increase your video view hours, you have to make a high-quality video. That is why I will be giving a few tips on how to make your next Minecraft video engaging.
3.1.1: Good content Idea- Always make the video original. Be creative, inventive, educative, and entertaining in your videos. The more you combine these tips, the better.
3.1.2: Prepare- Do not just pick a camera and start recording and uploading videos. It takes more than that to ensure you have all the necessary equipment and software for editing. Because here is where your video engagement starts, nobody wants to watch a shaky unprepared and shaky video.
3.1.3: Produce- You have your content idea, you have prepared your hardware and software, is time to produce your video. If you implement the three listed tips into your video making, I bet you will hit a few thousand subscribers in no time.
Since we are aware of the essential tips in video making, we will learn how to edit our video using Filme editor.
How to edit Minecraft video.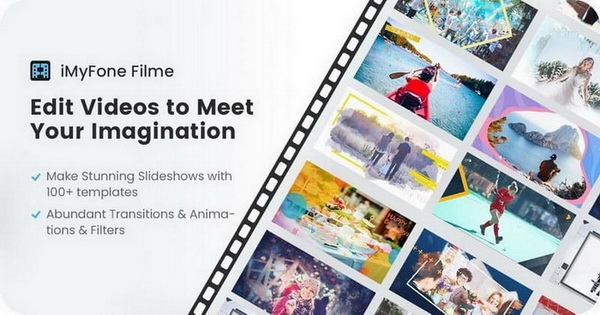 By now, you should have Filme editor on your computer. In six steps, let us edit our Minecraft video using Filme editor; You can watch the video tutorial here.
Features
What makes Filme editor the right choice? The simplicity!
Filme editor is the new best video editing tool that has everything all video editors need. From expert to a newbie, the filme editor is extraordinarily easy for everyone. With the super standard feature, a beginner can create a professional video. Nice things about said editor;
Templates- You do not have to start from scratch. Choose from professional templates, and create your video.

Lots of effects and resources- there are tons of animation, transitions, filters, sound effects, image library to leave your viewer astonished.

Wide-Format support: Filme accepts a wide range of image, video, and audio formats.

Advance features- Multi-laying, multi-track audio options, instant preview, and much more.
Step 1: Launch your editor and import your recorded video.
Step 2: Add the media files to the editor timeline by clicking the +icon or right-click on the file you want to use to choose from displayed options.
Step 3: Trim, crop, or split your video using the options available on the menu.
Step 4: Add transitions, filters, and sound effects to your video. Use this feature to your creativity.
Step 5: Add images, stickers, and text by hitting the text icon on the toolbar.
Step 6: Adjust your video speed using the speed icon.
Step 7: Export your edited video to your computer. Hit the export button, and your video will be download to your computer or social media platform of your choice.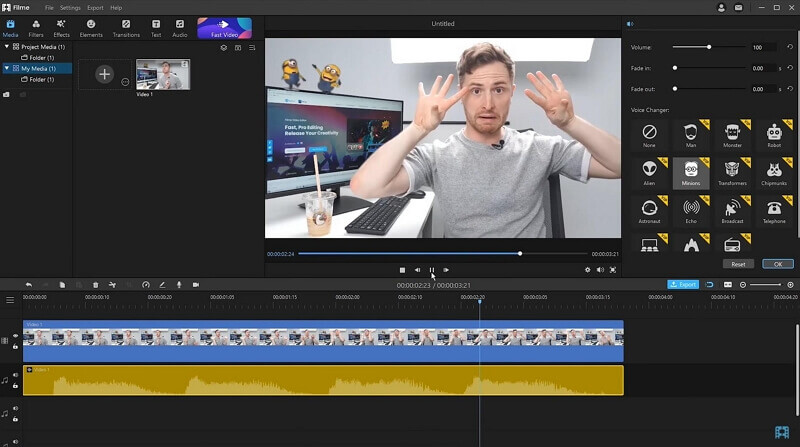 The bottom line:
It is possible to develop essential cognitive skills while having fun playing Minecraft. Also have fun creating Minecraft when you have the proper tools. And if you want to make an engaging video, Filme video editor is the best choice to make your video stunning and help you make nice profitable video for Youtube channel.