Are you a video gamer and want to earn through creating your YouTube gaming channel? Or, perhaps you are already a Fortnite YouTuber and are looking for outstanding Fortnite Video Ideas.
BE HAPPY BECAUSE YOU ARE AT THE RIGHT PLACE!
This article brings you some new and awesome Fortnite video ideas that will surely help you get more views and subscribers on your Fortnite channel. We suggest you try many, if not all, of these ideas, as they will increase your chance of success.
Let's take a look at 5 Fortnite video ideas to get you started!
5 Pro Fortnite Video Ideas For YouTubers
Without procrastinating, let us dive right into the awesome Fortnite video ideas. These ideas will help you earn subscribers, rank your channel better, and will make you able to beat your competition.
Idea#1: Create a Fortnite Montage Video:
A montage video is a collection of many video clips into a single video. While playing the game, when a player does a Clutch or an Awesome kill, he saves all these action moments into random clips. To make a montage video, he combines all these clips into one video by using a video editor and then upload it on YouTube.
Montage videos are viral and have a huge fan following because people love to see all the action moves a gamer has played during his game. It gives satisfaction to the viewers.
Creating a montage video is an easy task. However still, you will need to have the basic knowledge of the following things:
Video editing software and skills.

Some VFX to make the video more appealing.

How other people are making montage videos.

How to save clips or how to grab clips from the Pros.
How do I make Montage Videos?
There are many different ways to produce montage videos. Some of them are:
You can clip chunks of your game if you stream on Twitch. Later, you can use any video editor to edit and combine them.

You can also capture clips and combine them if you play on Xbox or PlayStation.

You may also use an Elgato to capture game action and then clip it together.
How Do I Save Clips For My Montage Video While Streaming On Twitch?
In Twitch, you can clip anything from the stream through a built-in clip tool.
How many clips can I add in a single Montage video?
The number of clips depends on how long you want your video to be. Recommended total video length is 5min. Therefore, 15-20 clips are enough for one video. Moreover, keep in mind the clips that will take more of your video's timeframe because of slow-mo.
Idea#2: Record and Share Fortnite Highlights:
NVIDIA ShadowPlay Highlights in Fortnite automatically captures your best moments, such as kills, deaths, and critical events in supported games. It enables you to review, edit, and share your best and most amusing moments with ease.
What better way to entertain other gamers and viewers than to show them the highlights of your pro moves after a long day of gaming?
Enable NVIDIA Highlights in Fortnite Battle Royale, capture the thrilling action moments of your game, and then upload them on YouTube. It will make your fans go crazy, as they love to watch a gamer in action.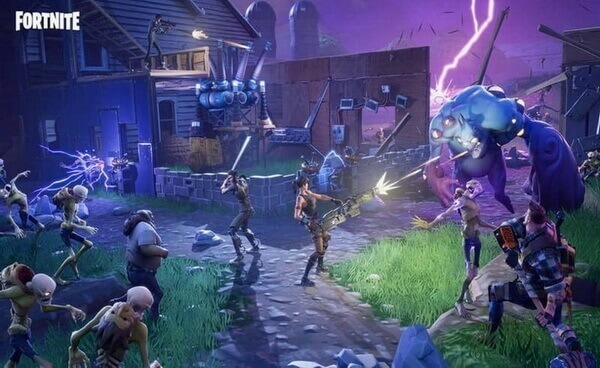 What are the requirements to activate ShadowPlay Highlights in Fortnite?
To activate ShadowPlay Highlights in Fortnite Battle Royale, you'll need:
An updated version of Fortnite Battle Royale

GeForce Experience 3.12 or higher,

The Fortnite Game Ready driver,

GeForce GTX graphics card.
Idea#3: Increase The Fps To Boost Quality Of Your Video:
Who does not like to watch high-quality gaming videos? It is another pro-tip that most popular YouTube gamers apply.
Playing in high-quality, fast-paced mode and never slowing down due to low fps can make your videos more engaging and appealing.
Although the game is already well optimized, by boosting fps, we get a chance to increase the performance of our videos by a considerable margin.
What are some of the standard methods to boost fps in Fortnite?
Here are some of the most common steps that players can take to boost FPS in Fortnite:
Verifying game files.

Updating GPU drivers.

Disabling Background applications.

Turning on Performance (Alpha) mode.

Disabling High-Resolution Textures.
These tips and tactics will provide gamers a significant FPS boost in Fortnite, allowing them to have the best in-game experience possible.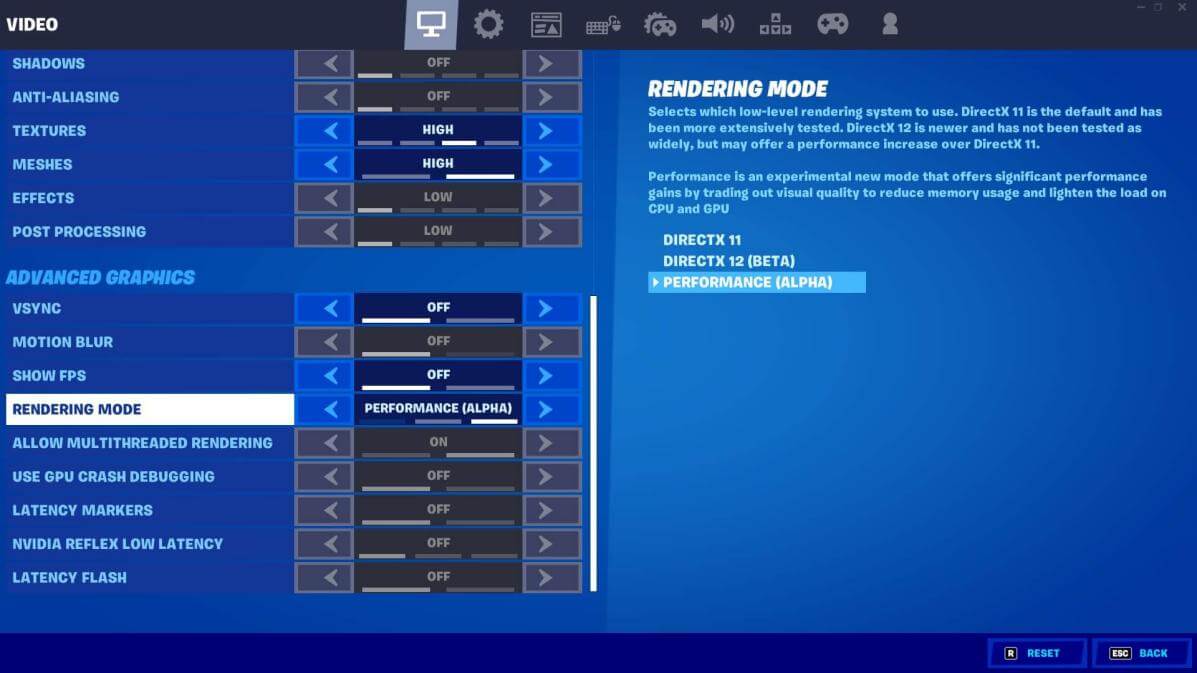 Idea#4: Design a Unique Fortnite Thumbnail:
Well, there are many ways to attract new subscribers to your streaming channel. The most fantastic tip is to stand out among your competitors.
For instance, the most popular Fortnite streamers who share videos on YouTube all use a familiar style of the thumbnail image.
Stand out by thinking out of the box!
Go pro, make your customized Fortnite thumbnails for YouTube or Twitch, and use them to impress the other gamers. The good news is making your custom Fortnite thumbnail is entirely free.
How to make Fortnite Thumbnails?
Here is how to do it in two ways:
Method#1: Go for a free ready-made template:
Select any online software with free templates.

Choose a template that looks amazing,

Remix it with your name, title, image, and then save it.

Upload it as your video thumbnail.
Method#2: Create your template from scratch:
There is much software available online that lets users create original templates.
Begin by searching a beginner-friendly free software.

Firstly, choose a blank canvas and start editing.

Next, select a high-quality background for your thumbnail. Fortnite maps work best as a background for thumbnails.

Then, if you have an image saved into your pc, use it. Otherwise, create a character image and paste it.

Finally, add text and bingo! Your thumbnail is ready.
What is the perfect thumbnail size for a Fortnite video?
The perfect Fortnite thumbnail has
Area: 1280 x 720 pixels (width x height).

Aspect ratio: 16:9

File size: less than 2MB

File format: .JPEG, .PNG, .BMP, or .GIF
Idea#5: Generate An Intriguing Fortnite Intro And Outro Templates:
As mentioned above, customized thumbnails make us stand out among others. Similarly, a unique Fortnite intro/outro will also attract more subscribers and gamers.
Your video intro is an essential tool to increase fan following. Through your excellent Fortnite intro, you can let viewers know what channel they are watching and what they can expect to see.
You can also increase viewers' retention on your YouTube Video by making an intriguing teaser Fortnite intro.
In addition, a fantastic Fortnite outro can also attract viewers so that they'll continue to watch your future gaming videos.
Many software and websites offer Fortnite intro/outro templates that users can easily edit according to their desire.
Whichever software you chose, look out for the following features:
It should be free.

It should be in full HD.

It has royalty-free music included.

There is no additional software or plugins required.

It is compatible with the End Cards feature that you'll use on YouTube.
Also Read:
10 Best Roblox Video Ideas for Youtube >>
YouTube Gaming Video Ideas for Beginners
As a newbie, are you in an unknown zone and do not know how to kick off your gaming channel? Let us introduce you to some most popular and most watched gaming fortes that can build you a huge fan following in a matter of time.
Review Games
Reviewing games is arguably the most straightforward video idea for launching your YouTube career!
Video reviews are videos in which you discuss what you enjoyed, did not like, and your overall impressions of a game.
More than 60% of YouTube users watch 'review videos,' indicating that consumers are actively looking for 'review videos' before making a purchase.
Live Streaming
Yes, another obvious addition to our ever-growing list, but another idea that has worked for many others and could work for you as well!
From here, you may start building your brand and audience. Because of getting to know 'you,' your audience will feel more connected to you and your brand.
By putting yourself on screen and communicating with an audience, you begin to create rapport. Your audience subsequently tells others about you, growing your channel and audience — it's the traditional "word of mouth" sales approach!
Discussions
Because you can talk about anything game-related in a discussion video, they're becoming increasingly popular on YouTube.
It's pretty straightforward. Begin by conducting some study about the game you've chosen to portray in your video so that you can argue both sides of the issue with proof.
If you make thought-provoking discussion videos, viewers will want to return to your channel to see more of what you have to say. Because People enjoy how you handle themes and discussions!
Bonus:
Do you want to edit montage videos, highlights, thumbnails, or Fortnite intro/outro videos and make them look professional?
Do you want to make your Fortnite Gaming Videos appealing and gripping?
Well, in the end, let us present you the best video editor that would help you sort out every issue related to video editing.
Best Video Editor for Fortnite Gaming Video Editing
iMyFone Filme is one of the best online video editing software. It is feature-rich and user-friendly, helping you edit your gaming videos to perfection, whether you are a beginner or a veteran video maker. Users can use it currently on Windows and Mac PC.
It offers a bundle of features to help you enhance your gaming videos without much hassle. With an intuitive interface, it's so friendly to beginners that you can edit gaming videos easily.
Smart Features of iMyFone Filme:
It lets you do easy editing, like trim/ split videos, rearrange clips, add texts, stickers, music, filters, adjust speed, and export your video.

It has a straightforward user interface with powerful video editing features.

It has 110+ transitions, 170+ video effects for different niches of your choice.

It allows you to add uniquefilters & elements & effects to create video thumbnails.

It lets you enhance videos with built-in themes, 20+ instant modes, and 50+ audio.

It offers Picture-in-Picture Effect and Fast Video Motion.
How to Edit Fortnite Youtube Videos Using iMyFone Filme
Editing Fortnite YouTube videos with highly efficient editing software like iMyFone Filme is a straightforward task. iMyFone Filme is beginner-friendly software for YouTubers. Thus it is considered the best one-stop for all your editing needs.
Let's see how you can edit your gaming videos through iMyFone Filme.
Step 1: Upload or Import Video:
To add a new file, click the '+' tab on the timeline, or you may use the "drag and drop" approach to move your files manually.
Step 2: Chose the editing options provided at the top bar or change speed:
To edit your Fortnite videos, select from the extensive range of options offered on iMyFone Filme and make your Fortnite YouTube videos captivating and unique.
To modify the clip's playback speed, select it and press the Speed icon in the Toolbar. Open the Speed window. The Speed slider on the Speed bar can be moved to the right or left to increase or decrease speed.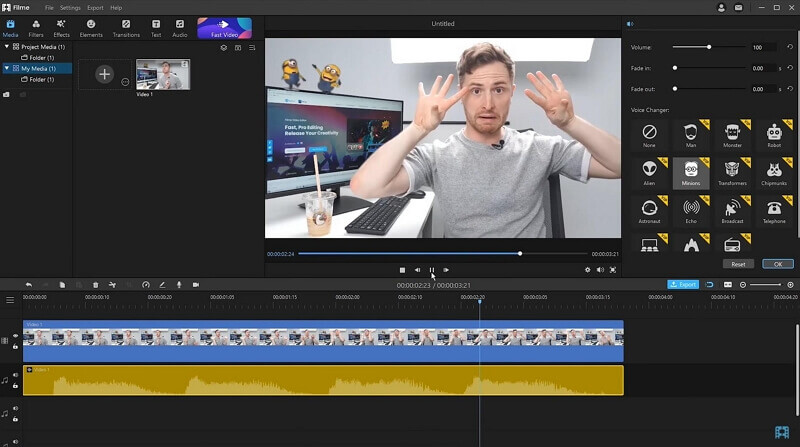 Step 3: Use Advanced Options to alter your videos:
You may also use iMyFone Filme's advanced editing capabilities, such as fast motion video OR picture-in-picture option, to generate unique Fortnite videos.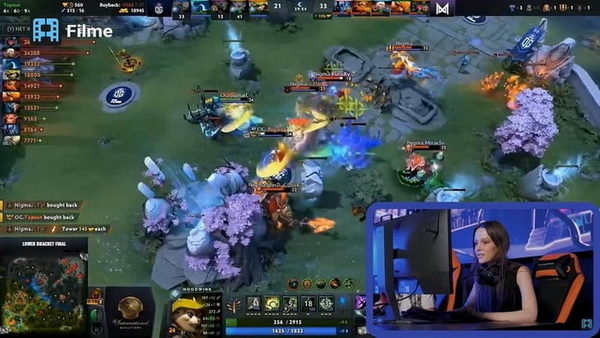 Step 4: Preview the editing window:
In the preview section, you may examine and also make some modifications. For example, you can concentrate on details such as ratio, speed, and resolution. Moreover, you may also adjust your video's rotation, clarity, brightness, and contrast using the editing option.
Step 5: Save and Export
Click on the export button that is accessible beside the timeline to store your videos on your PC or any other device. You can quickly upload your videos to your chosen platforms.
Cheers! Using iMyFone Filme, you have creatively edited and produced Fortnite video for YouTube. Now you are ready to attract sponsors and subscribers by bringing the ideas mentioned above to live, or you may want to start other channels like Minecraft or Roblox, then you need videos ideas for Minecraft and video ideas for Roblox. Just use iMyFone Filme to edit your vids.