When it comes to video editing, choosing the right video editor is the first thing that you need to do. There are many video editing tools available that you can download to edit your videos. But some of the tools may waste your time. Moreover, you need to pick a suitable tool according to your needs.
Adobe Premiere Pro is a professional tool that you can use to edit your video. Professionals recommend this tool and use it for their own projects. However, it is a bit complicated for beginners. Beginners need to see the step-by-step method to use the tool. Therefore, we will demonstrate how you can split video and audio clips using Adobe Premiere Pro. Moreover, we will share an easy alternative to it that can make video editing easier.
Part 1. How to Split a Video Clip/Audio in Premiere Pro
Premiere Pro is an excellent video editor, but i would recommend iMyFone Filme, Filme is more cheaper than Premiere Pro, you can split video in Filme in 5 seconds. Filme is a much more comprehensive video editing tool. It supports a wide range of file types and offers all common editing tools, along with filters, transitions, animation, text, fast video mode, and much more, you can upload edited video to facebook,vimeo,youtube with single click. Filme has the best 4k HD support. Download iMyFone Filme below.
A clip is a part of the video that we import or use to edit in the video editing tool. Making a video clip or audio clip is part of video editing. You can split the video to transform it into multiple clips so that it makes your editing easy. The same goes for the audio clip. You can split the audio into short clips to add different phases of audio to your video.
Splitting the video or audio clip allows the editor to edit the video with more precision. It helps in adding effects to one video clip at a time and makes editing much easier. You can also split the video first and then plan how you can add transitions and effects to it. Let us see how we can split a video clip or audio in Adobe Premiere Pro.
Steps to Split an Audio/Video Clip in
Adobe

Premiere Pro

Step 1: The first thing you need to do is to download Adobe Premiere Pro. Install the software and open it to edit the video of your choice. It is supported by Windows and Mac. Create a new project, and you will see the video editor.

Step 2: On the left side of the Adobe Premiere Pro editing window, you will see the "Import Media" window. Tap on this window to upload the media that you want to edit. You can import multiple videos and audio clips to Premiere Pro.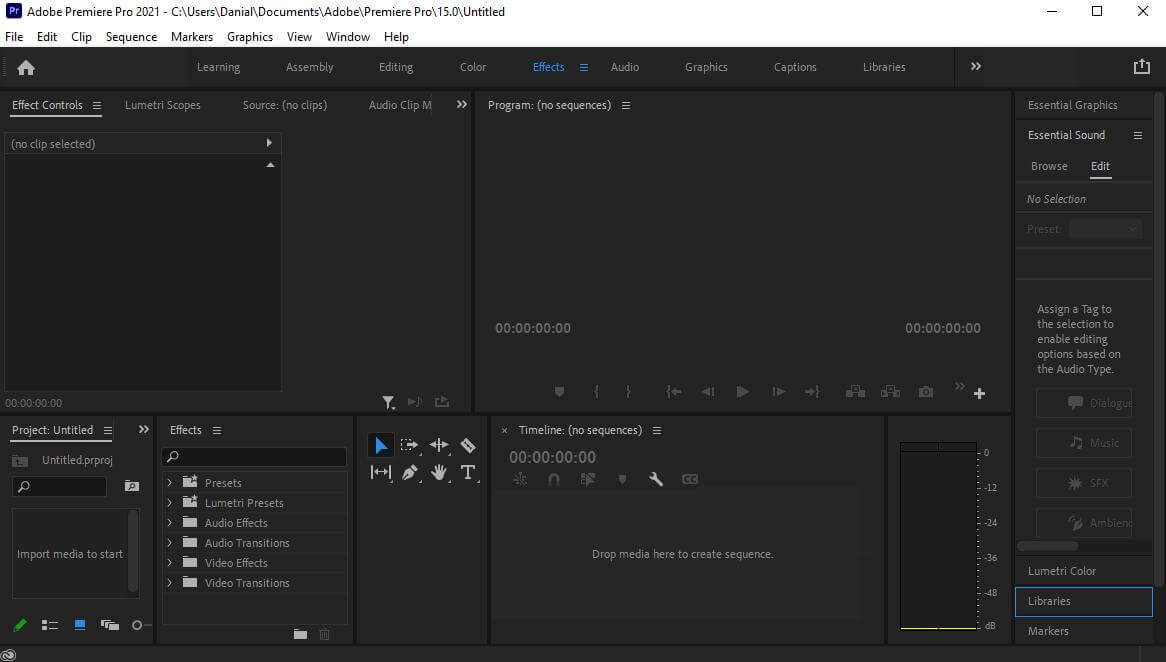 Step 3: Once the media is imported and shown in the import media window, drag the media to the editing timeline. Here, multiple changes can be applied to your media, whether video or audio. You can edit your video on the timeline.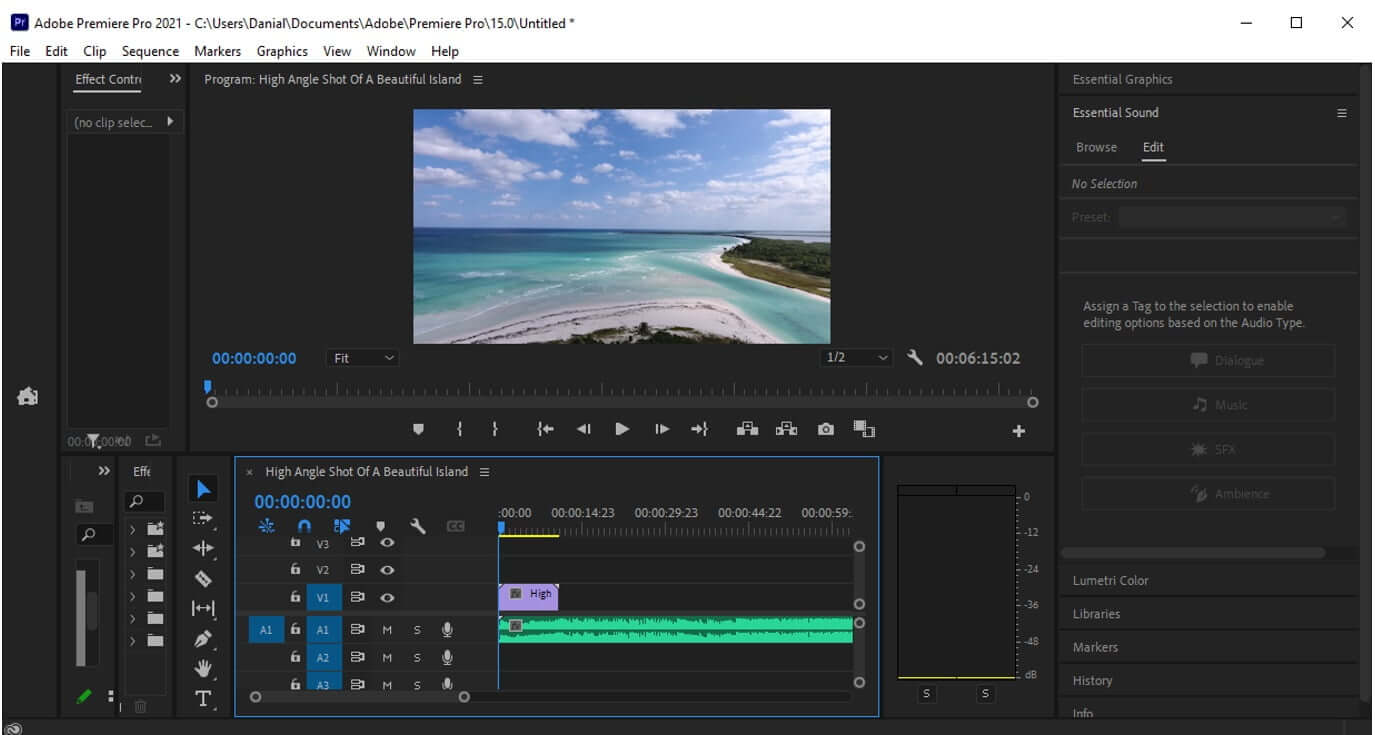 Step 4: We want to split video clip/audio. The process of splitting the video and audio clip is quite similar. Select the instant where you want to do the split. Go to the Tools section and select the "Razor" tool to cut the video. Take this tool and go over the video or audio timeline and left-click on the video, and it will split the video/audio into two parts.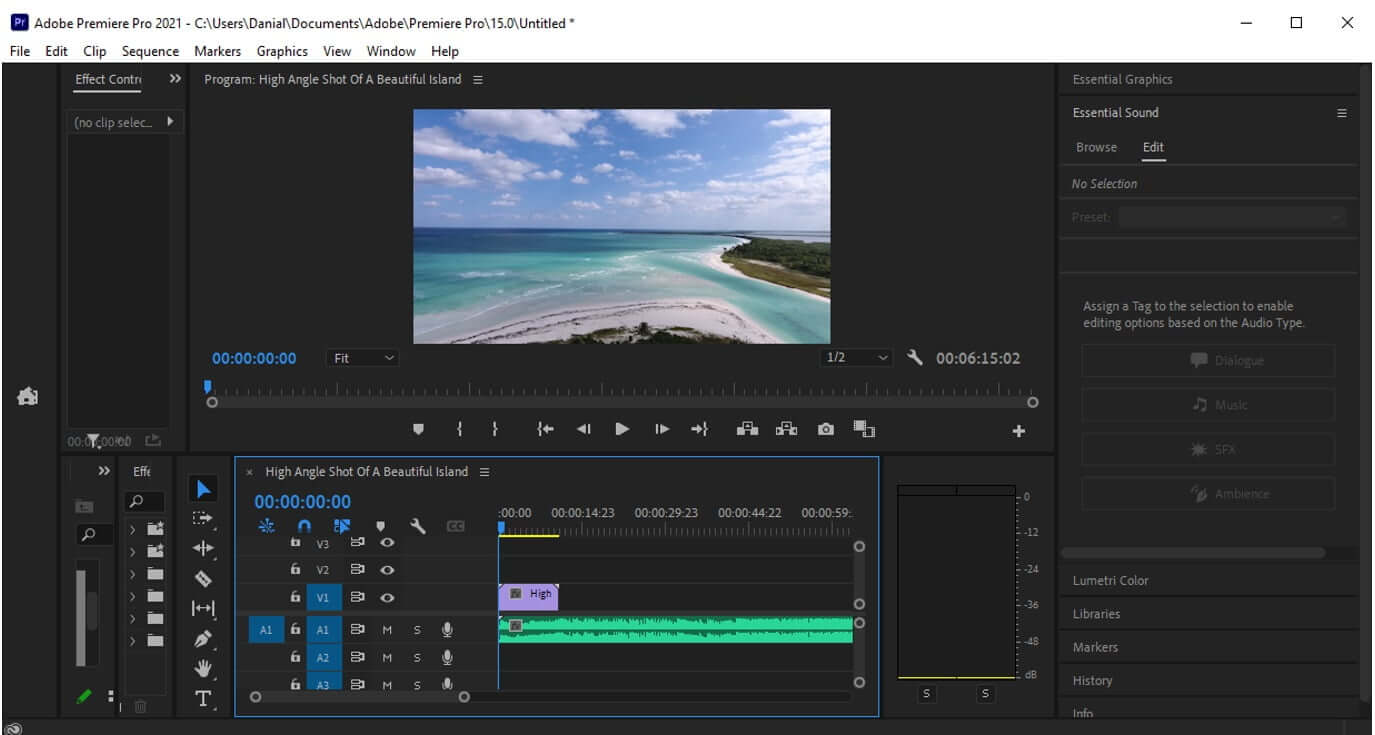 Step 5: If there is more than one audio or video clip and you want to split all at the same time, you can press "Shift" while selecting the razor tool, the option to split the whole timeline from top to bottom will appear. Use the left-click to make the split on the whole of the timeline.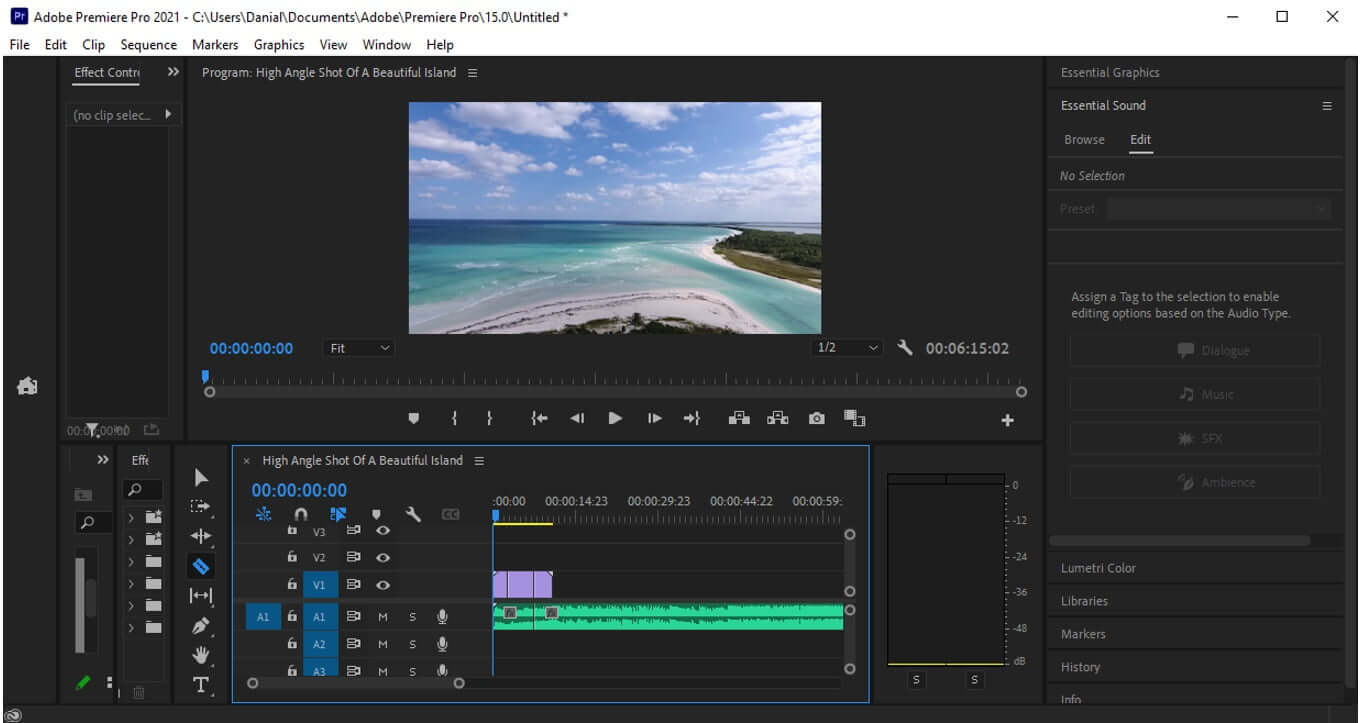 Step 6: This is the way you can split video or audio clips as you like. You can now easily apply effects, transitions, and filters to the video as you like. Splitting the clip makes editing very easy. If you have successfully split the video/audio clip, then you can export the video. Go to File > Export > Media to export your video. Select the requirement in which you want to save the video.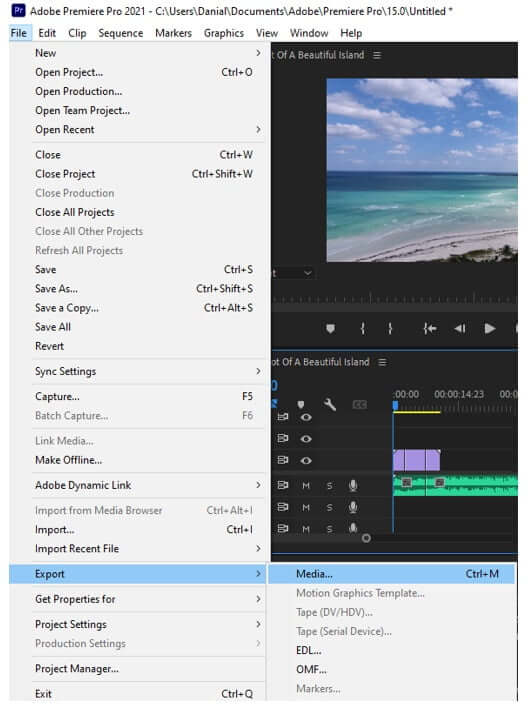 Part 2. Best Alternative Video Editor to Split Video - iMyFone Filme
Another way to split video clip/audio is to use iMyFone Filme. It is one of the best alternative ways to split the clip.
iMyFone Filme is a video editing tool just like Premiere Pro. But it is much easier to videos using iMyFone Filme. Every effect, transition, and filter are just a click away with iMyFone Filme. It is not like any other video editing tool because it has a unique and friendly user interface. Even beginners can use this tool to edit their videos.
Let us see how we can split video clip/audio with iMyFone Filme and what makes it different from Premiere Pro and other video editing tools.
Steps to Split Video/Audio Clip Using Filme
Step 1: Download and install iMyFone Filme on your PC (Windows or Mac). Once you open it, click on "Editing Mode".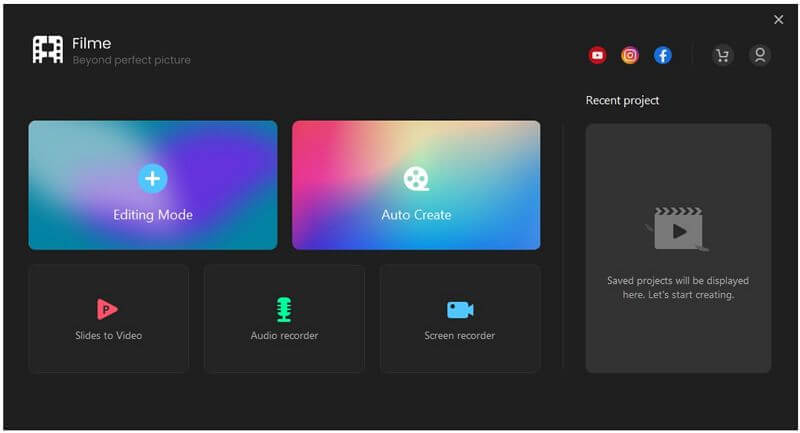 Step 2: iMyFone Filme allows the user to select the aspect ratio of the video. By creating a new project, iMyFone Filme gives an option to the editor to select the aspect ratio of the video he likes. Go to the File menu and create a new project.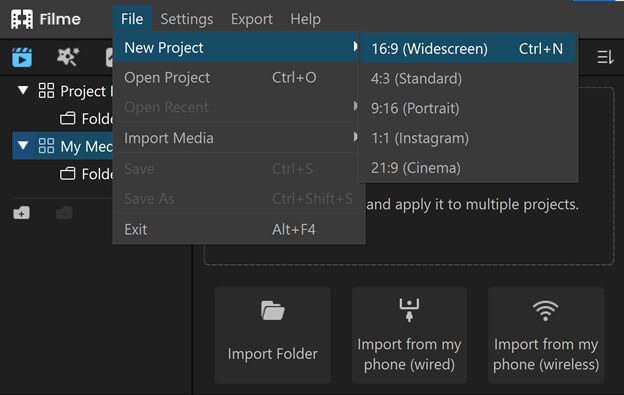 Step 3: This step is one of the most important steps as here you can import the media. You can import as many videos and audio clips as you like to edit. There are audio clips in the library of iMyFone Filme, but you can also import your music or audio to it.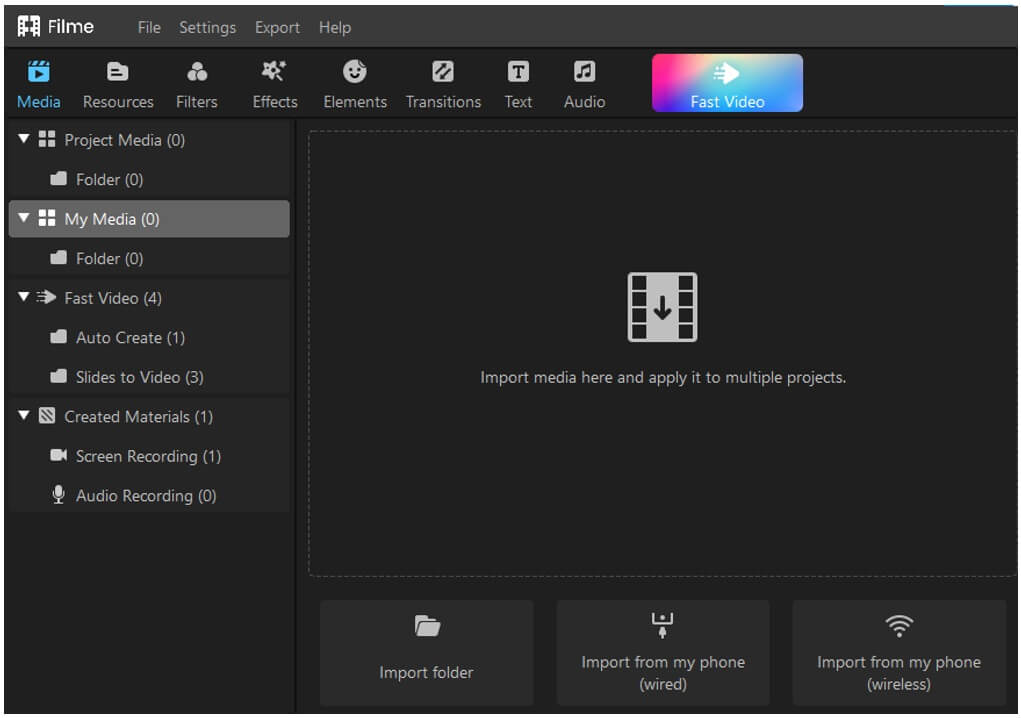 Step 4: Now that the media is imported. Drag the media down to the timeline so that it can easily be edited. You can move audio and video individually to the timeline.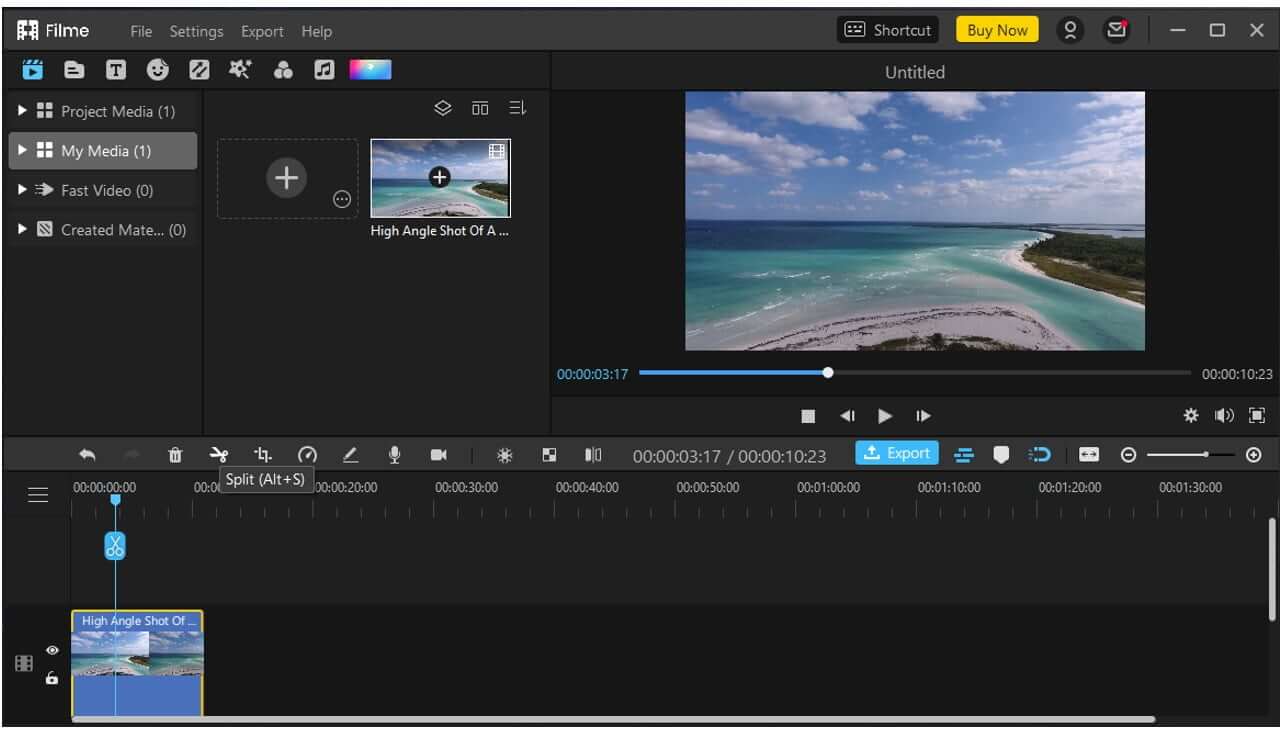 Step 5: As we want to split the video clip/audio in iMyFone Filme. Select the instant where you want to split. Move the playhead over the instant and click on the "Split" tool just above the timeline with a scissor icon. Or you can also press the keyboard shortcut key, which is "Alt + S" to split the clip.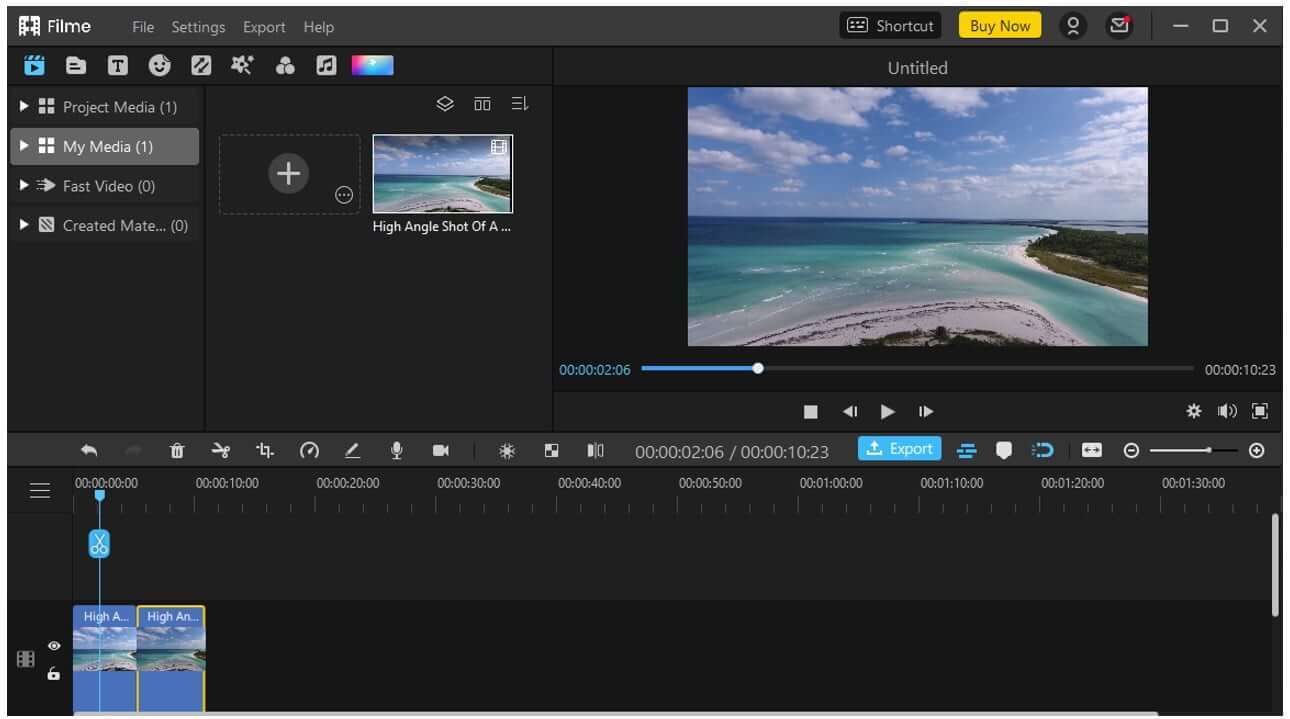 Step 6: Once the split is done, you can add effects in between the clips as you like and finish editing the video. After finishing, you can export the video in your required format and resolution. Click on the "Export" button on the bottom right to export the video.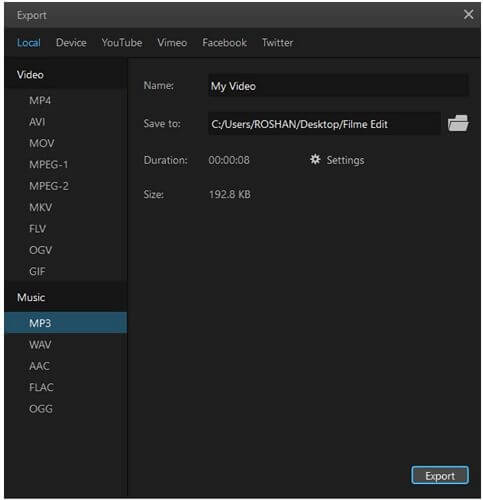 Part 3. Tips for Split Video Clip or Audio
1- Select the Perfect Instant
If you want to do a split in your video or audio clip, then you need to select the perfect instant to do a split. You cannot just do a split randomly. A split is made with considerations and keeping in mind how you can utilize it.
If you are editing a video, for instance, do a split where you see an appropriate need to add in effect or transition that will enhance the video.
2- Add-in Effects
Most of the time, splits are made to video to add in effect or some type of transition. So, if you are splitting a video or audio clip, make sure that you add an effect that compliments the split. Otherwise, it will be of no use. Doing a split allows the user to add in transitions much more precisely.
3- Match Video and Audio
One of the things that you need to consider while editing a video is to make a combination of clips and audio. The video should complement the audio and vice versa. If you are doing a split in the video, it is not compulsory to split the audio. Although in some cases it may be necessary but not always.
When you are doing a split in the video, make sure that the audio also supports it. Keeping this in mind will make your work creative and innovative.
Part 4. FAQs about How to Split the Video Clip
1- How is Splitting Different from Trimming?
To understand the difference between splitting and trimming, we must understand both terms. As far as trimming is concerned, trimming allows the user to drag the end or start of the video to shorten or extend it. Splitting a video means that you are breaking the video into parts and not shortening or lengthening it.
However, trimming can be done using a split tool. You can split the video and then delete that part. It will trim your video. But trimming tools cannot help you to split the video.
2- How is Splitting Different from Cropping?
Cropping is a tool that allows you to zoom in on the video. You can use the cropping tool to remove unwanted edges from the video. In contrast, split allows you to cut the video into parts. You can split or cut the video into multiple short clips. Cropping means shortening the window size of the video.
3- How Do I Split a Large Video Clip Into Smaller Clips?
You can split a large video clip into smaller clips by using the techniques of Premiere Pro and iMyFone Filme, just illustrated above. You can select the split tool on either of the video editing tools and do splits wherever you seem necessary or wherever you want. If you want, you can even move the clips away from one another.
If you want to save these split clips separately, then you can split the video and delete the rest of the part. Export the clip that you want. With this technique, you can make as many smaller clips of a large video as you like.
Conclusion
There are many tools to split video clip/audio like Premiere Pro and iMyFone Filme. Premiere Pro is a little complex tool as it has much more options and features as compared to iMyFone Filme. You can edit 4K videos with both of these tools, but they are both paid tools. You will need to pay for these tools to use them. However, Filme is pocket-friendly. First, try both of the tools and then decide which is the one tool you want to pay for.
iMyFone Filme is a simple tool that is very easy to use. It has an interactive user interface that allows the user to easily use this tool. With iMyFone Filme, you can split video clips and audio with just one click. There are no complications with iMyFone Filme. It also has tremendous effects, transitions, and filters that you can add to your video. You can even export the video in different formats and resolutions.