In this article, we will tell you how to crop a video using AVS video editor, to remove the parts that you don't want to use.
How to Crop Video in AVS Video Editor
Step 1. for you to be able to crop a video clip, you first need to upload the video file from your device into the editor's video track. And if you don't want to apply the crop effect to the entire video, you can cut out the specific part you want to crop from the rest of the video.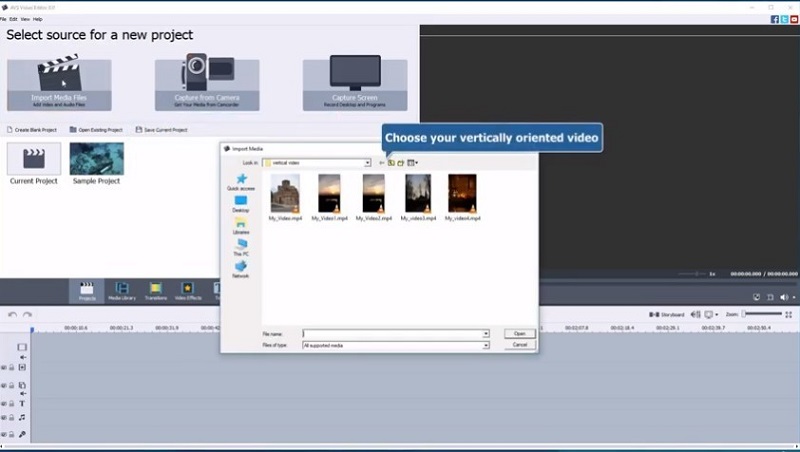 Step 2. After that, right-click on the video, or section of the video you want to crop, and then select the Crop Scale function, where the Crop Scale window appears. Press the crop scale slider that's above the OK button, which allows you to crop the video.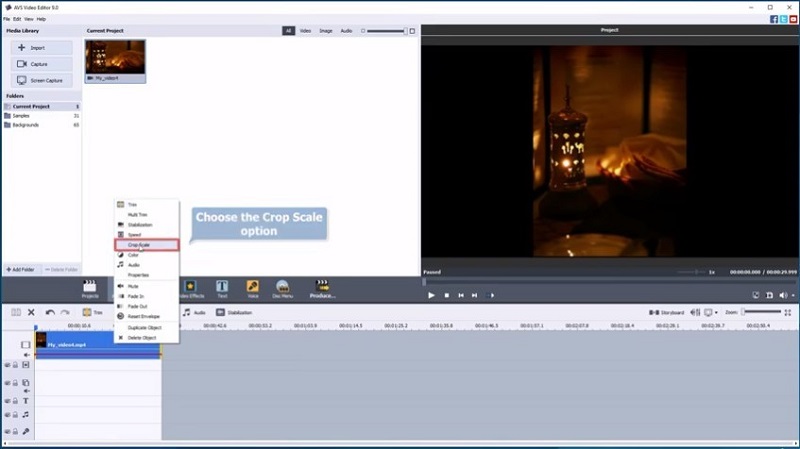 Step 2. And if you find the Crop Scale feature isn't helping, the video editor does provide alternative ways to crop your video. For instance, there is the Pan and Zoom effect, which is a good cropping tool in the video editor.
All you need to do is click on the Effects icon and then drag the effect to the visual effect track on the video editor. Take the Pan and Zoom effect and place it on the timeline, where you want the effect to appear. Then right-click on the effect to select the Edit Effect option.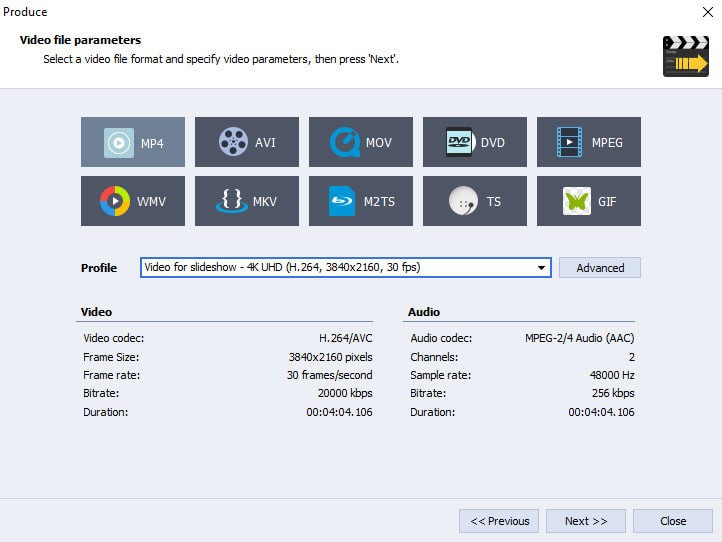 And if you are looking to add more effects to your video, here is the stage you can add them. After that, just press Ok to apply any changes to your video. And then export and save your video to your device in any format you may want.
Pros of Using AVS Video Editor:

With over 300 types of effects on the tool, you will have a lot of options to choose from.

Offers various key features that make it possible for you to get the best results.

Learning the use of the software is extremely easy and is a matter of an hour or two.

Has two modes; basic and advanced, which allow you to choose based on your skill level.

It has a video speed control that allows you to change the pace of your videos while maintaining their originality.
Cons of Using AVS Video Editor:

This software is only compatible with Windows devices.

It has a steep learning curve. 
Try Best 5 Alternatives of AVS Video Editor
Other than AVS video editor, there are a few other alternatives – tools that you can use to crop your video clips to perfection. They include the following:
In simple words, iMyFone Filme is one of the latest video editing software known for its easy-to-use interface and ability to turn unusable videos into some of the best clips you've ever seen.
So, whether you are a professional editor, or you are just starting out, you can fully count on Filme to transform your editing dream.
Pros:

Easy for beginners to use

An excellent layout design

Fast export of any video

Has built-in effects for quick editing
Cons:

This tool is relatively new in the market.
How to Use Filme to Crop Videos
Now, having understood what Filme is all about, here is how you can use it to crop your videos:
Step 1. The very first thing you should do is to upload the video file you wish to crop to Filme. Once on the interface, drag the file and drop it on the timeline.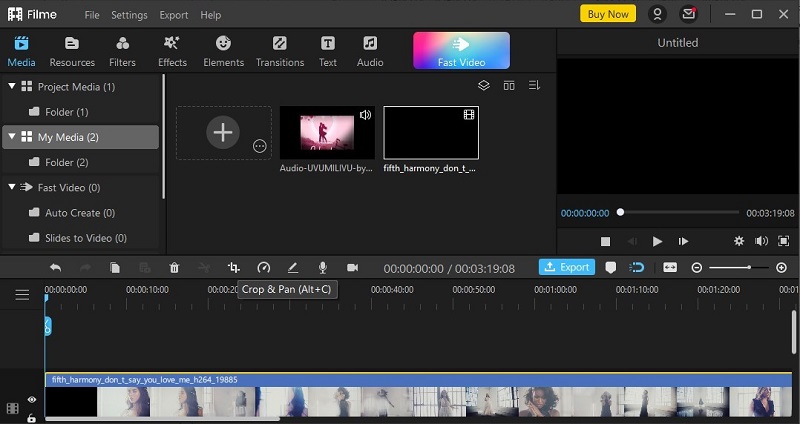 Step 2. Click on the Crop icon that's located on the toolbar at the top. A Crop window will open.
Step 3. At this stage, just drag the rectangle corners so as to crop the video as well as adjust the ratio. When you look at the bottom of the screen, you will see a number of ration options that you can choose from.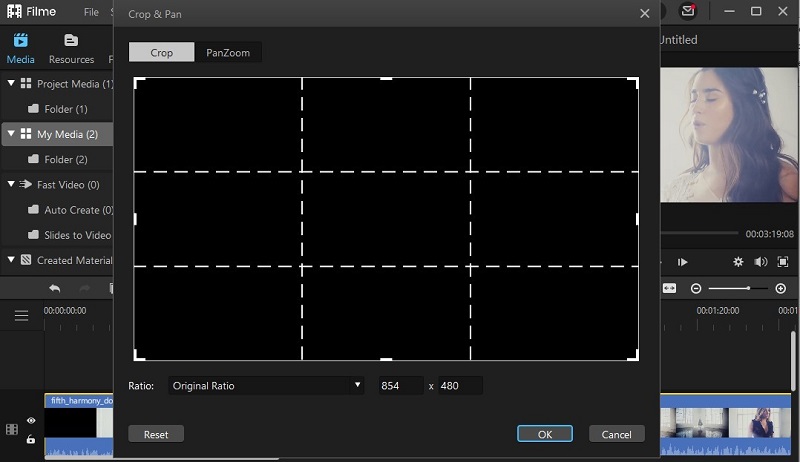 Step 4. After you crop, just click OK to confirm the changes and then close the Crop window.
Other features of iMyFone Filme:
Ability to make amazing slideshows within a very short period of time.

Able to edit videos – cut/trim, rotate, crop, split, adjust speed picture effects – without any problem.

Presence of filter effects to add creativity to your videos.

You can perform multi-layering of videos.

You can easily add or remove music from the background of your video.
136924 people have Download it.
This is a tool that's specially designed to crop videos. It offers a variety of tools and effects that helps you crop, trim, or cut your video to your liking with relative ease. Once the video is on the platform, you can enter cropping numbers so as to zoom in at the precise section while cropping.
Pros:

It has an intuitive and easy-to-use interface.

It is compatible with all Windows devices.

It's absolutely free to use.
Cons:

Sometimes the tool can be sluggish.
This is a video editing tool mostly used by movie industry experts as well as social media marketers for video content enhancement. This is to tell you that this tool is a really powerful one, and has very basic video editing features, among them, cropping.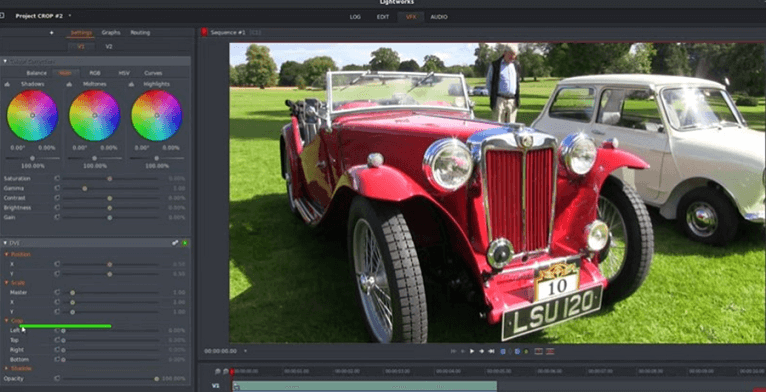 Pros:

It comes with keyboard shortcuts.

It has real-time effects.

It's easy to use.

You can easily share videos from the platform.
Cons:

It's a little tough for beginners to navigate.
This is perhaps the most robust open-source video editing software that's compatible with Windows, Linux, and Mac devices. The tool combines the simplicity of entry-level tools with the advanced editing tools frequently used by professional editors.
Pros:

After cropping, you can add subtitles to your video with ease.

Has a variety of effects and transitions, all of which gives you the best result

Easy to use, especially for beginners.
Cons:

It is unstable on Windows at times

The output options are limited.  
5. Online Video Cutter
This is an online video editing tool that is best known for its editing abilities including cropping, trimming, or cutting out all the unnecessary parts of a video. You can do all these without having to install third-party software.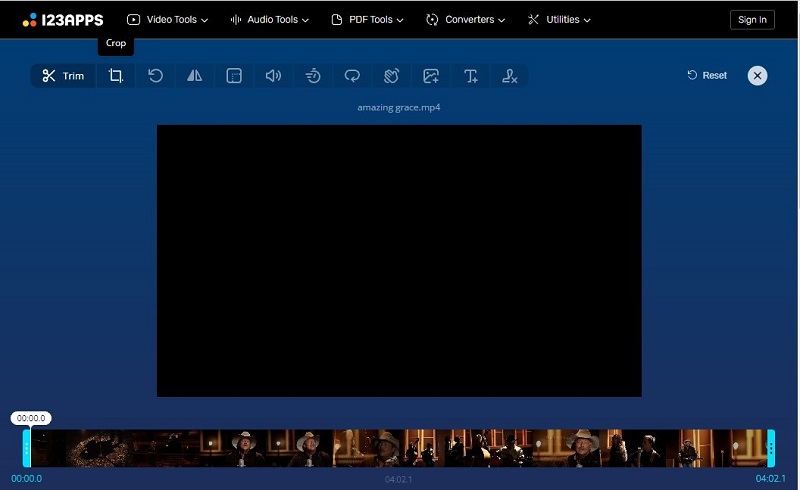 The tool supports any video format, which means that shouldn't be a problem. The best news is that using it is quite easy, as you only need to upload the file to the website, where you will find all the necessary tools you need to remove the unwanted parts from it.
Pros:

You can easily crop or rotate the video however you want

There are so many effects that would allow you to enhance the video content even further.
Cons:

Sometimes it takes quite some time to load the video into the site, which can be frustrating.

The output options are limited.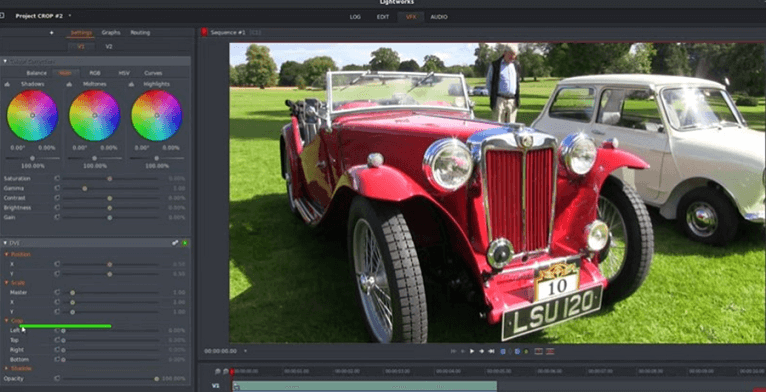 Hot FAQs About Cropping A Video
1. How do you crop and zoom in on a video?
It's simple, just upload the video you want to crop on AVS video editor, then select the part of the video you want to crop. After that, just click on the AVS video editor Crop Scale function, which gives you all the functions you need to crop your video. To zoom in on the video, you will see a '+' function on the tool's interface. Just click on it!
2. How do I resize a video in AVS Video Editor?
To resize a video on AVS video editor, you just need to upload the video to the software. Then, just hit the resize button and select the new size or shape, and then download the video. There will be a number of options, so be sure to select them properly. 
3. How do I trim a video in AVS Video Editor?
After you have uploaded the video and are on the timeline, just left-click on the timeline and then select the Trim button. Place the cursor at the point you want your video to begin and then click the Mark in function, which will mark the new start of the video. Do the same on where you want the video to end.
Final word
As you have seen, cropping a video is actually quite easy, especially when you have software such as AVS video editor or even iMyFone Filme. Now, Filme is one of the most famous video editors in the world right, and there is a very good reason for that. That's why we believe it is best suited to transform your initially unusable video into something that you are proud of. Try it today!