Are you seeking to enhance your marketing campaigns with customized banners that cater to your audience's interests and preferences? Do you wish to create engaging banners for your website or social media platforms quickly and effortlessly, without the need for extensive design skills?
Whether you're an experienced marketer or a novice venturing into the realm of banner design, this article is your ultimate guide to use free AI banner generators. Let's dive right in!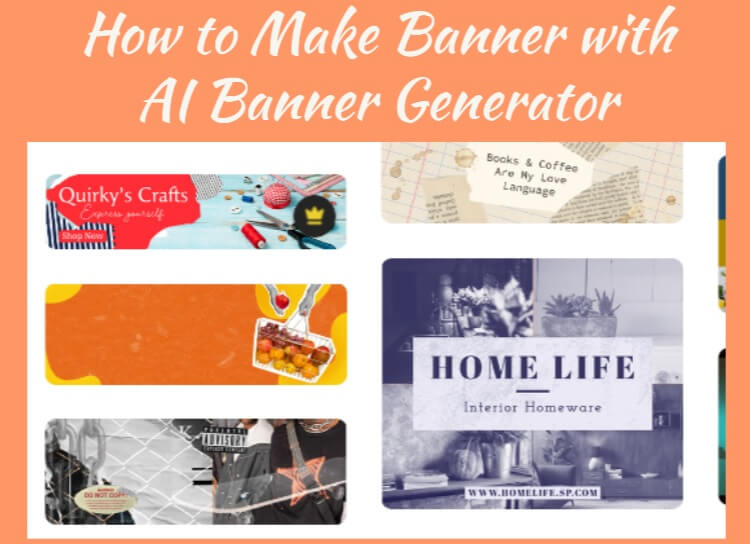 Part 1. What is Banner and AI Banner Generator?
A banner is a versatile medium used to display symbols, logos, slogans, or messages. It can take the form of a flag, typically rectangular or square, bearing a design similar to a shield in a coat of arms, known as a banner of arms. Additionally, a banner can refer to a bar-shaped advertising material, not made of cloth, that showcases a name, slogan, or marketing message. With its flexibility and ability to convey information, a banner serves as a powerful tool for communication and promotion.
An AI banner generator is a powerful tool that utilizes artificial intelligence technology to simplify and expedite the process of creating banners for various purposes. With an AI banner generator, users can easily design visually appealing banners by leveraging pre-designed templates, AI algorithms, and customization options.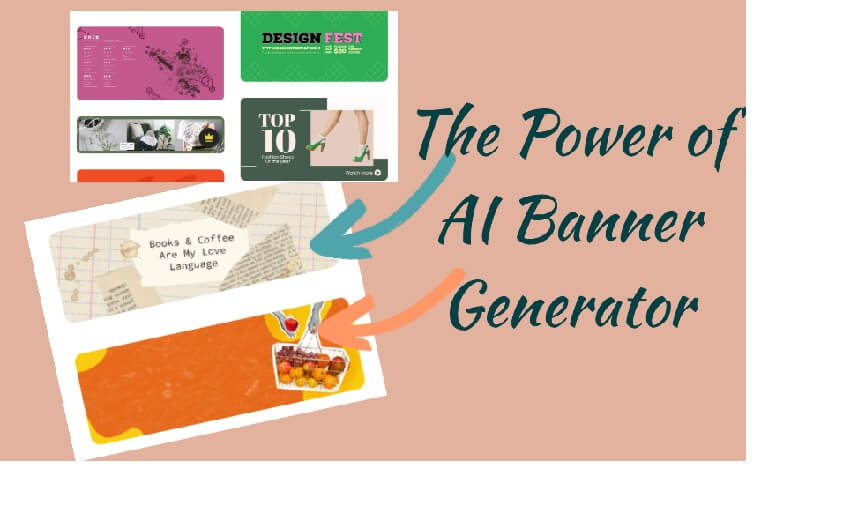 Part 2. How to Make Banners with AI Banner Generator [Easy Tutorials]
Adobe Express's Banner Maker is a user-friendly and efficient tool offered by Adobe that allows you to create stunning banners with ease. With a wide range of customizable templates and intuitive editing features, this banner maker enables you to craft visually captivating banners for various purposes.
Step-by-Step Guide to Make Banner with AI in Adobe Express:
Step #1: Visit the website & Click on "Create your banner now".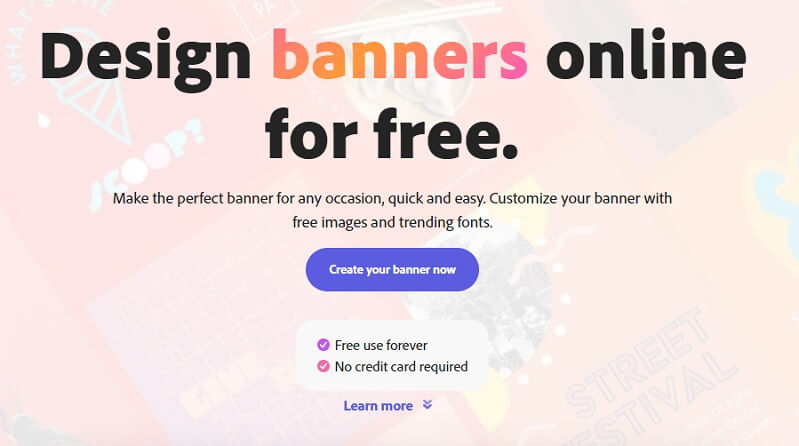 Step #2: Choose a banner template with distinct styles.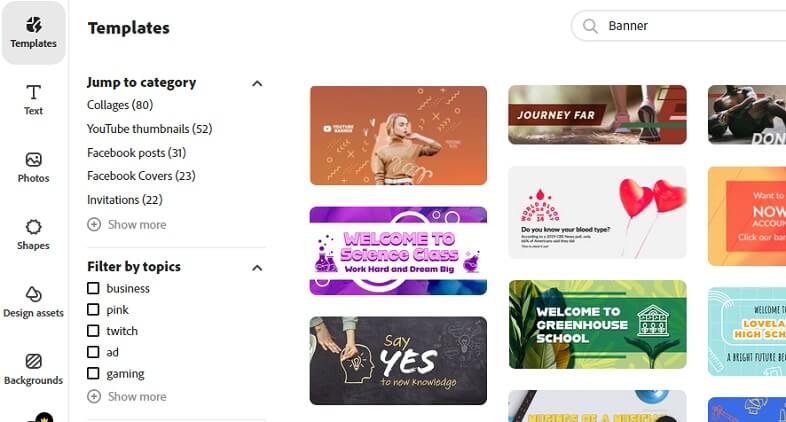 Step #3: Start editing by changing texts, backgrounds and any other design elements.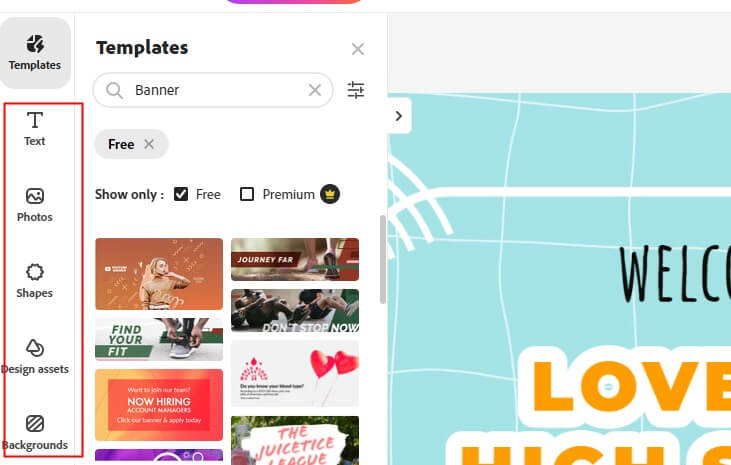 Step #4: Save and download the image.
Key Features:
Creative Effects: Enhance your banners with creative effects, including filters, overlays, and stickers, to make them more eye-catching and unique.

Fully Customizable: It offers many basic and premium editing features to customize banner templates, including texts, images, shapes, backgrounds, and more.

Drag-and-Drop Editing: It largely simplifies the editing process by allowing easily drag and drop images and design elements.

A Wide Range of Templates: Trendy and eye-catching banner templates for different usage are provided.
Packed with a plethora of features and customization options,Canva is also a good choice to make banners with AI-powered editing tools. It offers myriads of design elements and a library of banner templates for you to choose and make customization.
How to Create Stunning Banner with AI in Canva:
Step #1: Open this website & Click "Start Designing Your Banner".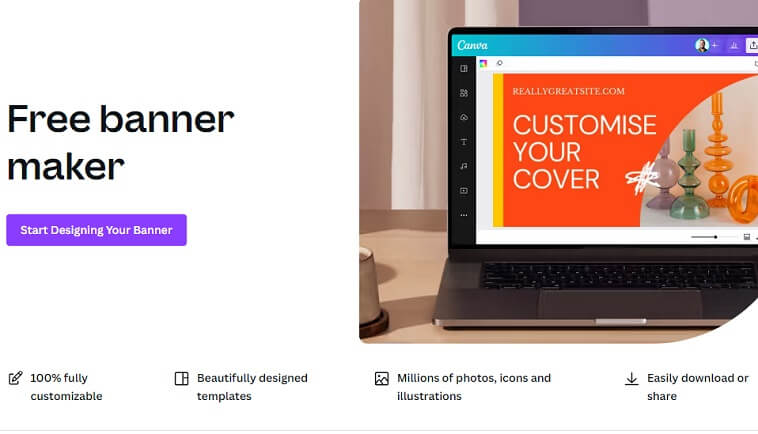 Step #2: Choose a template with the style you favor.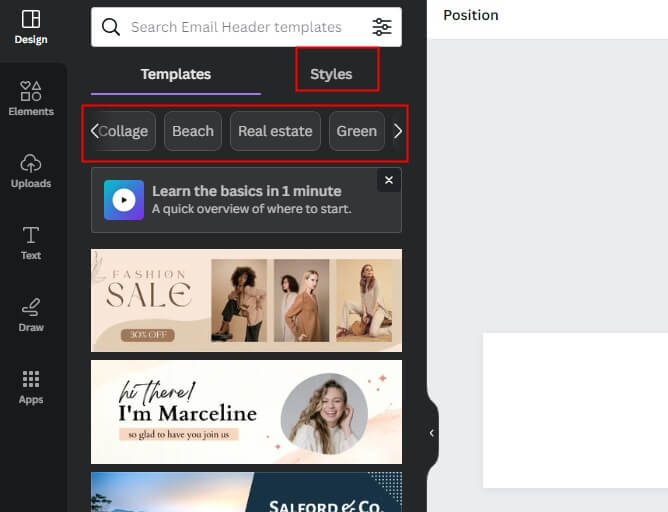 Step #3: Edit the template by adding lines, shapes, texts, images, and more design elements.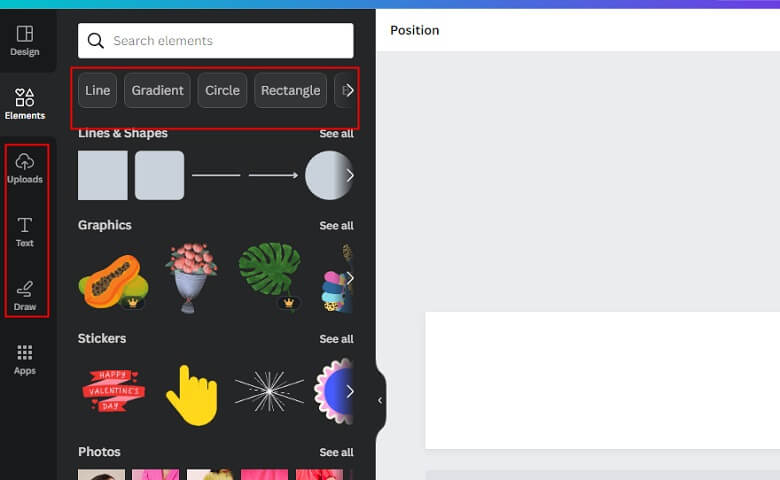 Step #4: Download and save the banner.
Key Features:
100% Customization: All the elements in the banner templates are customizable.

Craetively Designed Templates: All the banner templates offered by Canva are beautifully and professinal designed, making sure that it's eye-catching.

A large Number of Design Elements: Millions of photos, icons, and illustrations are provided, and you can even upload your own images.

Easy to Download and Share: It offers various formatschoices for you to download and save, including JPG, PNG and PDF.

Templates with various subjects and styles : You can choose banner template based on your needs and your prefered styles.
Part 3: Bonus Tip to AI Generate Banner Free
The above-mentioned AI banner generators are both powerful tools for you to make banner with ease. However, except for them, there is also a good choice to make banners with powerful AI--iMyFone MagicPic.

iMyFone MagicPic is an powerful and creative AI photo editing tool, and its current main feature is to remove background with AI . But the new feature of AI banner maker is going to release!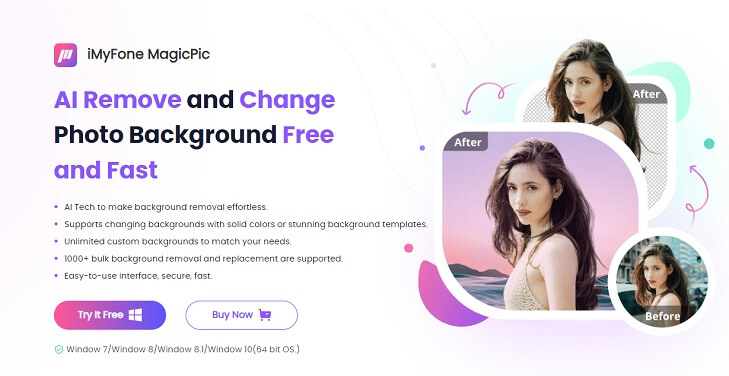 Prepare yourself for the incredible AI-driven banner creation feature that is right on the horizon! It goes beyond offering an extensive selection of social media (YouTube, Twitter, LinkedIn, Facebook), website, and other banner templates to suit diverse requirements. It also introduces the remarkable AI Text-to-Image capability, empowering you to craft distinctive design images and elements that set you apart from the competition. Stay tuned for the thrilling launch of this exciting tool - an opportunity that you certainly don't want to overlook!
Part 4: FAQs About AI Banner Generator
Can AI create banners?
Yes, you can use AI banner generators to make a visual-appealing banner with ease, like in Canva:
1. Open the website & Choose a banner template.
2. Start your customization with AI editing tools, which allows you to drag and drop, swap background with single click, and more.
3. Download and save the image.

What is the free AI tool to create a banner?
1. Fotor
2. Canva
3. iMyFone MagicPic
4. Designs.ai
5. Hotpot.ai

How do I turn a picture into a banner?
1. Choose a photo with high-resolution.
2. Determine banner dimensions: Common banner sizes include 728x90 pixels for website headers or 1200x627 pixels for social media banners.
3. Open Canva or any other AI design tool.
4. Import it and make customization, including resize and position, add text or elements, and more based on your needs.
5. Save and export the banner.

What app can I use to design a banner?
Adobe express, canva, fotor, etc.
How do I make a banner in Canva?
1. Open the Canva website & Choose a banner template.
2. Start your customization with AI editing tools, which allows you to drag and drop, swap background with single click, and more.
3. Download and save the image.

What is the best AI for banner design?
Canva stands out as the top AI design tool, thanks to its wide range of features. It empowers users to effortlessly create stunning graphics for diverse platforms and provides an extensive library of ready-made templates.
Final Thoughts
All in all, utilizing an AI banner maker is neccessary for businesses and marketers seeking to create visually appealing and engaging banners that effectively communicate their message. With these AI banner generators, businesses can enhance their marketing campaigns, capture attention, and drive conversions without hassle.
Take action now and leverage the power of AI banner generators to create impactful banners that elevate your brand and attract customers.