An album cover holds immense importance in captivating potential listeners and effectively conveying the essence of the music to its audience. Conventionally, musicians or producers have relied on graphic designers and artists to create their album covers, a process that can be both expensive and time-consuming. Fortunately, with the advent of AI album cover generators, there is no need to search for the perfect image or hiring expensive designers. Now, you can effortlessly design your own visually striking album covers, grabbing attention and leaving a lasting impression on your audience.
In this blog post, you will get a deeper understanding of AI album cover maker and how to use it to create captivating album cover effortlessly.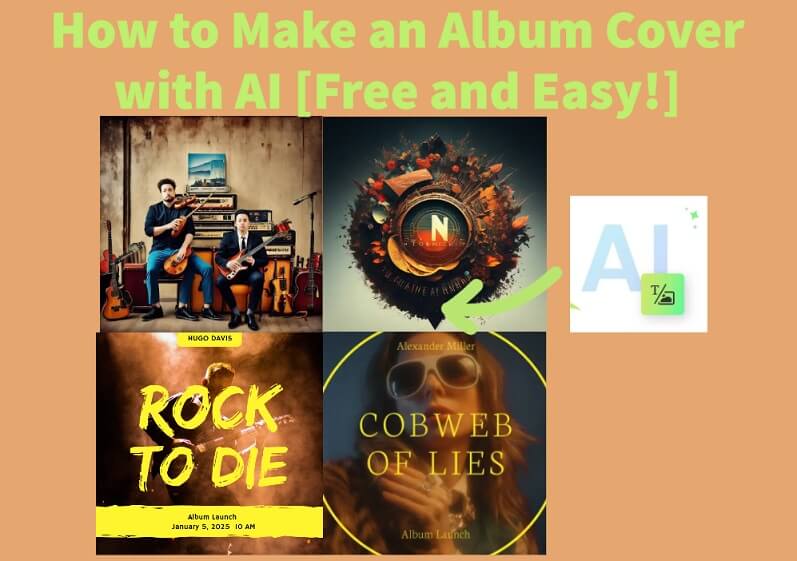 Part 1. What is AI Album Cover Generator?
The album cover, also known as album art, encompasses the visual artwork that graces the front packaging of commercially released studio albums or audio recordings. It can pertain to the printed paperboard covers commonly found in record sets, the front-facing panel of cassette J-cards or CD packages, and, more recently, the primary image associated with digital downloads of the album or its individual tracks.
An AI album cover generator is a powerful tool that utilizes artificial intelligence to automate the process of creating album cover artwork. Only by entering your design ideas into a TExt-to-Image generator, you can effortlessly create professional-looking album covers that effectively communicate their music's style and personality.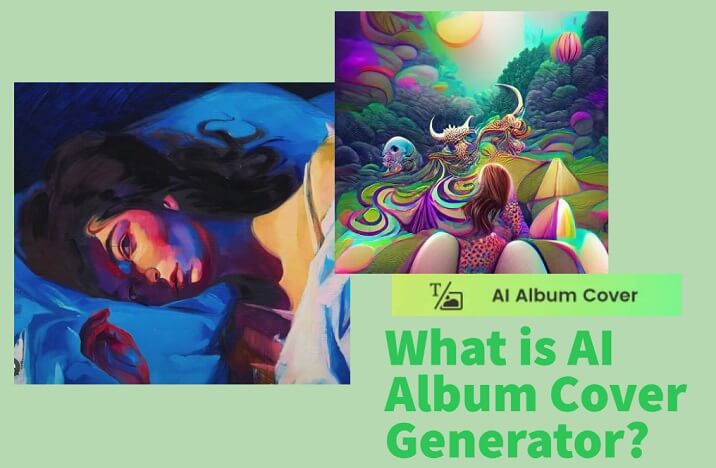 Part 2. How to Create an Album Cover with Album Cover Maker [Easy and Free!]
Fotor's AI album cover generator uses the power of artificial intelligence to simplify and enhance the creation of mesmerizing album covers, empowering musicians and artists to effortlessly generate stunning and unique designs that capture the essence of their music, only by entering your design ideas, the bulit-in AI art generator will create an album cover that will make a lasting impression on their audience with ease. Moreover, it offers myriads of album cover templates for customization and getting inspiration.
How to Create Album Cover with AI in Fotor:
Step #1: Visit the Fotor website & Click on "Create Album Covers"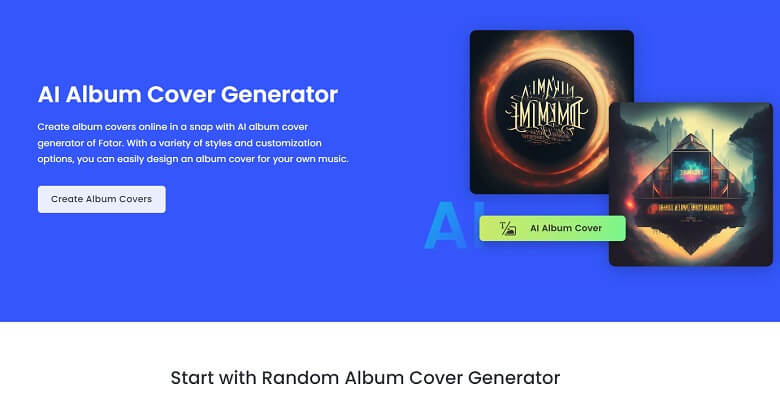 Step #2: Enter your album cover design ideas into the text bubble.
Note: Please make the description as detailed as possible. If you have no design ideas, you can seek ChatGPT for help, for which the step-by-step guide is offered in the following part.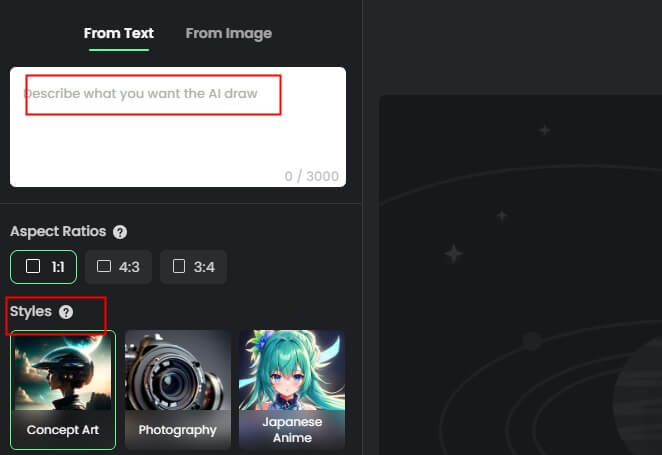 Step #3: Select a style you favor & Click "Generate", and you can also adjust details, including ratios, light effects and more.
Step #4: Click "Download" to save your AI-generated album cover.
Bonus Tips: You can also get design inspirations from album cover templates in Fotor or customize them with AI editing tools provided to make it unique one for your own.
Features of This Method:
AI-Powered Design: Design your album cover with single click after entering prompt, greatly saving your time and cost.

Fully Customizable Templates: Fotor offers a wide selection of professionally designed album cover templates that can be easily customized to suit your specific needs or get design inspirations.

Various Styles to Choose: After texting your design ideas, you can choose various styles to make it match the style you want, including concept art, photography, oil painting, and more.

A Wide Range of Editing Features: After generating an image for album cover, you can download and directly import it into Fotor's photo-editing interface to add texts, and other design elements based on your needs.

Easy to Use: With intuitive interface and powerful AI, you can easily create your own sazzling album cover.
NightCafe Studio is a remarkable AI Image Generator that effortlessly transforms text and image prompts into visually captivating artwork within seconds. This powerful platform utilizes five distinct algorithms, including clip-guided Diffusion, Dall E-2, stable Diffusion, neural style, and VQGAN+CLIP, to generate coherent and lifelike images, paintings, and portraits based on your input. The best part is that you don't need any coding knowledge or professional artistic skills to create stunning artwork on NightCafe Studio.
How to Create Album Cover in NightCafe Studio:
Step #1: Open this website & Click "Start Creating".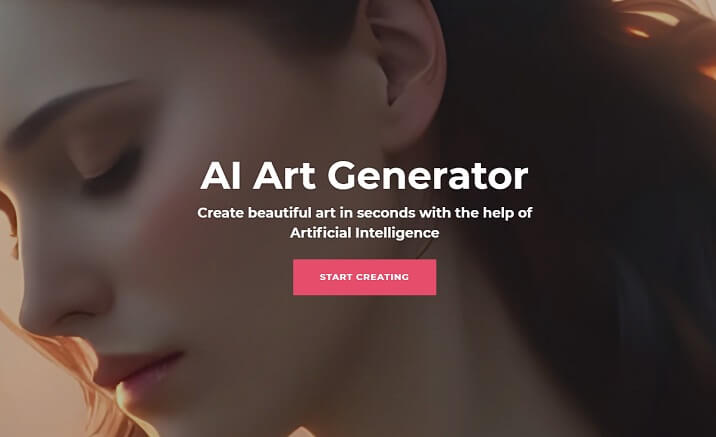 Step #2: Describe what kind of album cover you want AI to create for you.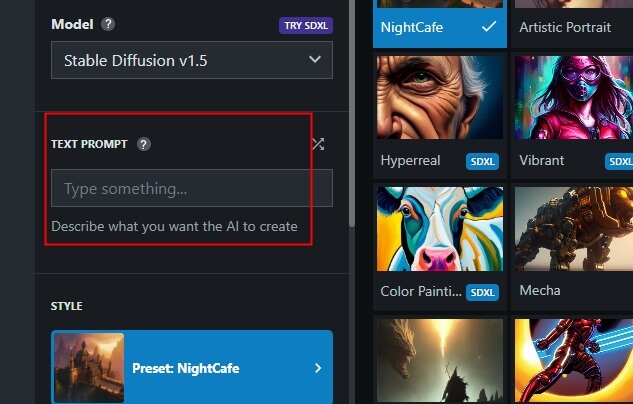 Step #3: Choose a style from myriads of styles it offers.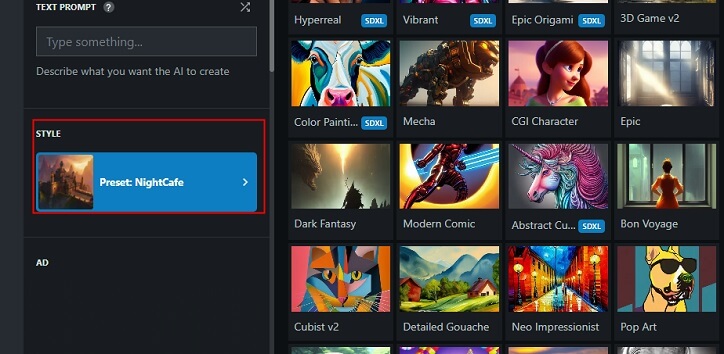 Step #4: Download and save AI-generated image.
Bonus Tips: If you want to further edit it through adding texts or certain design elements, you should go to a photo-editing tool to make further refinement.
Key Features:
Boasts strong AI image generation capibilities.

Allows you to create endless artworks for free.

Has various algorithm for you to choose from, including Stable Diffusion, OpenAI DALL E2, CLIP-Guided Diffusion, and more.

Offers myriads of styles for you, including artistic portrait, striking, anime v2, vibrant, 3D games, etc.
Part 3: Another AI Cover Art Generator to Make Album Cover
The above-mentioned AI album cover generators have their own features in creating AI art, you can use either of the methods to help make your own appealing album cover.Except for them, there is also a good choice to make album cover with powerful AI--iMyFone MagicPic.

iMyFone MagicPic is an powerful and creative AI photo editing tool, and its current main feature is to remove background with AI . But please get ready for the awesome feature of AI-powered album cover creation.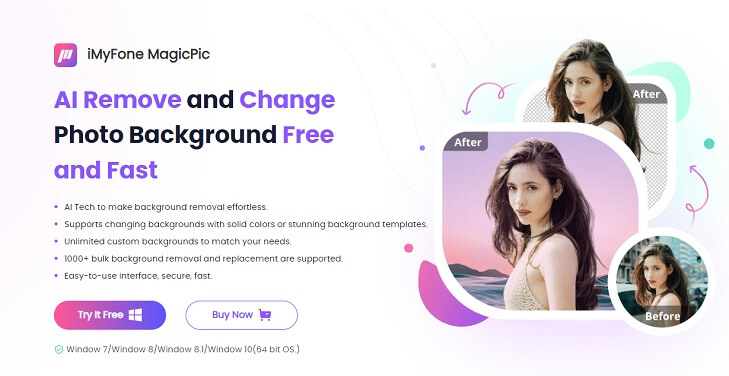 This groundbreaking functionality not only presents a vast collection of album cover templates tailored to various music styles but also introduces the remarkable AI Text-to-Image function. With this cutting-edge technology, you can effortlessly generate original and distinctive designs that will make you stand out from the crowd. Stay tuned for this exciting release - it's an opportunity you won't want to miss!
Part 4: Bonus Tip: How to Get Album Cover Design Ideas from ChatGPT
Step #1: Open ChatGPT.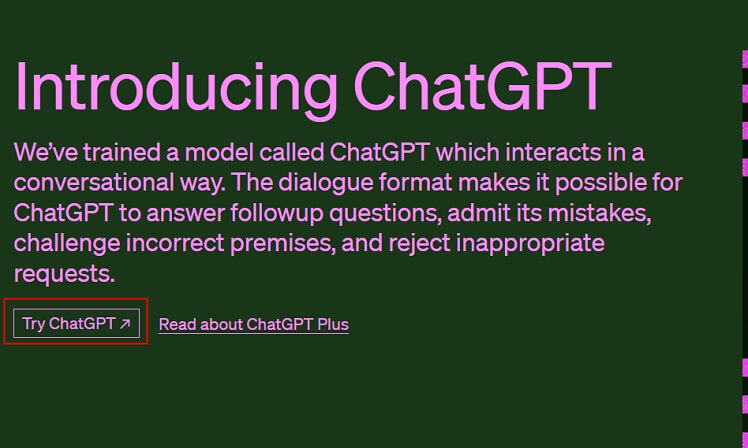 Step #2: Send ChatGPT a message "suggest me a rock music (or any other music style) album cover design idea, it should be appealing and unique...".
Note: You should write all your requirements down and tell ChatGPT your music style and essence to make the answer more satisfied.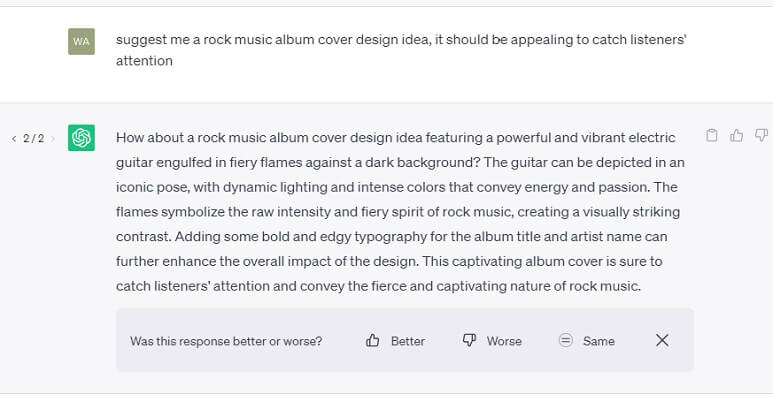 Step #3: Now, you can directly copy it to text bubble of AI art generator, like Fotor and NightCafe.Studio mentioned in the previous part, or you can use part of it. It's up to you!
Part 5: AI Album Cover Expander: How to Expand Album Cover AI
Expanding the classic album cover with the power of AI can help re-create the artwork by outpainting it, making it more stunning and creative. Now let's see how to expand album cover AI with DELL E2.
Step #1: Open DELL E.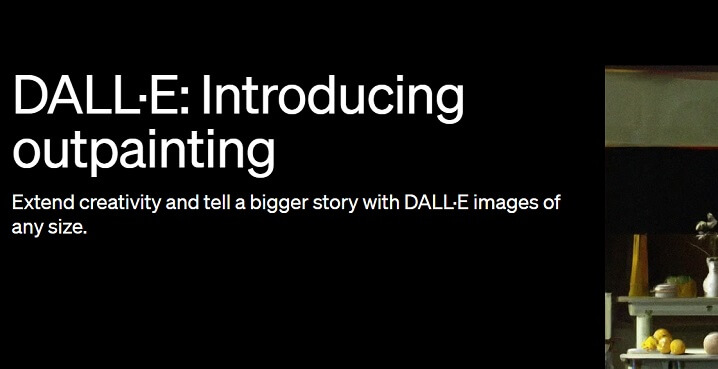 Step #2: Upload the album cover you want to expand.
Step #3: Click on "add generation frame" button or you can press "F", the shortcut. Then an empty canva will appear on the image. You can move the frame to the place you like.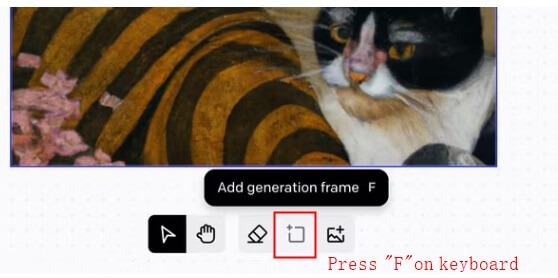 Step #4: Click on "Generate" button, and you will see the results.
Step #5: Then you just need to repeat the above steps to outpaint the whole cover as you wish.
Part 6: FAQs About AI Album Cover Generator
Can I use AI to make an album cover?
Yes, you can use AI art generators to make an album cover.Like in NightCafe.Studio:
1. Text your design ideas.
2. Choose a style & Click "generate".
3. Download and save the image.
4. Further edit it based on your needs.

What is the best album cover maker?
1. Fotor (AI-powered)
2. Canva (AI-powered)
3. iMyFone MagicPic (AI-powered)
4. Photoshop
5. Pixlr.

What is the size of album cover in AI?
Most of AI album cover maker offers the feature of resizing the image, and the recommended dimensions for standard album covers are typically 12 x 12 cm, 120 x 120 mm, or approximately 4.72 x 4.72 inches with a resolution of 300 DPI. It is advisable to save the image file in either PNG or JPEG format, and it's important to select the highest image resolution available for optimal quality.
Is AI art copyright free?
Not all platforms are the same, you should read their terms and conditions to make sure if it is copyright free.
Final Thoughts
In conclusion, utilizing an AI album cover maker is crucial for artists, musicians,or producers who aim to make a powerful impact and attract listeners. With the help of AI technology, these above-mentioned tools provide a convenient and accessible way to create visually stunning album covers without the need for extensive design skills or expensive graphic designers.
Don't miss out on the opportunity to elevate your music with a compelling visual identity. Take action today and explore the AI album cover makers available, such as Fotor, NightCafe.Studio, or iMyFone MagicPic to create album covers that leave a lasting impression on your audience.