YouTube thumbnails serve as the visual gateway to your videos. With AI YouTube thumbnail generator, you can effortlessly make an appealing thumbnail, increasing your video's click-through rate (CTR), leading to more views, exposure, and potential growth for your YouTube channel.
In this article, we will introduce best AI thumbnail maker, and offer you the step by step tutorial. Stay tuned!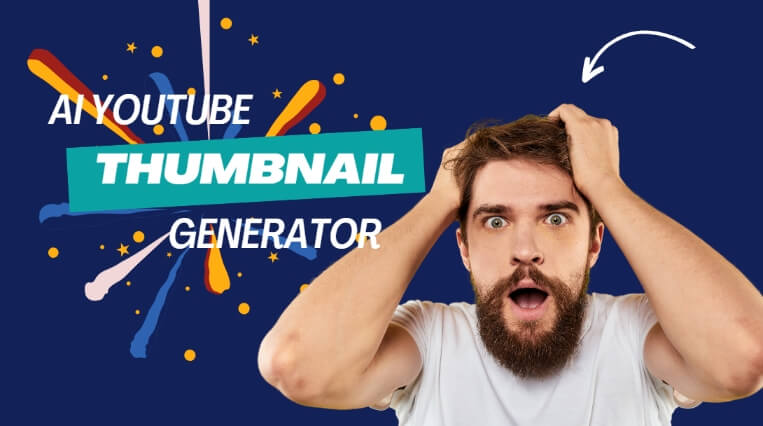 Part 1. What is Thumbnail and AI YouTube Thumbnail Generator?
AI YouTube Thumbnail Generator is a tool that utilizes artificial intelligence technology to automatically generate and enhance YouTube thumbnails. By leveraging AI algorithms, the AI thumbnail maker suggests or generates visually appealing thumbnails that attract viewers' attention and entice them to click and engage with the content.
Thumbnails serve as scaled-down representations of pictures or videos, playing a crucial role in the recognition and organization of visual content. Similar to how a text index aids in locating specific words, thumbnails fulfill a comparable function for images, providing a convenient and efficient means of identifying and categorizing visual media.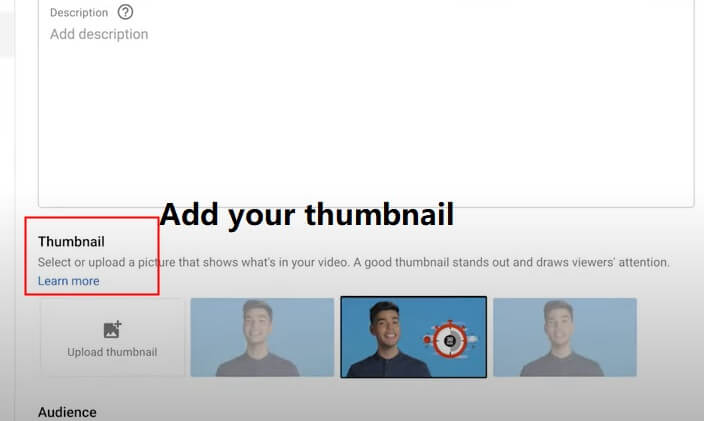 Part 2. Best AI YouTube Thumbnail Generator to Make Stunning Thumbnails
1) ChatGPT + Appypie - AI Thumbnail Maker for Youtube
How to make youtube thumbnail effortlessly with AI? The overall procedure is to use ChatGPT to help generate thumbnail ideas that appeal viewers, then use the AI Text-to-Image generator and various thumbnail templates in Appypie to create your unique and visually appealing images.
Appypie's AI YouTube thumbnail generator is a versatile and user-friendly online tool that simplifies the process of creating eye-catching thumbnails for YouTube videos. With its AI text-to-image feature and stunning templates, you can generate whatever images you want in your youtube thumbnail.
How to Generate Youtube Thumbnail with AI:
Step #1: Open ChatGPT, and enter the question: suggest me a Youtube thumbnail idea for title "...".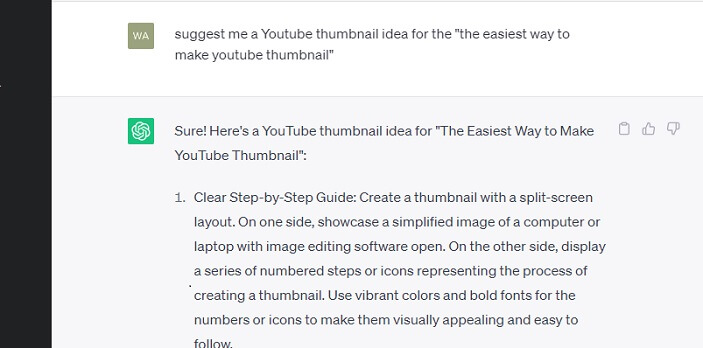 Step #2: Once you got the idea, choose one that you are most satisfied with & use it as the prompt to generate image.
Step #3: Enter the prompt to Appypie to generate the image you will use.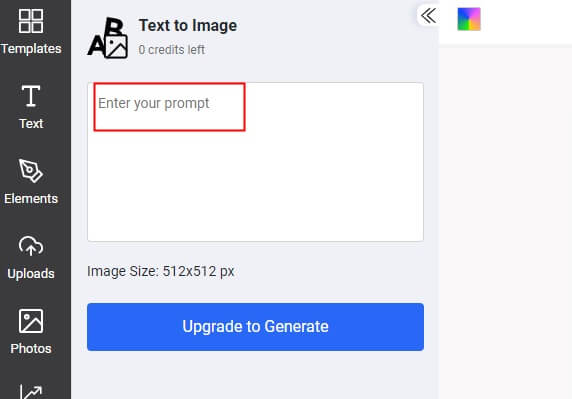 Step #4: After getting images you will use in thumbnail, download them and further edit them, like adding text, adjusting size, etc.
You can also use a variety of youtube thumbnail templates for customization.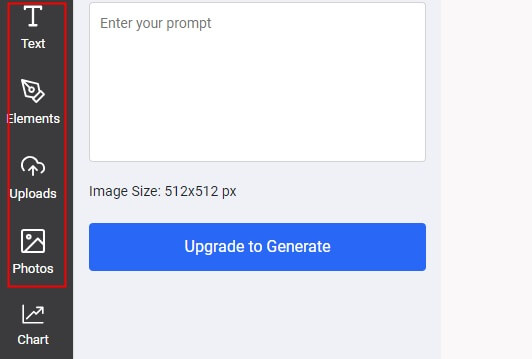 Step #5: Preview the thumbnail for Youtube & Save the result.
Features of This Method:
AI-powered design generation: Design your youtube thumbnail with single click, greatly svaing your time and cost.

Fully Customizable Result: You can further customize its details hrough adjusting size, text, and more.

Automated Design Suggestions: ChatGPT can provide automated design suggestions based on industry best practices and data-driven insights.

High-resolution Download and Usage: Once the thumbnail is generated, you can easily download it as an image file (e.g., JPEG or PNG) for their desired usage.

A Library of Templates:Appypie offers various youtube thumbnail templates for you to edit and customize.
2) Hotpot.ai
Hotpot.ai is an AI thumbnail generator with a myriads of thumbnail templates. You just directly choose a template that matches your needs, and edit it based on your specific requirements.
It can satisfy all your needs with various thumbnail templates it offers.
How to Make Youtube Thumbnail with Templates:
Step #1: Search "Hotpot.ai YouTube Thumbnail " & Enter the interface to choose a template you favor.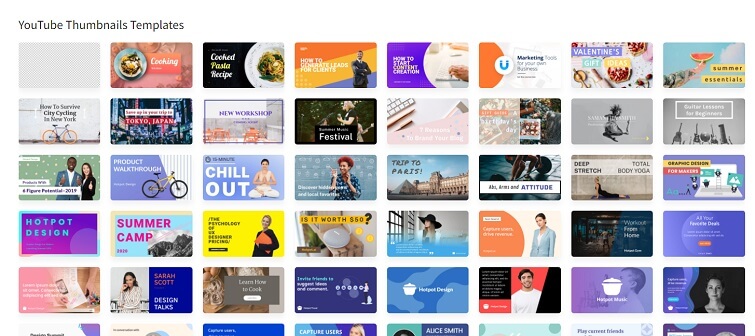 Step #2: Click on the template & Start editing.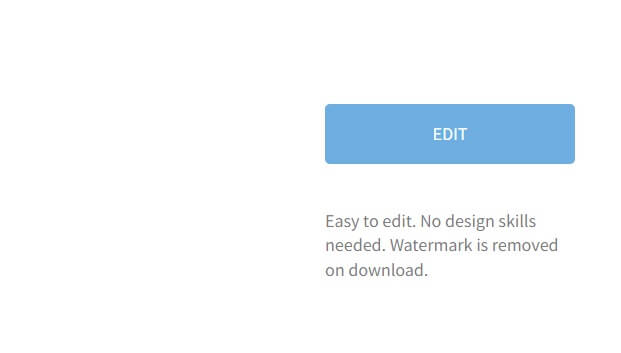 Step #3: You can add text, adjust the size and shadow, and add other design elements or picture as you wish, until you get the most stunning and satisfying result.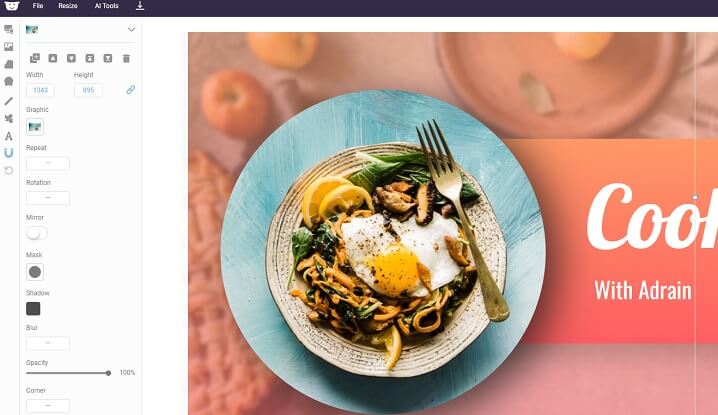 Step #4: Download the final results.
Key Features of This Method:
Vast Template Library: Hotpot.ai provides a wide range of pre-designed templates specifically tailored for YouTube thumbnails, that are free to use.

Customizable Design Elements: You can easily edit elements like text, images, colors, fonts, and graphics to create a personalized and unique thumbnail.

Image and Graphics Library: It offers an extensive library of high-quality stock photos, illustrations, icons, and buttons that you can incorporate into your thumbnail design.

Export and Download Options: Once the thumbnail design is complete, you can save the designs as image files (e.g., JPEG or PNG) in high-resolution.
3) Plus AI - AI YouTube Thumbnail Generator
Thr AI youtube thumbnail generator offered by Plus AI is easy to use. All you need to do is to offer your video title or description and your email, pay $5, and you will get 5 thumbnails ready to go in around 5 minutes.
It is best for people who don't want to meke youtube thumbanils on their own, greatly saving time and increasing efficiency.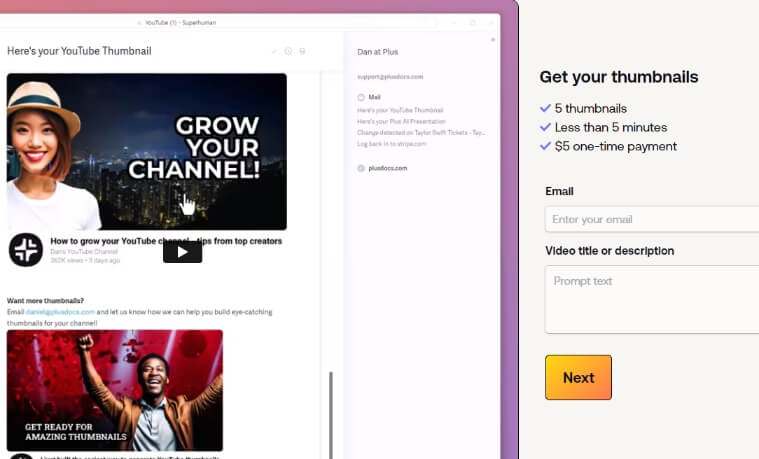 Key Features of This Method:
It is incredibly easy to use with its simple and intuitive interface.

You don't need to operate by yourself, and the AI will work its magic.

You can get 5 attractive and stunning thumbnails every time.
Part 3: Another Method to Generate Youtube Thumbnail with AI
We have learned about three methods to generate youtube thumbnail with AI, including customizing templates, AI text-to-image generation and AI generate thumbnails using description. Here is another all-in-one solution for you to make youtube thumbnail with ease.
iMyFone MagicPic is an AI-powered photo editing and graphic design tool, and it's current version is about background removal and replacement.
The function of AI generating Youtube thumbnail is coming soon, which not only provides a large number of trendy thumbnail templates with various styles, but offers the function of AI Text-to-Image function that helps create original and unique thumbnails for you to stand out! Stay tuned, you won't regret it!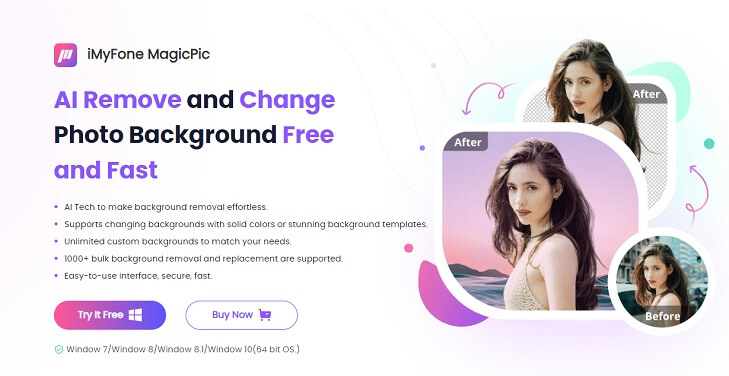 Part 4: FAQs about AI YouTube Thumbnail Generator
Can AI create YouTube thumbnails?
Yes, With ChatGPT to help you generate youtube thumbnail ideas and DeepAI to create stunning images from a prompt, you can make visually-appealing thumbnails with ease.
What is the best AI for making thumbnails?
The best AI that can be used to make thumbnails is ChatGPT and any Text-to-Image generator,including DeepAI, Neural.love, Starry.ai, Canva, etc.
What is the AI YouTube thumbnail rater?
The AI YouTube thumbnail rater is a tool or algorithm that utilizes artificial intelligence to analyze and rate the effectiveness of YouTube thumbnails. It assesses various visual elements, such as colors, composition, text placement, and graphic design, to determine the potential impact and clickability of a thumbnail. The AI thumbnail rater provides valuable insights and feedback to creators, helping them understand how well their thumbnail design aligns with best practices and how likely it is to attract viewers and generate higher click-through rates. By leveraging AI technology, creators can optimize their thumbnails to increase visibility and engagement for their YouTube videos.
How do you make a YouTube thumbnail go viral?
Creating a viral YouTube thumbnail requires attention to key elements:
1. Eye-Catching Visuals: Use bright colors, high contrast, and compelling imagery to grab viewers' attention.
2. Clear Focus: Highlight the main subject or topic of your video to convey what viewers can expect.
3. Emotional Appeal: Evoke curiosity, excitement, or emotion to entice viewers to click.
4. Simplicity: Keep it clutter-free with minimal text and a clean layout.
5. Branding: Incorporate your channel's recognizable logo or branding for consistency.
6. Clickbait-Free: Ensure the thumbnail accurately represents the video content to maintain viewer trust.
What is an AI YouTube Thumbnail Generator?
An AI YouTube Thumbnail Generator is a tool that uses artificial intelligence algorithms to automatically create and design thumbnails for YouTube videos.
Wrap it Up
In conclusion, the importance of making captivating YouTube thumbnails with AI cannot be overstated. These small visual representations hold the power to attract viewers, increase click-through rates, convey content effectively, and ultimately contribute to the success of your YouTube channel.
Take action now and start making your unique thumbnail with AI youtube thumbnail generator, and seize this opportunity to make a lasting impression and watch your YouTube channel thrive!