If you're seeking a melancholic melody to express your emotions, look no further than the sad song generator. This cutting-edge tool utilizes the power of AI technology to craft soul-stirring tunes that resonate with heartache and longing.
Whether you're going through a breakup, reflecting on lost love, or simply yearning for a cathartic musical experience, the sad song generator offers a convenient and creative solution. With its ability to evoke deep emotions and create heartfelt melodies, this AI-driven tool is perfect for capturing the essence of sadness in your music.
Part 1: Some Facts about Sad Songs
Sad songs have a unique power to evoke deep emotions and resonate with listeners. They often explore themes of heartbreak, loss, and melancholy, providing an emotional outlet for both artists and audiences.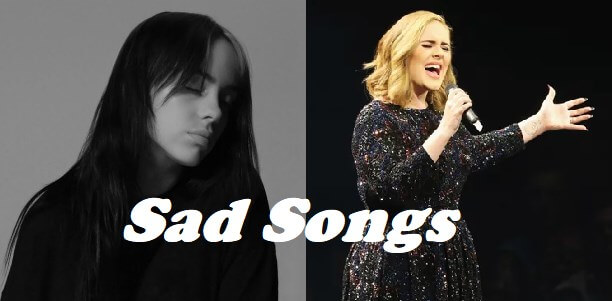 Sad songs can provide comfort, catharsis, and a sense of connection to those experiencing similar emotions. They have the ability to touch our hearts, evoke memories, and offer solace during difficult times. Whether it's the raw vulnerability of the lyrics, the haunting melodies, or the soulful performances, sad songs have a timeless appeal that continues to captivate listeners around the world.
Part 2: Most popular Sad Song Singers in 2023
Some of the most popular sad song singers 2023 include Elton John, Sam Smith, Taylor Swift, Ed Sheeran, Billie Eilish, Justin Bieber, Lewis Capaldi, Lana Del Rey, Sia, and Coldplay. These artists have gained recognition for their ability to convey raw emotions through their soulful voices and poignant lyrics. Their songs resonate with listeners and touch on themes of heartbreak, loss, and personal struggles, creating a deep connection with audiences. Their powerful performances and heartfelt storytelling have made them icons in the realm of sad songs, earning them a dedicated fan base worldwide.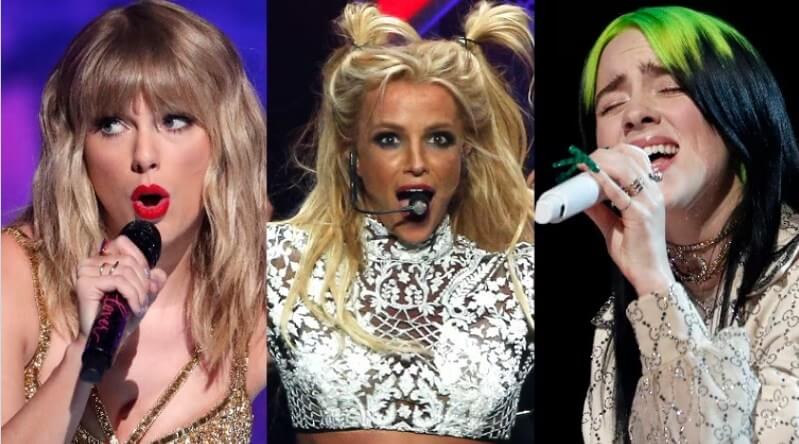 Part 3: [Detailed Guide] Create Sad Song with Powerful AI Generators
1. MusicAI - Sad Song Cover
MusicAI is your ultimate companion for even covering sad songs with the distinct and deep voice of Drake and other rappers. With MusicAI generator, you can effortlessly recreate your sad songs with your favorite singer voices.
Key Features:
Discover a vast selection of AI singer models to cover songs of different styles except sad songs.

Cover your songs by setting different beats depending to the mood.

The forthcoming features of text-to-song, audio enhancing and AI compositions

Remove the vocals from tracks and videos easily.

One-time free trial and download.

Various scenes supported in life.
2. Soundful
Soundful harnesses the transformative capabilities of AI to redefine the process of crafting royalty-free sad music for your creative projects and you can browse through plenty of top-notch music.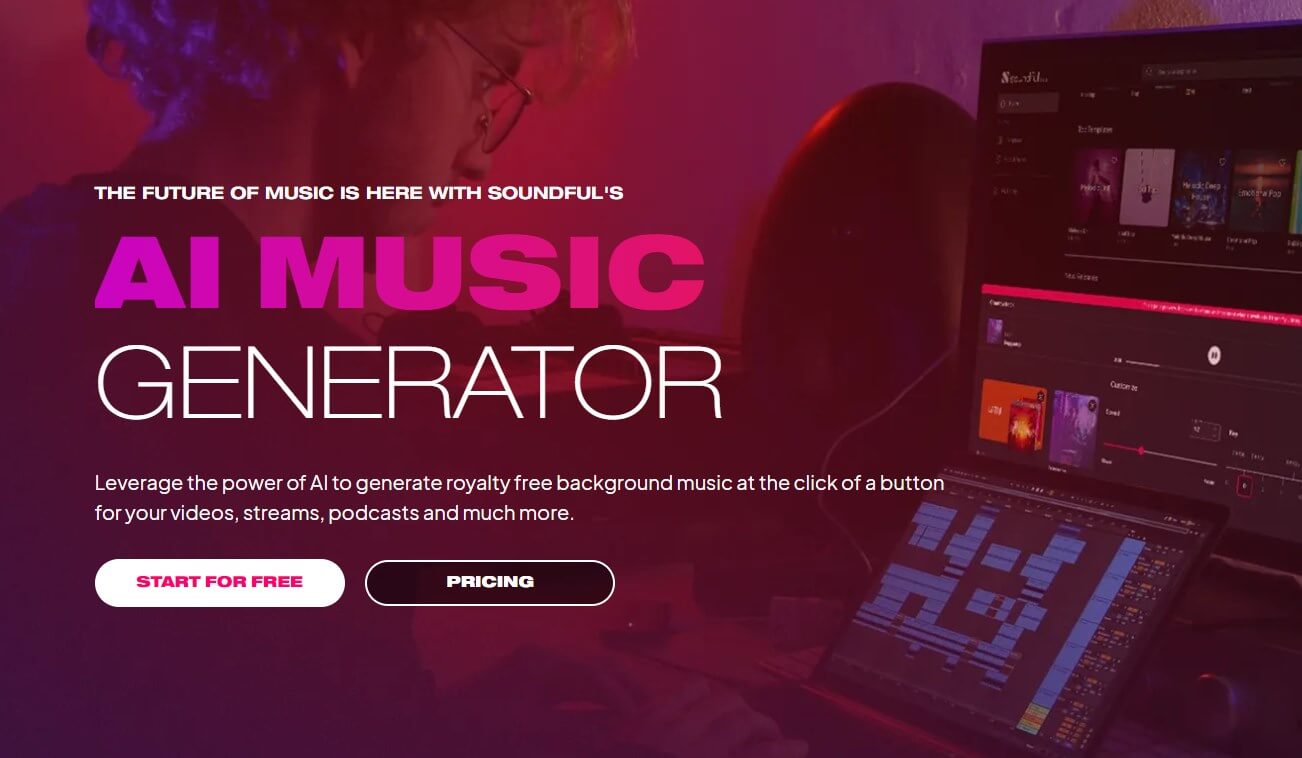 Key Features:
Explore a diverse range of music genres within Soundful's extensive library.

AI-generated love songs also provided.

Soundful is the ideal solution for enhancing your digital presence with captivating music.

It can generate original sad tracks.
How to Make Sad Songs:
Step 1: Log in with your account.
Step 2: You can select a genre and template.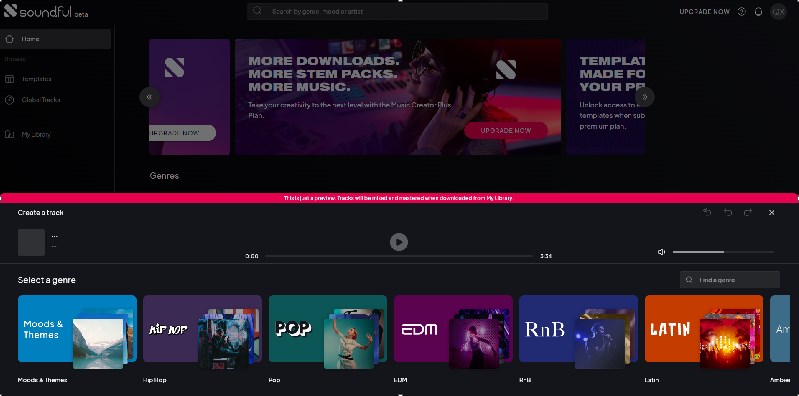 Step 3: Customize the track by adjusting speed, key and so on, and then create the preview.
3. Mubert Sad Music Generator
Mubert revolutionizes music creation by merging the capabilities of Artificial Intelligence and human creativity. Through a vast collection of artist samples, the AI song maker generates custom sad songs that seamlessly aligns with its intended purpose, establishing a harmonious synergy between humans and algorithms.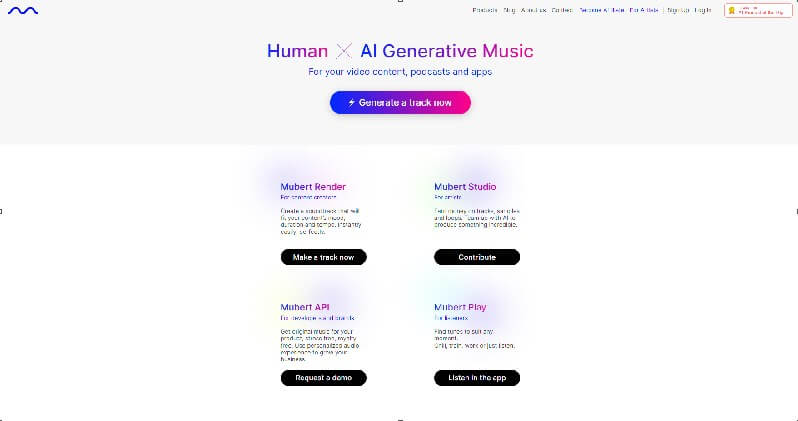 Key Features:
Customize tracks that perfectly match your desired length, mood, and style.

Hip-hop singers like Playboi Carti tracks you can create.

The potential of Mubert API will integrate its capabilities into your own applications.

Enjoy the freedom to use Mubert's royalty-free music commercially.

Easy to use with few time.
Steps to Use Mubert Sad Song Generator:
Step 1: Begin by entering your desired text or selecting genres, moods, or activities to set the tone for your song.
Step 2: Specify the duration you prefer for your track, ensuring it perfectly fits your needs.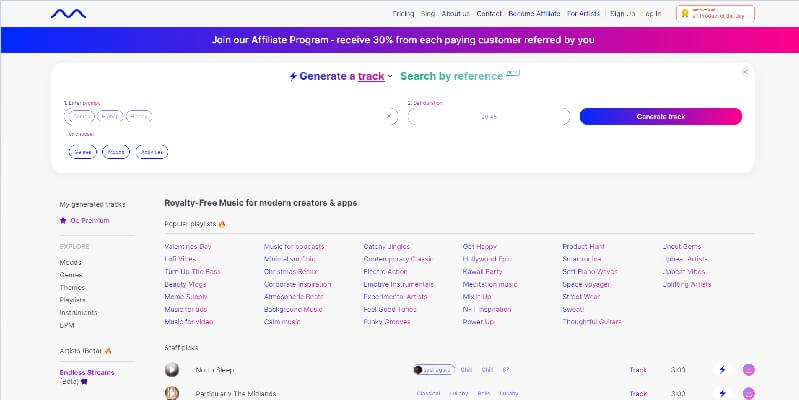 Step 3: Sit back and let the magic happen as Mubert generates tracks tailored to your preferences
Part 4: Hot FAQs about Sad Song Generator
1. What are the benefits of sad song generators?
Sad song generators offer numerous benefits, including the ability to express deep emotions, inspire creativity, save time and effort in music production, provide accessibility for individuals with varying musical backgrounds, and offer versatility and adaptability in terms of genre and mood. These generators serve as a valuable tool for musicians, enabling them to create heartfelt and impactful music that resonates with listeners on an emotional level.
2. How do you make a saddest song?
Creating a sad song involves several key elements to evoke a melancholic and emotional response from listeners. Start by focusing on the lyrics, using introspective and heartfelt words that convey sadness, loss, or longing. Use minor chords and melodies that have a slower tempo to create a somber atmosphere. All these conditions you can achieve with the AI music generators.
Conclusion
In conclusion, MusicAI is the ultimate platform for creating captivating and emotionally charged sad song covers. With its AI technology, you can effortlessly tap into a vast library of renowned singer AI models and infuse your covers with authentic depth and sentiment. Owing to the user-friendly interface and powerful capabilities, MusicAI is the go-to tool for musicians and artists who seek to capture the essence of sadness in their music.