DJ songs have been captivating audiences for decades with their infectious beats and energetic mixes. From the early days of vinyl records to the digital age, DJs have continuously pushed the boundaries of music and entertained crowds around the world.
Now, with the advancement of AI technology, DJ song generators have emerged, allowing anyone to create their own unique tracks and experience the thrill of being a DJ. These generators offer a seamless and intuitive platform to unleash your creativity and bring your musical visions to life.
Part 1: The History of DJ Song
The history of DJ songs spans over a century, starting with the early experimentation of disc jockeys in the 20th century. From the influential role of DJs like Kool Herc and Grandmaster Flash in hip-hop's rise to the revolutionary impact on electronic dance music, DJs have been at the forefront of shaping music genres and remix culture. The emergence of turntablism and scratching techniques pioneered by DJs like Grand Wizard Theodore and DJ Qbert= in the 1970s set the stage for DJs to become musical innovators.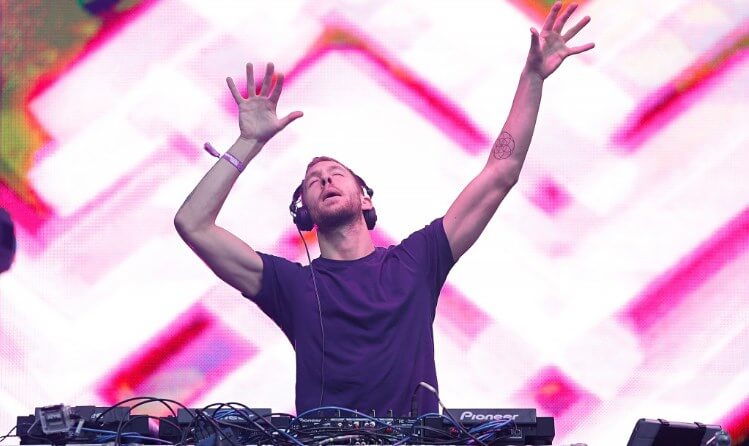 The advent of electronic music in the 1980s and 1990s further propelled DJ culture, with artists like Frankie Knuckles, Larry Levan, Carl Cox, and Daft Punk popularizing house music, techno, and the global club scene. Today, DJs like Martin Garrix, Jaivane, and Diplo continue to push boundaries using digital platforms and software, ushering in new possibilities for creative expression. The global phenomenon of DJ songs is a testament to the enduring influence and evolution of DJ culture.
Part 2: Why are DJs So Popular These Days?
DJs have gained popularity in recent years due to their ability to create immersive musical experiences, adaptability to different genres and venues, influence in shaping trends, accessibility of DJing tools, and the amplification of their reach through social media and streaming platforms. They have become known for their skillful mixing, versatility, and trendsetting abilities, attracting a wide range of audiences and establishing themselves as prominent figures in the music industry.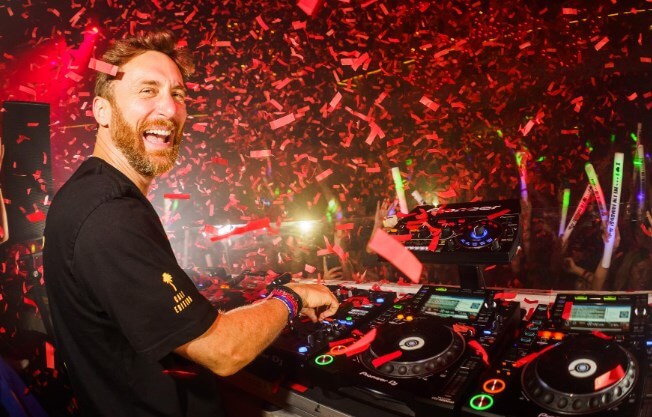 Part 3: [Guide] Most Powerful Music Genertors to Get a DJ Song
1. Media.io - AI DJ Song Generator
Media.io, a free AI music generator and online mashup maker that allows you to effortlessly remix songs and change audio lengths with superior quality. Whether you're want a DJ song or need the perfect background music for your video, this platform provides the tools to mix audio songs like a pro and achieve the desired result.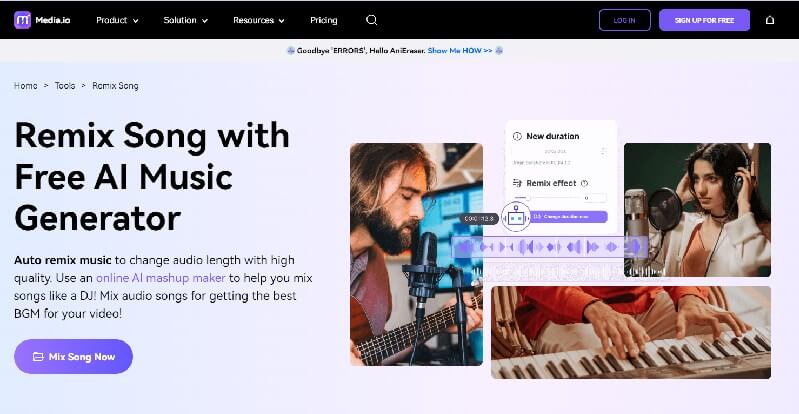 Get DJ Song in Simple Steps:
Step 1: Go to the website and log in with your account.
Step 2: Either choose the file directly or simply drag and drop it onto the user interface.
Step 3: Remix music and select different effects to adjust them accordingly.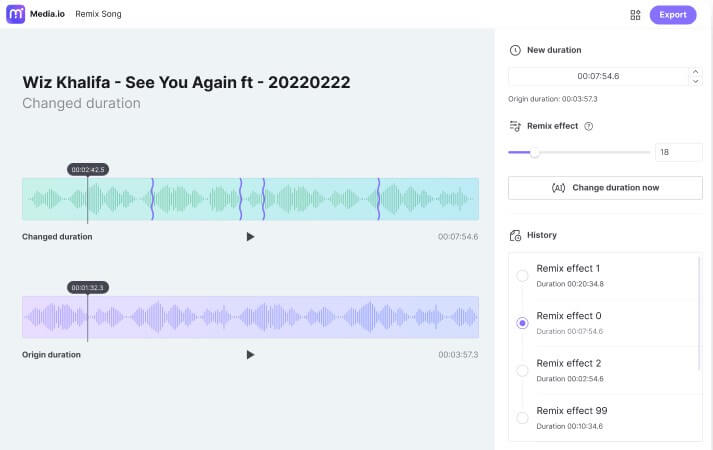 Step 4: Click the Play button to preview and download the audio file for your use.
Key Features:
With over 100 stylish remix effects, Media.io offers a wide range of DJ remix sound effects, allowing you to transform your music and become a cool DJ.

Easily change the audio length to fit your video duration when creating TikTok videos, vlogs, or any other video content.

Enjoy a hassle-free and fast mixing experience with Media.io's easy-to-use interface.

Powered by advanced AI technology, Media.io intelligently remixes songs by automatically trimming, rearranging, and adding remix effects.
2. Boomy
You can experience the freedom to create, edit, and release your music in a remarkable environment with Boomy. With its impressive features including song creation and editing, generous song limits, and expedited release review, Boomy empowers you to effortlessly craft and share your DJ music.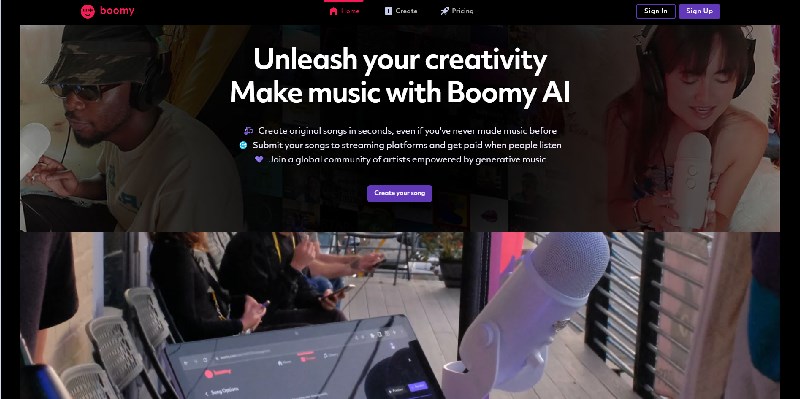 Use Boomy DJ Song Generator:
Step 1: You should also sign in first.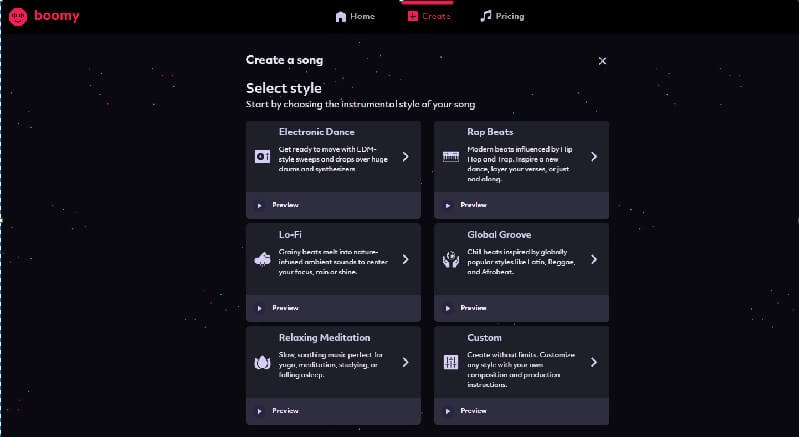 Step 2: Next select song style you like.
Step 3: Create dj music, edit the track and listen to the result song.
Key Features:
Unleash your musical vision with intuitive song creation and editing tools.

Monetize your talent by utilizing your music for commercial use in social media advertising.

Store and organize your musical creations with ample space.

Enjoy different genres of music like K-pop.

Showcase a comprehensive collection of your work in one place.
Part 4: An Effective Way of Making a DJ Cover Song
1. iMyFone MusicAI - AI DJ Cover Generator
iMyFone MusicAI is the ultimate tool to enhance your music production skills and create breathtaking DJ song covers. Powered by advanced AI technology, you can effortlessly capture the essence of popular tracks and add your unique touch. You can become a skilled song maker and express your creativity and produce remarkable AI cover songs.
Key Features:
Immerse yourself in a vast library of famous AI singer voices and make dj songs.

Offer you one-time free trial and download for each function.

Stay tuned for the exciting future feature of converting AI composition,text to song and audio enhancer.

AI-generated love song covers are filled with deep emotions.

Two innovative capabilities for AI cover song and vocal remover now.

Easily separate voices with few steps.
Pros:

Support to extract vocals from videos.

It provides ready-made backing tracks.

This generator is compatible with kinds of file formats.
Cons:

You can't customize your music with the first version.
Bonus Tips: List of Top DJs in 2023

Calvin Harris: Scottish DJ and record producer known for his chart-topping hits and versatile musical style.
Martin Garrix: Dutch DJ and record producer who gained international recognition with his breakout hit "Animals."
David Guetta: French DJ and producer known for his infectious dance tracks and collaborations with popular artists.
Avicii: Swedish DJ and producer who achieved global success with hits like "Wake Me Up" and "Levels."
Tiësto: Dutch DJ and record producer considered one of the pioneers of electronic dance music (EDM).
Armin van Buuren: Dutch DJ and producer known for his uplifting trance music and A State of Trance radio show.
Skrillex: American DJ and producer known for his innovative blend of dubstep, electronic, and rock music.
Marshmello: American DJ and producer recognized for his masked identity and energetic electronic dance music performances.
Conclusion
In summary, DJ songs have become a powerful medium for artistic expression and entertainment, allowing you to explore your musical talents and connect with your audience on a deeper level. iMyFone MusicAI offers a comprehensive solution for creating DJ song covers with its advanced AI capabilities.
Elevate your music production skills and bring your DJ song covers to life with the help of go-to AI generator iMyFone MusicAI.