AI covers have become popular in our lives recently, and many people are looking for ways to use AI to produce cover songs. However, UMG, or Universal Music Group, is at the forefront of the major label charge against AI music. They have issued numerous takedown notices and warned platforms like Spotify and Apple Music to block AI systems from scraping music and lyrics from their services.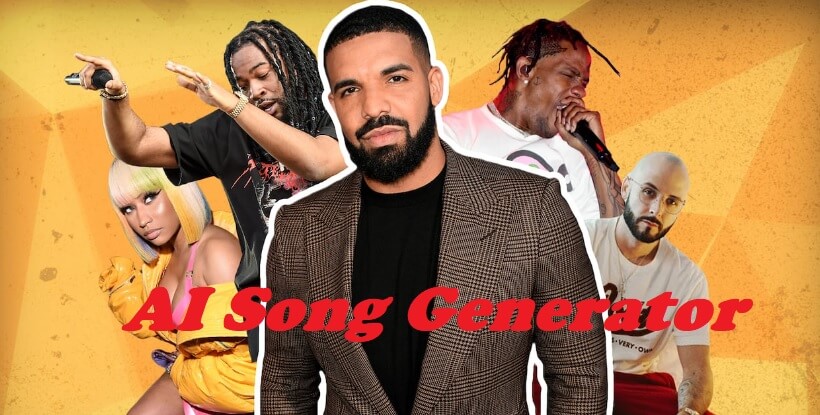 In this article, we'd recommend best 4 AI cover generators and teach you how to make AI song covers step by step for prank or just for fun to make a cover song.
Listen to Taylor Swift - Starboy(AI Cover) Generated by MusicAI.

Part 1: The Facts of AI Cover and AI Song Cover Generator
AI Cover
Artificial intelligence (AI) cover songs utilize advanced algorithms to recreate popular songs in the style of well-known artists, often without their direct involvement or permission. These AI-generated covers mimic the voices and musical styles of famous singers, producing results that closely resemble the original artists' performances. For instance, AI technology has been used to create remarkable renditions such as 'Ariana Grande singing SZA's "Kill Bill" and 'Justin Bieber covering Miley Cyrus' "Flowers."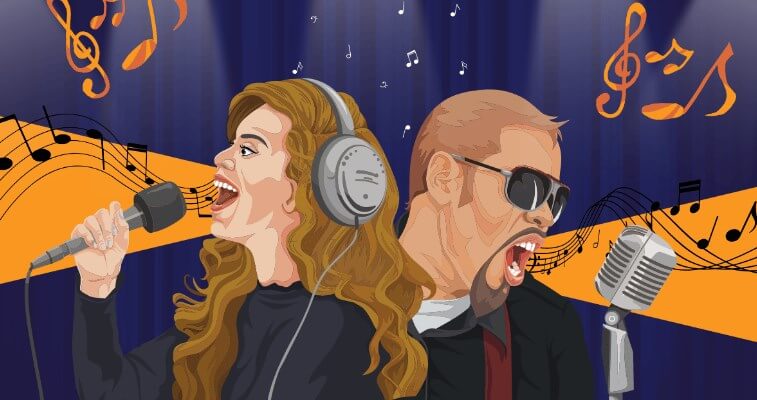 AI Song Cover Generator
An AI song cover generator is a tool or software that uses a AI to generate covers of songs. This technology can recreate existing songs using a different voice or musical style, allowing users to create unique versions of songs originally performed by other artists. AI Song Cover Generators often employ deep learning and neural networks to analyze and replicate the original song's melodies, lyrics, and vocal styles, enabling the generation of high-quality AI covers with a variety of voices or music styles.
Part 2: How To Make AI Song Covers For Free?
MusicAI, the state-of-the-art AI music generator that allows you to effortlessly make covers like never before. With MusicAI, you can combine any song track with your favorite voices to add unique soundtracks to your videos or other programs. Or if you would like to generated AI covers in interesting or scary character voices for prank, MusicAI has also got you covered.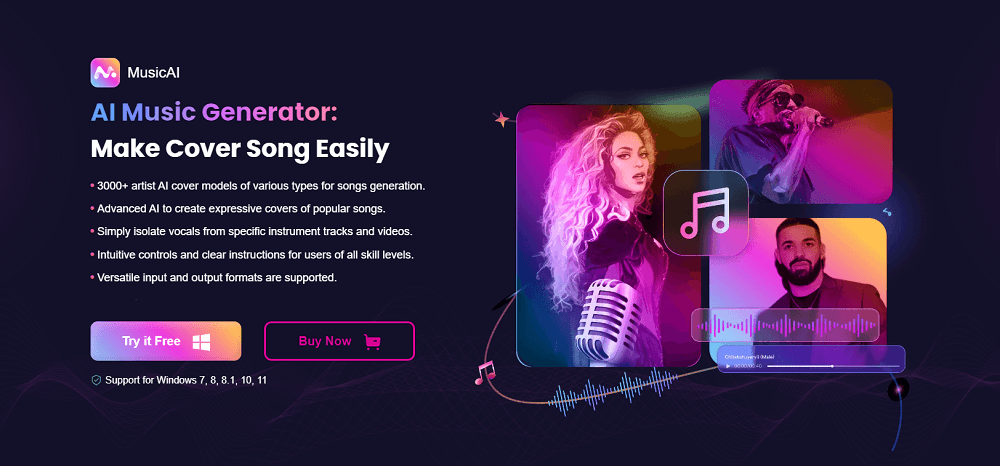 Free to Make AI Cover Songs:
Step 1: Download and install the software.
Step 2: Next access AI Covers page.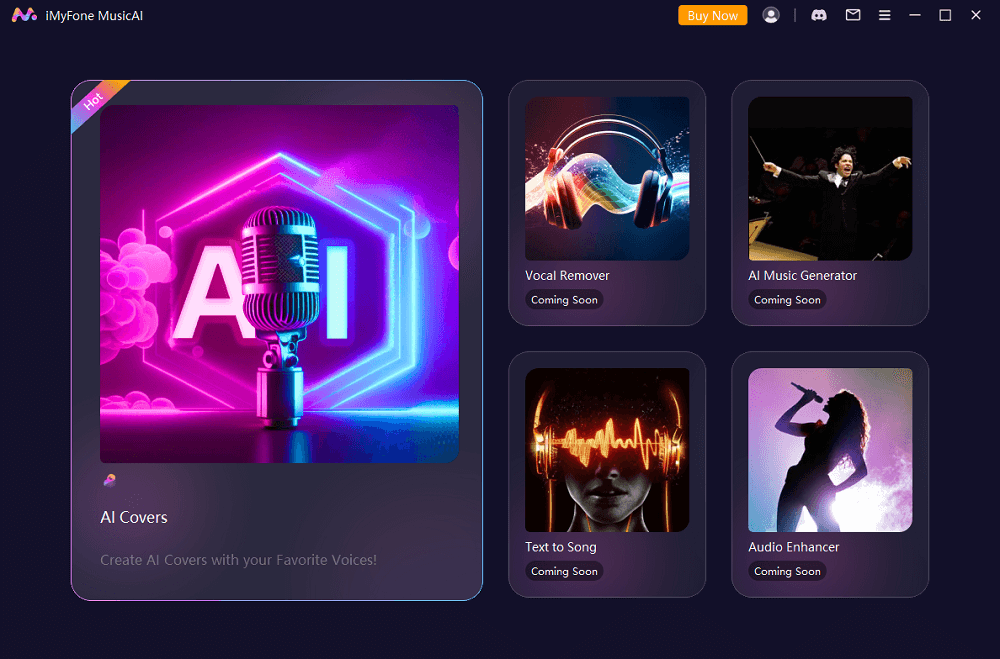 Step 3: Select the voice you prefer and upload the song file. Click on "Start", log in your account and wait a few seconds, the cover song will be generated.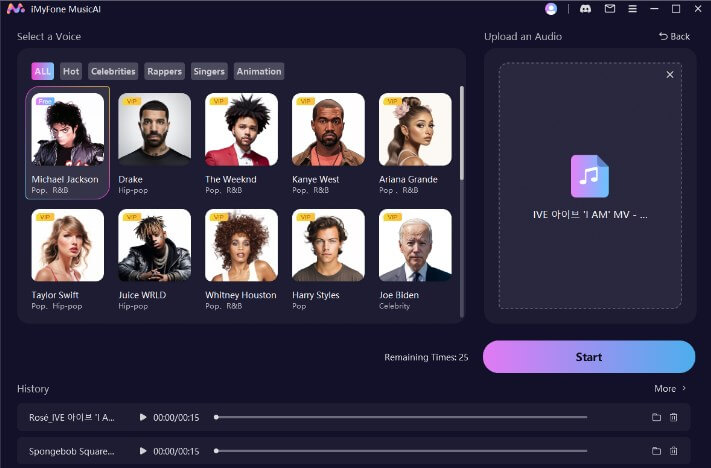 Key Features:
Allows you to create AI covers in your preferred voices.

The AI voices are classified in various types including celebrities, singers, rappers and more.

Enjoy the ease of use with different supported input and output formats.

Free to preview and download your created AI covers.
2. VoxBox - AI Song Generator
VoxBox is an advanced song generator that offers the unique ability to create Drake AI song. With its powerful technology, VoxBox can imitate Drake's musical voice and generate his cover songs in his signature sound, allowing users to experience the thrill of creating music in the style of this popular artist.

Get AI Song Covered by Favorite Artist:
Step 1: Download and install iMyFone VoxBox on your device.
Step 2: Select Drake AI voice or other singers you like, and add the songs or rap lyrics you want to generate.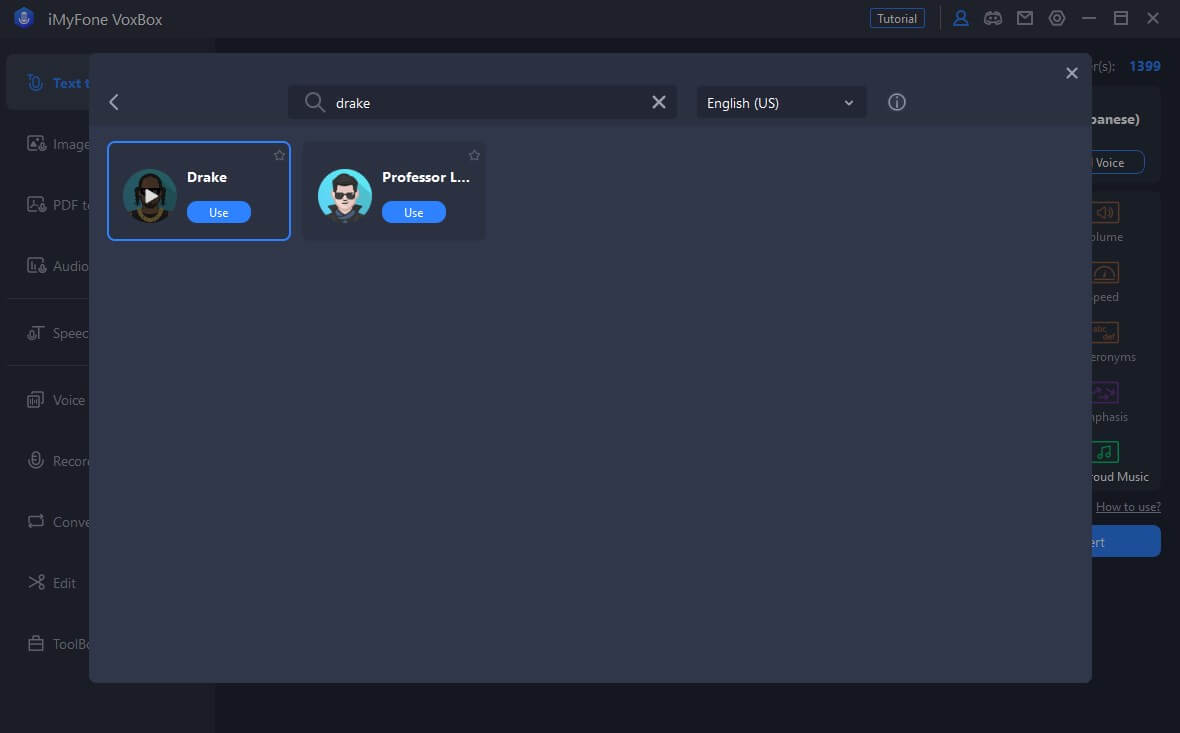 Step 3: You'll get the audio with your favorite artist.
Step 4: Then add some beat or change the genres, then you finish the cover song.
Key Features:
Expanding voice library.

All-in-one tool helps you get AI songs.

Supports you to clone voices you desire, including your own voice.
Part 3: How to Make AI Covers with Paid AI Song Generators?
1. Voicify.ai - AI Cover Generator
Voicify.ai is a cutting-edge AI song cover generator that redefines the music creation process. With its advanced technology and extensive collection of voice models, it empowers you to unleash your creativity and transform popular songs into unique and personalized covers.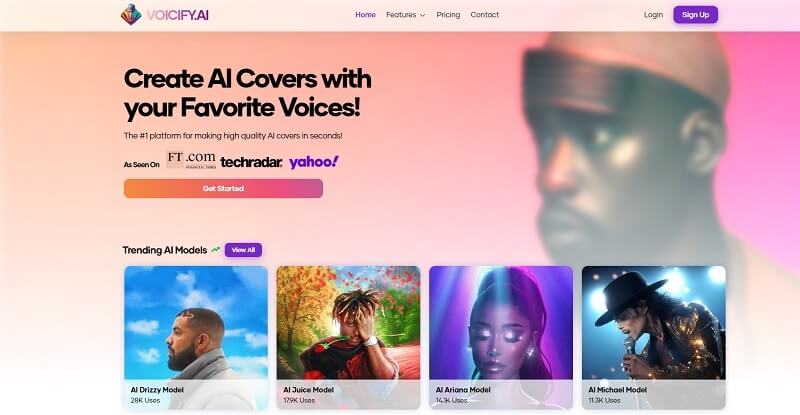 Top Tips for Making AI Covers:
Step 1: Go to the website and log in with your account.
Step 2: Search and choose your favorite singer AI models.
Step 3: Enter the YouTube url, and create the ai cover songs, then save it on your device.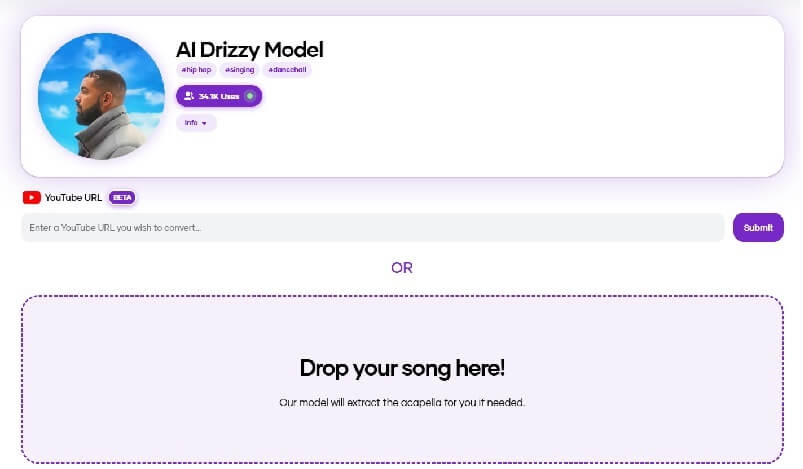 Key Features:
Unlimited generation credits to create as many songs as you desire.

Maintain your privacy with the stealth generation option.

Access the priority queue feature for faster processing and quicker results.
2. Covers.ai
Covers.ai is one of the best online AI cover generators, offering users the opportunity to craft music covers featuring authentic celebrity voices. Featuring a diverse range of renowned voice models, Covers.ai enables users to produce exceptional AI covers that faithfully replicate the vocal styles of their beloved characters and idols.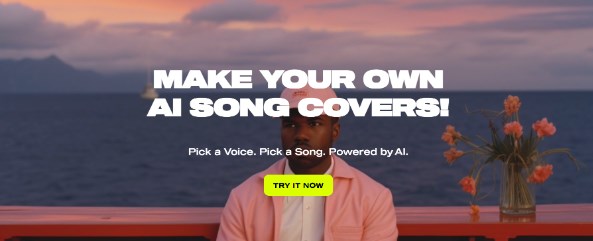 Steps for Creating Incredible AI Song Covers:
Step 1: Visiting the website and click on the "Try it Now" button to access the interface.
Step 2: Upload the song you'd like to create a cover for or choose a style it offered, and pick your preferred voice model.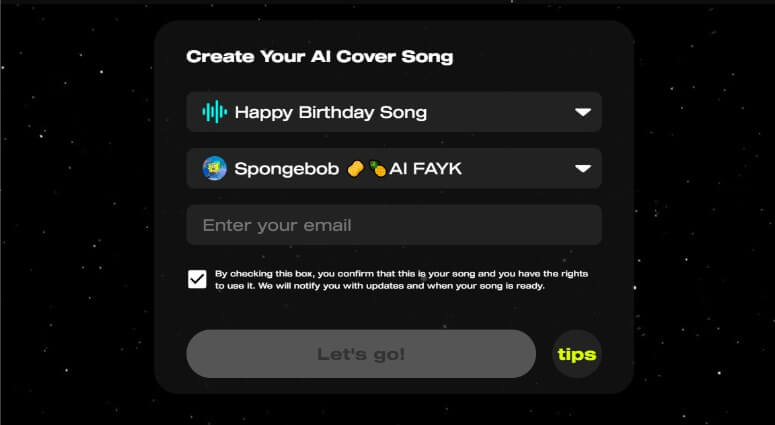 Step 3: Enter your email address to initiate the generation process.
Key Features:
Make music covers in any language.

Personalize your songs with your own voice.

Lifetime access with paid version.

Allows you to share your content without limitations.
Part 4: FAQs about AI Song Cover 2023
1. What software can I make AI cover songs?
You can make AI cover songs using MusicAI, an advanced AI music generator that allows you to effortlessly create unique and personalized versions of popular songs. With MusicAI, you can transform any song into a musical masterpiece using your preferred AI voices.
2. What are people using for AI song covers?
People are using various tools for AI song covers, with two popular options being MusicAI cover and Voicify. MusicAI cover is an advanced AI music generator that allows users to create unique and personalized versions of popular songs effortlessly. On the other hand, Voicify provides an online platform for creating AI-generated voiceovers and song covers with a wide range of voices and styles.
3. Can I share my AI-generated covers on social media or streaming platforms?
Yes, many AI cover generators allow users to download and share their creations on social media, music streaming platforms, or other online channels.
4. What genres of music can I create using AI covers?
AI song cover platforms typically support a wide range of music genres, from pop and rock to hip-hop and classical. You can choose a genre that suits your preferences and creative goals.
Conclusion
In conclusion, an AI song generator is an essential solution to how to generate AI song covers. With its advanced technology and extensive voice model collection, MusicAI offers limitless possibilities for transforming songs into personalized cover versions. You can elevate your music production and create professional-grade AI song covers with MusicAI. Don't miss out on this powerful software.