Are you a Taylor Swift fan? Or perhaps you admire her as an iconic figure in the music industry, marveling at her ability to weave heartfelt stories into captivating melodies. Maybe you've dreamt of experiencing her music in a whole new way, personalized to your unique tastes and emotions.
As technology continues to push the boundaries of creative expression, the concept of a Taylor Swift song generator emerges. Like the myriad AI applications catering to music lovers, vloggers, and content creators, the AI Taylor Swift song generator holds the potential to become a helpful tool, It will amplify the artistry of one of the world's most beloved musicians.
Listen to Taylor Cover(Song: Cupid) Generated by MusicAI.

Part 1: Top Covers of Taylor Swift Songs Listed [2023]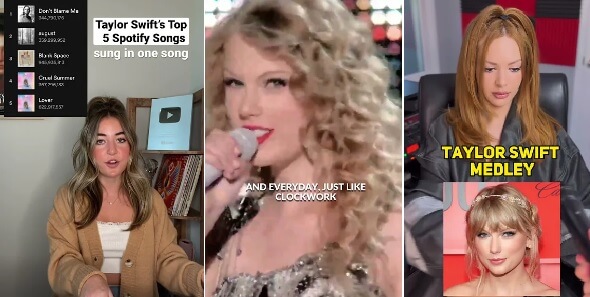 "Blank Space" by I Prevail: This rock cover adds a heavier and edgier sound to the original pop track, showcasing the versatility of Swift's songwriting.
"Love Story" by Tyler Ward & Alex G: This acoustic rendition adds a heartfelt and intimate touch to the beloved classic.
"Bad Blood" by Megan Davies: This acoustic mashup of "Bad Blood" with "Roar" by Katy Perry showcases Davies' impressive vocal range and guitar skills.
"Shake It Off" by Us The Duo: This husband-wife duo delivers a charming and soulful rendition of the upbeat anthem.
"Style" by Boyce Avenue ft. Megan Nicole: Boyce Avenue and Megan Nicole create a captivating duet, blending their voices seamlessly to deliver a heartfelt and melodic version of Swift's hit.
These covers not only pay homage to Taylor Swift's songwriting talent but also highlight the creativity and artistry of the artists who bring their own interpretations to her music. In addition, you also get your own covers to entertain others.
Part 2: AI Taylor Swift Song Generators to Gain Her Songs!
MusicAI is a groundbreaking and revolutionary artificial intelligence-powered music generator, capable of producing awe-inspiring Taylor Swift AI covers and captivating listeners with its creativity and ingenuity. It also equipped with other singer and celebrity AI voices for everyone to choose from.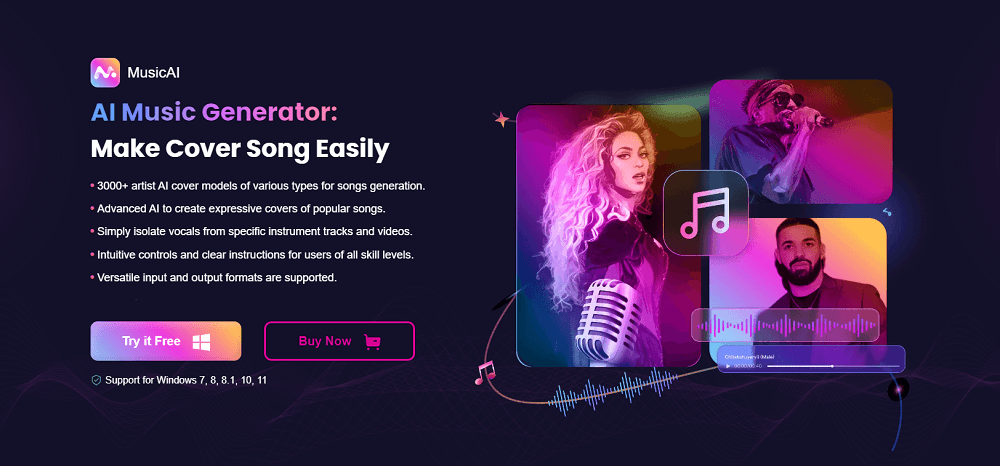 How To Get Taylor Swift AI Cover:
Step 1: Download and install MusicAI.
Step 2: Go to "AI Covers", select Taylor and upload or drag your song file into the interface.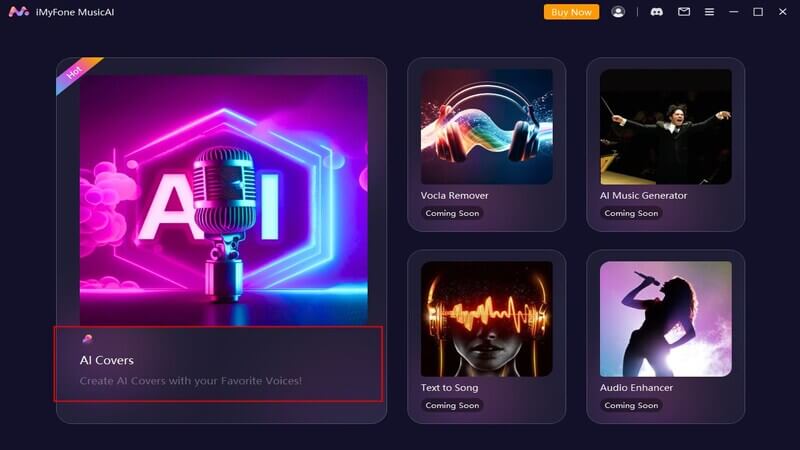 Step 3: Click on "Start", then you need to log in with your account and MusicAI will help you get cover songs.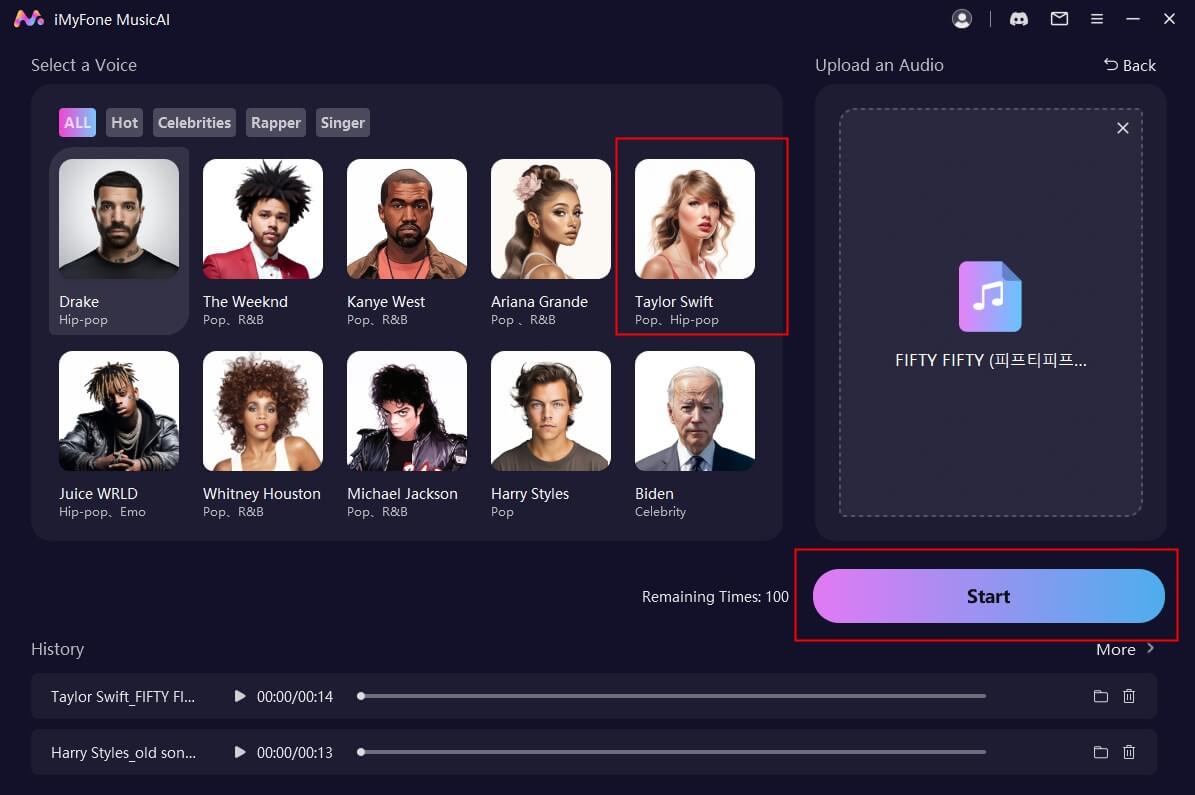 Key Features:
Renowned singers and rappers AI voices supported.

A comprehensive set of capabilities also for vocal removal, text to song, AI compositions and audio enhancement are coming recently.

Natural-sounding Taylor vocals provided.

You can output AI-generated songs into your liking formats.

One free opportunity to download the music.

The generating process only need few seconds.
2. Covers.ai
Covers.ai is an innovative platform that harnesses the power of artificial intelligence to produce stunning Taylor Swift AI covers. Users can create personalized covers that capture the essence of Taylor Swift's music with exceptional accuracy and quality.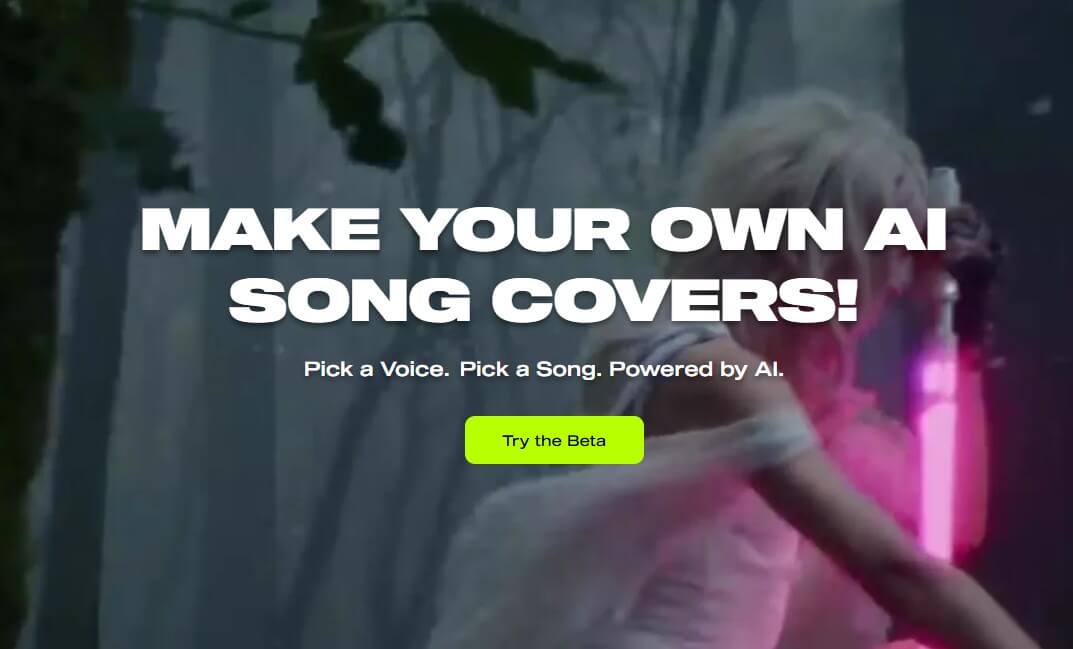 How to Steps:
Step 1: Sigh up and log in with your new account.
Step 2: Upload the music file and you should choose Taylor voice.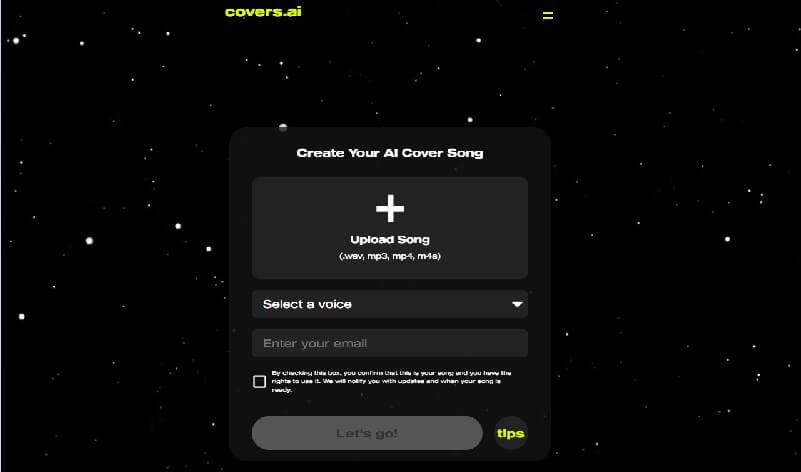 Step 3:wait a min and listen to the final song.
Key Features:
Utilizes advanced AI-based vocal modeling technology to authentically replicate the distinctive vocal characteristics of the selected artist.

Allows users to refine the audio quality and achieve the desired sound for their cover.

User-friendly interface and intuitive controls.

Provides a range of customization features, including reverb and EQ controls.
3. Soundful - AI-generated Taylor Swift Song
Soundful is the ultimate destination for Taylor Swift AI songs, offering a wide range of studio-quality tracks tailored to match Taylor Swift's iconic style. With its vast library of royalty-free music and customizable options, Soundful provides content creators with the perfect soundtrack to captivate their audience.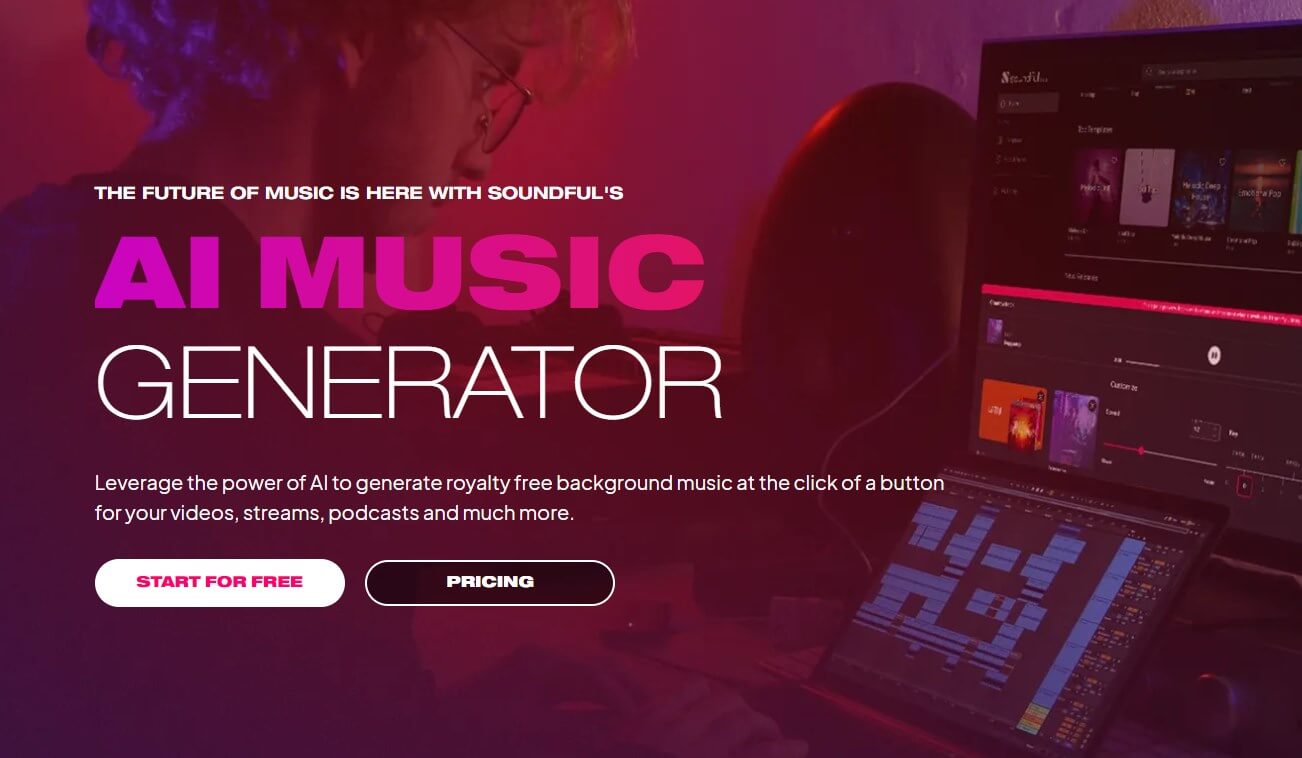 Key Features:
With Soundful, you can generate unique tracks with a single click.

Once you find a track you like, Soundful allows you to easily render and download the high-resolution file.

Soundful offers a vast library of royalty-free tracks.

Drake songs are generated fast as well.

It provides custom, studio-quality music that is specifically tailored to meet your brand's unique needs.
Part 3: FAQs about AI Taylor Swift Song Generator
1. Can I use Taylor Swift ai covers for my YouTube videos or other projects?
It depends on the licensing and copyright restrictions. If you are creating cover songs for non-commercial purposes or obtaining proper licenses, you may be able to use them. However, it's recommended to check the specific terms and conditions associated with the songs.
2. Can I customize Taylor Swift cover songs with my own lyrics or instrumentals?
Yes, you can customize Taylor Swift cover songs with your own lyrics or instrumentals. There are various music production software and platforms available that allow you to create custom covers of Taylor Swift's songs.
3. What will AI Taylor Swift song generator do for her fans?
The AI Taylor Swift song generator will offer her fans an extraordinary and immersive musical experience. It will produce a vast array of personalized Taylor Swift AI song covers, tailored to each fan's preferences, emotions, and musical tastes. This innovative tool will allow fans to rediscover their favorite hits in unique styles and deepen their connection with Taylor Swift's artistry. Additionally, it will provide an avenue for musicians to collaborate and create their own Taylor Swift-inspired compositions, further fostering a sense of community and appreciation for her music among her devoted fanbase.
Conclusion
In conclusion, AI-generated Taylor Swift cover songs offer a remarkable opportunity to reimagine and personalize the music of a beloved artist. With the help of MusicAI, an advanced AI music generator, you can effortlessly create unique Taylor Swift covers that showcase your creativity and captivate your audience. So stay tuned for the All-in-one tool!