With the ever-evolving music production landscape, artificial intelligence (AI) has made a significant impact on how we create and enjoy music.
As the AI music industry continues to expand, this article aims to assist you in selecting the finest AI song maker. It also serves as a comprehensive guide, walking you through the process of creating AI cover songs.
Part 1: What is AI Song Maker?
AI Song Maker is a technology-driven tool that utilizes artificial intelligence to generate original music compositions. It uses machine learning algorithms to analyze patterns, melodies, and harmonies from a vast database of existing songs. By inputting specific parameters such as genre, mood, and tempo, users can create unique songs tailored to their preferences.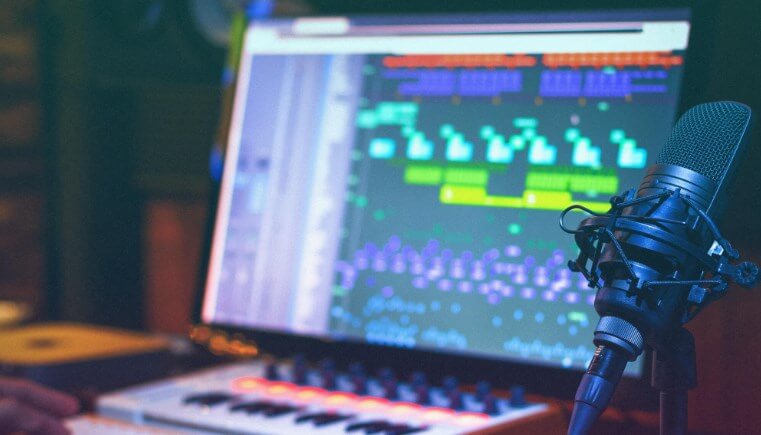 AI Song Maker offers a user-friendly interface that allows individuals, regardless of their musical background, to experiment with and create their own music compositions. It is a valuable resource for musicians, songwriters, and enthusiasts who seek inspiration, want to explore new creative possibilities, or need assistance in the songwriting process.
Part 2: Top 6 AI Song Maker Easliy Make AI Song Covers
Here is a compilation of the top 6 song maker websites and their features, carefully curated for you to explore and choose from our ultimate list.
Soundraw AI Song Maker is a music creation tool that harnesses the power of artificial intelligence to help you compose original songs effortlessly. With a user-friendly interface and a vast library of sounds and instruments, Soundraw empowers musicians of all levels to unleash their creativity and produce professional-quality music in a matter of minutes.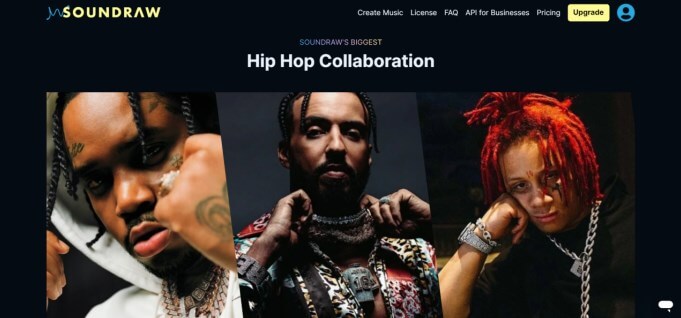 Key Features:
You can ashape your music exactly the way you envision it.

Effortlessly customize your song arrangements using intuitive and user-friendly tools.

Bypass the limitations of traditional music licensing and production.

Explore the seamless and enchanting process of song creation by effortlessly selecting your desired mood, genre, and length, and witness the AI music generator bring your ideas to life.

With the freedom to create and release your music without any constraints.
MelodyStudio is the ultimate AI song generator that empowers you to unlock your songwriting potential, which offers a seamless and intuitive platform for generating original melodies.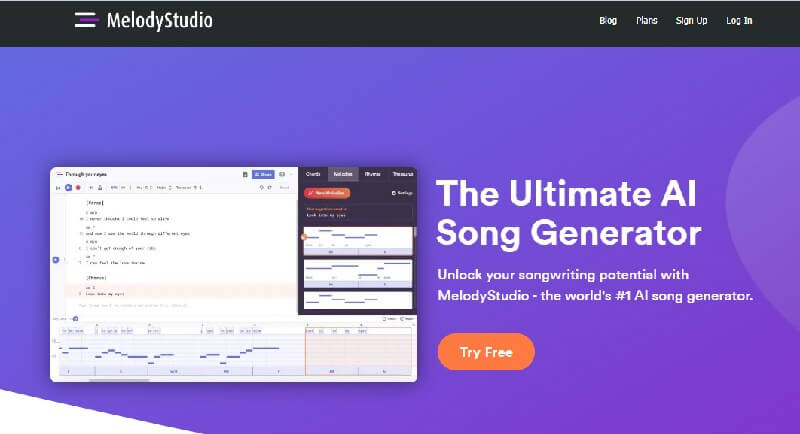 Key Features:
Whether you're a beginner or an experienced songwriter, this AI song generator caters to aspiring songwriters of all levels.

Provides a platform for creative expression and musical exploration.

Options to change from standard TTS to Natural TTS.

It assists you in generating original melodies that resonate with your unique style and vision.
MusicAI is the best AI song maker for elevating your music production skills and crafting stunning song covers. With its advanced AI capabilities, you can seamlessly recreate the magic of popular tracks, giving them your own personal twist. Whether you're a seasoned musician or just starting out, iMyFone Music.AI empowers you to make your AI cover songs as a song maker.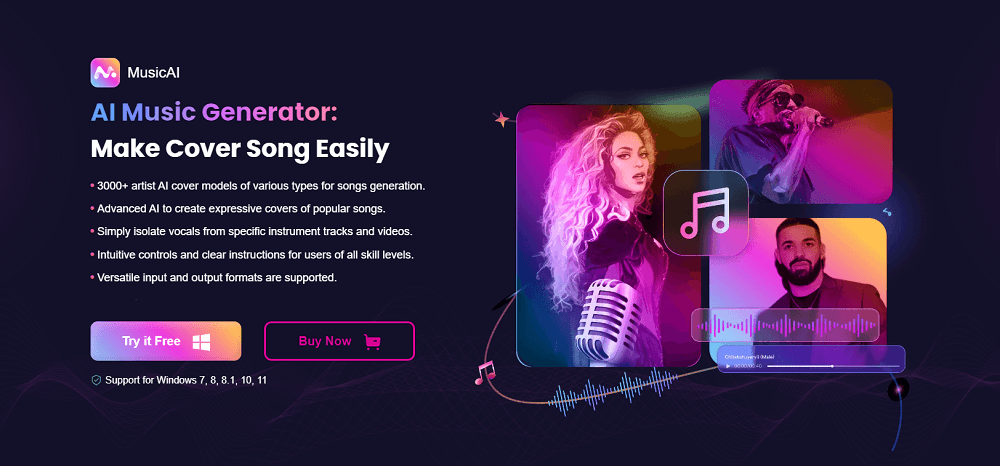 Key Features:
A vast library of famous singer vocals like Drake, Taylor supported by iMyFone Music.AI.

Harness the power of advanced AI algorithms to effortlessly create expressive cover versions of popular songs.

Enjoy an intuitive user interface with clear instructions.

Seamlessly isolate specific instrument tracks from existing songs with precision.

Capture the essence and emotion of the original tracks.
Pros:

Free trial and download opportunity.

Just few steps during the process.
Cons:

A new product in the market.
MusicStar.AI is a cutting-edge AI music generator that harnesses the power of deep learning algorithms to craft royalty-free music in a wide range of genres, including pop, hip-hop, rap, rock, and country.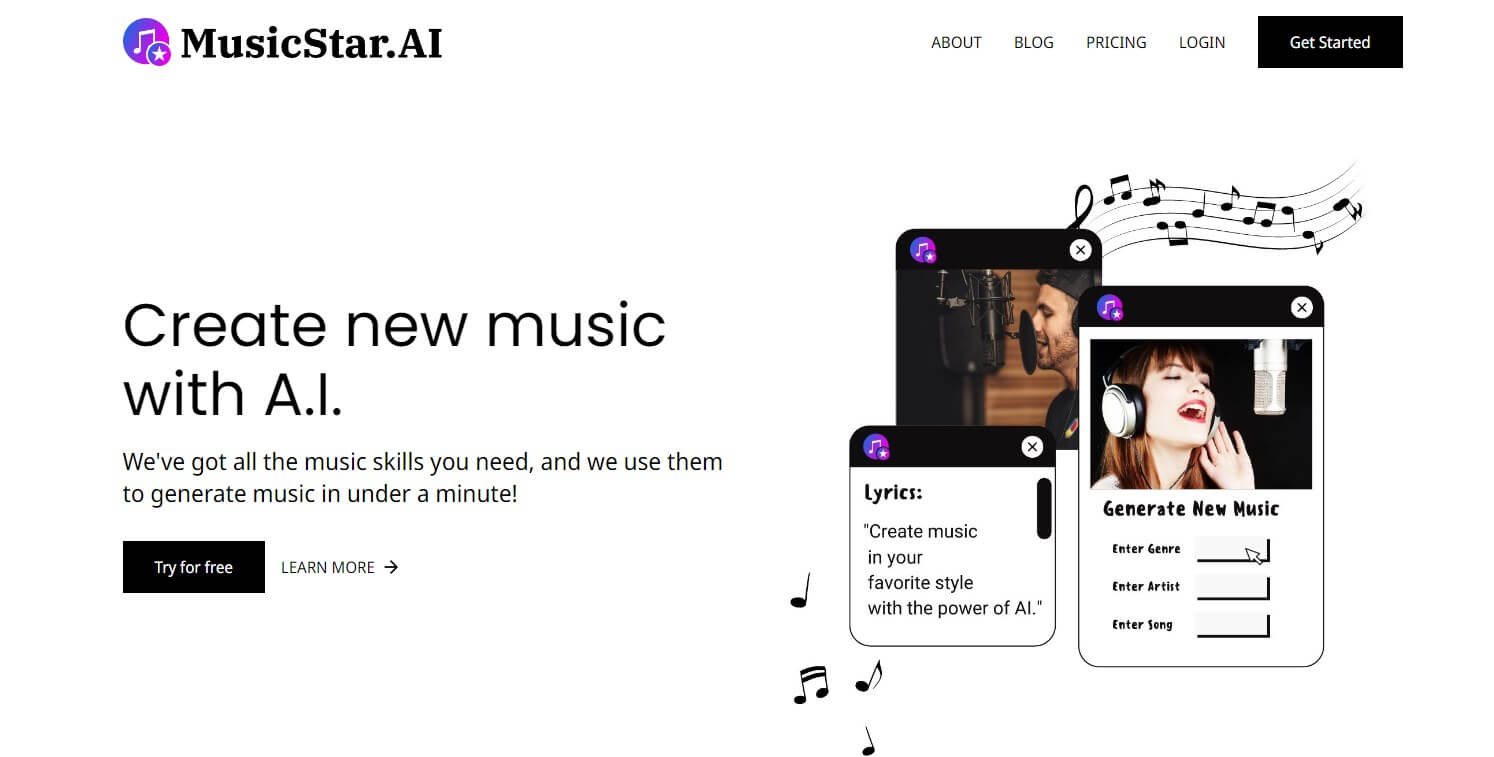 Key Features:
With advanced deep learning algorithms, MusicStar.AI leverages its extensive training on thousands of existing songs to produce music.

Create music that captures the essence of your favorite artists without requiring extensive music production skills.

Designed with creatives in mind, it provides an intuitive and user-friendly interface.

Allows you to effortlessly create royalty-free music in various genres.
With features like song creation and editing, generous song limits, and expedited release review, Boomy empowers you to craft and share your music with ease and enables you to experience the freedom to create, edit, and release your music in a great environment.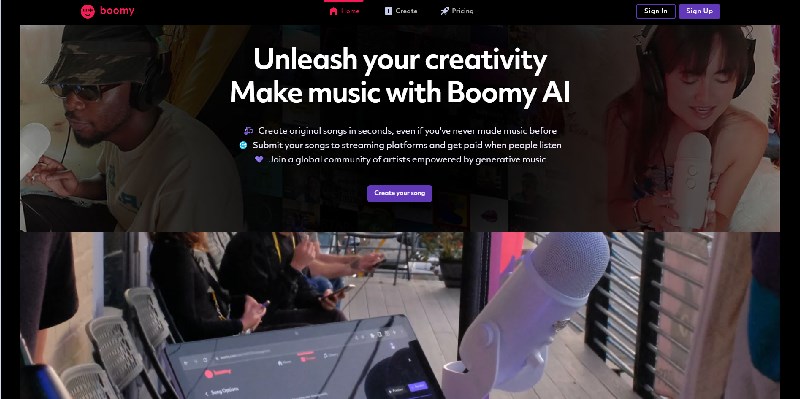 Key Features:
Create and edit your own songs with ease, providing you with the tools to shape your musical vision.

Plenty of space to store and organize your musical creations.

Experience faster review times for your releases.

Utilize your music for commercial use in social media advertising.

Showcase a substantial collection of your work in one go.
Fadr is a free ai song maker that empowers you to songs. With its advanced capabilities, Fadr automatically finds and removes vocals of any song. It leaves all creative plans to you for generating unique songs.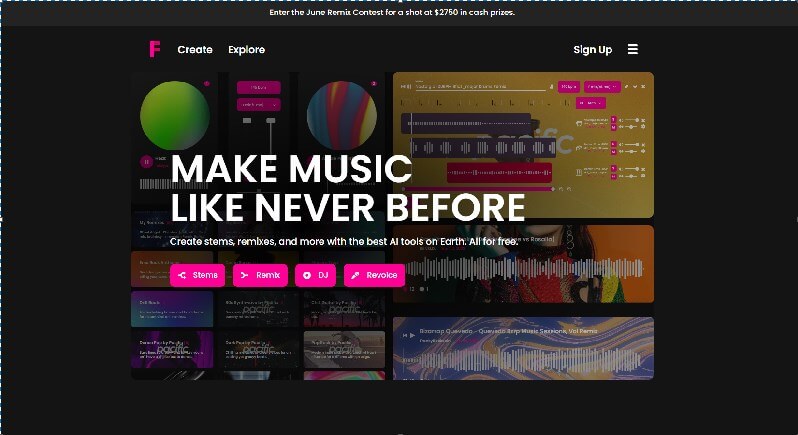 Key Features:
Completely available to you free of charge.

You are able to create stems, remixes, and much more.

The ai song maker identifies the BPM, key, and chord progressions.

Make and DJing remixes and mashups with Fadr AI.

Easy to use.
Part 3: How To Make AI Cover Songs?
Common Ways for Make AI Song Covers
Step 1: Choose an AI Music Platform: Select a reputable AI music platform that specializes in generating AI-generated vocals or covers. There are various platforms available, each with its own unique features and capabilities.
Step 2: Upload or Input the Original Song: Provide the AI music platform with the original song you want to create a cover for. This can usually be done by uploading an audio file or entering the song's MIDI data.
Step 3: Generate the AI Cover: Initiate the AI cover generation process based on the provided instructions on the platform. The AI system will analyze the input song and produce a cover version with synthesized vocals.
Step 4: Export the Cover: When you are satisfied with the AI-generated cover, export the final version as an audio file, typically in a common format like MP3 or WAV.
Conclusion
In conclusion, AI song makers like have revolutionized the music production landscape, providing a powerful tool to unlock their creative potential and offer limitless possibilities for music creation.
For those seeking an innovative and cutting-edge solution, we highly recommend checking out the upcoming software, Music.AI With its advanced AI algorithms, extensive library of sounds and instruments, and user-friendly interface, MusicAI will empower musicians of all levels to effortlessly compose, produce, and refine their music.