Before uploading your pictures on Facebook and Instagram, you should watermark your photos to claim copyright.It's a befitting way to protect your integrity as many Facebook and Instagram users upload others' photos without giving them credit. If you make watermark to your photo, you can claim the rights of that photo, meaning no one will be able to use it without prior permission.
Moreover, adding a watermark can also be helpful for marketing purposes. If you're running a business and want to advertise it, uploading watermarked photos of your company's logo can help you get the exposure you've been looking for.
In this way, you can advertise your business without acquiring the services of paid advertising tools.
Let's look at some tools that can help you add a watermark to a photo on Facebook and Instagram with great effect.
Part 1: Add Watermark to Batch of Photos Software-iMyFone MarkGo
If you want to add a watermark to a photo on facebook/instagram, you'll need to look for a reliable watermark-adding tool. Luckily you won't have to roam about searching for a tool; iMyFone MarkGo is up and ready for you.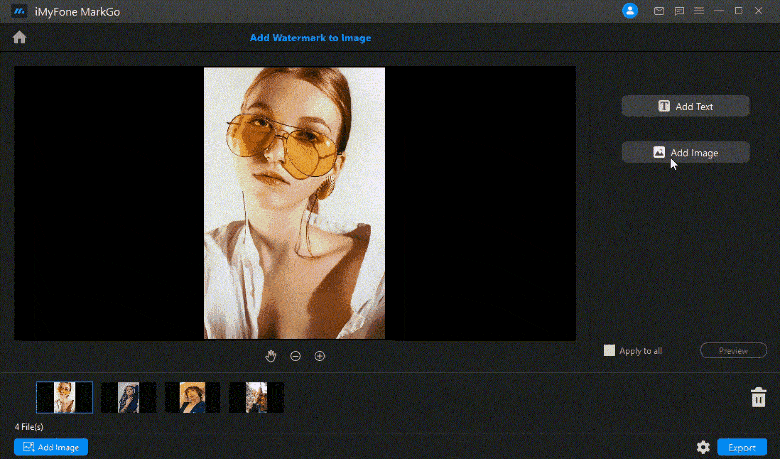 It's a brilliant tool designed for removing or adding water from your photos and images. Using this tool, you can easily add text or images as a watermark. It also allows you to add a watermark on multiple pictures simultaneously.
You only need to import your images and let the iMyFone MarkGo do the rest. It's a pretty fast software that can add a watermark to your photos quicker than you think. MarkGo is one of the best tools for adding a watermark to content, and its reviews justify it.
iMyFone MarkGo Guide:
Watch the video tutorial to remove watermark using MarkGo
Step 1: Open MarkGo
After downloading MarkGo on your computer, you'll need to launch it. Now, you'll see four options out there. Hit add watermark to the image.
Step 2: Press add image
Now, you'll need to hit Add image at the center of your screen and import an image you want to add watermark into.
Step 3: Add additional image
You also have the luxury of adding additional images or texts as a watermark. All you need to do is hit '' Add image''. Choose a watermark photo from the computer. You need to ensure there's no background in the photo.
Meanwhile, if you want to add text, you'll need to press '' Add Text''. You'll see a text box appearing on the images. You can write whatever you like by double-clicking the text option.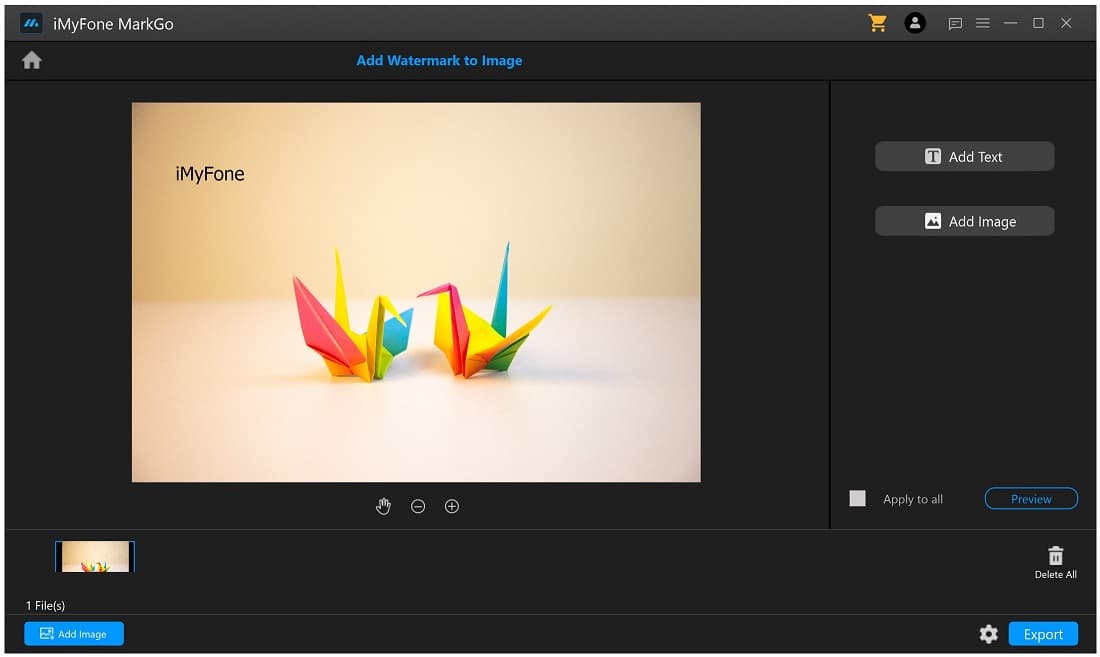 Step 4: Adjust watermark
After adding a watermark to a picture, you'll have to adjust it. You can move it wherever you want by dragging it.
Step 5: Final preview image
Now, you can watch the result and if you're satisfied with its progress, export it by hitting the'' Export button''.
Part 2: Apps to Create Watermark for Photos on iPhone/Android
Let's get straight into the two prolific apps for adding watermarks to facebook/instagram photos on Android and iPhone devices, respectively.
1. Photo Watermark
Photo Watermark tool is a dynamic tool used for adding watermark to photos on Android. Its design is intuitive and comes with multiple marking possibilities.
This tool ensures you make all the necessary changes to your watermark. It enables you to adjust the watermark's rotation, location, transparency, and you can also add some special effects to make your watermarked image flawless.
However, due to the massive workload, the interface takes a bit of your time to complete the adding watermark process, but who cares when this tool provides excellent services.

Features
It possesses a built-in camera allowing you to click photos in real-time.

You'll get hundreds of png stickers and texts for the watermark.

Easy to move, reverse, and rotate.
Compatibility: Android
2. Watermark X
Watermark X is another terrific tool that offers an intuitive interface and marvelous features for its users. It possesses some unique tools that can fascinate you while adding a watermark to your photos.
Using this terrific tool, you can easily add a watermark to a picture whenever you want. Its free version is good enough to create professional logos as your watermark. But if you want to add multiple watermarks simultaneously, you'll need to acquire its premium version.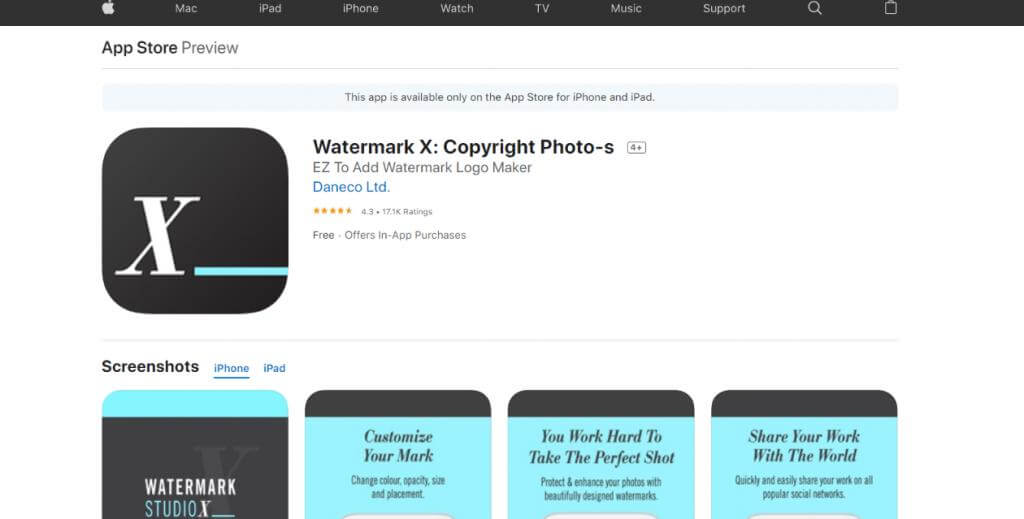 Features
Fantastic text editing features

You can add new templates pretty easily.

Besides adding a watermark to photos, you can also crop your images using this tool.
Compatibility: iOS 8.0 or later
Part 3: How to Add Watermark to All Facebook/Instagram Photos Online
If you don't want to install watermark-adding tools but want to add watermark to photo online, we've got the five best online tools for you.
Let's explore them.
1. PicMarkr
It's a versatile online tool that makes it easy to add a watermark to a picture online. PicMarker possesses a pretty straightforward interface with great features. You only need to follow three simple steps to get your job done.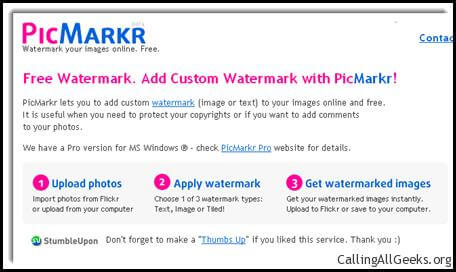 Features
2. Watermark tool
The watermark tool is another fascinating tool that offers multiple watermarking options for you. You'll get many features with this tool making it worth remembering.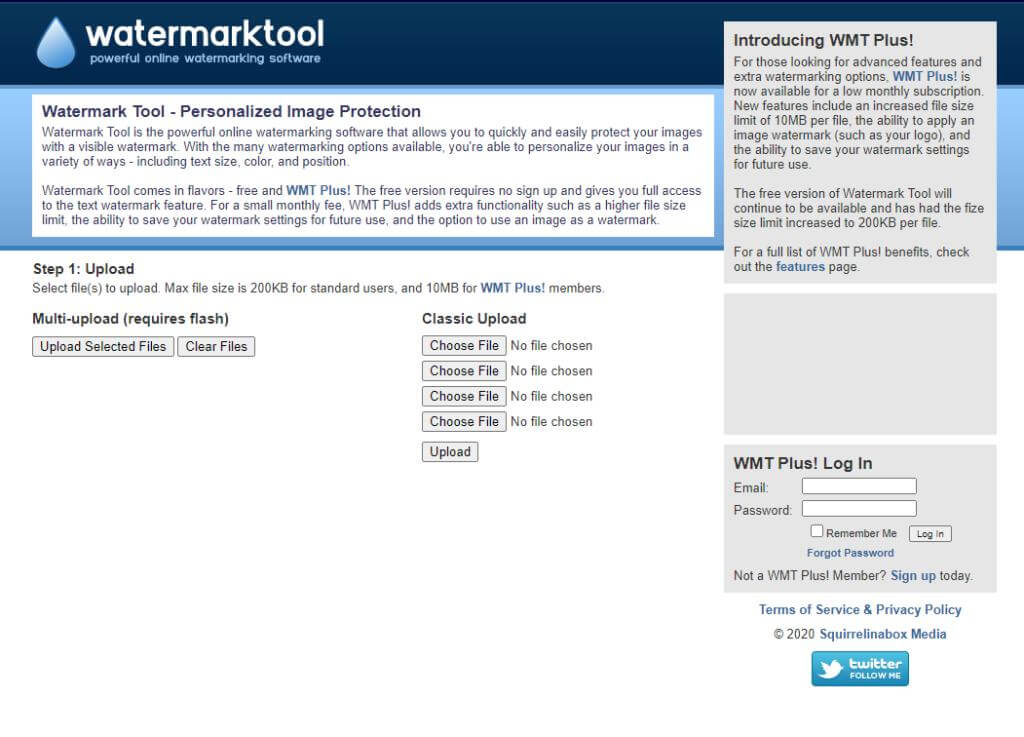 Features
It possesses an intuitive interface.

You can also add text as a watermark to your photos
3. Watermark. ws
It's an online tool that possesses unbelievable abilities to add watermarks to a picture quickly. Using this, you won't have to worry about acquiring a premium tool, and its straightforward interface is enough to serve your purpose.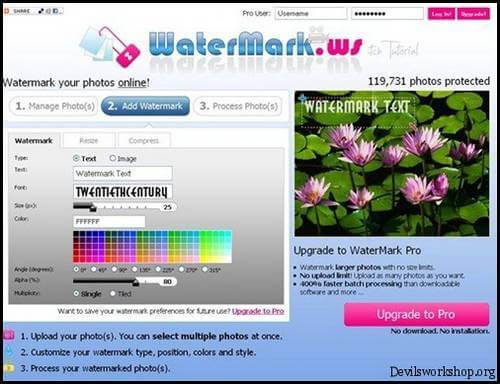 Features
It's a beginner-friendly tool.

One of the quickest online tools

It doesn't charge any money and is available for free
4. Picasa
If you're looking for an online watermark-adding tool with unique features, Picasa is here to grab your attention. It's a prolific online tool that serves your purpose better than you expect.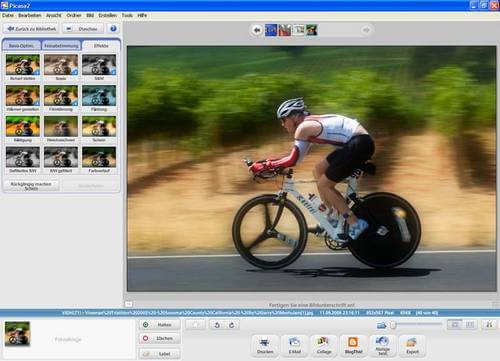 Features
It also allows you to add text to your photos as a watermark

With an intuitive interface, you'll enjoy every bit of this tool.
5. Webwatermarks
Webwatermarks is one of the most dynamic tools because it can add watermark logos on multiple photos simultaneously. Its interface is nothing less than a piece of cake.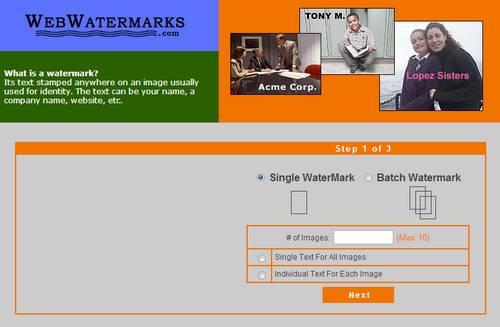 Features
You'll not face any difficulty using this tool.

It offers multiple options for your photos to look unique.
Conclusion
Many users have been using iMyFone MarkGo worldwide due to its undeniable qualities. It's one of the most professional tools that help you add watermarks to your photos with a bang. Despite being professional, its interface isn't tricky but straightforward.
iMyFone MarkGo
Start to Remove Watermarks from Videos and Images Now.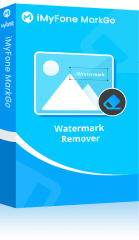 1,000,000+
people have downloaded it